This salmon chowder recipe is smokey, silky, and ridiculously comforting. Perfect as a meal all on its own or a fancy starter at your next dinner party!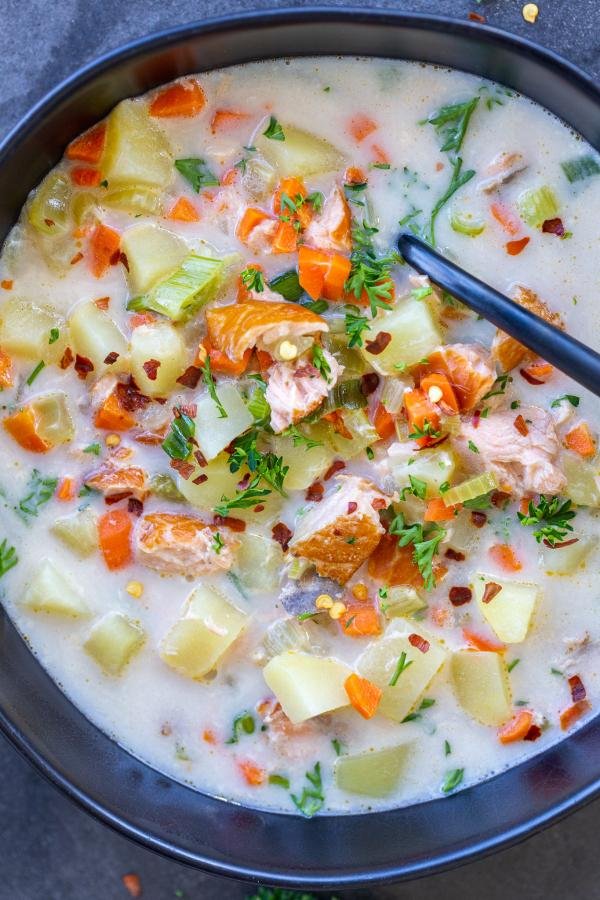 This salmon chowder is the definition of simple, accessible comfort food. I love how you don't have to fuss around with it too much and it always turns out so delicious. And as someone who didn't immediately love seafood from the jump, I can credit this soup to opening my eyes to just how delicious fish can be.
In this recipe, you'll use pre-smoked salmon versus fresh salmon to speed up the cooking time and add a wonderful smokey flavor to your chowder. If you're confused about where you can pick up smoked salmon, you can find it in the seafood section of most grocery stores. Trader Joe's also has a wonderful full fillet that's really fairly priced.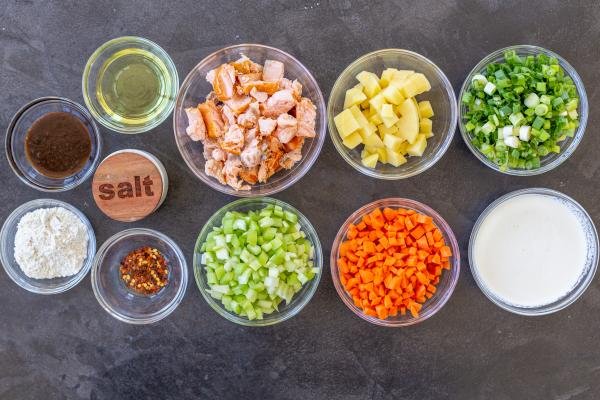 What is Salmon Chowder Made Of?
Despite its decadent taste, making salmon chowder only requires a handful of ingredients and a few simple steps. Below, find a quick hitter overview of the recipe before you get to cooking.
Dice the Veggies: Using a sharp knife, dice the carrots and celery into similar-sized cubes. Next, mince the green onions.
Cook the Veggies: In a large soup pot or Dutch oven, cook the veggies in a bit of oil over medium heat until they soften. Next, add in the flour and red pepper flakes, cooking for a few minutes to lift the raw flavor out of the flour.
Add the Broth: Add the water and broth concentrate. Bring the soup to a rolling boil, stirring occasionally to prevent it from sticking to the bowl.
Finish with Cream: Add the heavy cream to the soup and bring it to a boil. Immediately remove it from heat, top with the minced green onions, and enjoy!
Tips & Tricks
Here you'll find a handful of tips and tricks to help you make the most flavorful salmon chowder.
Use fully-cooked smoked salmon. To cut down on prep time and add a nice smokiness to the chowder, opt for a mildly flavored smoked salmon. If you like a little extra spice, a peppered smoked salmon would work fabulously as well.
Dice the veggies into similar-sized pieces. Keeping your diced veggies consistent will not only promote even cooking, but it will also ensure you don't get spoonfuls of undercooked or raw veggies.
Use Yukon gold potatoes. Yukon golds have the best texture and a mildly sweet taste. Unlike russets, they don't have as high a starch content and tend to stay more firm.
Use homemade chicken stock. If you're feeling extra ambitious, substitute the broth base for homemade chicken broth.
Use canned salmon in a pinch. If you're having a hard time finding smoked salmon, use canned salmon as a quick hack. If you're missing the smokey flavor, just add a couple of drops of liquid smoke.
Add in some bacon. Love bacon in your chowder? Feel free to crisp some bits up and cook your veggies in the bacon fat. This will add such a nice depth of flavor to the chowder.
Corn Chowder Hack: Love corn chowder? Simply add a couple of cups of frozen or fresh corn to this recipe.
What Do You Eat With Salmon Chowder?
Packed with protein and filling starch, salmon chowder can easily be eaten as a meal all on its own. If you want to go San Francisco style, serve it in a buttered sourdough bread bowl topped with fresh dill or alongside a hunk of fresh baguette. You can also serve salmon chowder as an appetizer soup before a steakhouse dinner of cast iron ribeyes and caesar salad. Whatever you do, don't forget to add a few cracks of black pepper to it before serving!
Storing Leftover Salmon Chowder
If you're lucky enough to have leftover salmon chowder, there are a couple of different ways you can store it. Here you'll find all the tips and tricks you need.
Refrigerator: If you plan to eat leftover chowder within 3 days, keep it stored in an airtight container in the refrigerator. This will not only keep it from absorbing lingering smells in the fridge, but will also allow it to marinate and further develop its flavors.
Freezer: Although not highly recommended, salmon chowder can be frozen for up to 3 months. To do so, store it in an airtight container or portioned out into freezer-safe plastic bags. To prevent the cream from curdling and the potatoes from turning chalky, allow the soup to thaw in the fridge overnight before reheating it.
Reheating Tip: Salmon chowder is best reheated in a saucepan over medium-low heat. You can also zap it in the microwave for a couple of minutes.
FAQ
What is the key ingredient of a chowder?
While chowder broths can span the gamut of creamy to tomato-based, potatoes are typically a key ingredient.
What differentiates a chowder from a cream-based soup?
Chowder is typically much thicker than most cream-based soups and is thickened by the addition of potatoes.
Can salmon chowder be frozen?
While tempting, it's never a good idea to freeze cream-based soups or soups that contain potatoes. Upon thawing and reheating, the cream will curdle
How long does salmon chowder last?
Salmon chowder will last for up to 3 days when stored in an airtight container in the fridge.
What kind of potatoes are best for chowder?
Yukon gold potatoes are by far the best potatoes for chowder. They not only bring a beautiful pop of yellow to the soup, but they also have a mildly sweet flavor and tend to stay more firm than russets.
More Tasty Soups & Chowders
Recipe
This salmon chowder recipe is smokey, silky, and ridiculously comforting. Perfect as a meal all on its own or a fancy starter at your next dinner party!
Ingredients
1

tbsp

oil

for cooking

3

small carrots

1/2

celery stalk

1/2

bunch of green onions

3

tbsp

flour

3

qt

water

1/4

tsp

red pepper flakes

1

tbsp

Better Than Bouillon

beef or chicken

1

large potato

1

lb

smoked salmon

1/2

cup

heavy whipping cream

1

tsp

kosher salt

adjust to taste
Nutrition Facts
Easy Salmon Chowder Recipe
Amount Per Serving
Calories 82
Calories from Fat 45
% Daily Value*
Fat 5g8%
Cholesterol 18mg6%
Sodium 414mg17%
Potassium 102mg3%
Carbohydrates 3g1%
Protein 6g12%
Vitamin A 2196IU44%
Vitamin C 1mg1%
Calcium 19mg2%
Iron 1mg6%
* Percent Daily Values are based on a 2000 calorie diet.