This chicken gnocchi soup is a copycat of Olive Garden's. It's so quick and simple to make, that you can have a restaurant-quality soup any day of the week.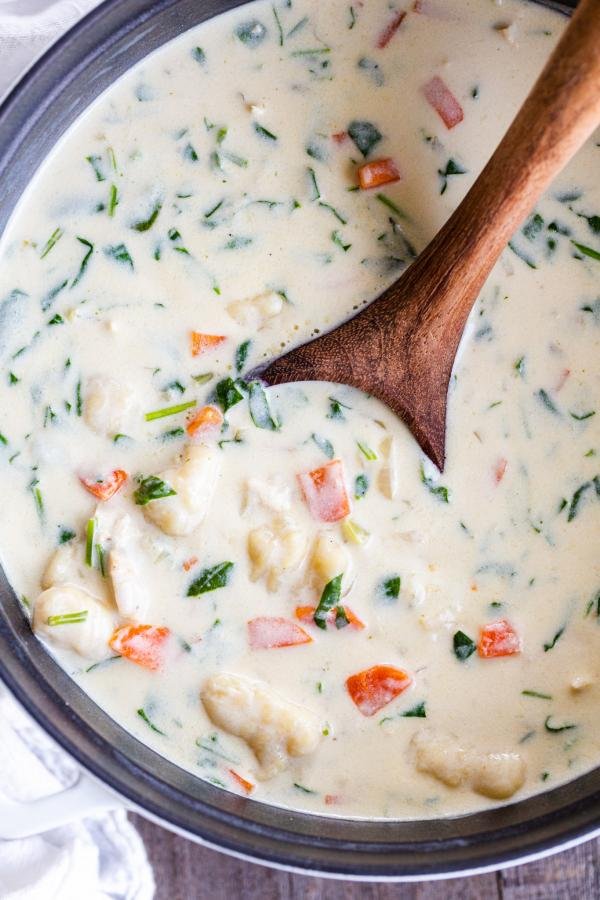 If you're a fan of the Olive Garden, you've likely fallen for the creamy chicken gnocchi soup. After spending so much time trying to imitate the recipe at home, we can fairly say that we like our version better. The best part about whipping it up yourself is that you can fine-tune the flavors to fit your tastebuds. If you like it spicy, add a bit more cracked pepper. If you have different veggies you're trying to get rid of, throw them in the soup instead.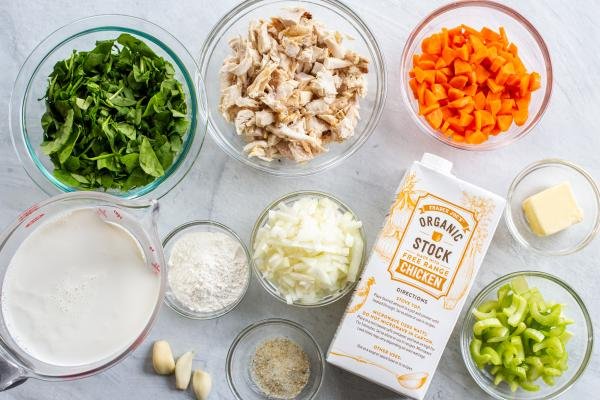 Make Your Own Homemade Gnocchi
If you want to be an all-star, make the gnocchi from scratch. Find everything you need to know about how to whip them up using our guide on easy potato gnocchi. Making gnocchi is a bit time-consuming, but it is worth it. When you do set aside the time to take the plunge, make sure you prepare several batches so you can freeze gnocchi and have them on hand for later to toss with your favorite sauce.
Store-Bought Gnocchi: If you are a bit strapped for time or not in the mood to get your hands dirty, go to the grocery store and purchase premade gnocchi. Trader Joe's has excellent gnocchi to use when you are in a pinch.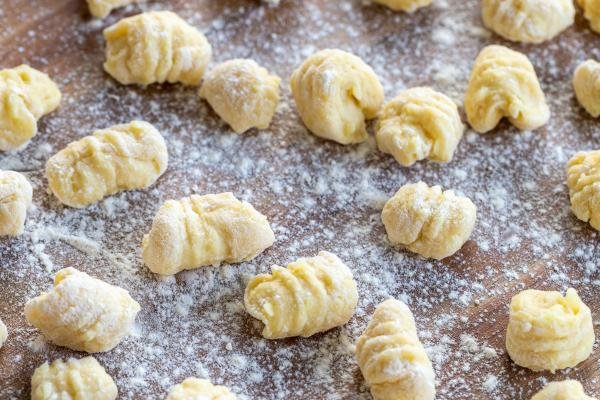 How to Make Chicken Gnocchi Soup from Scratch
It's best to whip up this chicken gnocchi soup in a dutch oven – it's our favorite pot for making soup because it distributes heat evenly and can hold 2 or 3 batches.
Prepare the Chicken: Season the chicken breasts and cook them in a pan until golden brown. Cube the chicken up and set it aside. If you want a fattier, richer soup, opt for skinless chicken thighs instead.
Sauté the Veggies: In a large skillet warmed to medium heat, sauté the pressed garlic cloves with the diced onion, celery, and carrots until softened in some melted butter or olive oil. Whisk in the flour.
Add in the Liquid Ingredients: Stir in the half-and-half and cooked chicken. Bring the soup to a simmer. Add your chicken broth and bring the soup to a simmer again.
Add in the Gnocchi: Add in the gnocchi and cook them according to the package instructions.
Stir in the Spinach: Stir in the spinach and remove the soup from heat. Season it to taste with salt and black pepper. Serve the soup piping hot with a nice piece of no-knead bread.
Hot Tip: Garnish the soup with freshly grated parmesan cheese or fresh herbs like thyme, oregano, or basil.
3 Tips For The Best Chicken Gnocchi Soup
These tips will help you make a chicken gnocchi soup that's even better than Olive Garden's.
Chop the veggies into equal-sized pieces. Dice your veggies into equal-sized pieces to promote even cooking.
Supercharge the cooking process with store-bought gnocchi. Use store-bought gnocchi if you're on a time crunch.
Opt for fresh baby spinach over frozen spinach. Fresh spinach is ideal for this soup. The frozen stuff will water down the soup if you don't let it completely thaw and squeeze out all of the excess moisture.
What to Serve Chicken Gnocchi Soup With
Chicken Gnocchi Soup is rich and filling on its own. But, if you want to round it out for a full meal, pair it with one of the following Momsdish favorites:
Storing Chicken Gnocchi Soup
If you have leftovers, it is best to plan to eat them within 5 days. Store the soup in an airtight container in the fridge to keep it fresh and from absorbing any lingering smells in your refrigerator.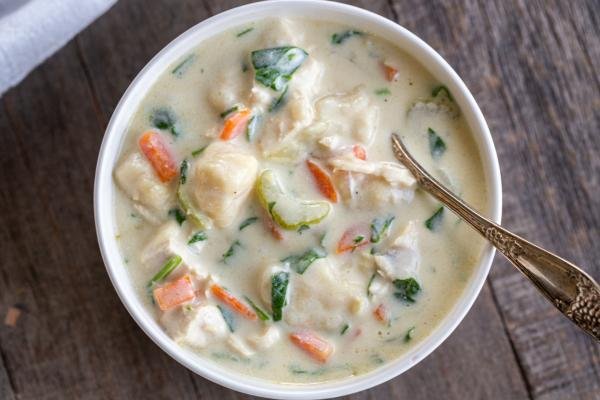 FAQ
What is gnocchi made of?
Traditional gnocchi is made with a combination of potatoes, all-purpose flour, eggs, and salt. The dough is then rolled and shaped into logs, sliced down into bite-sized pieces, and boiled until tender and chewy.
Is gnocchi considered a potato dish or pasta?
Gnocchi is somewhere between a potato dumpling and pasta. The addition of the riced potatoes into the flour-based dough makes for a wonderfully dense and chewy texture.
When are gnocchi done cooking?
Gnocchi is fully-cooked and ready to eat when they float to the top of the boiling liquid or broth that you're cooking them in. If you cook it too much longer, it will begin to break down and lose that signature al dente texture.
Why did the gnocchi in your chicken gnocchi soup turn out mushy?
The gnocchi in your chicken gnocchi soup likely turned out mushy if you overcooked it. Once the gnocchi floats to the top of the pot, it's ready.
Can you freeze chicken gnocchi soup?
Sadly, freezing chicken gnocchi soup isn't a great idea. The dairy breaks down when you freeze it and upon reheating the texture turns funky. It's best to eat the soup within a week and store it in the refrigerator.
More Tasty Soup Recipes You'll Love
Recipe
This tasty chicken gnocchi soup is a copycat of Olive Garden's famous version. It's packed with potato dumplings, veggies, & a ridiculously creamy broth.
Ingredients
2

chicken breasts

2

tbsp

garlic parsley salt
oil

for cooking chicken

4

tbsp

unsalted butter

1

tbsp

olive oil

1

cup

diced onion

1/2

cup

diced celery

1

cup

chopped carrots

3

garlic cloves

pressed

1/4

cup

flour

1

qt

half and half

24

oz

chicken broth

16

oz

gnocchi

1

cup

chopped spinach

1/2

tbsp

parsley

chopped

salt & pepper

to taste
Nutrition Facts
Chicken Gnocchi Soup (Olive Garden Copycat)
Amount Per Serving
Calories 327
Calories from Fat 162
% Daily Value*
Fat 18g28%
Cholesterol 76mg25%
Sodium 1712mg71%
Potassium 388mg11%
Carbohydrates 25g8%
Protein 15g30%
Vitamin A 2950IU59%
Vitamin C 4.9mg6%
Calcium 129mg13%
Iron 2.2mg12%
* Percent Daily Values are based on a 2000 calorie diet.