Are you searching for a steaming hot dinner to warm your chilly bones? This hearty lamb stew is full of soothing comfort for those frosty days. The hunt is finally over!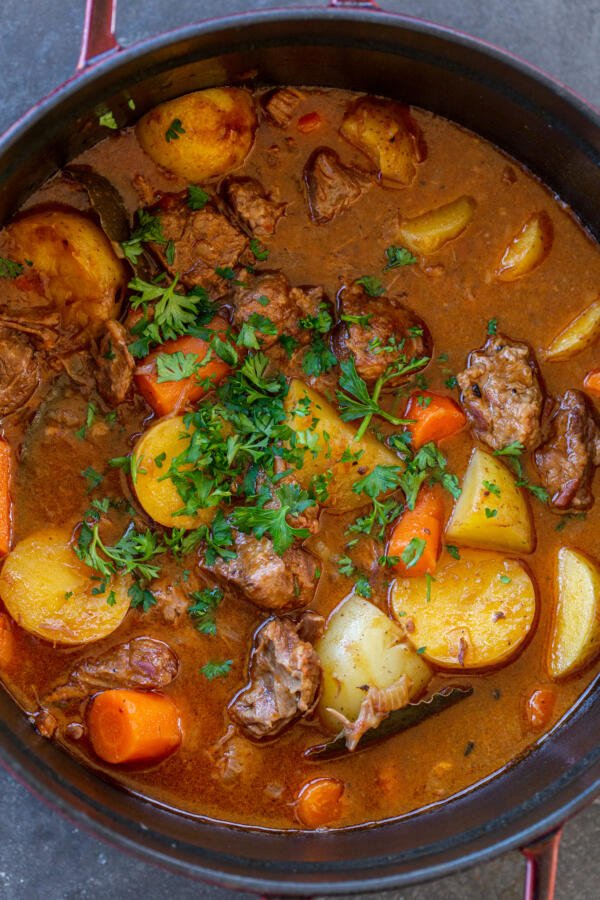 What is Lamb Stew?
Lamb stew is a soup-like dish consisting of lamb meat and a variety of vegetables that are slowly cooked (or stewed). As the meat and vegetables cook and become tender, their individual flavors mingle together, creating a rich and heavenly thick broth. It's a great example of teamwork — the ingredients working together to create a stew with an exquisite taste and texture.
Taste: The stew tastes savory and full-bodied due to the combination of richly-flavored lamb meat and hearty stewed veggies.
Texture: Lamb stew consists of a thick sauce-like broth that is smooth and creamy. The texture is what makes this dish perfect for a cold day.
Time: This stew takes a quick 15 minutes of prep and a hands-off 1 hour 30 minutes to cook to completion.
Want more lamb recipes? For an exquisite entree perfect for a dinner party try my roasted rack of lamb, or these amazing lamb kabobs for your next cookout!
What's the Best Cut of Lamb To Use?
Lamb shoulder is the most popular and best cut to use for lamb stew because it becomes very flavorful and tender when braised. Our second choice is a lamb rib cut. These two cuts come from well worked-out muscles that contain more collagen, and it is this collagen that makes the texture and taste of the stew thoroughly luxurious.
In a pinch, it is okay to use lamb stew meat, which is a mixture of different cuts. This mixture is often sold at a lower price in grocery stores. Although it is cheaper, some pieces of lamb may become more tender than others when stewed, or some pieces will be too tender (and mushy) compared to others.
How to Make One-Pot Lamb Stew
Lamb stew may have a slightly longer list of ingredients than most recipes, but they are all simple, easy to find, and quick to prep. Each ingredient is vital in making this stew thoroughly scrumptious. For most of the ingredients, simply toss them into the pot and that's it! For others, it takes only a few steps to get them stew-ready.
Preheat the pot: While the pot is preheating on medium-high heat, cut the lamb shoulder into two inch cubes and coat with flour.
Brown the meat and onion: Add the lamb to the pot and brown on each side. Then, add the sliced onions and cook until lightly browned.
Pour in the liquid: Pour the beef broth, tomato puree and bay leaves into the pot, deglazing the bottom of the pan with a wooden spoon.
Simmer the stew: Bring to a boil, then simmer for about an hour. Stir in the remaining ingredients and simmer for another 30 minutes.
Season to taste: Season with salt and pepper to taste, then garnish with fresh parsley. Enjoy!
Hot tip: Use a dutch oven to make this lamb stew. We love using our favorite large dutch oven! It heats evenly and retains the heat so well!
Tips for a Winning Lamb Stew
If there was a contest for best lamb stew, this stew would surely win. Make it a first-place winner with these tips.
Cut veggies into equal size pieces: When prepping the carrots, onions, and potatoes, cut them into equal sized pieces. This will ensure the vegetables cook at the same rate.
Trim the lamb: For less fatty pieces of lamb in the stew, trim the meat of any excess fat.
Brown the lamb and onions: This step is very important! When the meat and onions brown the flavors caramelize, adding an immeasurable amount of savor and depth to the stew.
Scrape the bottom of the pot: After adding the beef broth, deglaze the caramelized brown bits from the bottom of the pan. These bits will infuse into the stew, adding to the flavor of the broth.
Thicken the stew (as needed): If the broth needs extra thickening, whisk a tablespoon of flour with water in a separate bowl until well combined, then add it to the stew. Avoid adding flour directly to the stew as this can result in flour clumps.
Add carrots and potatoes at the end: Toss in the carrots and baby potatoes in the last 30 minutes of cooking time. Adding them too early will result in the veggies becoming too mushy.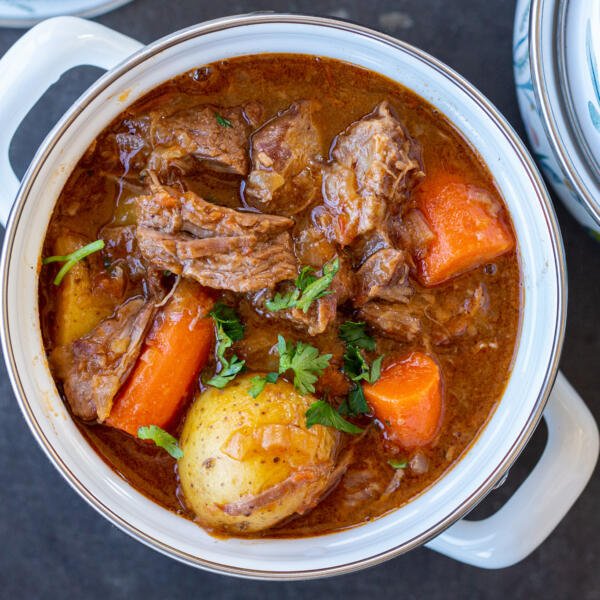 Customize Your Stew
Give your lamb stew a personal touch with a few simple additions or substitutions. The smallest change can transform your lamb stew into something extraordinary!
Vegetables: Add sliced mushrooms, minced garlic, parsnips, or carrots along with the onions, allowing them all to turn slightly brown as they saute. Or, add chopped turnips and green peas along with the potatoes in the last 30 minutes of cooking.
Herbs: Bay leaves are the perfect herb for lamb stew, but for more fresh, herby flavors, add dill, thyme, or scallions.
Spices: If you're a fan of more spice, thyme and red pepper flakes add an earthy and spicy kick to the stew.
Wine/beer: Lamb meat pairs very well with wine or beer. Don't worry, virtually all of the alcohol evaporates during the cooking process, leaving behind only the flavor. For a rich, earthy flavor, add 1/2 to 1 cup of beer (Guinness beer is a popular choice) along with the beef broth. Alternatively, add red wine (like Pinot Noir) for a sweeter taste.
Beef stock: Beef stock and beef broth can be used interchangeably without a large change in taste. Beef stock is made from bones, while broth is made from meat or vegetables. Stock often has a richer, deeper flavor, but broth allows other flavors from the stew to shine. A quick and easy hack is to use Better than Bouillon Roasted Beef Base. Or use a batch of the best bone broth, although it may have less meaty flavor compared to the other options.
Potatoes: If you don't have baby potatoes, feel free to substitute with red potatoes or Yukon Gold potatoes. These two varieties hold up well in a stew without becoming too mushy. Cut them up into baby potato-sized pieces and cook as directed.
Hot tip: If you add more veggies to the stew, you may need to increase the amount of beef broth to compensate.
Serving Lamb Stew
Lamb stew is so easy to serve because you actually need nothing else to make it a meal! It is already loaded with protein, vegetables, and carbs — all in one.
If you like to pair the stew with a side, make some freshly toasted baguette slices or homemade french bread. Dip the crispy bread into the savory stew for the best bite!
Alternatively, serve the lamb stew as part of a "soup and salad" dinner. For a salad of fresh vegetables, try our ultimate garden salad, caesar salad, or arugula, avocado, tomato, and cucumber salad with feta cheese.
If you are serving leftover stew that has thickened a great deal, pour some lamb stew on top of basmati rice, pasta, or farro. You will absolutely love it!
A Guide to Storing and Reheating
Lamb stew is one of those meals that you will want to make a larger batch of next time. Lucky for you, it stores and reheats well in the short-term! We recommend avoiding the freezer as the potatoes in the stew do not keep their texture well when thawed.
Refrigerator: To store for up to four or five days, refrigerate cooled lamb stew in an airtight container. As it sits in the fridge, it will continue to develop its flavors and make for some killer leftovers.
Reheating: To reheat from the refrigerator, pour lamb stew into a pot and heat over medium heat, stirring gently until warmed through. To reheat from frozen, thaw overnight in the fridge or thaw on the stovetop over low heat, stirring frequently.
Reheating tip: Stews have a tendency to thicken as time goes on. If you prefer a thinner stew, add more beef stock/broth when reheating.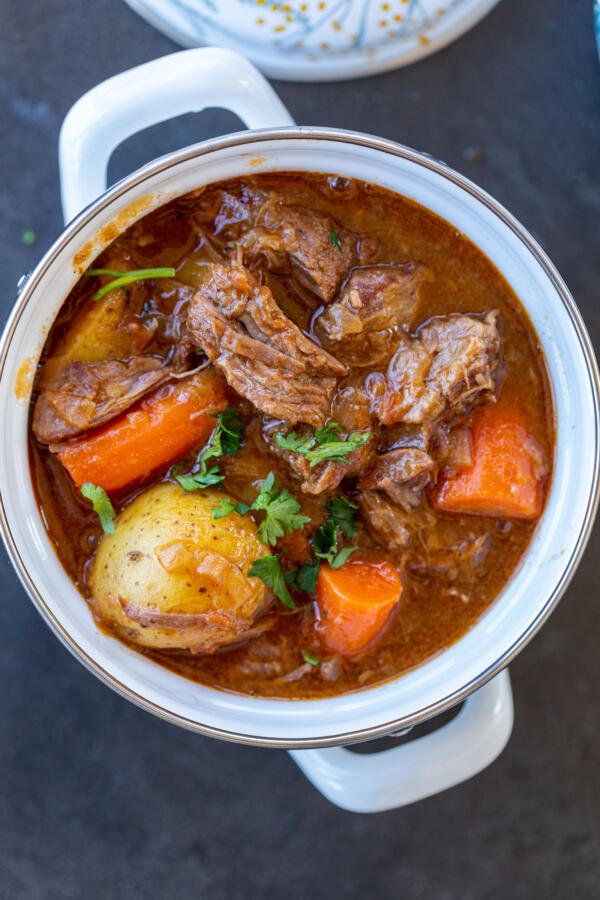 FAQ
Can I use chicken stock or broth in lamb stew?
Lamb stew is best made using beef stock or beef broth, but if you don't have either, chicken broth or stock can be used instead. The rich lamb flavor may be slightly diminished, but the lamb stew will not taste overly like chicken if chicken stock is used.
Can lamb stew be overcooked?
Yes, it is possible to overcook lamb stew. If cooked too long, the lamb meat can become too tender and will begin to fall apart. It is best to cook the stew just until the meat is tender but still intact.
Can I use a pressure cooker or slow cooker to make lamb stew?
Lamb stew can be made in a pressure cooker, slow cooker, or on the stovetop depending on the recipe. With an instant pot or slow cooker, all the ingredients are cooked simultaneously, resulting in all ingredients becoming very tender. When cooking on the stovetop, it is easier to control the softness of ingredients by adding them in at different times.
More Hearty Soup & Stew Recipes
Recipe
This luscious lamb stew is made with slowly-stewed lamb shoulder, baby potatoes, carrots, and spices. It's undoubtedly the perfect meal for a cold day.
Ingredients
2

lbs

lamb shoulder

4

tbsp

all purpose flour

1

tbsp

oil

olive or avocado

1

large onion

white or yellow

4

cups

beef broth

1

cup

tomato puree

1

tbsp

salt

adjust to taste

1

tsp

ground black pepper

adjust to taste

1

tsp

garlic powder

2

lbs

baby potatoes

cut into halves

3

large carrots

cut into 2 inch pieces

3

tbsp

parsley

chopped
Nutrition Facts
One-Pot Lamb Stew Recipe
Amount Per Serving
Calories 249
Calories from Fat 54
% Daily Value*
Fat 6g9%
Cholesterol 46mg15%
Sodium 1401mg58%
Potassium 1005mg29%
Carbohydrates 30g10%
Protein 19g38%
Vitamin A 4121IU82%
Vitamin C 30mg36%
Calcium 51mg5%
Iron 3mg17%
* Percent Daily Values are based on a 2000 calorie diet.