These crock-pot pork chops are cooked in an onion and mushroom broth, resulting in tender and fabulous chops with very little effort!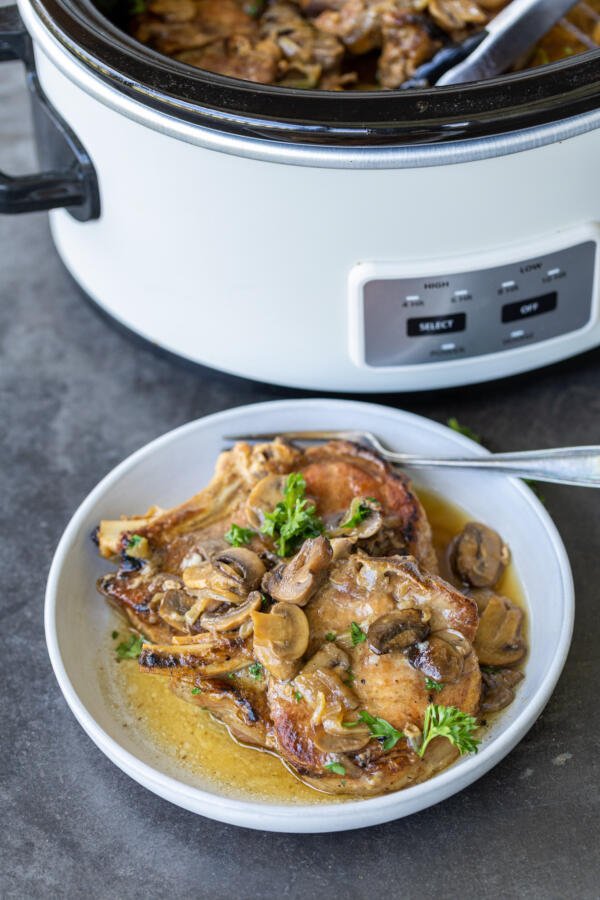 What are Crock Pot Pork Chops?
Crock pot pork chops are a savory meat dish made from pork chops that are slowly cooked for at least 6 hours. Pork chops that are often overlooked as tough and dry, transform into a moist, tender meat as they cook in a seasoned onion and mushroom broth. It's the perfect hearty, warming dish for a chilly day. Plus, it's fast and easy to prep — simply "set-and-forget-it!"
Difference Between Cuts of Pork Chops
Pork chops come from the loin area of the pig, which is a large area running from the hip to the shoulder. Within this general area, there are various cuts. Use this guide to help you understand which cut is best for this recipe. We like using thick-cut shoulder or sirloin chops as these cuts cook best in the crock pot.
Shoulder chop: The shoulder chop is cut from the shoulder, has a lot of flavor, but tends to be more tough. This chop does well in the slow cooker, becoming more tender as it cooks.
Sirloin chop: Sirloin chop is a cheaper cut coming from the hip area of the pig. It has lots of pork flavor, but is also a tough cut. These chops are best cooked over slow, moist heat like in a slow cooker or stew.
Rib chop: The rib chop comes from the rib section of the loin. This cut is often very tender and has a mild flavor. The best method to cook this cut is grilling, broiling, or sear-roasting.
Loin chop: The loin chop is cut from the hip and loin toward the back of the pig. The taste of this cut is mild and the meat is very lean. This cut may have pieces of tenderloin meat attached. The best cooking method for this cut is grilling, broiling, or sear-roasting.
Boneless chop: This cut comes from just above the loin chops. It consists of lean meat with very little fat, which also makes the cut mildly-flavored. It is best grilled, broiled, or sear-roasted.
Making Pork Chops in the Crock Pot
Crock pot recipes are the perfect recipe for the busy person who wants a delicious meal but may be low on time to spend in the kitchen. This crock pot pork chop recipe helps with that. It takes only 15 minutes of prep and the rest is all hands-off.
Coat the pork: Coat all sides of the pork chops in the flour, salt, and pepper mixture.
Brown the pork: Preheat a pan with oil to medium-high heat. Brown all sides of the pork chops, then place them directly into the crock pot.
Sauté the onions: Using the same pan, sauté the onions until they are golden brown. Add to the slow cooker.
Cook the mushrooms: Cook sliced mushrooms in the pan until they are lightly browned, then place into a slow cooker. Pour broth in and set to cook on low heat for 6 hours. Chops are ready when they are fork-tender.
Adjust the flavor: Taste and adjust the seasoning of the pork chops and broth before serving.
Hot tip: Make the broth into a delicious gravy! Remove the cooked pork chops, combine two tablespoons of cornstarch with two tablespoons of water in a small bowl, then whisk this mixture into the broth until well combined and thickened.
Popular Pork Chop Variations
Are you feeling adventurous? Here are a few ideas to change up the flavor of your crock pot pork chops.
Add dry seasonings: Add more dry seasonings to the flour mixture such as onion powder, garlic powder, or dried herbs. These additions will mildly affect the flavor of the chops, depending on how much you add.
Combine with potatoes: Add bite-sized potatoes and carrots to make this into a hearty and warm stew. To avoid mushy potatoes and carrots, cook them separately and add to the crockpot in the last thirty minutes of cooking.
Make it a creamy soup: Add cream of mushroom soup or cream of chicken soup to the crockpot along with the broth to make the broth thicker and more "saucy." Add less broth to the crock-pot if you add a can of these soups.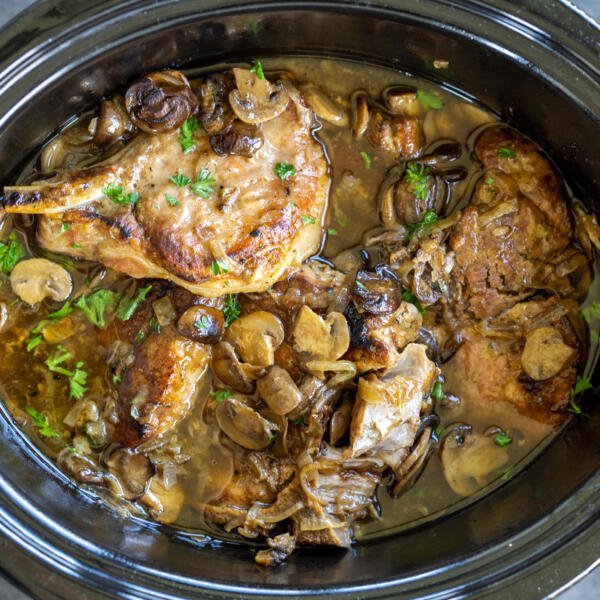 Tips for the Best Chops
These slow cooker pork chops will taste absolutely divine after slow cooking in the flavorful veggie broth. Follow these tips to get the maximum flavor from each ingredient.
Adjust the seasoning: Use your favorite beef, vegetable, or chicken broth. Some broths are saltier than others, so an adjustment in other seasonings may be necessary.
Brown ingredients in a skillet: Brown the pork, onion, and mushrooms for a flavor advantage. Searing meat at a high temperature secures juices inside the meat, while browning the veggies adds more deep, savory flavor. Plus, browning makes the dish look restaurant-quality!
Use plenty of broth: The broth is a vital part in making the pork chops juicy and tender when cooked. Without the extra liquid, the pork chops will be dry.
Purchase bone-in, marbled chops: Bone-in pork chops are more tender and have more flavor than boneless pork chops. Chops with marbling make the flavor absolutely top-notch.
Avoid thin-cut chops: Avoid buying or cutting chops too thinly. A thin cut pork chop may turn out dry, even when slow-cooked compared to a thicker-cut piece. Thick cut pork chops are the way to go.
Cut chops evenly: Cut the chops evenly, to about 3/4 inch thickness so each piece is equally tender and juicy when done.
Cook low and slow: Set the crock pot to cook low and slow. This will result in the juiciest, most tender pork chops. If the chops aren't fork-tender, they're not ready. Cook them for a bit longer until they reach at least 145°F and easily come apart with a fork.
Ways to Serve Pork Chops
Serve the pork chops over a delicious bed of carbohydrates such as basmati rice, creamed new potatoes with herbs, mashed potatoes, or even homemade pasta. Oh, and don't forget to pour the savory mushroom-onion gravy and garnish with fresh herbs to get enjoy every drop of that saucy goodness! Yum!
For a fresh, veggie side-dish, we love to pair pork chops with a salad like classic garden cucumber and tomato salad or fresh avocado salad. Or, pair it with a single-veggie side like marinated tomatoes or marinated cucumbers. Don't forget some garlic bread to dip into the flavorful sauce!
Repurposing leftovers: Use pork chop leftovers to make a BBQ pork sandwich! Add your favorite barbecue sauce and coleslaw to make it a top-notch leftover meal.
Storing & Reheating Tips
Crockpot pork chops are the perfect trifecta — easy to make, taste great, and store/reheat wonderfully. It's the perfect dish to have on rotation! Follow these tips to keep your chops great for days!
Refrigerator: To store for up to three days, keep the chops in an airtight container in the fridge. The chops can be stored separately or along with the broth to maintain more juices.
Freezer: To store for up to three months, freeze pork chops in airtight, freezer-safe containers. Let the chops thaw overnight in the fridge prior to reheating.
Reheating: For a quick reheat, place the pork chops and sauce/gravy in a slightly covered microwave-safe bowl and heat slowly in the microwave. Or, reheat a larger portion in a skillet on the stovetop over medium heat, mixing the sauce and flipping the chops over as needed.
FAQ
Can I put frozen pork chops directly in the crock pot?
It is best to use thawed pork chops when cooking in the crock pot. Crock pots cook slowly at a low temperature, so frozen meat may take much longer than fully thawed meat to cook. This means the meat may stay at an "unsafe" temperature for a longer period of time than recommended.
Can I cook crock pot pork chops on high to quicken the process?
It is best to cook the pork chops on low for the recommended six hours, as this allows the meat to tenderize and develop the best flavors. Cooking on high may result in drier, less flavorful, and more tough chops.
Are pork chops usually tough and dry?
Pork chops are often misrepresented as a tough and dry meat, but when prepared correctly, they are fantastic. For example, crock pot pork chops come out perfectly tender and juicy.
What makes pork chops tender when cooked in the slow cooker?
Pork chops become tender in the slow cooker as a result of being cooked slowly at a low temperature in a "savory bath" of broth, veggies, and other seasonings.
More Pork Chops To Love
Recipe
These crock-pot pork chops are cooked in an onion and mushroom broth, resulting in tender and fabulous chops with very little effort!
Ingredients
4

lbs

pork chops

thick, bone-in

1/4

cup

flour

1

tbsp

salt

adjust to taste

1/2

tbsp

ground black pepper

adjust to taste

3

tbsp

oil

olive or avocado

1

large onion

sliced

16

oz

mushrooms

sliced

3

cups

broth

beef, vegetable, or chicken
Nutrition Facts
Crock Pot Pork Chops (with Mushrooms)
Amount Per Serving
Calories 435
Calories from Fat 189
% Daily Value*
Fat 21g32%
Cholesterol 152mg51%
Sodium 1337mg56%
Potassium 1056mg30%
Carbohydrates 7g2%
Protein 51g102%
Vitamin A 199IU4%
Vitamin C 2mg2%
Calcium 24mg2%
Iron 2mg11%
* Percent Daily Values are based on a 2000 calorie diet.