This old fashioned beef stew gravy is the epitome of comfort food. Slow-cooked and tender, it will transport you straight to your grandmother's kitchen.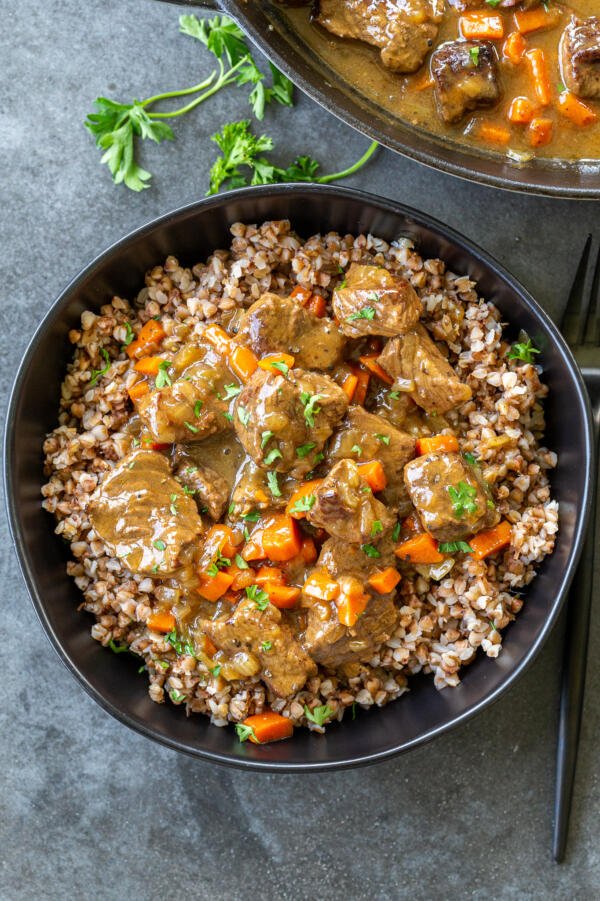 This old fashioned beef stew gravy will warm even the coldest corners of your soul, much like our hearty Salisbury steak. Cooked low and slow until tender, it makes for the perfect dinner on a cold or stressful day. If you have a collection of go-to beef stew recipes, get ready to add this luscious gravy to your rotation!
Whether you smother it over creamy mashed potatoes or serve it alongside roasted veggies, this beef stew gravy is sure to satiate your craving for a classic home-cooked meal. Perfect for batching, you can double or triple the recipe depending on the size of your family and have it on hand throughout the week for quick lunches and dinners. Bonus: This gravy gets more delicious as it marinates in the refrigerator. Hello, tasty leftovers!
How to Make Beef Stew Gravy
Making beef stew gravy only requires a handful of simple ingredients and steps. It's the ultimate "set it and forget it" kind of meal! Below, find an overview of the recipe before you dive in.
Have a dutch oven? If so, use it! The heavy soup lid of a Dutch oven evenly distributes heat throughout the entire gravy, making each morsel of beef super tender. If you don't have a Dutch oven and are looking for a recommendation, I love the Staub. It NEVER leaves my stovetop.
Tips for Making the Best Beef Stew Gravy
Below, find a collection of tips and tricks to help you make your best beef stew gravy the best.
Whisk the flour until you remove all the lumps. When thickening the stew gravy towards the end of the cooking process, make sure to whisk any lumps out of the flour with cold water.
Trim the beef. Before you brown the beef, trim off any sinewy or tough pieces of fat to ensure a tender bite.
Adjust the salt to taste. When making stew gravy, it's important to taste test it before serving to ensure it has enough salt. Adjust the levels as necessary and use your best judgment!
Cook the stew gravy low and slow. To prevent the beef from overcooking, make sure to bring the heat down low.
Instant Pot Hack: Cut the cooking time down by using your Instant Pot. Brown the beef using the sauté setting and add all the ingredients directly into the pot. Cook on the stew setting and enjoy!
Serving Beef Stew Gravy
Beef stew gravy goes wonderfully with most potato and grain side dishes. Pair it with some creamy mashed potatoes, steamed white or brown rice, quinoa, buckwheat, macaroni, or barley for a well-rounded meal. You could also go the low-carb route and serve the gravy alongside some air fryer asparagus or air fryer broccoli.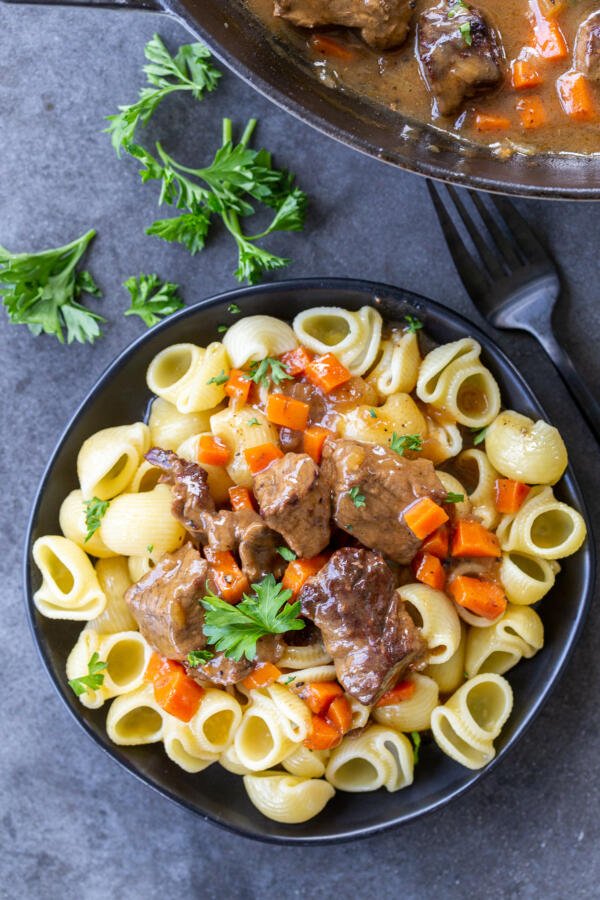 Storing Beef Stew Gravy
Beef stew gravy is a great make-ahead dish. Below, find instructions on how to serve it in both the refrigerator and freezer.
Refrigerator: Store leftover beef stew gravy in an airtight container in the refrigerator. It should stay fresh for up to 5 days. As it marinates in itself, the flavors continue to deepen and develop, making wonderful leftovers.
Freezer: Freeze leftover beef stew gravy by first letting it cool completely at room temperature. Then, transfer the stew to an airtight container. It should keep in the fridge for up to 3 months.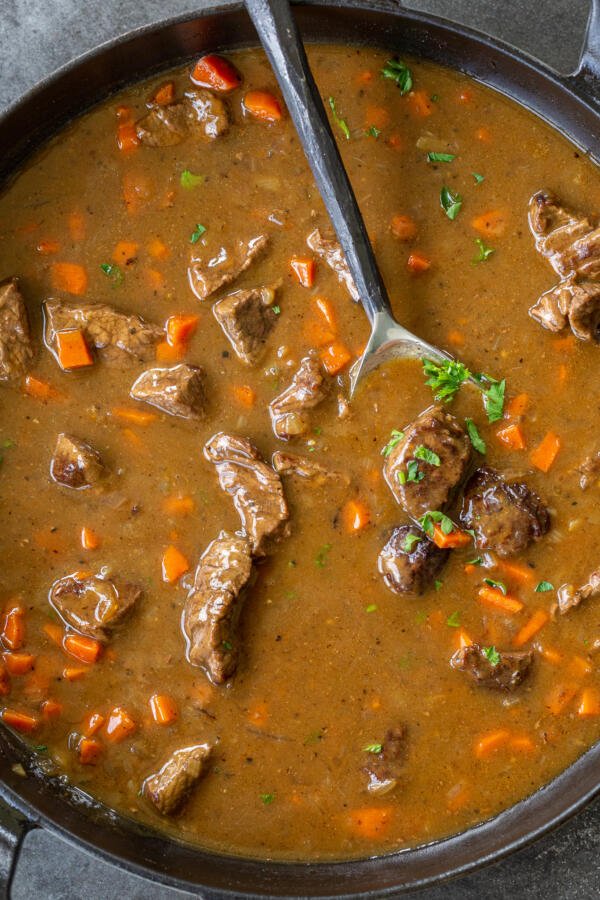 FAQ
How do I make thick beef stew gravy?
You make thick beef stew gravy by adding a slurry, or a concentrated starchy liquid, towards the end of the cooking process. In this recipe, the slurry is a mixture of flour and cold water.
How do I add richness to beef stew gravy?
One of the ways you add richness to a stew is by browning the beef beforehand. This releases fat into the soup pot that will flavor the broth. Additionally, adding enough salt and pepper helps elevate the flavors of a stew. You could also add a couple of bay leaves or swap out the water for beef broth if you want an extra punch of flavor.
Should I flour the beef for stew gravy?
You do not need to flour the beef for stew. Some cooks like to flour the beef before they brown it but for this recipe, it's perfectly acceptable to add the flour in with water towards the end of the cooking process as a thickening agent.
Is it better to thicken the stew gravy with flour or cornstarch?
It's better to thicken stew gravy with flour if you like the nutty flavor it adds. If you want a flavorless, gluten-free thickener, cornstarch is a great option.
How do I fix bland stew gravy?
You can fix bland stew by adding more salt and pepper to taste. You can also add a depth of flavor by adding a touch of soy sauce or Worcestershire sauce.
More Gravy Recipes to Try
Recipe
This beef stew gravy is the epitome of comfort food. Slow cooked and tender, it will transport you straight to your grandmother's kitchen.
Nutrition Facts
Old Fashioned Beef Stew Gravy
Amount Per Serving
Calories 204
Calories from Fat 117
% Daily Value*
Fat 13g20%
Cholesterol 59mg20%
Sodium 1829mg76%
Potassium 364mg10%
Carbohydrates 5g2%
Protein 17g34%
Vitamin A 2563IU51%
Vitamin C 2mg2%
Calcium 30mg3%
Iron 2mg11%
* Percent Daily Values are based on a 2000 calorie diet.