This creamy orzo recipe is made with a white sauce of crispy bacon, caramelized onions, and salty parmesan cheese. Perfect as a side dish or light meal!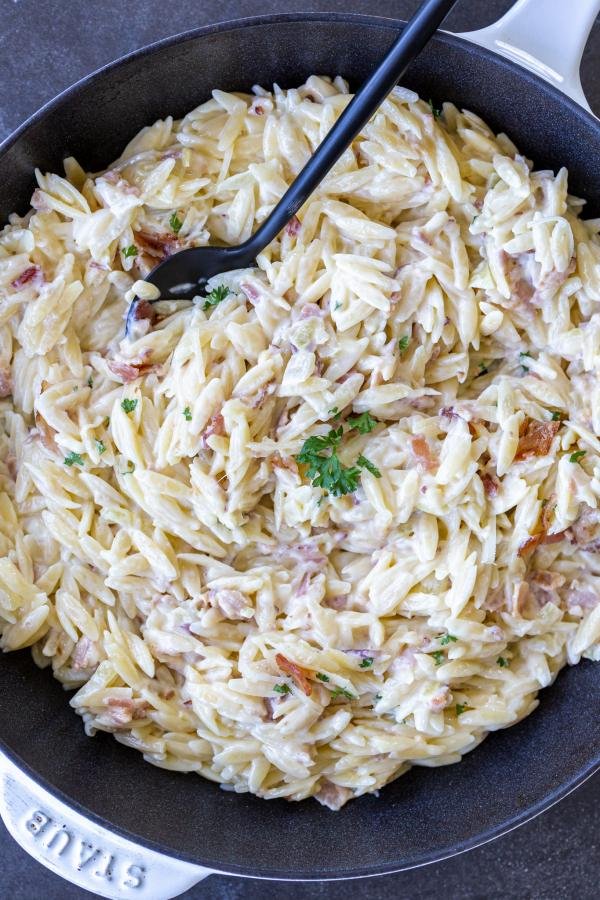 This creamy orzo recipe is such a nice departure from a typical pasta dish. The tender orzo has such an amazing texture and the white sauce with bacon and parmesan is so decadent and creamy. Make it for your next potluck or quick weeknight dinner.
What is Orzo?
Orzo, aka risoni, is a pasta that's made from white flour and cut into a shape that resembles a grain of rice. It can be substituted anywhere that you would use traditional pasta or risotto rice. You'll find it served warm with a variety of different sauces or tossed into pasta salads.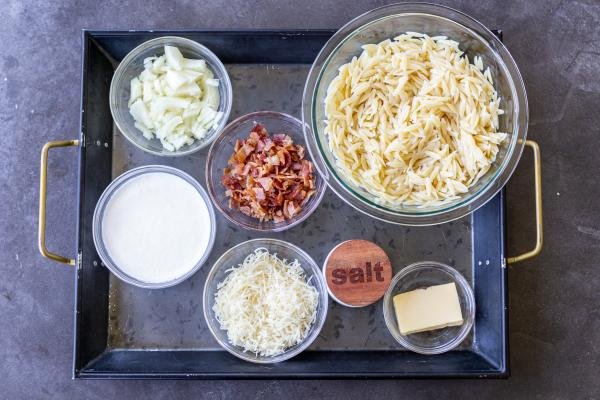 Making this Creamy Orzo Recipe
​Making this creamy orzo recipe is so simple, a kid could prepare it. Below, find a simplified overview of the recipe before you dive in.
Cook the Orzo: Prepare the orzo and set it aside.
Caramelize the Onions: Dice the onions and caramelize them in a large skillet with a bit of butter.
Build the Creamy Sauce: Add the bacon crisps to the skillet, followed by the heavy whipping cream. Bring the sauce to a boil.
Add in the Orzo: Next, add in the cooked orzo and parmesan cheese. Season to taste with salt. Serve warm and enjoy!
Looking for a great pasta skillet? I'm obsessed with this skillet from Staub for tossing pasta. It's great for sautéing and deep enough for building sauces.
4 Tips for Nailing this Creamy Orzo Recipe
Here you'll find a handful of tips to help you make the most out of this creamy orzo bacon pasta.
Cook the orzo until it's al dente. Since the orzo will continue to cook in the sauce after you boil it, only cook it until to al dente (a firm bite) to prevent it from turning mushy.
Toss the orzo in olive oil while you make the sauce. To prevent the orzo from sticking together after you boil it, drain it in a colander and immediately toss it in a bit of olive oil.
Add in your favorite sautéed veggies. If you want to pack a serving of veggies into this dish, go for it. Sautéed asparagus, broccoli, shallots, mushrooms, and peas work especially well. Or, toss in a couple of cups of fresh spinach once the pasta is finished and stir it in until it wilts.
Toss in some fresh herbs. For a pop of color and flavor, add in fresh parsley (Italian flat leaf, not the kind that is used as a garnish) or fresh basil.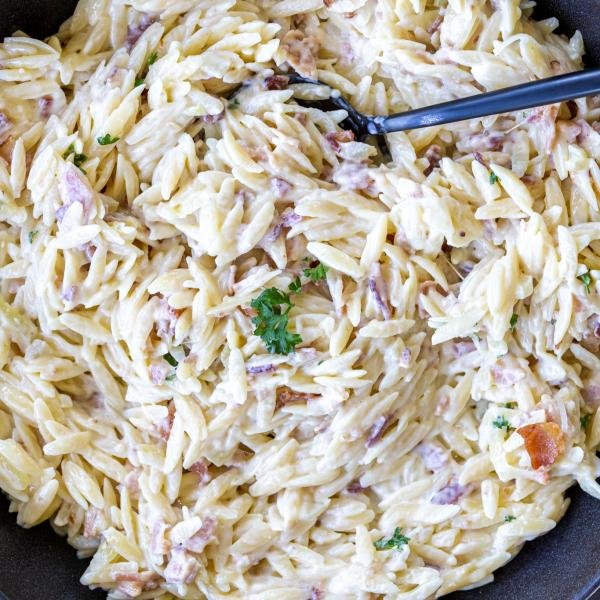 Ways to Serve this Creamy Orzo Recipe
Serve this creamy orzo pasta recipe as a side dish to your favorite protein, such as perfect grilled chicken or air fryer pork chops. If you'd like to serve it as a main dish, pair it with a homemade caesar salad or a tomato peach burrata salad. For a kid-friendly weeknight meal, serve it alongside some buttery garlic knots.
Storing Your Leftovers
To keep your creamy orzo pasta fresh for up to 5 days, store it in an airtight container in the fridge. This will keep the orzo from hardening. To reheat the pasta, zap it in the microwave or warm it in a skillet with a splash of heavy cream to rehydrate it as it cooks.
FAQ
Should you rinse orzo before cooking it?
You should not rinse the orzo before cooking it. If you do, you'll rid it of a thin layer of starch that helps to thicken the pasta sauce. This also makes it harder for the sauce to "stick" to the orzo.
Can you cook orzo in a rice cooker?
Cooking orzo in a rice cooker is a totally acceptable method. To do so, place water and orzo directly into the rice cooker pot with a pinch of salt. Turn the cooker on and let the orzo cook for about 8-10 minutes. Immediately remove the pot with kitchen mitts and set the pasta aside to cool uncovered.
How long does it take to boil orzo?
It takes about 8-10 minutes to boil orzo to al dente.
How much water do you need to cook a cup of orzo?
Cook 1 cup of orzo in 1/2 cup of water. If you'd like creamier orzo (think risotto), cook each cup of orzo in 2 cups of water.
Is orzo pasta low-carb?
Orzo is not a low-carb food, as it's pasta that's made with white flour.
Other Pasta Recipes to Try
Recipe
This creamy orzo pasta recipe is simple comfort food at its finest. A dish that's both mature enough for adults and kid-friendly!
Ingredients
1

lb

orzo pasta

1

cup

heavy whipping cream

1/2

cup

parmesan cheese

1

cup

bacon crisps

1/2

yellow onion

2

tbsp

Unsalted Butter

1

tsp

salt

adjust to taste
Nutrition Facts
Creamy Orzo Bacon Pasta Recipe
Amount Per Serving
Calories 390
Calories from Fat 198
% Daily Value*
Fat 22g34%
Cholesterol 52mg17%
Sodium 479mg20%
Potassium 184mg5%
Carbohydrates 36g12%
Protein 11g22%
Vitamin A 468IU9%
Vitamin C 1mg1%
Calcium 88mg9%
Iron 1mg6%
* Percent Daily Values are based on a 2000 calorie diet.