This chicken mushroom alfredo is a copycat of Olive Garden's famous version. It's super savory, creamy, and packed with tender chicken!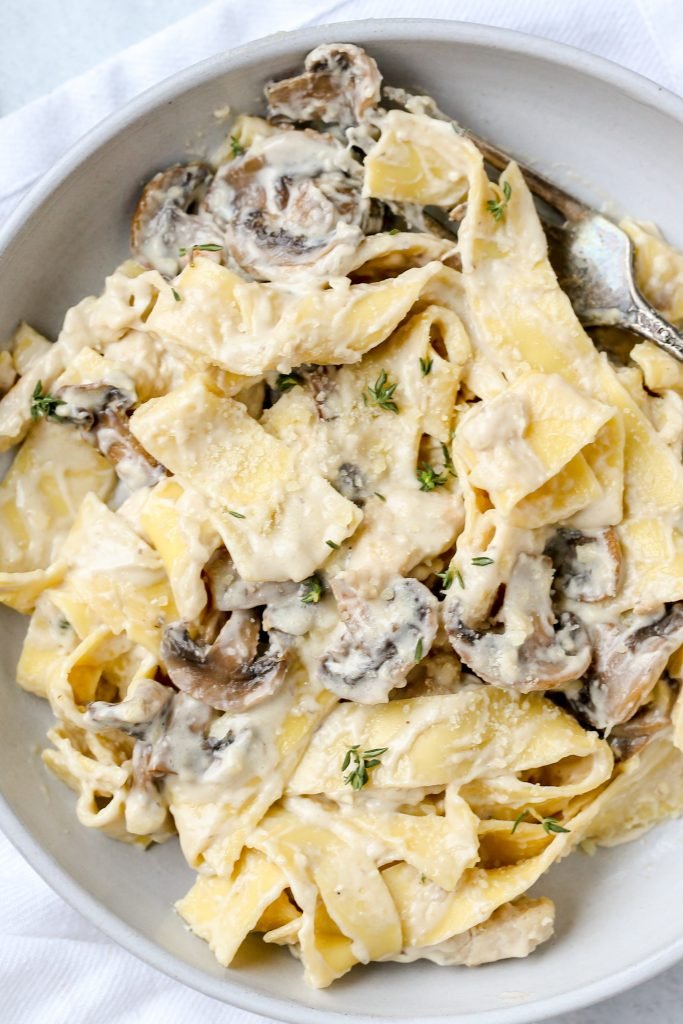 When I'm looking for a meal that everyone in my family will love, this classic chicken mushroom alfredo is always a hit. My husband and sons always fill their plates and enjoy every creamy, luscious bite. If you have a picky eater at your table, know that the mushrooms are completely optional and you can easily leave them out. I think they add a nice earthiness and depth of flavor, so I always at least sauté some on the side so everyone has the option. You're going to just love this recipe!
Note: This chicken mushroom pasta recipe uses my 5-minute alfredo sauce. It's such a simple recipe to make, and always turns out cheesy, creamy, and full of flavor.
The Difference Between Fettuccine and Spaghetti
For this recipe, you'll want to use fettuccine noodles over spaghetti noodles. The difference? Fettuccine noodles are flat, long noodles that are made with eggs. On the other hand, spaghetti noodles are long, circular-shaped noodles that are milder in flavor. As a general rule of thumb, fettuccine noodles are best for creamy white sauces, while spaghetti noodles go best with tomato-based sauces.
Assembling Chicken Mushroom Alfredo
Assembling this chicken mushroom alfredo only requires 10 ingredients and a handful of simple steps. Below, find a simplified overview of the recipe before you get to cooking.
What does it mean to cook pasta until al dente? Cooking pasta to al dente means that you boil it to the point where it still has a bit of a bite (2-3 minutes less than the recommended cooking time). Since it will continue to cook once added to the sauce, this will prevent it from turning mushy.
3 Pro Tips for the Best Chicken Mushroom Alfredo
Here you'll find a handful of pro tips to help you make the best chicken mushroom alfredo on the planet.
Ways to Serve Chicken Mushroom Alfredo
Serve the chicken mushroom alfredo as-is for a filling meal all on its own. If you can't live without a couple of good side dishes, serve it alongside fresh focaccia bread and a homemade caesar salad.
Best Practices for Storing Leftovers
Whether you have a couple of servings of pasta to stow away in the fridge for a rainy day, find all of our top storage tips here.
FAQ
Can you use leftover chicken?
Yes, leftover chicken will work great in this recipe. Simply heat it up in a large skillet until warmed through and proceed with the recipe as directed.
Is alfredo sauce healthy?
While alfredo sauce is high in fat, making it homemade nixes any preservatives you'd get in jarred or bottled versions. It's also a wonderful sauce to use if you're following a low-carb or keto diet.
How do you add flavor to bland alfredo sauce?
Liven up bland alfredo sauce by adding more pressed garlic or salt and pepper to taste. If you like it spicy, add a couple dashes of red pepper flakes.
How do you thicken alfredo sauce?
To thicken alfredo sauce, add some more parmesan cheese, a bit of cornstarch, or some pasta water. Of note, the sauce will thicken naturally as it simmers and cools down.
What kind of mushrooms should you use?
Feel free to use any mushroom you like best or a blend of a couple of different kinds. Cremini, portobello, and chanterelles all work great.
Other Pasta Recipes to try:
Recipe
This chicken mushroom alfredo features luscious creamy sauce tossed with juicy chicken and sautéed mushrooms. An Olive Garden copycat!
Nutrition Facts
Chicken Mushroom Fettuccine Alfredo
Amount Per Serving
Calories 493
Calories from Fat 342
% Daily Value*
Fat 38g58%
Cholesterol 169mg56%
Sodium 586mg24%
Potassium 470mg13%
Carbohydrates 18g6%
Protein 20g40%
Vitamin A 1308IU26%
Vitamin C 2mg2%
Calcium 130mg13%
Iron 1mg6%
* Percent Daily Values are based on a 2000 calorie diet.