This creamy weeknight one-pot pasta recipe is effortless & boasts a zesty flavor that will win even the pickiest of eaters over. Make it with fresh pasta!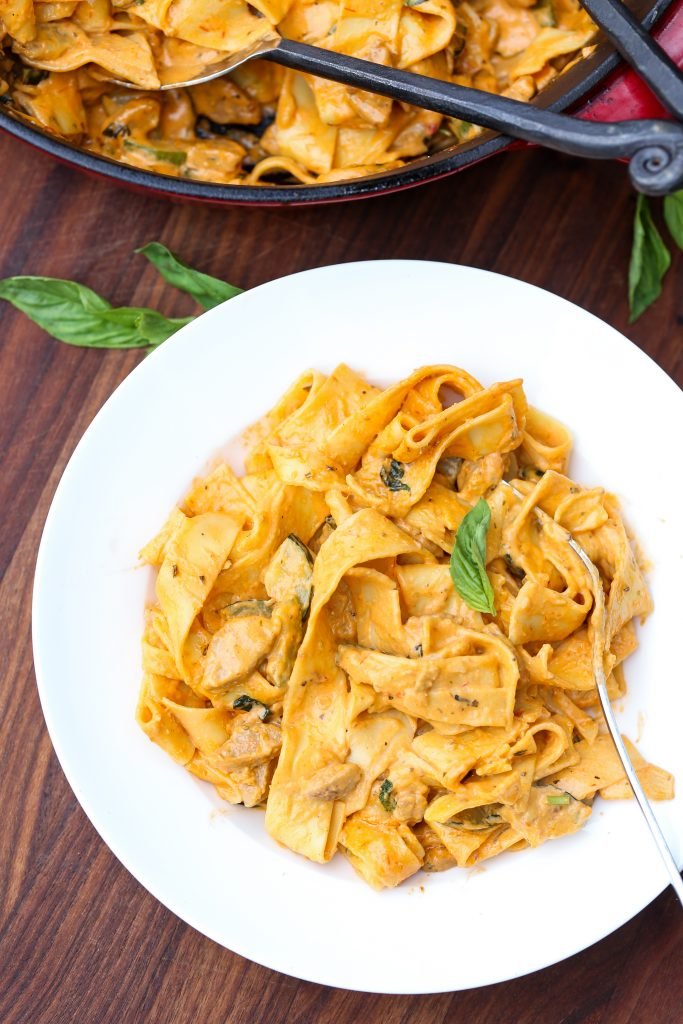 Are you the kind of person who dreads spending time in front of the kitchen sink washing dishes? I mean, who can blame you? With busy lives and jobs, sometimes the only thing standing in between you and ordering takeout is a one-pot meal. This crazy easy pasta dish is just what the doctor ordered. With savory sausage, veggies, and a creamy tomato sauce, it falls nothing short of "hitting the spot".
Preparing this Easy One-Pot Pasta Recipe
With under 10 ingredients, 30 minutes of prep and cook time, and minimal cleanup, this pasta comes together in a pinch.
Boil the Pasta: Boil the pasta and set it aside.
Prep the Sausage & Veggies: Next, chop the zucchini and Italian sausage into small pieces.
Sauté the Sausage & Veggies: In a deep, large skillet, cook the veggies and sausage in olive oil until lightly browned.
Build the Sauce: Next, add in the heavy whipping cream, pasta sauce, and parmesan cheese. Season the sauce mixture with garlic parsley salt to taste. Stir and simmer until smooth and creamy.
Assemble the Pasta: Add in the cooked pasta and fresh basil. Stir to combine and serve hot!
A Handful of Helpful Tips
Here's a few go-to tips to help you get the most out of your one-pot pasta dish.
Use fresh pasta or make your own. Instead of using dried pasta, opt for the fresh stuff (you can find it in the refrigerated cheese section of most grocery stores). If you're feeling extra ambitious, make it at home using our guide on how to make homemade pasta. Nothing compares to the taste of homemade pasta!
Undercook the pasta by two minutes. Cook the pasta 2 minutes short of the package instructions, as it will finish cooking within the sauce itself.
Serve the pasta right away. Pasta is always best when it's fresh, so prep it only right before you're planning to serve it.
Customizing this One-Pot Pasta Recipe
Feel like switching the recipe up? Here's a couple of ideas to kickstart your creative process.
Noodles: We like to use long, flat fettuccine noodles, but elbow macaroni, rotini, linguine, spaghetti, angel hair, or even gluten-free pasta will work great. You can't go wrong!
Veggies: You can nix the protein all together and whip with dish up for Meatless Monday. Fill it with colorful vegetables like peas, fresh spinach, broccoli, onions, roasted garlic cloves, mushrooms, or cherry tomatoes.
Spices: Garlic parsley salt will do the trick, but feel free to add dried oregano, red pepper flakes, or freshly ground black pepper.
Herbs & Citrus: Swap out the basil for oregano or sage. If you like a lemony pasta, squeeze in the juice of half a lemon.
Different Sides to Serve with this One-Pot Pasta Recipe
For a full-blown Italian spread, serve the pasta alongside a homemade caesar salad and a loaf of cheesy bread. You can also pair it with your favorite veggie side dish. We love crispy air fryer asparagus or grilled zucchini and mushrooms.
Storing & Reheating Tips
This pasta dish is best served fresh, but also makes for some pretty tasty leftovers.
Storing: To keep it on hand for up to a week, store it in an airtight container in the fridge.
Reheating: To reheat the pasta, throw it back into a skillet with a little butter. You can also add in some heavy whipping cream to thin the sauce out if it's gotten too starchy.
FAQ
Can you cook pasta without draining the noodles?
For certain recipes, you can cook the pasta noodles directly in the sauce. For this recipe, we like to boil it beforehand and add it in fully-cooked.
What kind of sausage should you use?
We like to use hard Italian sausage made with chicken best. You can also use a pork or turkey variety, or add ground Italian sausage instead.
What does it mean to cook pasta to "al dente"?
"Al dente" is a term that refers to cooking the pasta to the point where it still has a bit of a bite, instead of boiling it until it's mushy.
Can you prepare this recipe in a Dutch oven?
Absolutely! This Dutch oven from Staub never leaves our stovetop and is wonderful for making everything from pastas to braises to soups.
How can you thicken the pasta sauce?
If you like an extra thick pasta sauce, save a bit of the pasta water after cooking the noodles and add a bit of the liquid to the sauce. The starch will help to thicken the sauce naturally.
Other Pasta Recipes to Try
Recipe
This creamy one-pot pasta recipe is packed full of Italian sausage, herbs, and a tomato and cream sauce. So tasty and requires minimal cleanup!
Ingredients
1

lb

pasta

2

small zucchinis

3

Italian sausages

1

cup

heavy whipping cream

1/2

cup

shredded parmesan cheese

1

cup

pasta sauce

1

cup

fresh basil

1

tsp

garlic parsley salt

1

tsp

olive oil

for cooking
Nutrition Facts
Creamy One-Pot Pasta Recipe
Amount Per Serving
Calories 504
Calories from Fat 243
% Daily Value*
Fat 27g42%
Cholesterol 77mg26%
Sodium 877mg37%
Potassium 499mg14%
Carbohydrates 47g16%
Protein 17g34%
Vitamin A 875IU18%
Vitamin C 12mg15%
Calcium 130mg13%
Iron 2mg11%
* Percent Daily Values are based on a 2000 calorie diet.