Looking for The BEST easy Alfredo sauce recipe? With this simple to make Alfredo sauce recipe, your sauce is ready in 5 minutes. This is truly the best recipe.
One of my favorite sides to serve with this homemade, easy alfredo sauce are these Garlic Knots.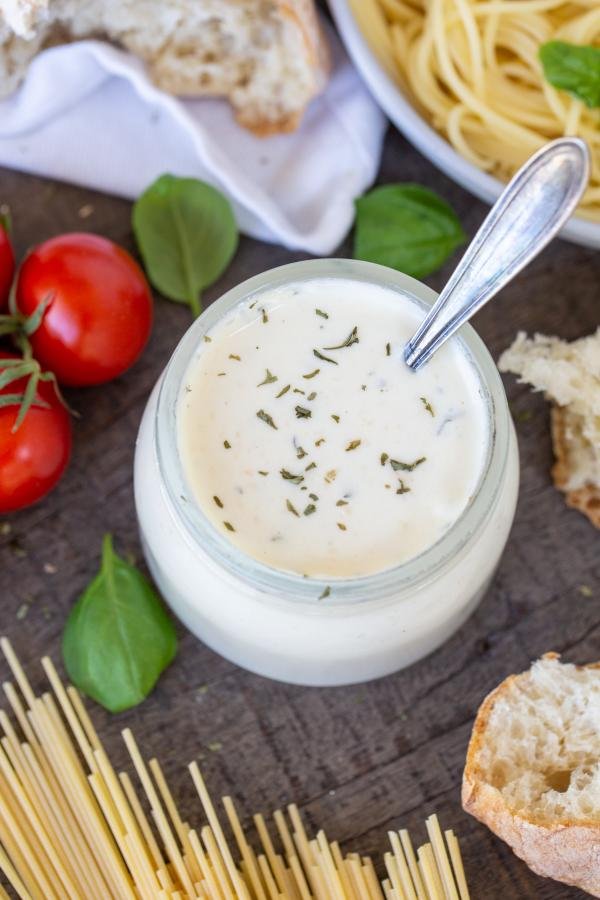 I may not be able to supply bottomless breadsticks and salad, but I can show you how to recreate Olive Garden's beloved alfredo sauce. Over the years, I've worked hard to recreate the recipe. Not to brag, but I think I nailed it!
This homemade Alfredo sauce is a no-fail, 5-minute sauce. Once you try it, you will never buy a jar of Alfredo sauce again.
Despite this sauce having a rich and complex flavor, it's extremely simple to make. Don't limit yourself to pairing it with noodles. Add a touch of this homemade alfredo sauce to your mashed potatoes, pour it over white rice or use it as a pizza sauce.
What is Alfredo Sauce?
Simply put, alfredo sauce is a combination of heavy whipping cream, unsalted butter, parmesan cheese, garlic cloves and parsley salt. The end result is a delicious, white cream sauce that pairs beautifully with seafood, chicken and vegetables.
What is the Best Way to Reheat the Alfredo Sauce?
The sauce will thicken as it cools. Fix this by reheating it in a saucepan at low-heat with a couple of spoonfuls of water.
How Can I Thicken my Alfredo Sauce?
If you like an extra thick consistency (think mac and cheese sauce) add in extra parmesan cheese and let it simmer a bit longer.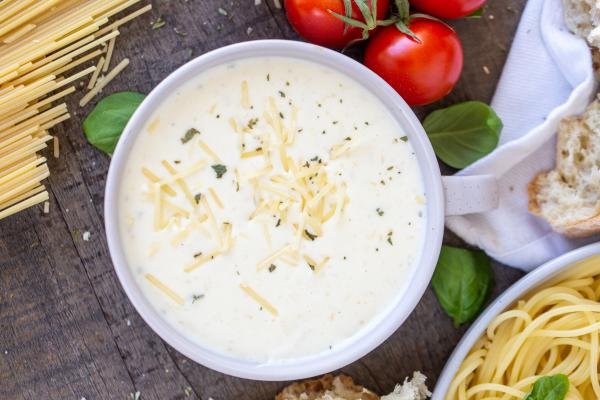 Simple Ways to Use the Alfredo Sauce
Whenever we invite people over for the first time, we usually serve Italian dinner. So far it has been a no-fail plan. Often, it surprises people that we make our own Alfredo sauce and sometimes even the homemade pasta. Here are some dishes you can prepare with the Alfredo Sauce:
In addition to making Alfredo pasta, you can also put this Alfredo sauce on pizza or rice. I've even seen people adding a little amount to mashed potatoes to give it an even better taste.
Variations to this Easy Alfredo Sauce Recipe
Alfredo sauce is such a simple recipe and chances are, you have the ingredients on hand. This recipe is a great way to sneak in the added protein and veggies. If doing so, you may want to double the recipe depending on your ingredients. Some of my favorite are:
Chicken
Shrimp
Sun-Dried Tomatoes
Spinach
Broccoli
If you're wanting a little spice, add a pinch or two of cayenne pepper or cajun seasoning to your protein to spice it up a notch!
Ingredients for Easy Alfredo Sauce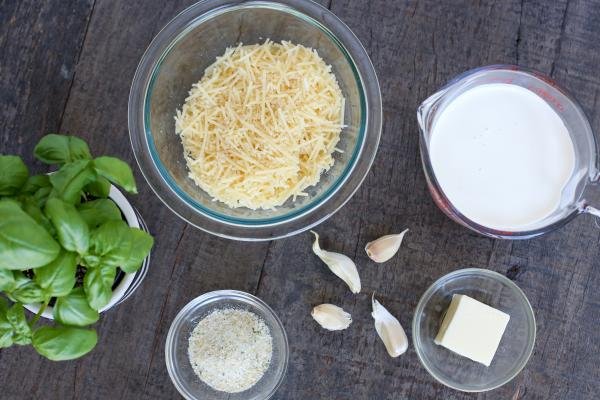 Heavy Whipping Cream
Unsalted Butter
Parmesan Cheese
Garlic Cloves
Parsley Garlic Salt
Tips for Making the Best Alfredo Sauce
Measure out all your ingredients before you start cooking. You will need to stand by the stove while preparing this dish to ensure the cream and cheese does not burn. Pre-measuring will prevent you from having to step away and it will make for a less stressful cooking experience!
Use a whisk versus a spoon. A whisk will help you incorporate the ingredients better, which results in a smoother, creamier sauce.
Serve the sauce immediately. Like I said above, the sauce thickens as it cools. Plus, your guests will be impressed when you pour the fresh, homemade sauce over their noodles!
Can I Freeze the Alfredo Sauce?
You can and you should! I like to freeze a batch and use it on days I don't want to cook from scratch. Freeze the sauce in an airtight container within 2 hours of cooking. Make sure it is completely cooled before freezing. When reheating, stir it continuously to prevent the cheese from curdling.
Alfredo Sauce Nutrition
Despite it being higher in fat, alfredo sauce is low-carb! If you're watching your weight, apply the sauce over broccoli or asparagus.
Other Easy Pasta Recipes
Recipe
Looking for The BEST easy Alfredo sauce recipe? With this simple to make Alfredo sauce recipe, your sauce is ready in 5 minutes. This is truly the best recipe.
Nutrition Facts
Easy Alfredo Sauce (5 Minutes)
Amount Per Serving
Calories 298
Calories from Fat 261
% Daily Value*
Fat 29g45%
Cholesterol 96mg32%
Sodium 320mg13%
Potassium 60mg2%
Carbohydrates 2g1%
Protein 8g16%
Vitamin A 1055IU21%
Vitamin C 0.7mg1%
Calcium 259mg26%
Iron 0.2mg1%
* Percent Daily Values are based on a 2000 calorie diet.