This quick and easy homemade Alfredo sauce recipe uses heavy cream, butter, and Parmesan cheese. Once you try it, you'll never buy a jar of Alfredo sauce again!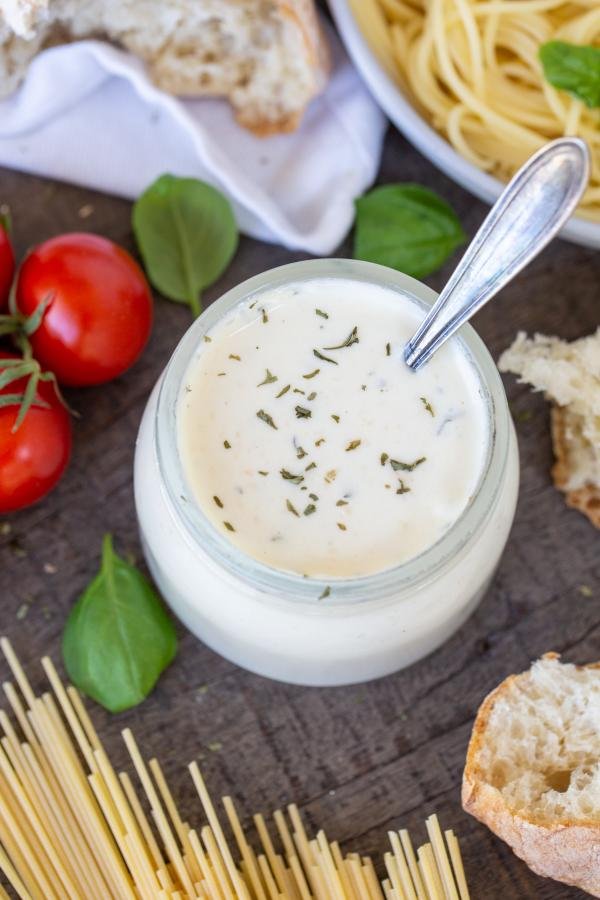 It may be difficult to recreate Olive Garden's bottomless breadsticks and salad, but it is possible to recreate their beloved Alfredo sauce at home! Over the years, I've worked hard to recreate the recipe — and not to brag, but I think I nailed it!
What Is Alfredo Sauce?
Alfredo sauce is a white creamy sauce made from a combination of heavy whipping cream, butter, Parmesan cheese, and a variety of seasonings. The sauce has a rich and complex flavor, but is extremely simple to make. It's commonly used in a variety of dishes ranging from pastas to pizzas.
Per legend, the sauce's name "Alfredo" came from the man who invented the sauce — Alfredo di Lelio. Some accounts state he created the sauce in the early 1900's when his wife lost her appetite after giving birth. He concocted a delicious-tasting sauce hoping to improve her appetite. At some point after that, it's believed that a couple of silent-film actors discovered this dish while vacationing in Rome and consequently, the alfredo dish soared in popularity after they shared it with the rest of the world.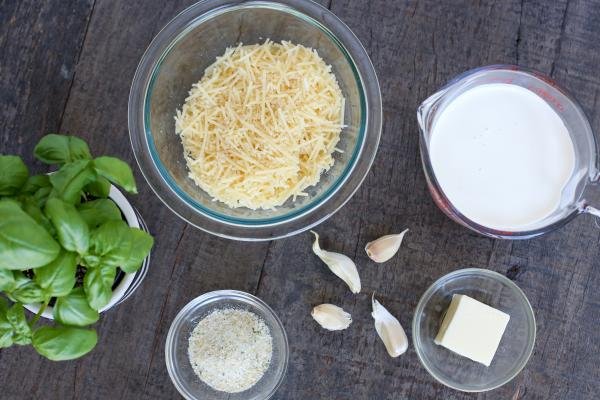 How To Make Alfredo Sauce
Are you ready to make this rich and creamy sauce? All you need is five minutes, a small pot, and a whisk! The taste of this sauce will surely "whisk" you away to a wonderful place!
Prep the ingredients: The recipe moves quickly, so prep all the ingredients ahead of time.
Simmer the cream: In a medium saucepan, simmer the heavy cream, parsley garlic salt, and melted butter over medium heat. Whisk continuously to avoid burning.
Press in the garlic: Press the garlic into the cream and cook for a minute. Add in Parmesan cheese and whisk until it completely melts in.
Serve: Serve the alfredo sauce in a pasta dish or as a base for pizza!
Hot tip: Alfredo is higher in fat, but it is also low-carb and gluten-free! If you're watching your weight and sugars, it's the perfect sauce!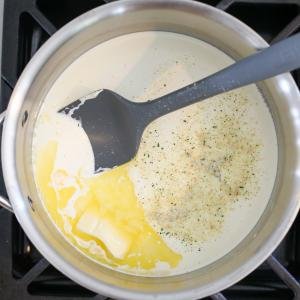 Variations to This Easy Alfredo Sauce Recipe
This traditional Alfredo sauce is so simple — chances are you already have all the ingredients on hand. If you want to change it up a little bit, we've got a few tasty flavor variations for you.
Spicy: Add a pinch or two of cayenne pepper or cajun seasoning to spice it up a notch!
Vegan: Swap out the butter, heavy cream, and Parmesan for vegan alternatives.
Low-fat: Instead of heavy cream, use milk or half and half. The Alfredo may be less creamy, but it'll also be less fatty!
Lemon-y: For a hint of fresh citrus flavor, squeeze a bit of fresh lemon juice into the cream. Taste often to avoid making the Alfredo too lemon-y.
Garlic-y: To add more garlic flavor to the Alfredo, add in an additional 1-2 teaspoons of garlic powder.
Different cheese: Feel free to shy away from the classic Parmesan cheese and try out Asiago or romano cheese for a different cheesy flavor.
Tips for the Best Alfredo Sauce
It's easy to go to the store and buy a jar of Alfredo sauce, but it's even easier to make this Alfredo sauce yourself. To make it the easiest, fastest (five minute total time!), and BEST Alfredo sauce, heed these tips.
Measure out all your ingredients first: This sauce cooks quickly, but it also burns easily if left to sit on the stove for too long. Prep the ingredients ahead of time to allow you to continuously whisk the sauce while it cooks.
Use a whisk: Use a whisk to stir the sauce. Whisking incorporates the ingredients better than a spoon or fork, resulting in a smoother, creamier sauce.
Serve the sauce immediately: The sauce thickens as it cools, so serve it right away while it's at the perfect creaminess. Plus, your guests will be impressed when you pour the fresh, homemade sauce over the noodles!
Buy a block of Parmesan: Opt for a block of Parmesan cheese instead of pre-shredded cheese. Pre-shredded cheese doesn't melt as well, and has a slightly different flavor than blocked cheese.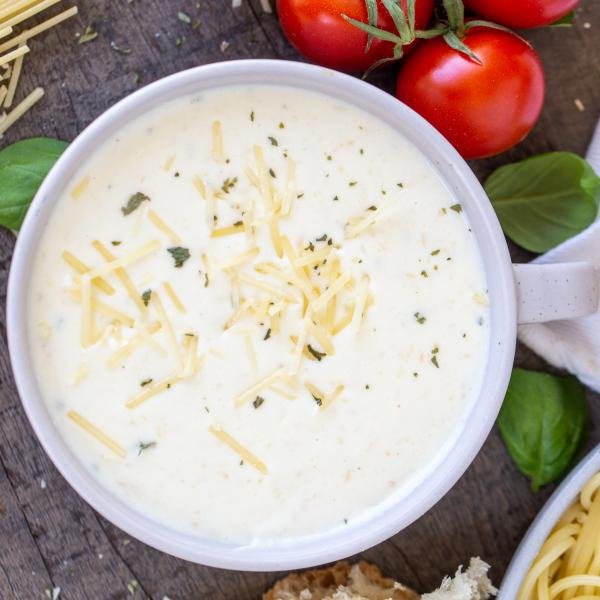 Troubleshooting Alfredo Sauce
On our journey to perfecting this alfredo sauce, there were times when the sauce didn't turn out quite as we hoped for. If any of these things happen to you, here are reasons why and what to do to make sure your Alfredo turns out perfect the next time.
Thin consistency: If the consistency of the Alfredo is too thin, add in extra grated parmesan cheese and allow the sauce to simmer a bit longer. Keep in mind the sauce will thicken as it cools.
Thick consistency: To thin out a thick Alfredo, toss in a splash of milk or water.
A "broken" or "separated" sauce: If the Alfredo has separated, it is likely because the heavy cream was too cold when added into the pan. To avoid a broken sauce, allow the heavy cream to come to room temperature before combining.
Bland flavor: If the sauce is a bit too bland for your liking, add in a few of your favorite seasonings and spices. Salt, black pepper, Italian seasoning, dried basil, oregano, or onion powder taste delicious in this sauce. Add the spices in small amounts (about 1/4 to 1/2 tsp at a time) and taste along the way to avoid over-spicing.
Simple Ways to Serve the Alfredo Sauce
Whenever we invite people over for the first time, we usually serve an Italian-inspired dinner. Often, it surprises people that we make our own Alfredo sauce and sometimes even our homemade pasta. For a pasta and Alfredo mix, we love broccoli mushroom Alfredo, chicken mushroom fettuccine Alfredo, and chicken broccoli Alfredo. Whichever pasta dish we choose, we always make sure to have a side of these garlic knots to dip into the leftover sauce.
Why limit yourself to pairing the alfredo sauce only with noodles? Add a touch of this sauce to your mashed potatoes, pour it over white rice, or use it as the best Alfredo sauce for homemade pizzas made from this pizza dough. It's also a great way to season and cream-ify any protein or veggie of your liking!
Storage & Reheating
If you love Alfredo as much as we do, you'll definitely want to make an extra batch for the week! Or, if you have extra Alfredo left over after dinner tonight, there's no need to toss it! Store and use it again later this week!
Fridge: To store for up to five days, place cooled Alfredo sauce in an airtight container or glass jar and refrigerate.
Reheating: Avoid microwaving the sauce! Instead, reheat Alfredo sauce in a saucepan over low heat. Add in a few teaspoons of water if it's too thick. Stir the sauce continuously to prevent the cheese from curdling and to re-incorporate the fat and liquid.
FAQs
How long does it take for Alfredo sauce to begin thickening?
Alfredo sauce needs time to thicken, about 3-5 minutes while simmering. If it isn't thickening well enough, add a splash more heavy cream or Parmesan cheese.
What's the difference between white sauce and Alfredo sauce?
The difference between white sauce and Alfredo sauce is that white sauce is a French sauce made with a roux (flour and butter) and milk, whereas Alfredo is Italian in origin and made with butter, cream, and Parmesan cheese.
Can I use half and half to make Alfredo sauce?
Yes, half and half can be used instead of heavy cream in Alfredo sauce; however, it may be thinner and less creamy unless a secondary thickening agent is added.
More Easy Pasta Recipes
Recipe
This quick and easy homemade Alfredo sauce recipe uses heavy cream, butter, and Parmesan cheese. Once you try it, you'll never buy a jar of Alfredo sauce again!
Ingredients
1 2/3

cup

Heavy Whipping Cream

4

tbsp

Unsalted Butter

1 1/2

cups

Parmesan Cheese

4

Garlic Cloves

1

tbsp

Garlic Parley Salt
Nutrition Facts
Easy Alfredo Sauce (5 Minutes)
Amount Per Serving
Calories 298
Calories from Fat 261
% Daily Value*
Fat 29g45%
Cholesterol 96mg32%
Sodium 320mg13%
Potassium 60mg2%
Carbohydrates 2g1%
Protein 8g16%
Vitamin A 1055IU21%
Vitamin C 0.7mg1%
Calcium 259mg26%
Iron 0.2mg1%
* Percent Daily Values are based on a 2000 calorie diet.