This tasty shrimp linguine will transport you and your taste buds to Italy in less than 30 minutes. Using simple ingredients straight from your pantry and refrigerator, this will be your new favorite dish.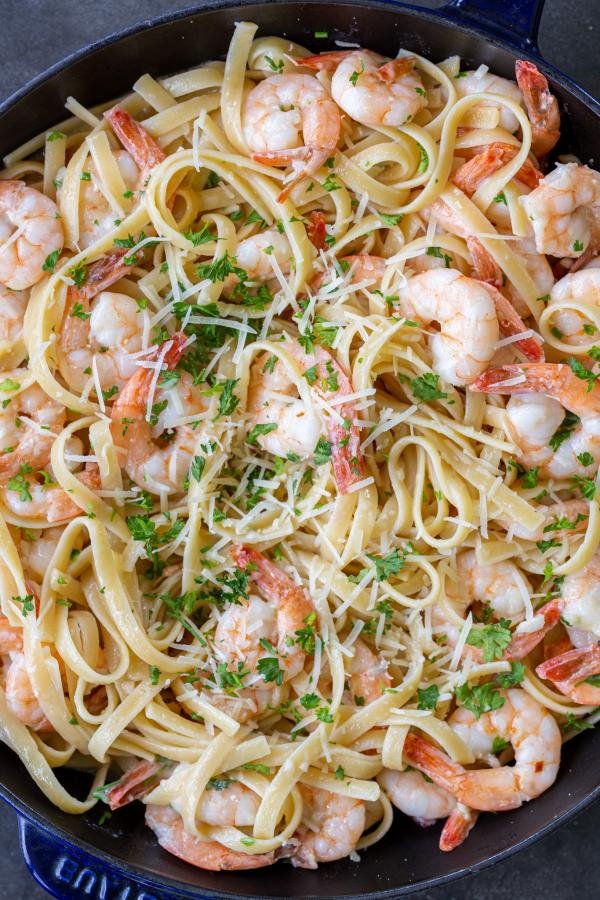 This recipe was inspired by our most recent family trip across Italy. Let me tell you, Italians really know how to combine even the simplest flavors to make the most delicious dishes. The combination of flavors in this dish meld perfectly and will bring you the best Italian flavor.
What is Shrimp Linguine?
Shrimp linguine is a classic Italian seafood cuisine that uses simple everyday ingredients like pasta, shrimp, garlic, and other simple seasonings. It is quick and easy to make, taking less than 30 minutes from start to finish.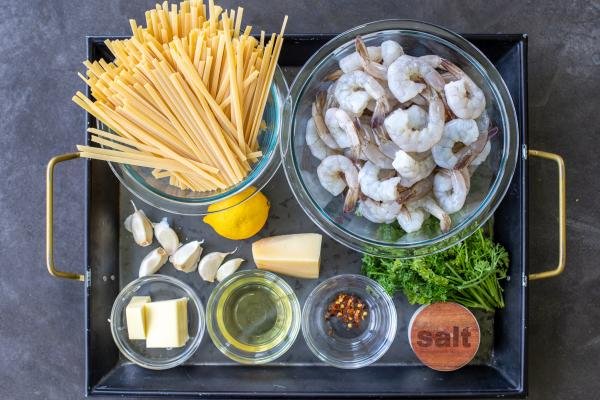 Shrimp Linguine Video
How to make the Perfect Shrimp Linguine
For such a delicious weeknight dinner, you'd be surprised how simple and easy this pasta dish is to cook! The ingredients are simple and chances are, they're in your refrigerator or pantry at this exact moment. Here's a summary to quickly get you on your way to having dinner ready on the table.
Cook pasta: In a pot with salted boiling water, cook linguine pasta to al dente according to package instructions, usually about 8-10 minutes. Drain and set aside, making sure to reserve some pasta water for later.
Preheat pan with oil and butter: Preheat and melt butter and olive oil in a separate large frying pan on medium-high heat.
Saute garlic: Saute minced garlic cloves for about 15 seconds, careful not to overcook.
Add shrimp: Add shrimp to pan, cooking about 3 minutes per side or until shrimp turns light pink in color.
Season: Season with salt, red pepper flakes, and lemon juice. Simmer for about a minute.
Combine: Add cooked pasta to the pan and stir together. Add reserved pasta water if pasta appears dry. Sprinkle with fresh chopped parsley and parmesan cheese.
Hot Tip: Skip store-bought pasta and make your own delicious pasta from scratch with our easy Homemade Pasta.
Shrimp Linguine Variations
Pasta Options
Shrimp linguine is made with linguine noodles, which pairs great with garlic butter, filling every bite with flavor. Other great options include fettuccine and spaghetti noodles.
Spaghetti: Spaghetti is the most popular type of long pasta. These are thin, long, and circular-shaped noodles that are milder in flavor compared to the other pasta types. Typically, spaghetti is best paired with tomato-based sauces, but if using as an alternative, be careful not to overcook as spaghetti often cooks faster than linguine.
Fettuccine: Fettuccine is a flatter pasta than linguine but tastes and looks very similar. It is often used in thick and creamy white sauces like Alfredo, but if substituting linguine with fettuccine, expect to wait a minute or two longer to cook the pasta to al dente.
Protein Substitutions
Although shrimp linguine is made using only shrimp, you can still substitute or mix in different proteins to make this recipe work best for you! Some great alternatives include:
Canned clams: Canned clams are typically already cooked, so add these along with the shrimp.
Scallops: Follow my 10 minute Pan- Seared Butter scallop recipe for the perfect sear, then swap out the shrimp with the scallops, or add scallops to the shrimp when shrimp is finished cooking.
Chicken: A great option for those who don't like seafood. Cut chicken thighs or breast into small bite-sized pieces and in a separate skillet, sear until golden brown and fully cooked, then add to shrimp (if mixing) or to sauce (if substituting).
Hot Tip: If you decide to add additional proteins to the dish, increase the amount of seasoning and sauce when cooking to keep the shrimp linguine from tasting bland.
More of Notable Options
Wine: Add dry white wine such as pinot grigio, sauvignon blanc or chardonnay to add more flavor to the sauce. Add a small amount of wine while cooking shrimp, giving time for the alcohol to be cooked off but the flavor infused into the cooking shrimp.
Vegetables: Quick-cooking vegetables like spinach, halved/quartered cherry tomatoes, and mushrooms can all be added to shrimp linguine. Just make sure to cut vegetables into small pieces to shorten cooking time. A good time to add vegetables is right before adding the minced garlic.
Tips Before You Get Started
With such a simple and quick recipe, it's hard to go wrong. Here's a few tips to make it even easier and more fool-proof.
Cook pasta al dente: Pasta cooked al dente (firm to the bite) retains more chew and a better taste compared to overcooked pasta. Check if the pasta is al dente by taking a bite a few minutes before it's done cooking.
Reserve pasta water: While straining the cooked pasta, save some pasta water to add back to the dish if the pasta gets dry. If it becomes dry, add a small portion of pasta water to re-hydrate the sauce.
Keep garlic fragrant: Sauté garlic briefly before adding shrimp. When garlic is properly sauteéd, it releases a fragrant fresh aroma. Cooking the garlic too long can make it taste bitter. For the best taste, you want the fragrant aroma to remain until the dish is finished.
Adjust spices: Adjust the amount of red pepper flakes to your liking. If spicy isn't for you, omit or start with a small amount and increase to what you can tolerate, but a bit of a spice kick is perfect in this dish.
Use fresh ingredients: Whenever possible, use fresh parsley and fresh parmesan cheese to help elevate the flavors, just like the Italians would.
Use raw shrimp: Cleaned, deveined, and raw large shrimp have the best flavor as they cook in the buttery garlic sauce. Also, using precooked shrimp can lead to overcooking.
Use a large pan: Use a large frying pan to avoid crowding the shrimp and allow for even cooking.
Use up extra ingredients: If you have more shrimp than the recipe calls for, use leftover shrimp to make crispy, juicy Air Fryer Shrimp appetizers.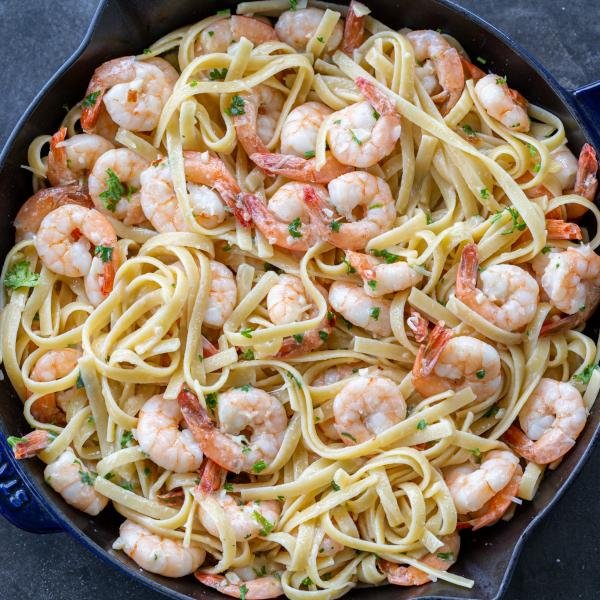 Serving Ideas
Although the shrimp linguine is tasty and filling on its own, add more vegetables to the dinner such as our Caesar Salad or Ultimate Garden Salad. Complement it with a side of bread to dip in the sauce. Our favorites are cheddar cheese biscuits, Ukrainian Garlic Bread, Easy Garlic Knots, and Cheesy Bread.
Storage and Reheating
Storing Shrimp Linguine
Cooked shrimp linguine is best enjoyed fresh, as reheating shrimp after storing actually cooks the shrimp more, which can make the texture of the shrimp rubbery and not as tasty. If there are leftovers, they can be stored in an airtight container in the refrigerator for up to 3 days. Place leftovers into the refrigerator as soon as possible after shrimp linguine has cooled, no more than two hours to optimize on food safety. We don't recommend freezing shrimp linguine as the shrimp can accumulate water and easily lose its flavor.
Best Ways to Reheat Shrimp Linguine
The best option to reheat shrimp linguine is by using the oven, followed by stovetop, and then microwave.
Oven: To reheat, place pasta in an oven-safe container and cover with aluminum foil. Set the oven to 350° F and add a tablespoon or two of water (depending on amount of leftovers) to rehydrate pasta if dry. Heat for 10-30 minutes or until warmed through. Compared to other methods, this may take longer, but it most closely resembles the original taste of the dish.
Stovetop: Add a small amount of oil or butter to the pan and lightly saute pasta. Stir frequently to ensure an evenly heated dish. Add fresh parmesan cheese and parsley if desired.
Microwave: Place in a microwave-safe container and microwave until desired warmth.
FAQ
Can I substitute fettuccine or spaghetti for linguine?
Yes, spaghetti and fettuccine can be good substitutes for linguine. Cooking time may vary slightly between the types of pastas, so make sure to follow package directions when cooking to al dente.
Can I make shrimp linguine ahead of time?
Although you can make shrimp linguine ahead of time, it is generally best served fresh. To save time, prepare all of the ingredients ahead of time. This dish is crazy easy, so it won't take long to go from start to finish. But, if you do prepare the shrimp linguine ahead of time, you can simply reheat it in the oven or stovetop.
Can I substitute shrimp with a different protein?
Yes, you can substitute or mix the shrimp with other proteins. Some favorites you can substitute or even add to the dish are scallops, chicken, and clams. Pay attention to the cooking times for each protein, as different proteins may have different cooking times and you don't want to overcook one protein (i.e. shrimp) if simultaneously cooking with another protein (i.e. chicken).
More Recipes to Try…
Recipe
This tasty Shrimp Linguine will transport you and your taste buds to Italy in less than 30 minutes. Using simple ingredients straight from your pantry and refrigerator, this will be your new favorite dish.
Ingredients
1

lb

linguine pasta

4

tbsp

olive oil

4

tbsp

unsalted butter

6

garlic cloves

minced

1

tsp

salt

1/3

tsp

red pepper flakes

2

lbs

large uncooked shrimp

peeled and deveined

1/3

cup

lemon juice

1/3

cup

fresh parsley

chopped

1/3

cup

Parmesan cheese

grated
Nutrition Facts
The Easiest Shrimp Linguine (Crazy Good)
Amount Per Serving
Calories 426
Calories from Fat 144
% Daily Value*
Fat 16g25%
Cholesterol 161mg54%
Sodium 1007mg42%
Potassium 295mg8%
Carbohydrates 45g15%
Protein 25g50%
Vitamin A 648IU13%
Vitamin C 8mg10%
Calcium 133mg13%
Iron 1mg6%
* Percent Daily Values are based on a 2000 calorie diet.