These decadent baked pears are stuffed with a mixture of ricotta cheese and sweetened condensed milk. Perfect for a light dessert or unique brunch item!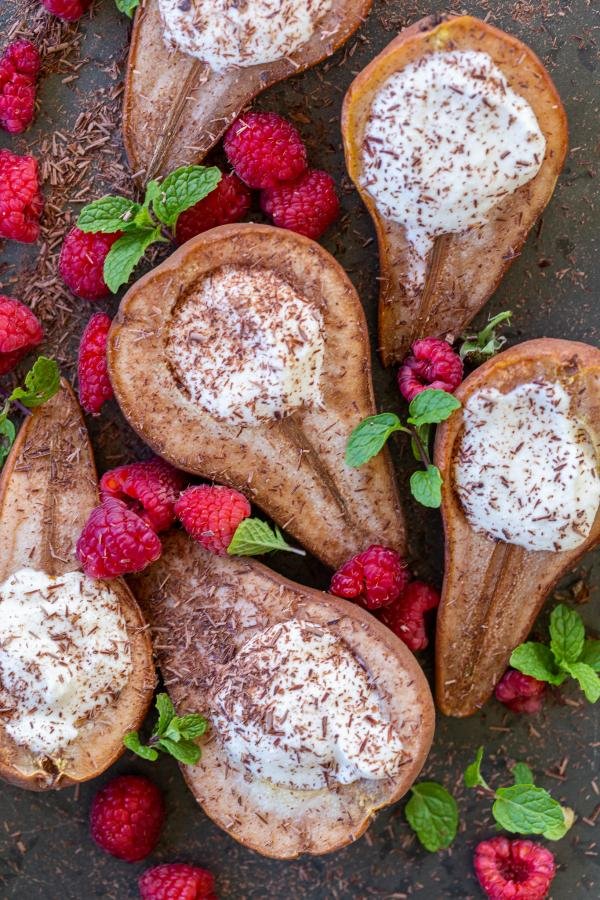 My friends and I have been obsessed with experimenting with different baked pear variations. Not only are they healthier than most desserts, they're so versatile and fun to play around with. After much demoing, this version with sweetened condensed milk infused ricotta, chocolate shavings, and raspberries is my absolute favorite.
Looking for more baked fruit goodness? Try our easy, old-fashioned baked apples!
As with most Momsdish recipes, feel free to tweak the toppings and fillings how you see fit. You can easily substitute the ricotta for cream cheese or use different berries or kinds of chocolate. Have fun, get creative, and most of all – enjoy!
How to Make Baked Pears with Ricotta
Making ricotta stuffed pears only requires a few simple ingredients and steps. Below, find a quick rundown of the recipe before you dive in.
Bake the Pears: Wash the pears under cool water and slice them in half. Using a spoon or melon baller, take out the fibrous core and seeds. Next, place them on a baking sheet and bake them for 15-20 minutes at 375°F. Allow them to cool at room temperature.
Make the Ricotta Filling: In a medium bowl, mix the ricotta cheese and condensed milk together.
Stuff the Pears: Next, spoon the ricotta mixture into the center of the baked pears.
Garnish and Chill the Pears: Grate some chocolate on top of the pears and top them with a couple raspberries. Place the in a baking dish and refrigerate the pears for at least an hour before serving. Enjoy!
Tips & Tricks
Here you'll find a collection of tips and tricks to help you make the most delicious, melt-in-your-mouth baked pears with ricotta.
Use pears that are on the firmer side. If the pears are too ripe, they will turn mushy in the oven. Snag pears that are on the firmer side and you'll be golden.
Refrigerate the pears before serving. Refrigerate the pears for at least an hour before you plan to serve them. This will help them set and develop a deeper flavor. Plus, they are so delicious and refreshing chilled!
Use different soft cheeses or greek yogurt. If you're not a fan of ricotta, feel free to swap it out for cream cheese, greek yogurt, cottage cheese, or farmer's cheese.
Serving Baked Pears
Baked pears are the perfect elegant dessert for folks who can't have gluten or are watching their processed carbs. Serve them for dessert after a meal of creamy low-carb chicken and bacon wrapped asparagus for a fancy, yet healthy dinner. If you're in the mood for extra decadence, serve them topped with some whipped cream or alongside a scoop of vanilla ice cream. You can also serve them as an item in your weekend brunch spread.
Storing Baked Pears
If you have some leftover pears, store them in an airtight container in the refrigerator. This will keep them from absorbing any smells hanging out in your refrigerator. They should keep for up to 3 days.
FAQ
What is the best way to cook a pear?
The best way to cook pears is by baking them. This makes them caramelize and soften into a consistency that's close to jam. So delicious!
Do pears have to be ripe to bake them?
No, baked pears do not have to be ripe before you bake them. In fact, it's better that they aren't. Firmer pears hold up better in the oven and won't turn to mush.
Are cooked pears healthy?
Yes, cooked pears are super healthy. This baked pear recipe is great for satiating a sweet tooth with minimal guilt.
How do you soften pears for baking?
There is no need to soften pears before baking them. In fact, pears are best baked when they aren't super ripe.
What are the health benefits of eating pears?
Pears are low in calories, packed with fiber, and full of vitamins and minerals.
Other Healthy Treats
Recipe
These decadent baked pears are stuffed with a mixture of ricotta cheese and sweetened condensed milk. Perfect for a light dessert or unique brunch item!
Ingredients
8

rose pears

1/2

cup

ricotta cheese

2

tbsp

condensed milk

4

oz

chocolate

1/2

cup

fresh raspberries
Nutrition Facts
Baked Pears with Ricotta Recipe
Amount Per Serving
Calories 220
Calories from Fat 72
% Daily Value*
Fat 8g12%
Cholesterol 10mg3%
Sodium 23mg1%
Potassium 294mg8%
Carbohydrates 40g13%
Protein 3g6%
Vitamin A 129IU3%
Vitamin C 10mg12%
Calcium 67mg7%
Iron 1mg6%
* Percent Daily Values are based on a 2000 calorie diet.