This baked cod recipe is made with your favorite store-bought roasted garlic pasta sauce and is packed with a ton of fresh veggies. Healthy yet decadent!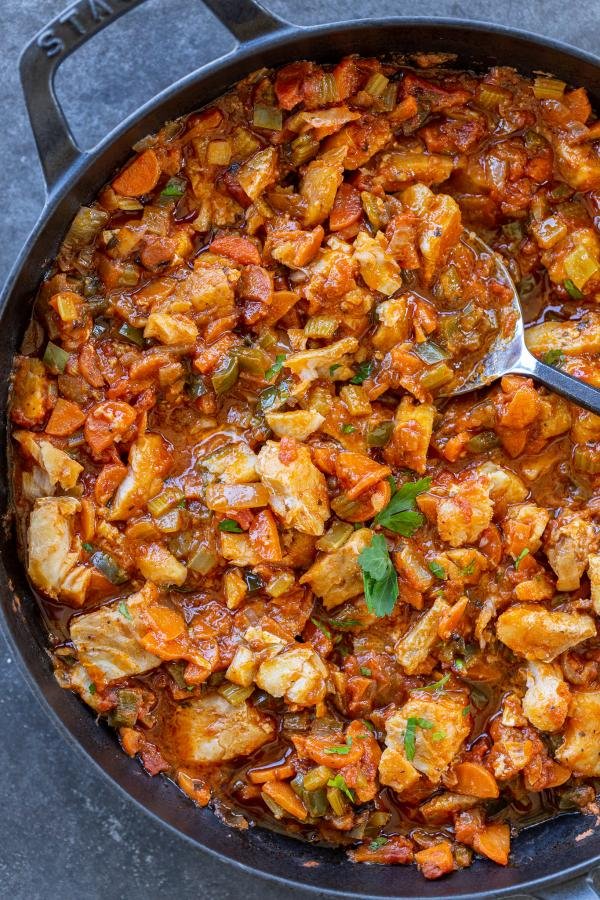 This baked cod dish was dreamt up when I was thinking of exciting ways to stay diligent on my Whole 30 diet and minimize my carbohydrates intake. I ended up loving it so much that it's become part of my family's regular dinner rotation. Whether you're a huge fan of cod or looking for an interesting way to get more veggies in your diet, I'm positive you're going to love it!
Hot Tip: Having a hard time getting your hands on good cod? 9 times out of 10, you can find top-quality cod at Costco or Trader Joe's.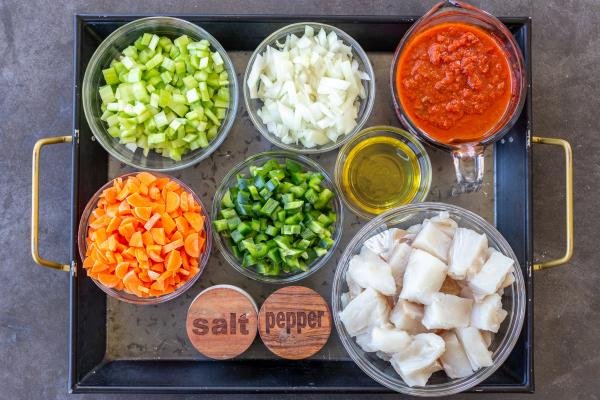 How to Make this Baked Cod Step-By-Step
This baked cod recipe only requires 8 wholesome ingredients to make and super simple prep. Below, find a step-by-step overview of the recipe before you get started.
Prep the Veggies: Dice the carrots, onions, celery, and red pepper into similar-sized pieces. Next, sauté them in a skillet until they begin to soften.
Add the Pasta Sauce: Pour the roasted garlic pasta sauce into the skillet and stir to combine.
Assemble the Dish: Place the cod fillets on the bottom of a baking dish (this one by Staub is great for baked fish). Season the tops with salt and pepper and pour the sauce directly on top.
Bake the Cod: Bake the cod covered with aluminum foil in the oven at 350°F for 40 minutes. Serve the dish immediately or chill it in the fridge and eat it cold. Enjoy!
Did you know? Cod is safe to eat when the internal temperature reaches 145°F. If you're unsure if it's finished, check it with a meat thermometer. If you need a recco, I've been using the Thermapen MK4 for years.
Pro Tips for Amazing Baked Cod
Here you'll find some pro tips to help you make the most amazing baked cod with veggies possible.
Easily swap out or add more veggies. This dish is super versatile, so swap in the veggies you love most. Cherry tomatoes, asparagus, broccoli, and zucchini all work great if you need some inspiration.
Chop all veggies into similar-sized pieces. To promote even cooking and yield the best possible texture, chop all the veggies into similar-sized pieces.
Use your favorite boneless white fish. If cod fillets aren't your protein of choice or you just have another boneless white fish on hand, use it! It will work just as great. Mahi mahi and halibut are both great options.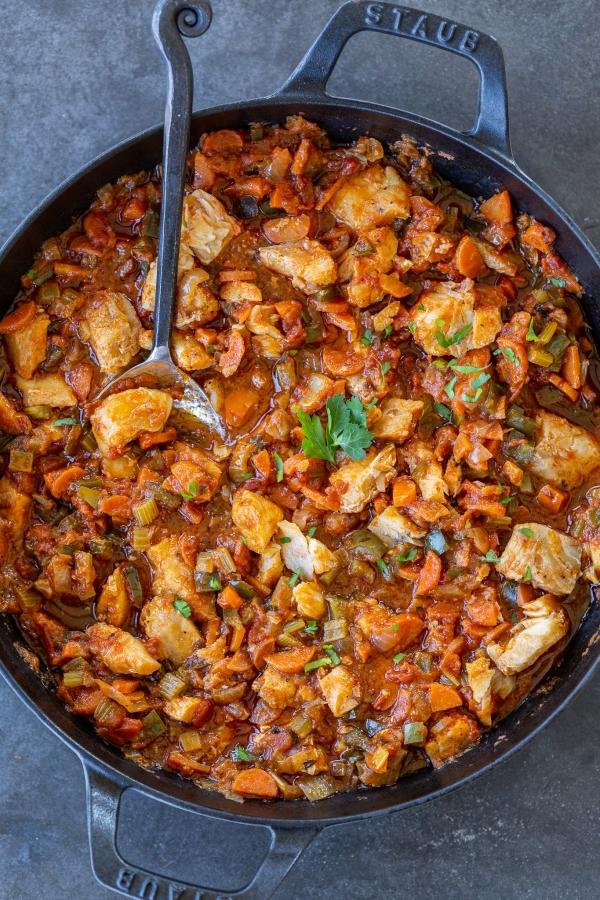 What Goes Well With Baked Cod
The juices that develop while the cod is baking are wonderful spooned over steamed white rice. If you want to go a bit healthier, opt for quinoa or buckwheat or a simple side salad. If you decide to chill this dish and eat it cold, serve it as a spread over a piece of buttery sourdough or your favorite crackers. Yum!
Tips for Storing Baked Cod Leftovers
Whether you have couple of cod filets to store in the refrigerator or an entire baking dish you'd like to freeze, find all the top tips for storage here.
How to Store Cod in the Refrigerator
To keep your cod on hand for up to 3 days, store it in an airtight container in the fridge. This will not only keep it fresher longer, but it will also keep the cod from smelling up your fridge.
How to Freeze Baked Cod
If you'd like to freeze your baked cod for up to 3 months, assemble it in a disposable aluminum baking dish or some other freezer-safe container. There's no need to bake it beforehand, as you can pop the frozen dish directly into the oven when you're ready to eat it. Meal preppers unite!
FAQ
How can you tell if baked cod is done?
Baked cod is done with the fish turns opaque in color and easily flakes with a fork. If you still can't tell, check that the internal temperature has reached 145°F.
What other spices can you add to baked cod?
If you'd like to elevate the baked cod with additional spices, use some cajun seasoning, onion powder, or garlic powder in addition to the salt and pepper. If you're into herbs, add some fresh parsley or basil to the mix. Additionally, a spritz of lemon juice is always a welcome addition to cod.
Can you use a different sauce for this recipe?
If you don't have roasted garlic pasta sauce, use any other red sauce you can get your hands on. Stay away from creamy or cheesy sauces, as the citrus from the tomatoes is really what makes this dish so good.
Why did my baked cod turn out so tough?
Your cod likely turned out too tough if you over-baked it. White fish can be extremely finicky, so make sure to keep a close eye on it and remove it once it's flakey.
Should you bake the cod uncovered?
To protect the cod from turning rubbery, bake it covered with aluminum foil. This will also create a subtle steaming effect and make your cod super moist.
Other Cod Recipes
Recipe
This baked cod with veggies recipe is made with garlicky tomato sauce and a bouquet of different veggies. Healthy and delicious!
Ingredients
2

lb

cod fillets

5

small carrots

1

large onion

2

cups

celery

chopped

1

large bell pepper

16

oz

Roasted garlic pasta sauce

1

tbsp

salt & pepper

adjust to taste

1/2

tbsp

ground black pepper

adjust to taste

2

tbsp

oil

avocado or olive
Nutrition Facts
Baked Cod with Vegetables Recipe
Amount Per Serving
Calories 223
Calories from Fat 54
% Daily Value*
Fat 6g9%
Cholesterol 65mg22%
Sodium 1666mg69%
Potassium 1175mg34%
Carbohydrates 13g4%
Protein 29g58%
Vitamin A 9655IU193%
Vitamin C 38mg46%
Calcium 74mg7%
Iron 2mg11%
* Percent Daily Values are based on a 2000 calorie diet.