This recipe for roasted cod and potatoes is so simple yet so satisfying. Made with just 4 ingredients, it's the perfect hectic weeknight meal!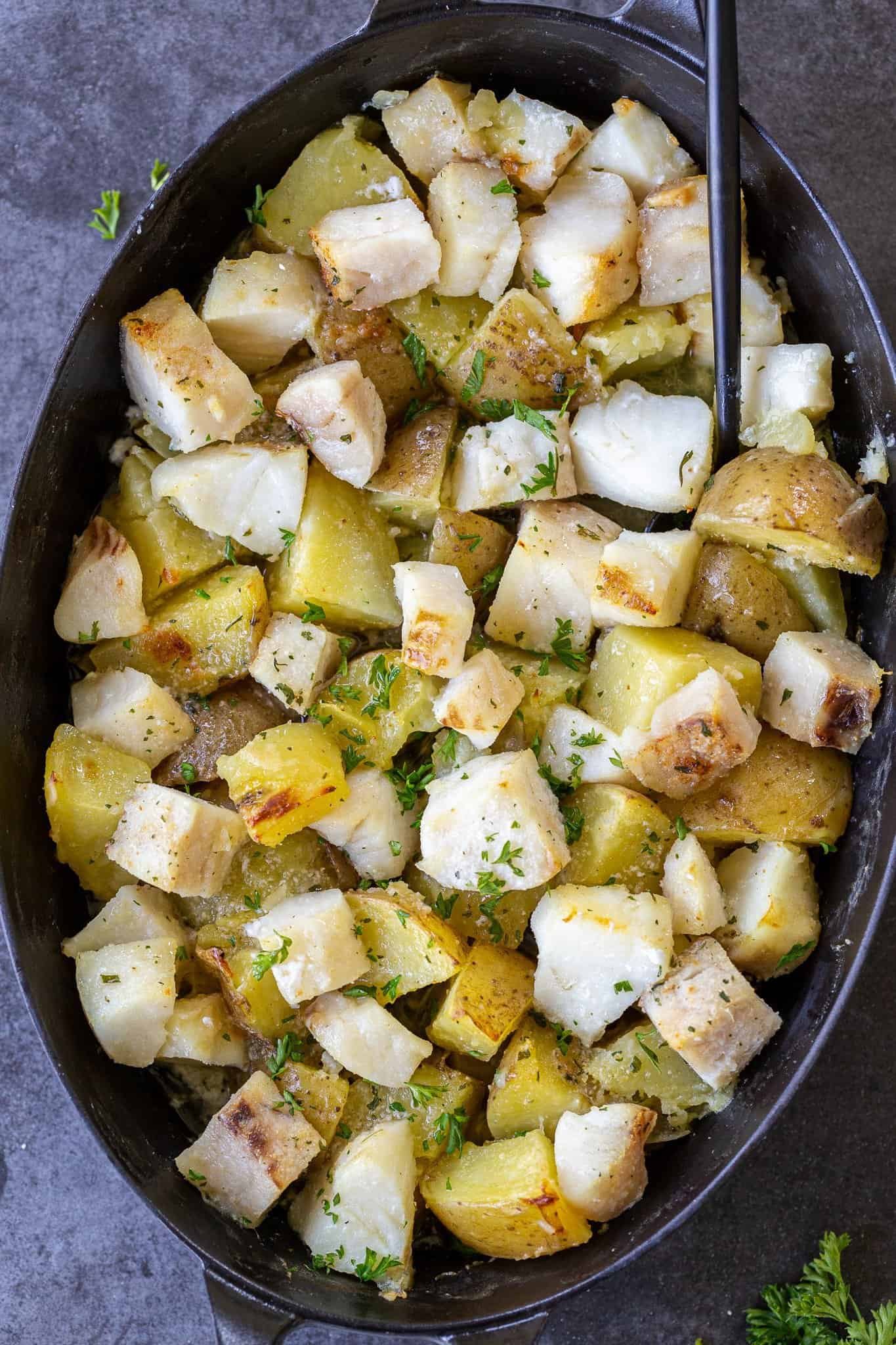 This recipe for cod and potatoes is a prime example of how simple cooking can turn out so spectacular. The way the potatoes soak up the butter and fish juice is beyond tasty. My kids love this dish during the week, but I also find myself whipping it up when unexpected guests come knocking.
What's better? This entire meal is made in just one pan making it the perfect candidate for a quick dinner. Say goodbye to the excuse that you don't have time to cook!
How to Make Cod and Potatoes
Making cod and potatoes only requires a minimal amount of prep and 4 simple ingredients you likely already have hanging out in your kitchen. Below, find a quick overview of the recipe before you dive in.
Tips and Tricks
Below, find a collection of pro tips and tricks to help you make the best baked cod and potatoes.
Don't over-boil the potatoes. Remove the potatoes from the boiling water while they are still a bit firm yet easily pierced with a fork. Since they will finish cooking in the oven, you want to make sure they still have a bit of a bite after being boiled.
Slice the potatoes and cod into similar-sized pieces. To promote even-cooking, slice the ingredients into similar-sized pieces. 1-inch to 2-inch pieces are recommended!
Remove any excess moisture from the fish. To ensure the cod gets crispy, pat the fish fillets with paper towels to remove any excess moisture before seasoning and baking.
Use high-quality European-style butter. All butter is not created equal. Many American brands are not churned as long as European brands, resulting in a lower butterfat content and a more bland taste.
Assemble the cod and potatoes in a single layer. To promote even-cooking and a crispy finish, lay the cod and potatoes in a single layer.
Play around with different seasonings. To make this recipe your own, feel free to play around with different seasonings. Add a couple of cracks of black pepper or red pepper flakes for a little spice or go the herby route with fresh thyme or fresh parsley. You could also sprinkle on some whole garlic cloves if that's what you're into.
Add some fresh lemon. If you love the combination of citrus and white fish, squeeze on some fresh lemon juice or grate on some lemon zest. Alternatively, you can sprinkle lemon slices over the top before baking to make for a pretty presentation.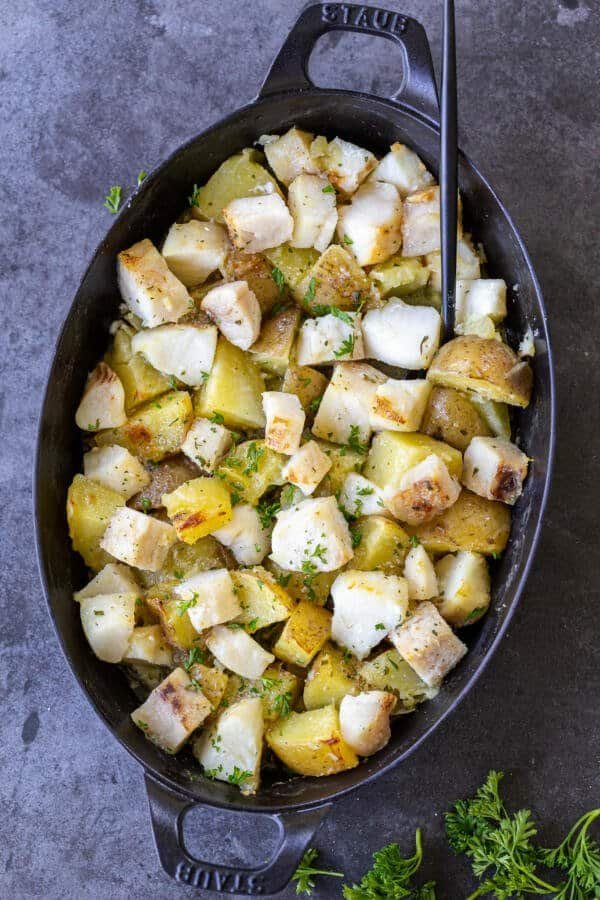 What Should I Serve with Cod & Potatoes?
You can serve cod and potatoes with an assortment of veggie side dishes or salads for a well-rounded meal. Beet garlic salad, beet quinoa salad, or creamy cucumber salad are all great options. In terms of hot veggies, you can whip up a classic side dish of grilled zucchini and mushrooms or some air fryer kale chips.
Storing Leftovers
Store leftover cod and potatoes in an airtight container in the fridge. It should keep for 3-4 days. When you're ready to reheat it, cook it in a skillet with a pat of butter to rehydrate the potatoes and cod.
FAQ
What are the best ways to cook cod?
The best way to cook cod is by baking or pan-searing it. You can also grill it, but it's recommended you do so on top of foil to prevent the delicate fish from breaking apart.
Should I bake cod on parchment paper or foil?
You should always bake fish on parchment paper versus foil to prevent sticking.
How do you know when baked cod is done?
Baked cod is done cooking when it has reached an internal temperature of 145°F. Another sign it's finished is if the fish flakes easily with a fork.
Why did my cod turn out chewy?
Your cod likely turned out chewy and rubbery if it was overcooked. To prevent this from happening, employ the help of a meat thermometer to check internal doneness.
Is it better to bake cod covered or uncovered?
It is better to bake cod uncovered at a high heat for a shorter time period to prevent it from drying out.
Other Tasty Cod Recipes
Recipe
This recipe for roasted cod and potatoes is so simple yet so satisfying. Made with just 4 ingredients, it's the perfect hectic weeknight meal!
Nutrition Facts
Easy Roasted Cod and Potato Recipe (One-Pan)
Amount Per Serving
Calories 229
Calories from Fat 144
% Daily Value*
Fat 16g25%
Cholesterol 89mg30%
Sodium 1226mg51%
Potassium 473mg14%
Carbohydrates 1g0%
Protein 20g40%
Vitamin A 518IU10%
Vitamin C 1mg1%
Calcium 23mg2%
Iron 1mg6%
* Percent Daily Values are based on a 2000 calorie diet.