This oven-baked cod is perfect for nights when you don't want to slave away in the kitchen. It's moist, tender, and super citrusy!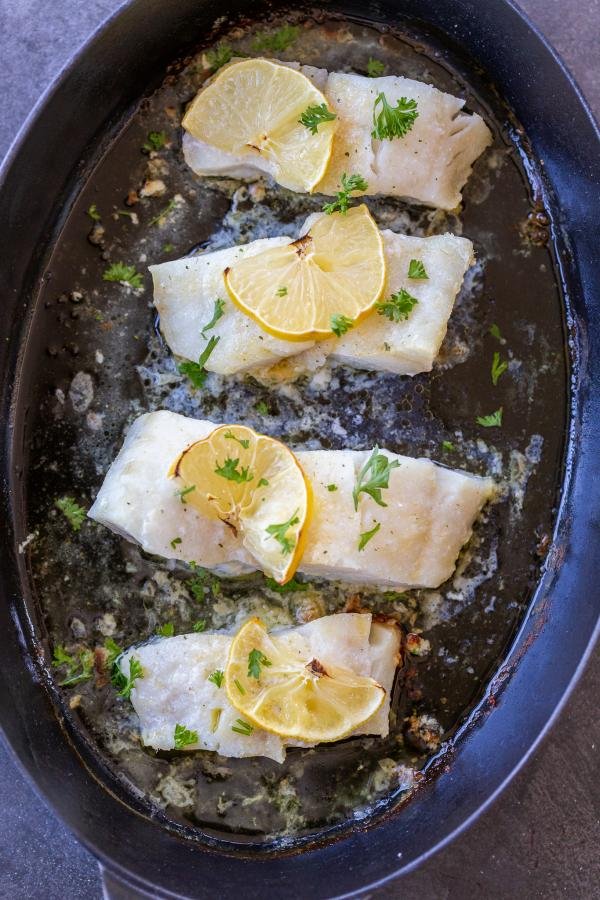 This oven-baked butter cod is my favorite kind of recipe – minimal ingredients with maximum flavors. Unlike fried cod that's covered in panko or bread crumbs, this light, oven-baked version is low in calories yet just as satisfying. It's a true testament to how simple cooking can be if you let wholesome ingredients speak for themselves. Make it for a quick weeknight dinner or batch cook a ton for quick meals throughout the week.
The Key to Making Sure Cod is Fully Cooked
The key to making sure cod is fully cooked is investing in a meat thermometer to check internal doneness. This takes all the guesswork out of ensuring that the fish is safe to eat, while also preventing you from overcooking it. If you need a good recommendation, try out the Thermapen MK4. I've been using it for years to help me make everything from fish to Thanksgiving turkey to smoked beef brisket.
Did you know? The safe internal temperature for cod is 145°F. Pull it out of the oven once it reaches this temperature and it's sure to be flakey and moist.
How to Make Oven-Baked Cod
This oven-baked cod recipe only requires 4 wholesome ingredients to make – cod fillets, butter, garlic parsley salt, and lemon.
Clean the Cod: Use paper towels to pat them dry of any excess moisture.
Assemble the Cod in the Baking Dish: Next, place pats of butter at the bottom of the baking dish. Top the butter with the cod fillets and season the fish with garlic parsley salt. Finally, add another layer of butter on top of the fish, followed by lemon slices.
Bake the Cod: Pop the cod in the oven for about 15 minutes at 425°F. Enjoy!
3 Tips to Prevent Rubbery Cod
Here you'll find 3 top tips to help you prevent your cod from turning rubbery and tough. All-too-often, this fish is overcooked and given a bad rep. Follow these simple instructions and you'll be golden.
Pat the cod completely dry after cleaning it. If you leave any water on the cod after rinsing it, it will boil in the oven and cause the top of the cod to overcook. Diligently pat the fish dry of any excess moisture and you'll be good to go!
Cook the cod with fresh lemons. As the cod bakes, the lemons will release juices that keep the fillets hydrated. A notoriously finicky fish, cod needs as much moisture as it can get in the hot oven.
Cook the cod at a high temperature. The less amount of time the cod spends in the oven, the less likely it is to turn out rubbery and dry. That is to say, cooking it at a high temperature is key to not making it rubbery.
Different Seasonings for Oven-Baked Cod
If you want to experiment with some different seasoning combinations, go for it. Like most white fish, cod is super versatile and pairs well with a ton of different spices. Below, find a handful of ideas to inspire you.
Hint of Spice – Freshly cracked pepper, cayenne pepper, cajun seasoning
Earthiness – Italian seasoning, turmeric, smoked paprika
Mediterranean – Dill, sumac, fennel
Ways to Serve Oven-Baked Cod
Serve cod alongside your favorite grain and veggie side dish for a well-rounded meal, or along side seafoods favorite sauce- tartar sauce. If you need some ideas, quinoa, buckwheat, and steamed rice are all great options. For veggies sides, oven-roasted asparagus or sautéed zucchini work great. Additionally, this buttery cod is great as a protein topper for caesar salad (it complements the tangy dressing super well).
Making cod for a party? Arrange the fillets on a nice serving platter and garnish them with lemon wedges and fresh parsley. Make sure to snap a pic because it's going to be Instagram-worthy!
Best Ways to Store Your Cod Leftovers
Whether you have a few leftover fillets you plan to eat throughout the week or a batch you'd like to freeze, here are the best ways to store oven-baked cod.
Refrigerator: To keep cod on hand for 3-4 days, store it in an airtight container in the fridge. This will keep it from drying out. Above all, it will keep your fridge from smelling fishy.
Freezer: To freeze oven-baked cod fillets, first allow them to cool down completely. Then, wrap each individual fillet tightly in plastic wrap. Finally, place the wrapped fillets in a freezer-safe bag and store them for up to a month. To thaw, place the fillets in the fridge for a couple of hours.
Reheating Tip: The best way to reheat cod is in the microwave or oven with a couple of extra spritzes of lemon juice and a little more butter. If you have an air fryer, you can also use for reheating ('m obsessed with the COSORI air fryer right now).
FAQ
What is the best way to cook a cod?
There are several different ways you can prepare the best cod. It can be baked, grilled, deep-fried, or pan-fried.
How much time does cod take to cook?
It takes about 15 minutes to bake cod in the oven at 425°F. You'll know it's fully cooked when the internal temperature reads 145°F, the flesh turns opaque, and it easily flakes with a fork.
Should white fish be cooked at a high temperature?
Yes, white fish should be cooked at a high temperature. You'll want to refrain from slow-cooking white fish at a lower temperature, as it's prone to drying out.
Does cod need to be fully cooked to be safe to eat?
Yes, cod needs to be fully-cooked to an internal temperature of 145°F to be considered safe to eat.
Why did my cod come out so tough?
Your cod likely came out tough because it was overcooked. A general rule of thumb is cod should be cooked for 10 minutes per inch of thickness. Most fillets are about an inch-and-a-half thick, so test the internal temperature at the 15-minute mark to see if it needs additional time in the oven.
Other Tasty Seafood Recipes
Recipe
This oven-baked cod is the definition of minimalist cooking. With just 4, simple ingredients it's ready in 15 minutes and eaten just as fast!
Nutrition Facts
Oven Baked Butter Cod Recipe (4 Ingredients)
Amount Per Serving
Calories 397
Calories from Fat 225
% Daily Value*
Fat 25g38%
Cholesterol 159mg53%
Sodium 1870mg78%
Potassium 984mg28%
Carbohydrates 3g1%
Protein 41g82%
Vitamin A 859IU17%
Vitamin C 17mg21%
Calcium 53mg5%
Iron 1mg6%
* Percent Daily Values are based on a 2000 calorie diet.