These roasted cabbage wedges feature tender hunks of cabbage topped with a garlicky, tangy marinade. Served cold and so refreshing!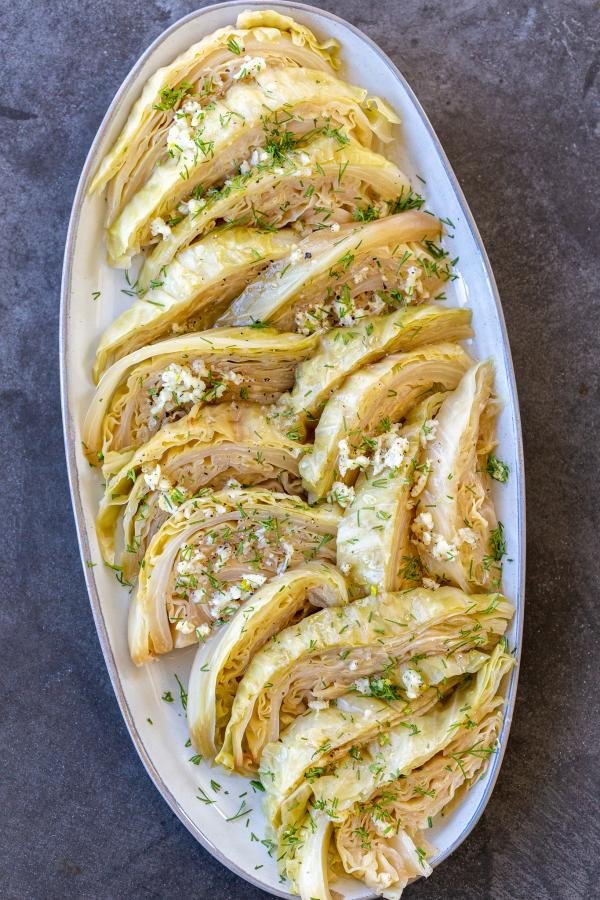 This roasted cabbage wedge salad comes straight out of my mother's cookbook. I posted a picture of this tasty side dish on Instagram last Thanksgiving and got so many of you asking for the recipe. I just had to ask her how to make it. Simple, healthy, and unique, you'll love how it complements just about any protein, grain, or starch.
How to Properly Cut a Cabbage Into Wedges
Before we dive into the recipe, let's talk about how to properly cut and prepare a cabbage for roasting.
Clean the Cabbage: Remove any tough, damaged, or brown outer leaves. Next, give the cabbage a thorough rinse under cold water.
Remove the Stem: Keeping the core intact, slice off the knobby stem from the bottom of the cabbage head.
Slice Into Wedges: Next, use a sharp knife to slice the cabbage head into 3-inch thick wedges.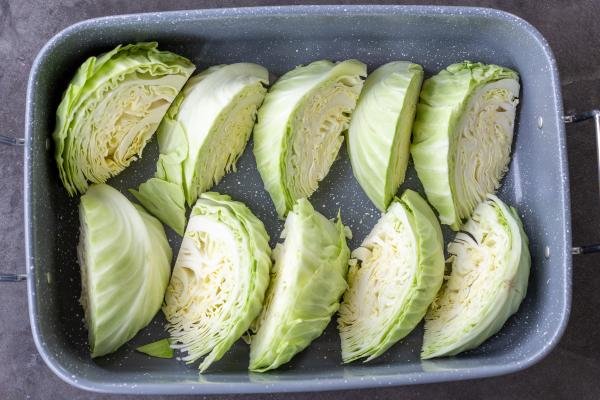 How to Prepare Roasted Cabbage Wedges
After slicing the cabbage into wedges, preheat your oven to 350°F.
Bake the Cabbage Wedges: Next, assemble the cabbage wedges in a single layer in a baking dish. Pour some water into the bottom of the pan, cover the cabbage with aluminum foil, and bake the wedges for 45 minutes.
Allow the Cabbage to Cool: Pull the wedges out of the oven and allow them to cool completely at room temperature.
Make the Marinade: In a small bowl, whisk the salt, black pepper, pressed garlic, olive oil/avocado oil, and vinegar until well-combined.
Assemble the Salad: Next, slice the cabbage wedges into 1-inch thick pieces and assemble them on a serving tray. Drizzle the marinade on top, garnish with a sprinkle of dill, and serve!
Mom's Tips for the Best Roasted Cabbage Wedge
This is Mom's recipe, so we have to follow Mom's rules. Below, find her top tips and tricks for nailing this salad.
Roast the cabbage in large pieces. To prevent the cabbage from burning and losing its texture, roast it in large wedges. You'll cut them down later to make them easier to eat.
Allow the cabbage to cool down completely. Make sure the cabbage is cold to the touch before you assemble the salad. To make it even more refreshing, pop it in the fridge an hour before serving.
Use high-quality, full-bodied oil. This salad is simple, so the quality and depth of flavor of the oil is key. Avoid canola oil or vegetable oil and opt for sunflower oil, 100% olive oil or avocado oil instead.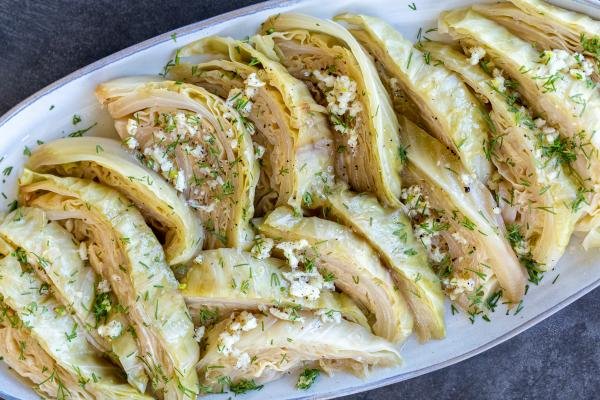 Ideas for Serving this Unique Salad
If you're watching your carbohydrates, pair this fiber-packed salad with a cast iron ribeye steak or Slavic-style pork kabobs (shashlik). Or serve the salad for Meatless Monday atop a bowl of quinoa or buckwheat (kasha).
Storing Leftover Roasted Cabbage Wedges
To keep this salad on hand for up to 5 days, store it in an airtight container in the fridge. The kicker? It gets more and more flavorful as it marinates! Avoid freezing the salad all together, as it will turn mushy upon thawing.
FAQ
Can you cook the cabbage wedges in an air fryer?
Yes! In a pinch, you can cook the wedges in an air fryer to speed up the process. To do so, turn the heat to 350°F and air fry the wedges for about 5 minutes on each side.
How long does it take to roast cabbage wedges?
Depending on the thickness of the wedges, it should take anywhere from 35-45 minutes to roast the wedges. You don't want them to be too browned, but softened and lightly crisped.
Can you serve this salad hot?
This salad is best served cooled down or chilled.
Can you use purple cabbage instead?
Green cabbage works best. Purple cabbage tends to be a bit tough and a little too fibrous for this recipe.
Can you add any other ingredients to the salad?
Yes! You can spruce up the salad with so many different ingredients. A little lemon juice, red pepper flakes, or parmesan cheese to taste are all welcome additions.
More Scrumptious Veggies Side Dishes
Recipe
These roasted cabbage wedges feature tender hunks of cabbage topped with a garlicky, tangy marinade. Served cold and so refreshing!
Ingredients
1

medium cabbage head

1

tbsp

salt

adjust to taste

1

tsp

ground black pepper

adjust to taste

4

cloves garlic

pressed

1

tbsp

white vinegar

1/3

cup

oil

sunflower, avocado or olive

1

tbsp

fresh dill

chopped
Nutrition Facts
Roasted Cabbage Wedge Salad
Amount Per Serving
Calories 152
Calories from Fat 117
% Daily Value*
Fat 13g20%
Sodium 1190mg50%
Potassium 271mg8%
Carbohydrates 10g3%
Protein 2g4%
Vitamin A 155IU3%
Vitamin C 56mg68%
Calcium 67mg7%
Iron 1mg6%
* Percent Daily Values are based on a 2000 calorie diet.