Follow this foolproof guide to make sauerkraut the old world way. It only requires 4 ingredients and just 20 minutes of your time.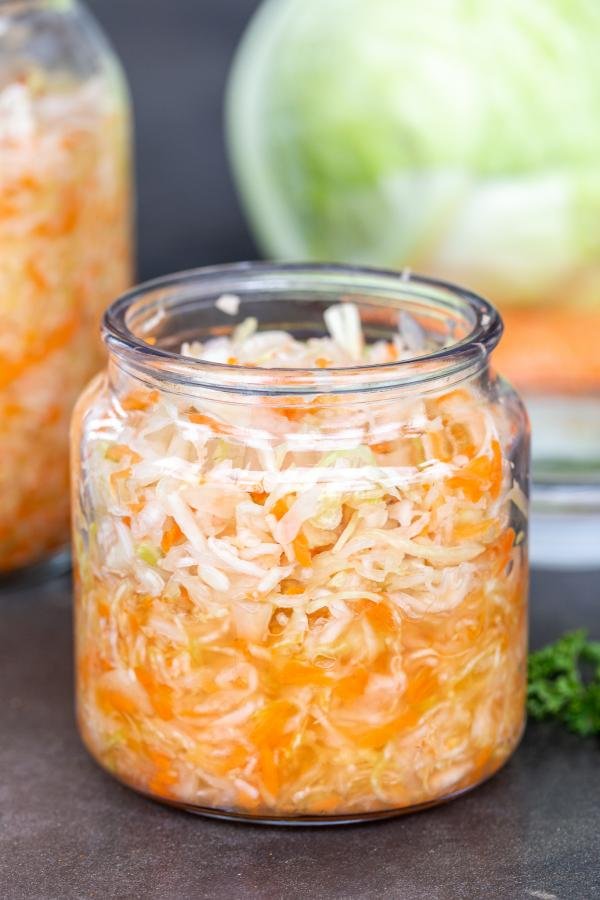 This homemade sauerkraut recipe is inspired by my Ukrainian upbringing and deep love for fermented food. This minimal ingredient, minimal prep method is the same exact one my mom and grandma would used back in our village. The only exception? We used to make a gigantic batch in a wooden barrel to have on hand for the cold winters.
Did you know? Ukrainians love to add carrots to sauerkraut for the slight sweetness. This isn't typical for other cultures, so the choice is really up to you.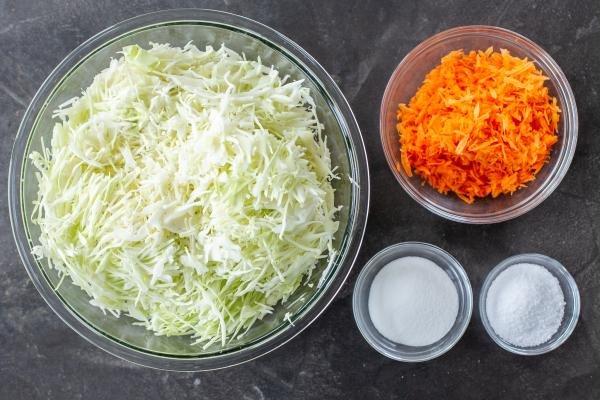 Fermenting Sauerkraut with Just Sugar & Salt
Despite the tangy flavor of sauerkraut, most recipes (especially the authentic ones) out there don't require vinegar brine for the fermentation process. In this old world-style recipe, all you need is two pounds of cabbage, a couple of carrots, sugar and salt. That's right – it couldn't get any easier! But don't worry, as the cabbage sits at room temperature, it will naturally develop that tangy flavor and taste you love and crave.
Can you use red cabbage instead? Yes, you can use this exact same recipe with red cabbage.
How to Make Sauerkraut the Old World Way
After you chop the veggies and season them, making this sauerkraut recipe is just a waiting game.
Prep the Cabbage: First, shred the cabbage and place it into a large bowl or plastic container with a lid. Massage the cabbage with your hands until the cabbage softens a bit.
Grate the Carrots: Next, grate the carrots and add them into the shredded cabbage.
Season the Veggies: Add in the sugar and salt, massaging the seasoning into the veggies with your hands.
Cover the Sauerkraut: Next, press down on the veggies with your hands. Place a large plate or lid on top and weigh it down with something heavy.
Ferment the Sauerkraut: Place the container in a warm place for several days (day 3 is our favorite day to pull it) to ferment, checking it each day to see how it's coming along and to inspect for mold.
Refrigerate the Sauerkraut: Once the sauerkraut is to your liking, transfer it to a sealable jar and store it in the refrigerator for up to 2 months. Enjoy!
Hot Tip: If you'd like, add some juniper berries or caraway seeds to the sauerkraut for extra flavor.
3 Pro Tips for How to Make Sauerkraut
A couple handy tips will help you make sauerkraut that's perfectly tangy with just the right amount of crunch and texture.
Pick firm cabbage heads. When you're picking up the cabbage for this recipe, opt for the firmer heads. They will yield the nicest crunch and texture after a couple of days of fermentation.
Use a vegetable slicer to shred the cabbage and carrots. To make the prep easier and to ensure that you have consistent slices, employ the help of a veggie slicer to make slicing the cabbage and carrots a breeze.
Cover the sauerkraut with a couple whole leaves of cabbage. Reserve a couple of whole cabbage leaves to use to cover the top of the sauerkraut. This will help create an even tighter seal and speed up the fermentation process.
Hot Tip: Leave a few whole cabbage leaves at the bottom of the container to ferment them. You can use them for cabbage rolls!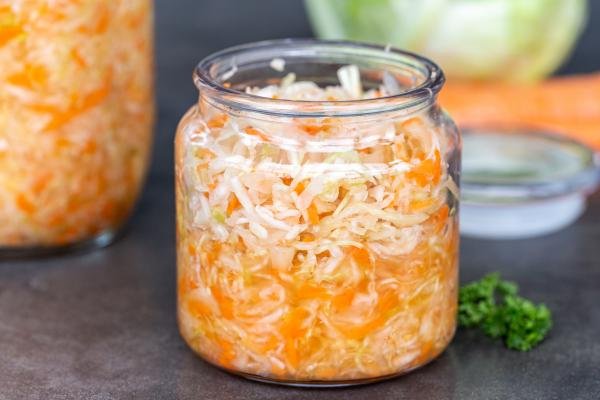 Different Ways to Serve Kraut
One of our favorite ways to use this homemade sauerkraut besides the classic kielbasa and sauerkraut is with a variety of different potato dishes. We like to serve a little alongside new potatoes with bacon and herbs or creamy herbed potatoes. Another great way to use it is to add it to cabbage soup or braised cabbage with chicken. You can also serve it tossed with just a little sunflower oil, fresh dill and thinly sliced green or yellow onions.
The Proper Way to Store Kraut
Once the sauerkraut is done fermenting at room temperature, the best way to store it is in a tightly sealed airlock Mason Jar in the fridge. When stored properly, it will last for up to 2 months this way. If you want to extend the shelf life even longer, feel free to can it and store it in your pantry.
FAQ
Is sauerkraut healthy for you?
Yes, sauerkraut is super healthy for you. It contains probiotics that support stomach health and digestion. It also contains very minimal calories to boot.
Can you ferment sauerkraut too long?
It's best to only ferment sauerkraut using the salt and sugar method for up to a week. After that, the flavor profile doesn't change much and it's about as tangy as it will get.
Can you add vinegar to your sauerkraut?
There's no need to add vinegar to sauerkraut unless you really want to. When using just sugar and salt to ferment it, you get super tangy sauerkraut without it via all the lactic acid that forms as it sits.
How do you know when sauerkraut is done fermenting?
There's no particular sign that sauerkraut is done fermenting, as it's up to you how tangy you want it to be. After about 3 days of fermenting at room temperature, it has a nice crunch and is quite tangy.
Does sauerkraut get more sour the longer it ferments?
Yes, sauerkraut gets more sour the longer you ferment it. It also breaks down more and becomes less crunchy the longer it sits. Typically, a 3-4 day ferment gives you the maximum tang to crunch ratio.
How do I know if my homemade sauerkraut has gone bad?
You'll know that your sauerkraut has gone bad if any mold begins to form. This is a sign that bad bacteria has begun to form and it's time to toss it!
More Pickled & Marinated Veggie Recipes
Recipe
This simple guide on how to make sauerkraut only calls for cabbage, carrots, sugar and salt. Make it in 20 minutes, then sit back and watch it ferment.
Nutrition Facts
How to Make Homemade Sauerkraut (Just 4 Ingredients)
Amount Per Serving
Calories 70
Calories from Fat 9
% Daily Value*
Fat 1g2%
Sodium 3524mg147%
Potassium 267mg8%
Carbohydrates 17g6%
Protein 2g4%
Vitamin A 3933IU79%
Vitamin C 43mg52%
Calcium 55mg6%
Iron 1mg6%
* Percent Daily Values are based on a 2000 calorie diet.