Crunchy ramen noodles are scattered over a cabbage slaw with a sweet and tangy soy dressing. Your taste buds will be dancing from the flavors of this ramen salad!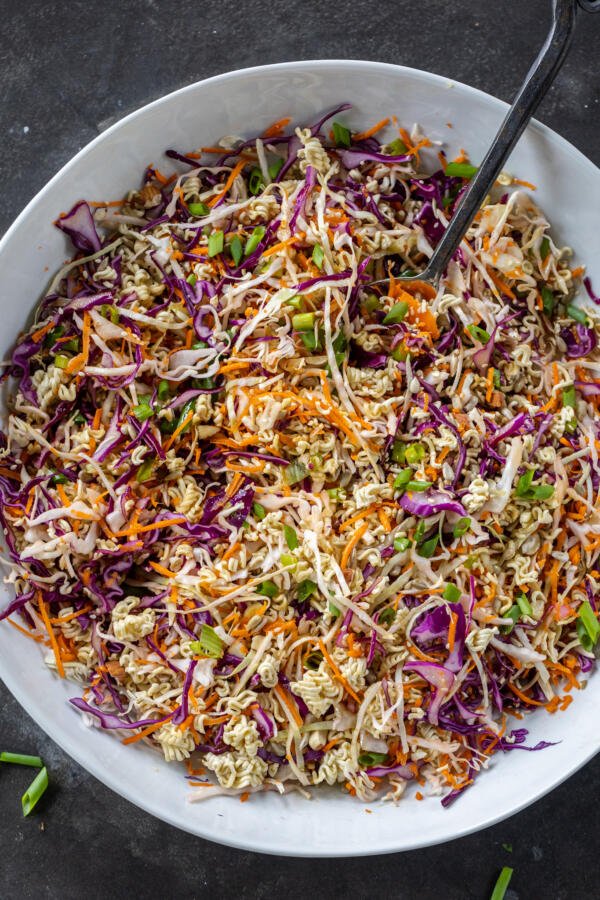 What Is Ramen Noodle Salad?
Ramen noodle salad is a fresh assortment of veggies and toasted ramen noodles, nuts, and seeds tossed in a tangy vinaigrette. The noodle topping adds an irresistibly crunchy texture in every bite. Cabbage, carrots, and green onions make up the base of the salad, but other veggies are welcome to join the fun as well!
How To Make Ramen Noodle Salad
It's time to stop noodling around and head to the kitchen. Make the easiest, most flavorful ramen salad in four simple steps — you won't regret it.
Roast the topping: Break the ramen noodles into small pieces and place them on a baking sheet. Add the nuts and seeds to the tray. Toast the topping mixture at 350°F for 10 minutes, then set aside to cool completely.
Prepare the veggies: Shred the cabbage and carrots, and slice the green onions. Place all the veggies in a large bowl and toss to combine.
Make the dressing: Whisk all the dressing ingredients together until well combined.
Toss the salad: Sprinkle the crunchy topping over the veggies. Drizzle the dressing over the salad right before serving, and toss to combine. Enjoy!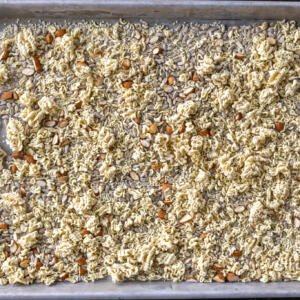 Other Salad Mix-ins
One of the best aspects of salads is their customizability. Branch out and experiment with any of these additions to create the noodle salad of your dreams.
Veggies: Load up with veggie goodness! Add bell pepper strips, sliced cucumber, broccoli, snap peas, or edamame for more delicious nutrients and veggie variety.
Aromatics: Mix freshly grated garlic or ginger into the salad for an umami kick.
Herbs: For a refreshing herby flavor, add in cilantro, parsley, or basil.
Nuts and seeds: Get nutty with cashews or peanuts, or stick with the amazing toastiness of sesame and sunflower seeds.
Protein: Top your salad with sliced grilled chicken, steak, shrimp, or salmon to up your protein intake.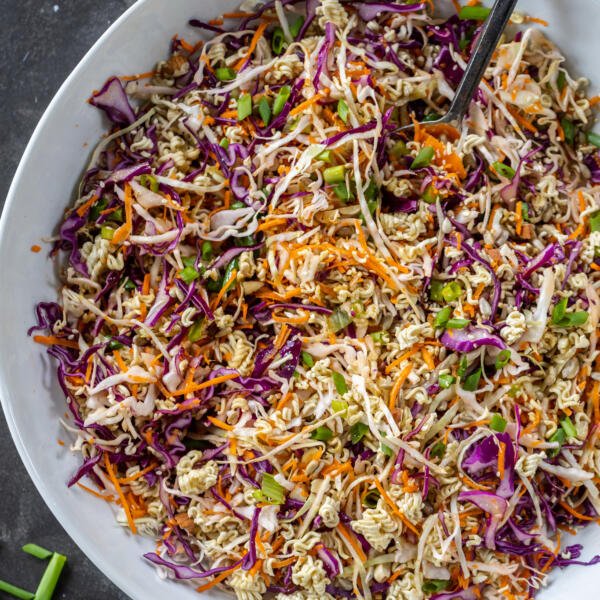 Tips From the Kitchen
Are you ready to make a salad that exceeds your wildest expectations? Follow these tips to ensure mouthwatering success.
Cut the veggies yourself. Sure, you can purchase a pre-made coleslaw mix, but shredding your own cabbage and carrots means a fresher salad. For ease and speed, use a mandoline slicer.
Use packaged ramen. We love the convenience of instant ramen noodles. Discard the seasoning packet and break up the noodle block for the crunchy ramen topping.
Place the noodles and seeds in a single layer when roasting. This is the best way to ensure that everything roasts evenly.
Keep an eye on the topping while roasting. The noodles and seeds burn quickly if over-roasted. Stay by the oven and pull the topping out as soon as it's golden brown and you smell a toasty aroma.
Add minimal dressing right before serving. Preserve the crunch of the salad by adding the dressing right as you're sitting down to eat. Slowly drizzle in the dressing, being careful not to add too much or else the salad may become soggy and mushy.
Ways To Serve Ramen Salad
Ramen noodle salad is a phenomenal side dish for your Asian-inspired potluck. Serve up gyoza, rice, and salmon spring rolls alongside the salad — there can never be too many sides, right? For the main dish, bring out sweet and sour chicken, broccoli and beef, or veggie lo mein. Mmmm... now that's a dinner line-up sure to satisfy.
Making Ahead & Storing
This ramen noodle salad is easy and quick to prepare ahead of time. Plus, it'll last for days when stored properly (if you're lucky enough to have leftovers!).
Making ahead: To make ramen salad ahead of time, prepare each of the components and store them separately. Roast the topping, cut and mix the veggies, and make the dressing. When you're ready to eat, toss it all together!
Storing: To store for up to four days, transfer the mixed veggies to an airtight container and refrigerate. Place the dressing in a small container or jar and refrigerate as well. Store the crunchy topping in a container at room temperature.
More Salad Recipes
Recipe
Crunchy ramen noodles are scattered over a cabbage slaw with a sweet and tangy soy dressing. Your taste buds will be dancing from the flavors of this ramen salad!
Ingredients
3

oz

ramen noodles

1/3

cup

slivered almonds

1/3

cup

raw sunflower seeds

2

tbsp

raw sesame seeds

4

cups

green cabbage

shredded

3

cups

purple cabbage

shredded

2

large carrots

shredded

1/2

cup

green onions

sliced
Nutrition Facts
The Best Ramen Noodle Salad
Amount Per Serving
Calories 237
Calories from Fat 162
% Daily Value*
Fat 18g28%
Sodium 496mg21%
Potassium 304mg9%
Carbohydrates 17g6%
Protein 5g10%
Vitamin A 3021IU60%
Vitamin C 34mg41%
Calcium 59mg6%
Iron 2mg11%
* Percent Daily Values are based on a 2000 calorie diet.