This copycat recipe for Starbucks' world-famous morning buns is out of this world. Made with a no-knead dough, it's super simple to make and suitable for seasoned bakers and beginners alike.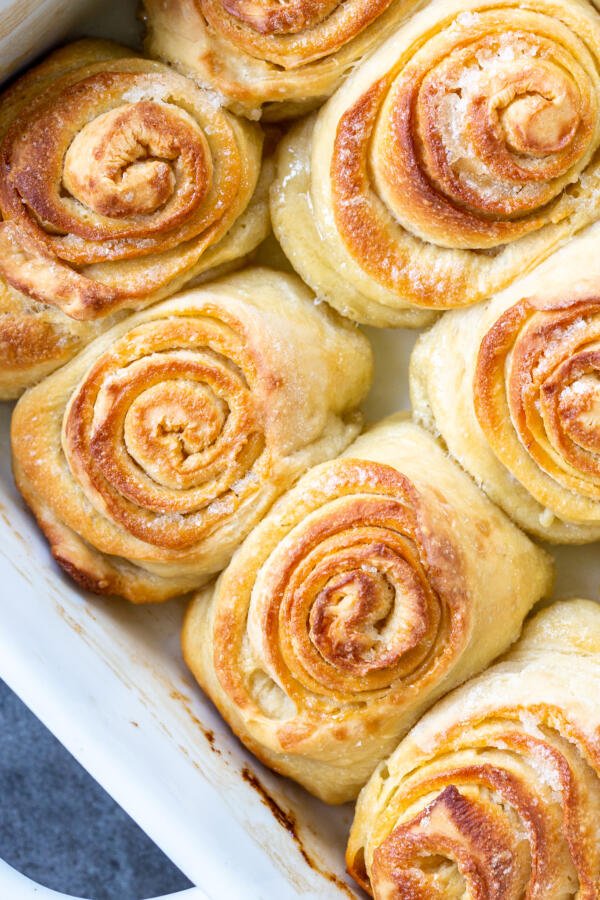 These morning buns are a copycat of Starbucks' beloved pastry. They are sticky, full of honey, and topped with crystalized sugar. What's better? This version requires absolutely no kneading at all. That's right – you'll spare your forearms from all the hard work.
Whether you're hosting a brunch or just looking to fill the house with a sweet aroma, these morning buns are super simple to make and perfect for feeding a large group. Serve one with a piping hot cup of coffee in the morning to have a sweet start to your day.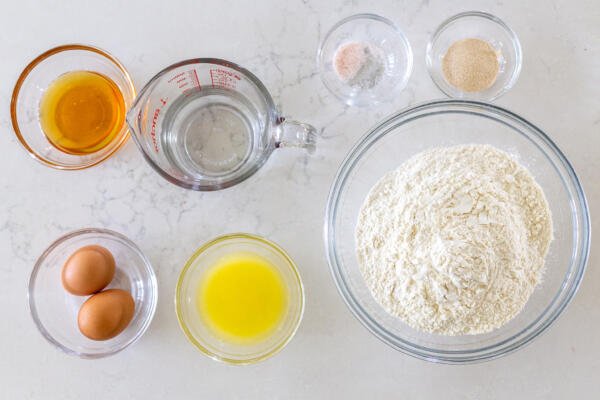 What are Morning Buns?
Morning buns are much like a cinnamon roll but instead of a brown sugar and cinnamon swirl, they are made with honey and granulated sugar. Below, find an overview of the flavor, texture, and cooking time.
Flavor: These morning buns are the perfect balance between buttery and sweet.
Texture: The buns are soft in the middle, with a crispy, deep golden brown top.
Time: From start to finish, the buns take an hour to make.
How to Make Starbucks Morning Buns
Making perfect morning buns only requires a handful of ingredients and no-knead dough. Below, find a brief overview of the recipe before diving in.
Tips for Making the Best Starbucks Morning Buns
Below, find a couple of tips to ensure you get the best possible morning buns.
Allow the dough to rest overnight. Let the dough sit at room temperature for at least 12 hours for best results.
Make sure to flour your surface. The dough can be a bit sticky, so make sure to work on a floured surface. You could also flour the rolling pin a bit.
Distribute the butter and sugar evenly. To prevent some buns from being less sweet than others, make sure to spread the butter and sugar evenly across the dough before you roll it into a log.
Sift your flour. Use a fine-mesh sieve or flour sifter to remove any lumps from the flour before mixing it into the dough. This will really enhance the texture and taste of the buns!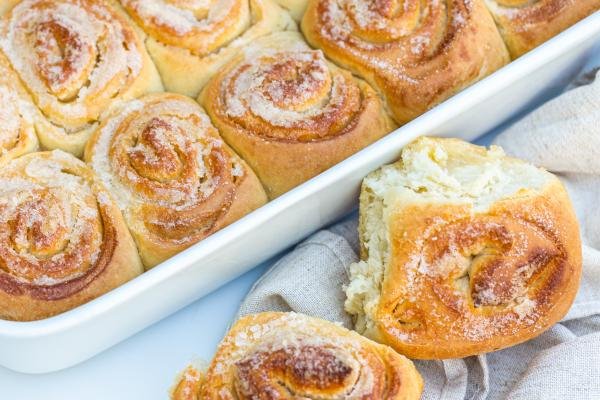 Storing Morning Buns
Room Temperature: Store morning buns in an airtight container on the counter. They will keep for up to three days.
Refrigerator: Store the morning buns in an airtight container in the refrigerator. They will last for up to a week but will need to be reheated and softened in the microwave.
Freezer: Allow morning buns to completely cool. Place them on a baking sheet lined with parchment paper. Pop the entire baking sheet into the freezer. Once completely frozen, transfer the buns to a freezer-safe plastic bag. Frozen buns will keep for up to three months.
Want to make the dough ahead of time? The dough can be made up to four days in advance. Make sure it stays tightly covered so it doesn't absorb any lingering smells from the refrigerator.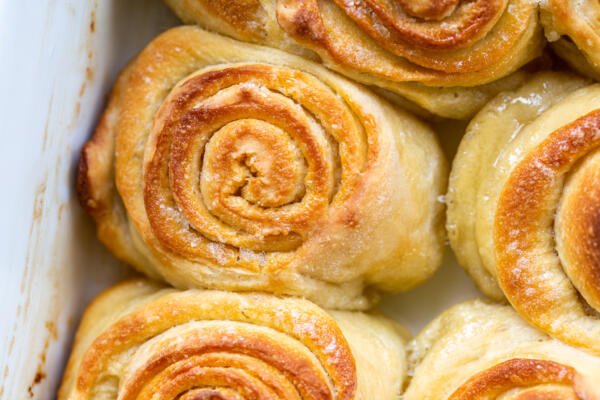 FAQ
Did Starbucks discontinue the morning bun?
We've confirmed that Starbucks online bakery menu no longer features the morning buns, however, they are not completely gone. Starbucks still has a page dedicated to morning buns, which could be a sign that they may one day come back. In the meantime, why not make a batch at home?
What's the difference between a cinnamon roll and a morning bun?
Cinnamon rolls have a brown sugar cinnamon swirl, while morning buns are filled with butter and sugar and made with a honey-infused dough.
Can I make the dough in a bread maker?
Since this recipe calls for no-knead dough, there is no need to use a bread maker.
Can I add anything else to the filling?
You could add cinnamon, poppyseeds, raisin, or walnuts to the filling. Feel free to get as creative as you want!
More Breakfast Pastries
Recipe
This copycat recipe for Starbucks' world-famous morning buns is made with a no-knead dough, and is beginner friendly.
Nutrition Facts
Starbucks Morning Buns (Copycat)
Amount Per Serving
Calories 258
Calories from Fat 81
% Daily Value*
Fat 9g14%
Cholesterol 43mg14%
Sodium 159mg7%
Potassium 52mg1%
Carbohydrates 40g13%
Protein 4g8%
Vitamin A 296IU6%
Vitamin C 1mg1%
Calcium 11mg1%
Iron 2mg11%
* Percent Daily Values are based on a 2000 calorie diet.
Disclosure of Material Connection: We have not received any compensation for writing this post. We have no material connection to the brands, products, or services that we have mentioned. We are disclosing this in accordance with the Federal Trade Commission's
16 CFR, Part 255
: "Guides Concerning the Use of Endorsements and Testimonials in Advertising."