This recipe for sourdough cinnamon rolls is the sweetest way to use your sourdough starter discard. Cinnamony, sweet, & soft, you're going to love them!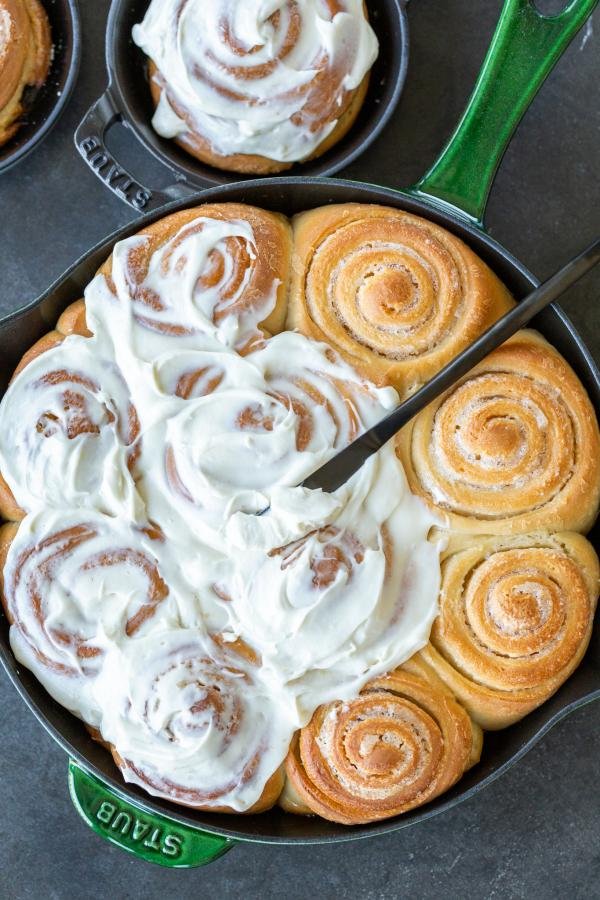 We developed this recipe with inspiration from one of our favorite flour companies – King Arthur Baking. It's such a classic pastry recipe that never gets old. We've added some killer tips from our experience to help you nail the sourdough cinnamon rolls and even included our recipe for epic cream cheese frosting. YUM!
Using Sourdough Starter to Make Cinnamon Rolls
If you love baking sourdough goodies and have a starter on hand, it's such a shame to throw the discard away. This stuff is gold and adds such a deep flavor, chewy texture, and fluffiness to cinnamon rolls. If you don't have a starter on hand, feel free to snag one from Amazon. Here's our favorite brand. For a complete overview on caring for your sourdough starter, read this guide.
How to Make Sourdough Cinnamon Rolls
Once you get your hands on a sourdough starter, making these sourdough cinnamon rolls is really no different than traditional ones. Here's the lowdown…
Making the Sourdough Cinnamon Rolls Dough
Mix the Wet Ingredients: In a medium bowl, whisk the active sourdough starter, whole milk, and egg together.
Add in the Dry Ingredients: Add in the all-purpose flour, unsalted butter, sugar, and salt and knead for 3 minutes. Cover the dough and let it rest for 15 minutes to kickstart the bulk fermentation process.
Knead the Dough: Knead the dough on medium-low speed for about 10 minutes in the bowl of a stand mixer with a dough hook.
Allow the Dough to Rise: Cover the dough and let it rise for about 4 hours at room temperature.
Preparing the Filling
Prepare the Filling: Combine the sugar and cinnamon and melt the butter in a separate jar or bowl.
Roll the Dough Out: On a generously floured surface, roll out the dough into a rectangle with a rolling pin. Make sure not to roll it out too thin, or else it will tear.
Add the Filling: Spread the butter on the dough and sprinkle on the cinnamon-sugar mixture.
Roll the Dough: Roll up the dough into a tight roll on the floured work surface, cut into 12 pieces, and place them on a baking sheet. Cover the rolls with a towel and allow them to rest for an hour.
Bake the Rolls: Bake at 350°F for about 25-30 minutes in a baking dish or cast-iron skillet or until the rolls are golden brown. Let them rest for about 10 minutes.
Whipping up the Icing
Make the Icing: In a large bowl, stir the cream cheese, vanilla extract, and powdered sugar together until smooth.
Apply the Icing: Apply the icing to each cinnamon roll. Enjoy!
Hot Tip: Like a little added crunch? Add some chopped walnuts or pistachios into your cinnamon sugar mixture before rolling the dough up.
3 Tips for the Tastiest Sourdough Cinnamon Rolls
For the fluffiest, most golden brown rolls, follow these 3 pointers to help you along the way.
Use an active starter. For these cinnamon rolls, you need to make sure that your starter is active. This means that you need to feed the starter about 10 hours before using it.
Pre-measure each roll. To make sure that your rolls bake evenly, measure them as you slice. Try and get them into the most similar size as possible and you'll be golden.
Cut your cinnamon rolls without damaging or smashing them. Slicing rolls out of your dough log can be a little tricky. You don't want to apply too much pressure and risk damaging or smashing the rolls. The best way to slice them is with non-flavored dental floss. All you have to do is hold it tight from both ends and slowly move it through the log. You can also use a super sharp knife.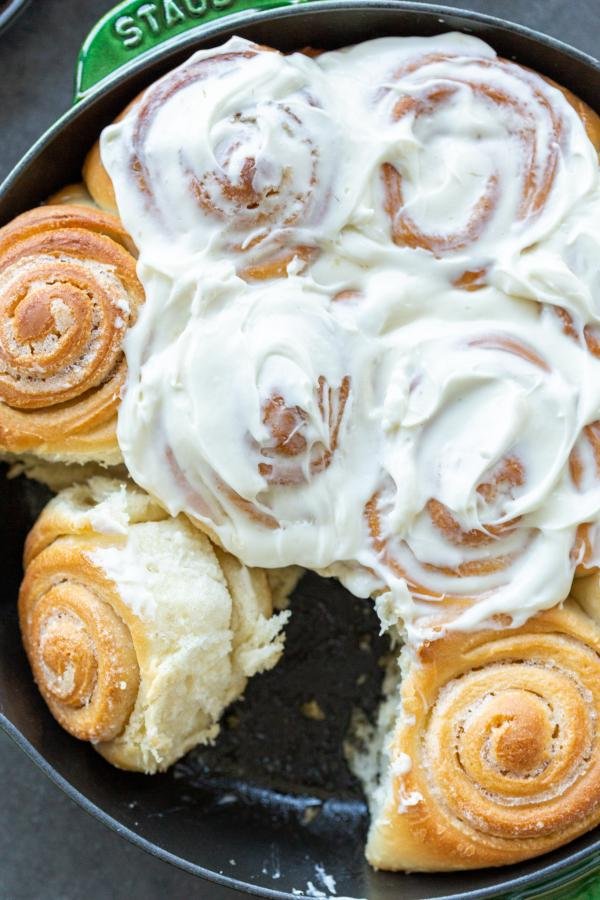 Storing & Reheating Best Practices
No matter if you'd like to leave your cinnamon rolls out at room temperature or if you'd like to pop them in the fridge, store the rolls in an airtight container. This will keep them moist, fresh, and just as tasty as they were when they came out of the oven.
Reheating Tip: If you want to reheat the cinnamon rolls out of the refrigerator, pop them in the microwave for 30-45 seconds. You can also pop them in a covered baking dish and throw them in the oven until warmed through.
FAQ
Can you use bread flour instead of all-purpose flour for sourdough cinnamon rolls?
The best flour to use for cinnamon rolls is really up to you. If you want more structure and firmness, opt for bread flour. However, if you want something more fluffy and airy, opt for all-purpose flour.
Can you use a sourdough starter straight from the fridge for sourdough cinnamon rolls?
Yes, you can use a sourdough starter straight from the fridge for your sourdough cinnamon rolls. Simply whisk it right into the other wet ingredients before adding in the dry ingredients and you'll add a wonderful tangy flavor to your rolls.
When should you throw out your sourdough discard?
If you feed and take care of your sourdough discard properly, you'll never have to throw it away. It continues to grow and develop better flavors with time.
More Tasty Pastry Recipes
Recipe
Do you dream about the gooey goodness of a cinnamon roll? If you have sourdough starter discard, look no further than these sweet sourdough cinnamon rolls.
Ingredients
Instructions
Sourdough Cinnamon Rolls Dough
Nutrition Facts
The Best Sourdough Cinnamon Rolls
Amount Per Serving
Calories 480
Calories from Fat 189
% Daily Value*
Fat 21g32%
Cholesterol 72mg24%
Sodium 320mg13%
Potassium 101mg3%
Carbohydrates 65g22%
Protein 7g14%
Vitamin A 763IU15%
Vitamin C 0.02mg0%
Calcium 54mg5%
Iron 2mg11%
* Percent Daily Values are based on a 2000 calorie diet.