These bulochki are worthy of any bakery window. Stuffed with puckery jam and topped with graham cracker crumbs and a sweet glaze!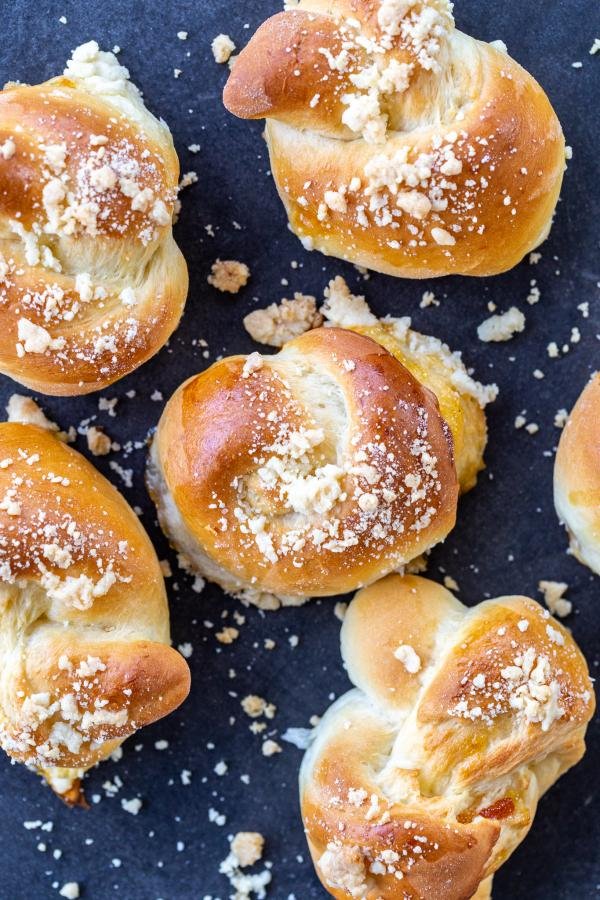 So many people have tried piroshki, but not as many have tapped into the wonders of bulochki. These lightly sweet buns take a bit of prep, but are totally worth it. They also fill your house with the most irresistible smell. Good luck eating just one!
What are Bulochki?
Bulochki are popular pasty buns made with a simple yeast dough. You'll find them served in bakeries throughout Slavic countries and filled with a wide array of jams, poppy seed fillings, and even sweet farmer's cheese. Below, find an overview of the flavor, texture, and time it takes to make our version.
Flavor: These bulochki are the perfect combination of sweet yeast dough, tart jam, honey graham crackers, and a sweet, sugary glaze.
Texture: The texture of the buns is light and fluffy.
Time: From start to finish, these buns take about 3 hours to make.
How to Make Bulochki from Scratch
Making homemade bulochki is a bit time consuming, but the process is actually quite easy.
Make the Dough: First, mix all the dry ingredients together – flour, sugar, salt, and yeast. Lay the mixture out on a flat surface and create a well in the middle to nestle in the eggs and warm milk. Using your hands, mix the ingredients together. Next, add in the butter, whisking slowly as you go in a stand mixer. Knead the dough for 10 minutes, cover it with a kitchen towel, and let the whole dough rise for an hour.
Separate the Dough: Separate the dough into evenly-sized, round pieces and cover each small portion of dough with plastic wrap.
Roll the Dough Out: White the rest of the dough balls sit covered, roll one dough piece out into an oval shape and cover one half of it with jam. Roll the dough up to secure the jam inside.
Tie the Dough Into a Knot: Next, seal the edges and tie each roll into a knot. Repeat until all your dough balls are rolled, filled, and tied.
Prepare the Baking Pan: Line the baking sheet with patchment paper. Place the knots next to each other and cover them with a towel to rise for 40 minutes.
Prepare the Glaze & Crumb Topping: Next, whisk the beaten eggs with milk, and sugar. Brush the top of each knot with the sweet egg wash. In a separate bowl, stir the flour, sugar, and butter together. Sprinkle the crumb on top of the buns.
Bake the Buns: Finally, bake the buns in the oven at 350°F for 20-30 minutes or until golden brown. Dig in and enjoy!
3 Tips for the Most Authentic Bulochki
A handful of tips will help you get bakery-worthy buns.
Use butter softened at room temperature. Pull the butter out about an hour before you plan to bake to make it super easy to incorporate in the dough and crumb topping.
Use an electric stand mixer. Make the kneading process a no-brainer by using an electric stand mixer. If you knead it by hand it can take up to 30 minutes to get the dough to not be sticky. In a stand mixer, it takes just 10 minutes and you'll save your forearms the stress!
Make the buns evenly sized. To promote even baking, make sure your bulochki are similar in size.
Different Filling Options for Bulochki
The beauty of bulochki is that it can be filled with so many different spreads, jams, and other goodies. Below, find a couple of ideas to inspire you.
Nutella and Rough Chopped Walnuts
Apple Filling & Sweetened Condensed Milk
Canned Cherries & Farmer's Cheese
Vanilla custard and Berries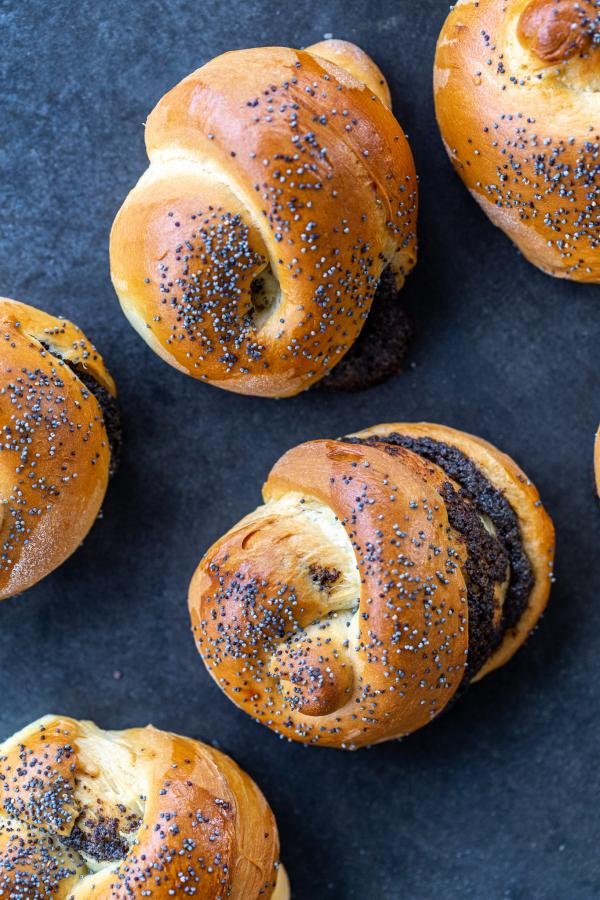 Storing, Freezing, & Reheating Best Practices
Below, find all the best practices for storing, freezing, and reheating your bulochki.
Storing: To keep bulochki on hand for up to 2-3 days, store them in an airtight container on the counter. If you'd like to increase the shelf life to a week or more, store them in the fridge. Note: They will harden at bit with the cold air, but will soften upon reheating.
Freezing: If you'd like to have bulochki on hand for up to 3 months, freeze them raw on a prepared baking sheet lined with parchment paper. Once completely frozen, transfer them to a freezer-safe bag. When you're ready, baking them from frozen according to the recipe directions.
Reheating: Reheat bulochki in a conventional oven or air fryer until warmed through. You can also pop them in the microwave for 30 seconds.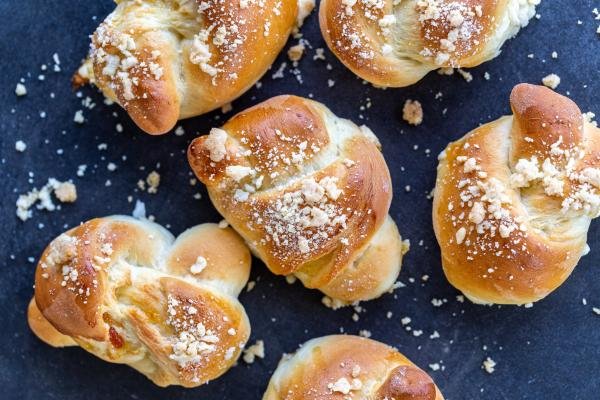 FAQ
If the dough still sticks to your fingers, do you need to mix for longer than 10 mins?
If the dough is elastic you don't need to knead it much longer. Sometimes you need to simply let it rest a bit longer so it dries out a bit.
Do you only need 1 tbsp of butter for the crumb?
Yes! That might seem like a small amount, but you want just enough to create a nice crumb.
Is this the same yeast dough as your Perfect Pastry Dough?
It's not! There's some slight differences, but the dough is just as tasty.
How thin should you roll the dough out?
Roll the dough out as thin as you can without it looking translucent. You'll want the dough to be thick enough to roll and tie so it doesn't rip when you handle it.
What kind of flour do you recommend?
Canadian flour is by far the best for baking. It's higher in protein, yielding a much fluffier and flavorful bun.
More Wonderful Recipes to Try
Recipe
These bulochki are going to become your new favorite weekend brunch staple. Pair them with coffee and tea and sit back and relax!
Ingredients
Nutrition Facts
The Best Bulochki Knots Recipe
Amount Per Serving
Calories 151
Calories from Fat 36
% Daily Value*
Fat 4g6%
Cholesterol 31mg10%
Sodium 123mg5%
Potassium 62mg2%
Carbohydrates 25g8%
Protein 3g6%
Vitamin A 149IU3%
Vitamin C 1mg1%
Calcium 25mg3%
Iron 1mg6%
* Percent Daily Values are based on a 2000 calorie diet.