This sourdough pizza crust is perfect for DIY pizza parties. Made with sourdough starter and a few simple ingredients, it's chewy, bubbly, & delicious.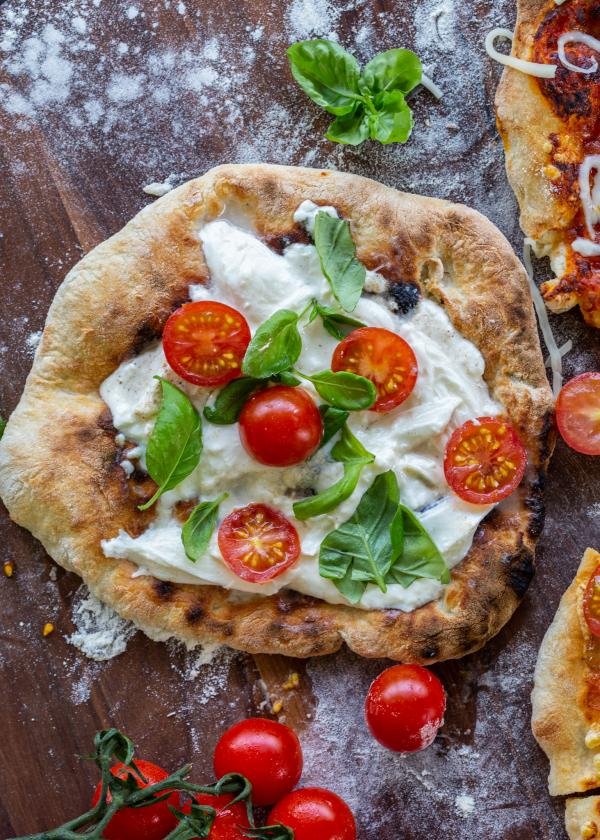 If you're a fan of reducing food waste, this sourdough discard pizza crust is your new best friend. Not only does it come out with the absolute perfect texture, but it also has such a wonderful, light tangy flavor. Let the pizza parties begin!
Note: This recipe makes about 3 10-inch pizzas or 6 mini pizzas. If you don't plan to use the dough right away, you can always freeze it or pop it in the fridge for later.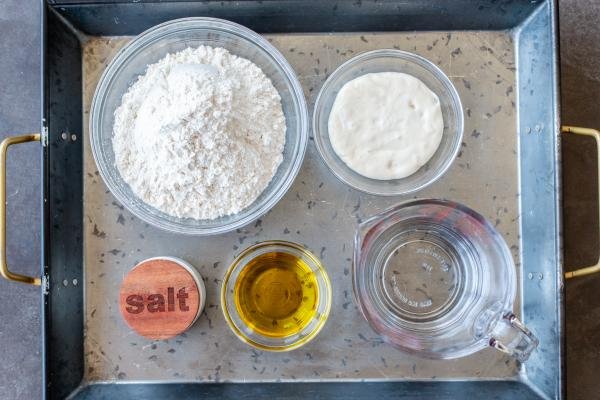 Preparing this Sourdough Pizza Crust Recipe
Preparing this sourdough pizza crust from scratch requires a little patience and adherence to the instructions. There's also no need to bust out your stand mixer and dough hook – this dough can be made all by hand in a large mixing bowl.
Combine the Wet Ingredients: In a large bowl, combine the water, sourdough starter, and olive oil.
Add in the Dry Ingredients: Add in flour and salt, stirring until fully combined. Cover the dough and let it rest for 30 minutes at room temperature to kick off the bulk fermentation process.
Knead the Dough: Stretch the dough by pulling the edges into the center. Cover again and repeat 2 more times every 30 minutes.
Leave the Dough Overnight: Let the dough rest overnight at room temperature covered with a plastic wrap.
Create the Dough Balls: On a well-floured surface, divide the dough into 3-4 equal parts. Shape each one into a tight round ball.
Refrigerate the Dough: Place the dough rounds in the fridge for at least 24 hours in a sealed container. Before using the dough let it rest at room temperature for an hour. Stretch it out, top it with your favorite ingredients, and bake!
Hot Tip: To help you manage all the resting periods, invest in a kitchen timer to keep you on schedule.
3 Tips for Making the Best Sourdough Pizza Crust
To perfect this sourdough pizza dough recipe, follow these 3 simple pointers and you'll be golden.
Be aware this is a wet and sticky dough. To handle the dough without it tearing, flour your work surface generously. This will also prevent it from sticking and becoming hard to transfer.
Use high-quality bread flour. Opt for high-protein bread flour over all-purpose flour to get the best possible texture. Our favorite variety is Bob's Redmill Bread Flour. For additional tips on feeding and caring for your starter, review this guide.
Give the dough at least 24 hours to rest in the fridge. After the final resting time, you need to let the dough rest for at least 24 hours in a fridge. (you can even let it rest for 48-72 hours)
Pizza Baking & Dough Shaping Tips
Now that you've mastered the pizza dough, here are a couple of foolproof pointers to guide the pizza baking process.
Cook the pizza at a super high temperature. If you don't have a pizza oven, crank your conventional oven as high as possible. To get the perfect texture for your crust, you need to go as high as possible with the oven temperature
Stretch the dough as thinly as possible. Stretch the dough thinly because it will get bubbly as it cooks. As a general rule of thumb, stretch it to the point just before it turns translucent.
Transfer the pizza with parchment paper or well-floured hands. Use parchment paper or a generous amount of flour on your hands to transfer the pizza dough to a baking sheet, sheet pan, or pizza stone.
Never roll the pizza dough out. Never use a rolling pin to roll the pizza dough out, as this removes all the air bubbles. Stretch the dough with your hands or push it apart with your fingers to yield that perfect, bubbly texture.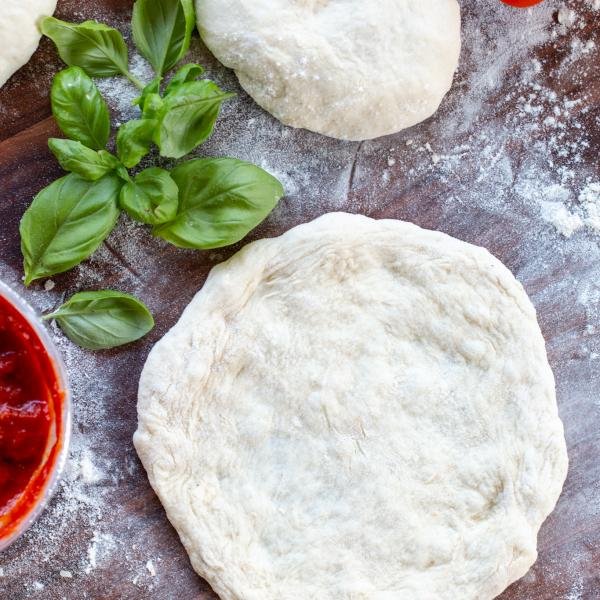 Pizza Combination Ideas
Now for the fun part! Brainstorm some ways to put your pizza dough to work. Here are some of our favorite combinations.
Margherita: Tomato sauce, fresh mozzarella cheese, & fresh basil.
Pepperoni Pizza: Pepperoni, marinara sauce, & mozzarella cheese.
Hawaiian Pizza: Thin-sliced ham, diced pineapple, red pizza sauce, and mozzarella cheese
Spicy Meat Lover's: Italian sausage, pepperoni, ham, salami, bell peppers, olives, red pizza sauce, mozzarella cheese, and red pepper flakes
Chicken Bacon Ranch Pizza: Grilled chicken, bacon bits, half mozzarella, half cheddar cheese, and alfredo sauce
Veggie White Pizza: Red onions, mushrooms, roasted garlic, parmesan cheese, and alfredo sauce
Philly Cheesesteak Pizza: Strips of stead, green bell pepper, onion, provolone, and ranch sauce.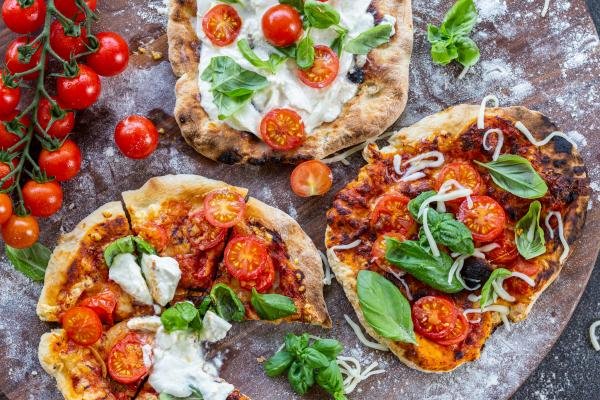 Storing & Freezing the Dough
There are two different ways to store your dough for later use if you don't want to use it straight away. Here's the lowdown on both…
Refrigerating: To keep the dough on hand for up to a week, wrap it tightly in plastic wrap and pop it in the refrigerator. Just be aware, that the longer the dough sits in the fridge, the more sour the flavor will be.
Freezing: To keep the dough on hand for up to 3 months, wrap each round tightly in plastic wrap and place it in a freezer-safe bag. To thaw, place the dough in the refrigerator overnight. Before baking, let the dough rest at room temperature for an hour.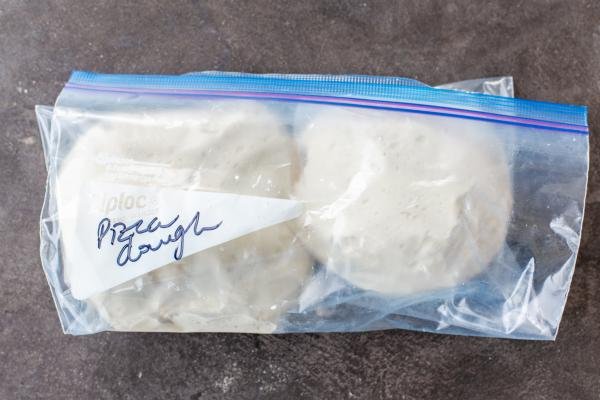 FAQ
What's the difference between a sourdough pizza crust and a normal pizza crust?
The difference between a sourdough pizza crust and a normal pizza crust is the addition sourdough starter. Not only does sourdough pizza crust have a nice tang, but it also is a wonderful way to use sourdough starter discard and reduce food waste.
Why is your sourdough pizza crust tough?
There are three main reasons that your sourdough pizza crust dough turned out tough: 1) your starter isn't active enough and didn't aid in the rising process properly, 2) you baked the pizza crust too long and overcooked the crust, or 3) your dough doesn't have the proper level of hydration.
How do you make my sourdough pizza crust lighter and airier?
To add a more light and airy texture to your sourdough pizza crust, ensure that the texture of the dough is wet, sticky, and bubbly before you shape it. It's also important that you shape the dough by stretching and pulling it versus rolling it out or pressing it down. You don't want to remove the air pockets, or else your pizza will come out flat.
How do you fix sourdough pizza dough that won't stretch?
If your sourdough pizza crust dough won't stretch, this means it needs more time to ferment. If it's just a bit too firm, leave it on the counter for 15-30 minutes and try to stretch it again. If it's tearing when you handle it, leave it in the fridge overnight to strengthen the gluten.
More Sourdough Recipes to Try
Recipe
Looking for interesting ways to use your leftover sourdough starter? This tasty sourdough pizza crust is chewy, bubbly, & delicious. Hello, pizza parties!
Nutrition Facts
Sourdough Pizza Crust (So Easy)
Amount Per Serving
Calories 256
Calories from Fat 72
% Daily Value*
Fat 8g12%
Sodium 585mg24%
Potassium 49mg1%
Carbohydrates 39g13%
Protein 6g12%
Vitamin A 1IU0%
Calcium 9mg1%
Iron 0.5mg3%
* Percent Daily Values are based on a 2000 calorie diet.