This sourdough pancakes recipe will wake up your regular weekend pancake game. Slightly tangy and slightly sweet, they're perfect for your next at-home brunch.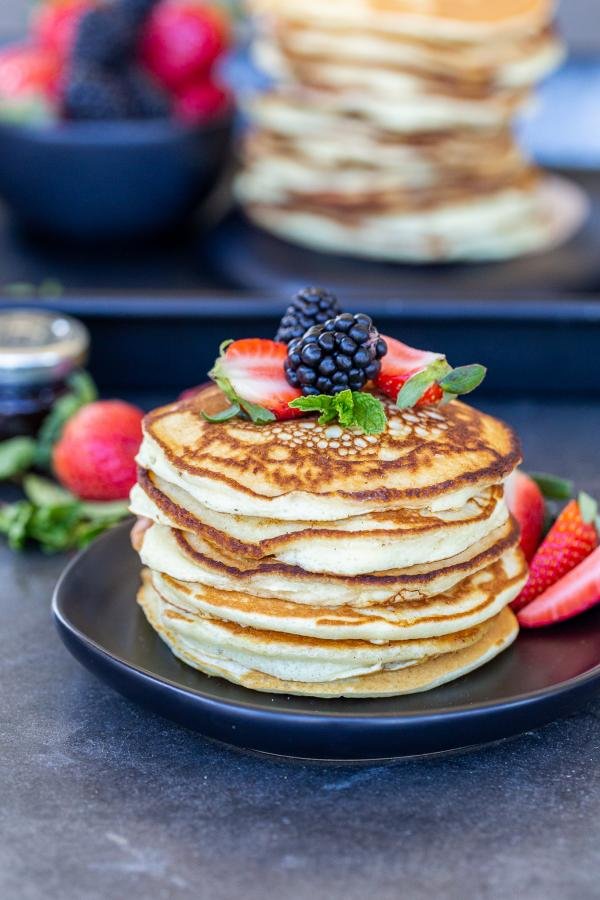 Looking to add another tasty and crazy easy pancake recipe to your rotation? If you're a fan of sourdough bread, you'll love these unique and fluffy sourdough pancakes. There's truly nothing like the combination of the slightly tangy cake, butter, and a little maple syrup.
Note: You'll need a sourdough starter to make this recipe. If you don't already have one, this book provides an amazing guide to make your own, and this guide provides all the post for maintaining it.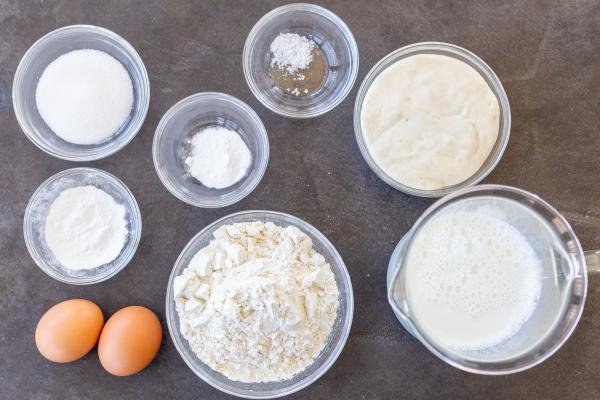 Whipping Up These Sourdough Pancakes
To make these pancakes, all you need is a large mixing bowl, a cast iron skillet or griddle, and a spatula.
Combine the Dry Ingredients: In a large bowl, whisk the all-purpose flour, sugar, salt, baking powder, and baking soda together.
Combine the Wet Ingredients: In a separate medium bowl, whisk the starter, milk, and 2 large eggs together.
Make the Batter: Next, whisk the wet ingredients into the dry ingredients until the mixture is smooth and runny.
Preheat the Pan: Preheat a heavy pan over medium low with a bit of butter.
Fry the Pancakes: Next, pour 1/3 cup of batter into the pan and cook the pancake on the first side until bubbles start to form on the top. Flip it over and cook the second side. Repeat until all your pancakes are golden brown. Stack 'em up and enjoy!
Hot Tip: Keep the pancakes warm by placing them on a baking sheet in an oven preheated to 200°F as you go. This is crucial if you're cooking for a big crowd!
3 Pro Tips for the Tastiest Sourdough Pancakes
First time making sourdough pancakes? No problem. A handful of tips will help you nail the process.
Use leftover starter to make the pancakes. Feel free to use leftover starter that isn't bubbly and active. It will work just fine for these pancakes!
Make sure the batter is runny. Just like regular pancakes, you want the batter to be nice and runny. Depending on the starter you use, you may need to add some more milk to thin out the batter properly.
Don't over mix the batter. Whatever you do, don' t over mix the dough. If you work it too hard, the pancakes will not come out fluffy! Once the wet and dry ingredients are well-combined, resist the urge to stir it anymore.
Different Variations
Now for the fun part – adding your favorite mix-ins to the pancakes! As a general rule of thumb, add in any additional ingredients immediately after you pour the batter in (this will help the ingredients cook into the pancake well).
Berries: Add a handful of sliced strawberries, blueberries, or blackberries into each pancake.
Chocolate Chips & Sliced Banana: Sprinkle on some milk chocolate or dark chocolate chips or chunks and a couple of thin slices of banana.
Tropical Paradise: Sprinkle on some sweetened coconut flakes and thinly sliced pineapple for a tropical pancake.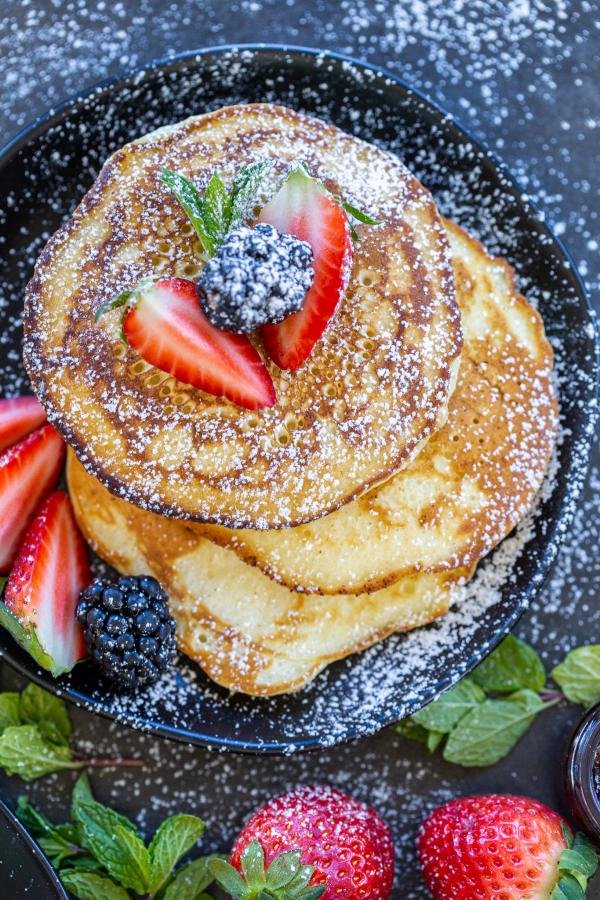 What to Serve with Sourdough Pancakes
In terms of toppings, you can spruce up your pancakes with raspberry jam, apricot jam, honey, melted butter, and/or maple syrup. For sides, serve them alongside crispy air fryer bacon and a potato mushroom breakfast for a complete meal. If you want to keep it simple, a side of scrambled eggs will do the trick.
Storing & Freezing Sourdough Pancakes
Whether you have a couple of flapjacks to store in the fridge or a frozen batch, find all the tips you need for storing and freezing here.
Refrigerator: To keep the pancakes on hand for up to a week, store them in an airtight container in the refrigerator. This will keep them from drying out or turning stale too quickly.
Freezer: If you are meal prepping a big batch of pancakes, you can freeze them for up to three months. To do so, first allow them to cool down completely. Next, lay them out in a single layer on a baking sheet lined with parchment paper. Pop the baking sheet in the freezer for 1-2 hours and transfer the frozen pancakes into a plastic storage bag.
Reheating Tip: The best way to reheat pancakes is in the microwave for 20-45 seconds. Just be sure not to zap them too long, as they are prone to turning rubbery!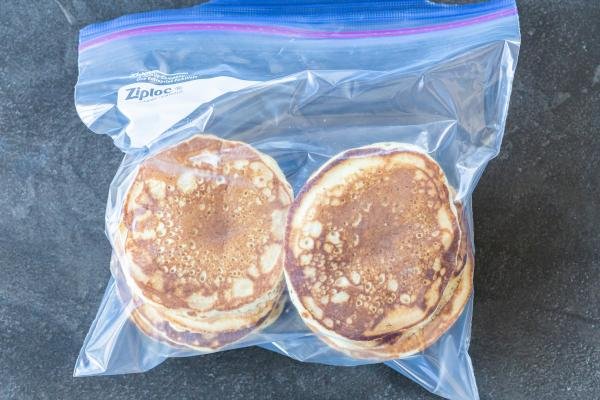 FAQ
Why did your sourdough pancakes come out gooey?
The most common reason your sourdough pancakes turned out gooey is that they were cooked at too high of a temperature. This causes the outside of the pancake to cook more quickly than the inside, resulting in a gooey center.
Why did your sourdough pancakes turn out flat?
Your sourdough pancakes turned out flat if you over mixed the batter. Be extra careful to only combine the dry and wet ingredients just until they are well-combined or else the pancakes will surely fall flat.
How do you make sourdough pancakes more sour?
The only way to make your sourdough pancakes more sour is to use the right kind of starter. If you prefer a really sour taste, you'll want to use less starter and feed it less often than you normally would.
Will sourdough pancake batter keep in the fridge?
If you're working ahead, you can keep sourdough pancake batter stored in the fridge for up to 2 days. Make sure you keep it in an airtight container so it doesn't absorb any smells lingering in your fridge.
Can you freeze sourdough pancake batter?
Yes, you can freeze sourdough pancake batter for up to a month in an airtight container. To thaw it, simply place it in the fridge overnight.
More Tasty Pancake Recipes to Try
Recipe
These sourdough pancakes are slightly sweet, slightly tangy & just right. Made with a sourdough starter, they are a fun & unique item to bring to brunch.
Nutrition Facts
Crazy Easy Sourdough Pancakes
Amount Per Serving
Calories 298
Calories from Fat 99
% Daily Value*
Fat 11g17%
Cholesterol 80mg27%
Sodium 319mg13%
Potassium 252mg7%
Carbohydrates 43g14%
Protein 8g16%
Vitamin A 381IU8%
Calcium 123mg12%
Iron 2mg11%
* Percent Daily Values are based on a 2000 calorie diet.