This homemade pizza recipe is crazy easy and will have you wondering why you ever ordered delivery. 100% kid-friendly great for DIY pizza parties!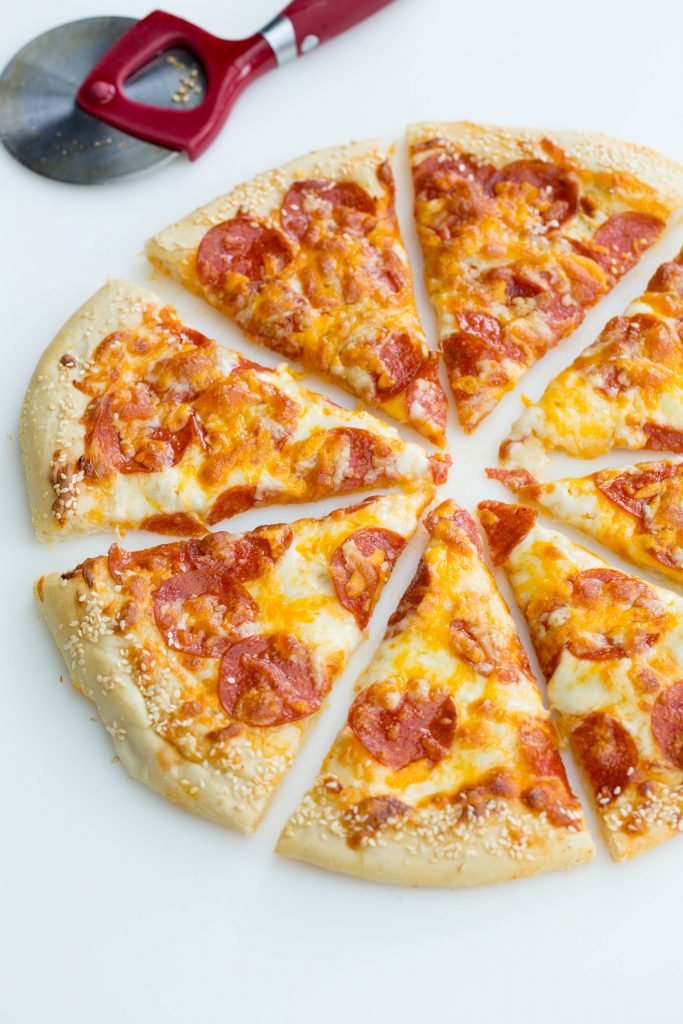 If you've never tried making pizza at home, get ready to fall in love. Not only is it super simple, but it's also crazy fun to customize each pie with your favorite pizza toppings. While this recipe is for classic pepperoni and cheese, there are several different topping combinations we share that you can play around with.
A Couple of Recipe Notes…
This recipe makes 2 medium sized pizzas. If you're having a party, double, triple, or quadruple the measurements! It also requires you to purchase store bought pizza dough or make it yourself from scratch (we have an awesome recipe for pizza dough waiting for you!).
Step-by-Step Overview of this Homemade Pizza Recipe
Making this homemade pepperoni pizza only requires a couple of basic ingredients and some fun assembly.
Prepare the Baking Pan: Grease the baking sheet with olive oil and sprinkle on some cornmeal. Preheat the oven to 425°F.
Shape the Dough: Next, cut the dough in half. Place the dough halves on a well-floured work surface and shape them as you wise.
Assemble the Pizza: Spread the ranch on top of the pizza dough (make sure to leave space at the edges for the crust), followed by a sprinkle of shredded cheese. Next, assemble the pepperonis across the top of the pizza and top them with another layer of cheese. Sprinkle the pizza crust with sesame seeds.
Bake the Pizza: Bake the pizza in the oven until it's golden brown. Serve immediately and enjoy!
Tips for Nailing this Homemade Pizza Recipe
These easy tips will help you make a pizza so good, you'll think twice before ordering in.
Preheat the oven while you assemble the pizzas. Pizzas have to cook at super high heat in order to cook properly. To ensure the oven is piping hot, set it to preheat before you start putting your pies together.
Follow the right order. Pizza-making is an art. To get the best bite, always assemble it in this order: sauce, cheese, toppings, and more cheese!
Never use a rolling pin to shape the dough. Pizza dough should never be rolled out with a rolling pin – use your hands to shape it instead! The pressure of the pin will take out all those wonderful air bubbles that make your crust super nice.
Bake the pizza on the middle oven rack. To prevent the pizza cooking too quickly on the top or the bottom, bake it on the middle rack of the oven.
Pull the pizzas as soon as they turn golden brown. Once the crust turns golden brown, pull the pizza out immediately. If it overcooks, it will lose it's chewiness and turn more cracker-like.
Different Topping Combos to Experiment With
Looking for more winning topping combinations? We've got a couple of ideas to inspire you.
Margherita Pizza: Red sauce, fresh basil leaves, red pizza sauce, and fresh mozzarella
Hawaiian Pizza: Thin-sliced ham, diced pineapple, red pizza sauce, and mozzarella cheese
Spicy Meat Lover's: Italian sausage, pepperoni, ham, salami, bell peppers, olives, red pizza sauce, mozzarella cheese, and red pepper flakes
Chicken Bacon Ranch Pizza: Grilled chicken, bacon bits, half mozzarella and half cheddar cheese, and alfredo sauce
Veggie White Pizza: Red onions, mushrooms, roasted garlic, parmesan cheese, and alfredo sauce
Philly Cheesesteak Pizza: Strips of stead, green bell pepper, onion, provolone, and ranch sauce.
Ways to Serve this Homemade Pizza Recipe
For a well-rounded meal, serve your homemade pizza with a side of garlic knots (woo, bread on bread!) and a homemade caesar salad. For dipping, whip up a side of light ranch dressing.
Storing, Freezing, & Reheating Pizza
Homemade pizza is great fresh out of the oven, but it's also perfect for leftovers and freezing. Here's all you need to know…
Storing: To keep the pizza on hand for up to a week, store it in an airtight container or plastic storage bag in the fridge. This will keep the crust from turning stale and the cheese from drying out.
Freezing: To freeze the pizza whole (hello, meal preppers!), place the raw pie on a baking sheet lined with parchment paper. Pop the sheet in the freezer and allow the pie to completely harden. Transfer it to a freezer-safe bag and store it for up to three months.
Reheating: To reheat the pizza, pop it back in the oven or in the air fryer until the cheese is melted and gooey. To reheat freezer pizza, pop it directly in the oven from frozen and bake as directed.
FAQ
What is the secret to good homemade pizza?
The secret to good homemade pizza is twofold. First, you need the right pizza dough – one that will stay slightly chewy, while also developing that signature crispy crust. Secondly, you need to bake the pizza at a super high heat (think: trying to replicate the same effect a pizza oven has).
What are the three main ingredients in homemade pizza?
The three main ingredients in homemade pizza are pizza dough, some kind of sauce (tomato sauce, alfredo, ranch, etc), and cheese. From there, you can get as creative as you want with the various toppings.
How do you cook a pizza in the oven without a stone?
If you don't have a pizza stone, don't fret! You can cook a pizza in the oven directly on a standard baking sheet just fine.
Can homemade pizza dough be refrigerated?
Yes! To store the pizza dough for up to a week, wrap it tightly in plastic wrap and store it in an airtight container to prevent it from drying out.
Can you freeze homemade pizza dough?
If you are going to freeze your dough, first allow it to adequately rise. Then, wrap it in plastic wrap and pop it in the freezer. When you are ready to use it, allow it to completely thaw in the fridge.
Other Pizza Recipes
Recipe
This homemade pizza recipe is super satisfying. Classic pepperoni, red sauce, and cheese never gets old, but feel free to customize it as you wish!
Ingredients
1/2

pizza dough

1/2

cup

ranch or marinara sauce

2

cups

mozzarella cheese

2

cups

shredded mozzarella or pizza blend cheese

8

oz

pepperoni

1

tbsp

olive oil

1

tsp

corn meal

1

tbsp

sesame seeds
Nutrition Facts
The Perfect Homemade Pizza Recipe
Amount Per Serving
Calories 204
Calories from Fat 126
% Daily Value*
Fat 14g22%
Cholesterol 35mg12%
Sodium 568mg24%
Potassium 71mg2%
Carbohydrates 8g3%
Protein 10g20%
Vitamin A 126IU3%
Vitamin C 1mg1%
Calcium 105mg11%
Iron 1mg6%
* Percent Daily Values are based on a 2000 calorie diet.