These foolproof overnight sourdough bagels taste as they came straight off the street of New York City. Perfectly fluffy with just the right amount of bite!
Love sourdough? Try our classic sourdough recipe while you're at it.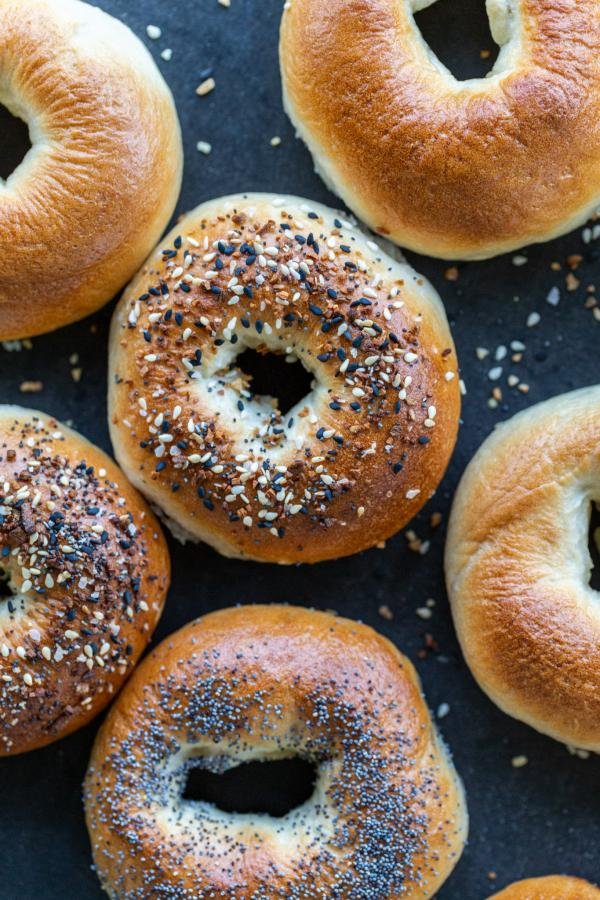 Are you the kind of person who rushes to the bagel shop before work in the mornings? Well, what if we told you that you could make perfect, NYC-style bagels in the comfort of your own home? In this recipe, we will share the ins-and-outs to the classic boiled bagel technique, so you can get to smearing on your favorite toppings in no time.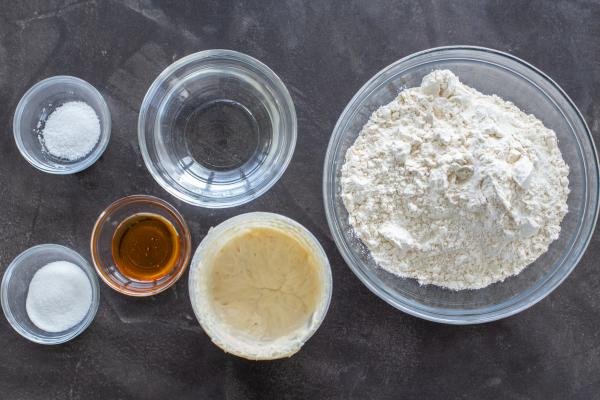 How to Make the Best Sourdough Bagels
The main ingredient for this overnight bagel recipe is patience. Mind each rise and rest, and you'll be golden in the end.
Preparing the Dough a Day Ahead
Build the Starter Base: In the bowl of a stand mixer, whisk the starter, sugar, and water together.
Add in the Dry Ingredients: Next, add the bread flour and salt into the wet ingredients. Use a dough hook attachment to knead the ingredients together. Then, let the dough rest for 30 minutes and knead it for 5 minutes.
Rest the Dough Overnight: Finally, cover the dough with plastic wrap and let it rest at room temperature for 9-13 hours.
Shaping the Dough
Divide the Dough: The next day, remove the dough from the bowl and divide it into 10-12 equal pieces. Shape each dough piece into a ball, cover the balls with a towel, and let them rest for 10 minutes.
Shape the Bagels: Next, poke a hole in the center and straight through with your finger. As you pull the center apart, shape the dough around your index fingers in a circular motion.
Give the Bagels a Rest: Next, place the shaped bagels on a lined baking sheet, cover them with a towel, and let them rise for 20 minutes.
Boiling & Seasoning the Bagels
Prepare the Boiling Water: Next, bring a large pot of water to boil and stir in some honey.
Boil the Bagels: Add 1-2 bagels into the boiling water and allow them to simmer for about 30 seconds on each side.
Season the Bagels (or Don't!): As soon as you remove a bagel from the hot water, dip it into your favorite seasoning or simply keep it plain.
Baking the Bagels
Boil the Bagels: Assemble the bagels on a sheet pan and bake them at 425°F for about 20 minutes or until they are golden brown.
Cool the Bagels: Lastly, let the bagels cool on a wire rack before serving. Slice, smear, and enjoy!
Hot Tip: For fresh brunch bagels, you would need to feed your starter 8 hours before you make the dough. Then, you need to account for a full other day of ahead of your brunch to allow the dough to rise.
Top Tips for Perfecting Sourdough Bagels
If you've ever wondered what kind of magic happens in the bagel shop kitchen to get that signature chewy texture, perfect crust, and sheen, these tips will let you in on a couple of secrets.
Add in your favorite mix-ins. Chocolate chips, raisins, and cranberries are all wonderful mix-ins options if you want to add a little more oomph. If you like savory bagels, you can even add shredded cheddar and jalapenos into the dough.
Remember that the bagel hole shrinks. As the bagels rise during the cooking process, the hole will continue to shrink. This is why it's crucial to make the hole as large as you possibly can without breaking the bagel.
Boiling is an essential step – don't skip it. Many bagels you find in the grocery store and elsewhere actually don't undergo a boil and are simply baked. That's why they taste more like bread and less like proper bagels!
Try to keep the temperature of the water at 95°F. As you boil the bagels, keeping the temperature at around 95°F will further help yield that shiny sheen.
Hot Tip: If you're making these bagels for kids, we suggest opting for plain ones. Kid's love them and you don't have to worry about them making a mess with the topping!
3 Tips for Topping Your Bagel
Because adding toppings to your bagel is a process in and of itself, we pulled our top 3 tips on the matter.
Keep it simple. We find that poppy seeds, sesame seeds, and everything bagel seasoning are always the most well-received and versatile. The flavors are neutral enough that they won't overpower the other ingredients, yet they add such a nice pop of flavor. That said, if you have something else in mind – go for it!
Dip the bagel into topping right away. Right after you pull the bagel out of the boiling water, dunk it immediately in your seasoning of choice. This helps the seasoning stick better throughout the baking and eating process.
Use a shallow bowl for dipping. For the best results, add a small amount of your seasoning of choice to a very shallow bowl. This will not only make it easier to dip your bagel (forget trying to sprinkle the topping on – it's a pain!), but it will also ensure you don't damage the bagel's integrity.
Different Ideas for Serving
You'll find no shortage of ways to use your sourdough bagels. Here's a couple of combos we frequent…
Classic Lox Bagel: Smear on a thick layer of cream cheese, followed by thin slices of cold smoked salmon, thinly sliced red onion, tomatoes, capers, and fresh dill.
Bacon Breakfast Sando: Butter both sides of the bagel and top it with a fried egg, a slice of sharp cheddar, and a few slices of air fryer bacon.
Pizza Bagel: Keep the bagel halves open face on a baking sheet lined with parchment paper. Spoon on some homemade marinara sauce on top of each, followed by fresh mozzarella, minced & roasted garlic, and thinly sliced pieces of pepperoni.
Storing a New York Style Bagel
These bagels are best eaten fresh, but can be kept on hand for up to 3 days for quick grab-and-go breakfasts. To prevent them from going stale, store them individually wrapped in plastic wrap. If you don't plan to eat them within 3 days, freeze them in a plastic storage bag for up to 3 months.
FAQ
What is the difference between sourdough starter and levain?
Levain refers to a portion of a starter that has been fed and is ready to be used, while the starter is referred to as the portion that you keep on hand for future recipes. A levain gets used once, but a starter can truly last forever!
How long can sourdough discard last?
Sourdough discard is a portion of the sourdough starter that has been removed during the feeding process and it can last anywhere from 1-2 days. To reduce food waste, many people save sourdough discard and use it for various baked goods and savory recipes.
Can you overproof sourdough bagels?
Yes, you can overproof sourdough bagels by leaving them to rise too long and that can cause some big issues. If the dough is too airy, it will fall flat during the boiling process and leave you with saucers.
How big should you shape the hole for sourdough bagels?
The size of the hole for sourdough bagels should be shaped to a size of a walnut or bigger. You have to remember how much the hole shrinks during the baking process, so to get that perfect circular look you need to stretch the hole open as big as you can.
More Tasty Homemade Bread Recipes
Recipe
If you're looking for a true to form boiled sourdough bagels recipe, you've landed in the right corner of the web. Fluffy, moist, and perfect for smearing!
Nutrition Facts
Overnight Sourdough Bagels – Crazy Easy
Amount Per Serving
Calories 183
Calories from Fat 9
% Daily Value*
Fat 1g2%
Sodium 293mg12%
Potassium 44mg1%
Carbohydrates 38g13%
Protein 5g10%
Vitamin A 1IU0%
Vitamin C 1mg1%
Calcium 7mg1%
Iron 1mg6%
* Percent Daily Values are based on a 2000 calorie diet.