This fluffy whole wheat sourdough bread uses a blend of white and wheat flour for a perfect in-between texture and taste. Great for sandwiches and toast!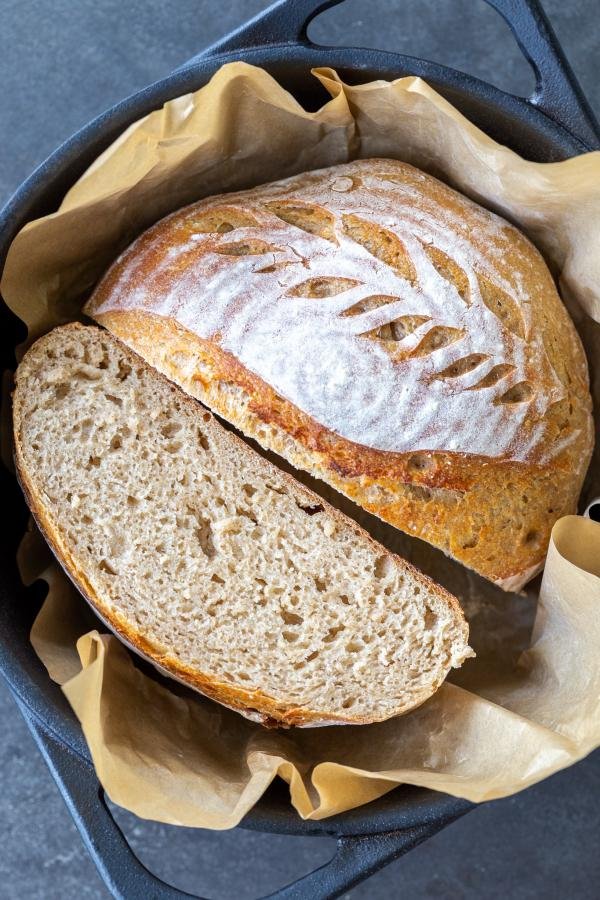 This almost whole wheat sourdough bread has the perfect texture. If you're wondering why we call it "almost" whole wheat sourdough, it's because we use a blend of white bread flour and whole wheat flour in the dough. We find that this lends the perfect balance of heartiness and fluffiness, resulting in a bread that isn't too dense and more kid-friendly. It also continues to develop a wonderful sour flavor even after it's baked!
Helpful Kitchen Tools
Before we dive into the recipe, let's cover a couple of essential sourdough bread-making tools. For more sourdough tips, read my complete guide on feeding and maintaining your starter.
Hot Tip: Use a kitchen scale to measure out the grams of each ingredient for ultimate accuracy. They are as follows: 325g water, 9g salt, 90g sourdough started, 170g wheat flour, and 350g bread flour.
Making this Whole Wheat Sourdough Bread Recipe
If it's your first time making whole wheat sourdough bread, the process is almost identical to whipping up the classic and beginner-friendly.
Preparing the Dough
Prepare the Starter. First, whisk the lukewarm water and sourdough starter together in a large bowl. Add in the salt and whisk again.
Add in the Flour: Next, stir in the bread flour and whole wheat flour. Cover the bowl with plastic and set it aside at room temperature to rest for 30 min.
Shape the Dough: After the sourdough rests, fold the sides over towards the center to form a ball.
Shaping the Dough
Allow the Dough to Rest: Next, cover the bowl with a towel and let the dough sit at room temperature for at least 8 hours and until it turns very bubbly.
Work the Dough: Next, pop the dough on a floured surface and stretch it into a large, rectangular shape. Fold it over until it turns into a small ball of dough.
Perfect the Shape: Push in the bottom of the dough with your fingers while shaping it with your other hand into a perfectly round ball, turning it several times in a circular motion to work out any imperfections.
Final Rise & Bake
Do the Final Rise: Place the dough into the dough basket with the seam side up. Cover the basket with a towel or plastic wrap. Allow the bread to rest for 45 minutes at room temperature or for 2-3 hours in the fridge.
Score the Bread: Next, place the dough on parchment paper with the seam side down and smooth side up. Score the top.
Bake the Bread: Pop the dough inside the Dutch oven and bake it for 30 minutes with the lid on. Remove the lid and bake the bread for 20 more minutes. Let the bread rest a bit and then slice right in!
Tips for the Tastiest Whole Wheat Sourdough Bread
A couple of simple tips and tricks will help you bake this sourdough recipe like a pro.
Make sure the dough is well-mixed. When you're prepping the dough, make sure there aren't any dry pockets of flour or salt. These won't mix on their own and will bake right into the bread, affecting its texture.
Don't forget to feed your starter. Keep your starter alive and fresh by feeding it regularly. You'll want to make sure to feed it 8 hours before you plan on baking with equal parts lukewarm water and all-purpose flour. It's ready to use once it starts dropping back down!
Know that temperature affects the rise. Cool water causes a slower rise, while hot water speeds the process up. The rise of the dough can also be affected by the season and specific climate in your area.
The resting periods are key. Each rise serves a specific purpose in making your bread delicious, so don't skip any single one. Patience is always rewarded in bread-making!
Mark the bowl to help you know when the dough has doubled. Marking the dough where it sits pre-rise will help you see when it has doubled in size and is ready. Use a highlighter if you don't wanna stain your bowl!
Razor blades make a great scoring knife. If you don't have a scoring knife, a razor blade will do the trick. Just be extra careful while you're handling it! You can also use an extra sharp knife in a pinch.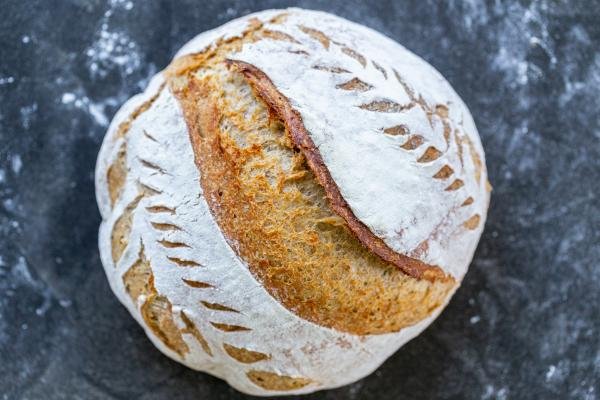 Serving Suggestions
Serve this whole wheat sourdough bread as the base of an air fryer grilled cheese or a classic BLT with baked bacon. You can also use it for peanut butter and honey sandwiches or for dipping alongside a hot bowl of minestrone. If you're a fan of appetizer toasts, slice it up for smoked salmon tea sandwiches or chicken bacon canapés.
Storing Tips
To keep the sourdough fresh for 4-5 days, store it in a plastic bag at room temp. Whatever you do, don't put it in the fridge! Instead of keeping the bread fresh for longer, the refrigerator dries it out due to the cold temperature.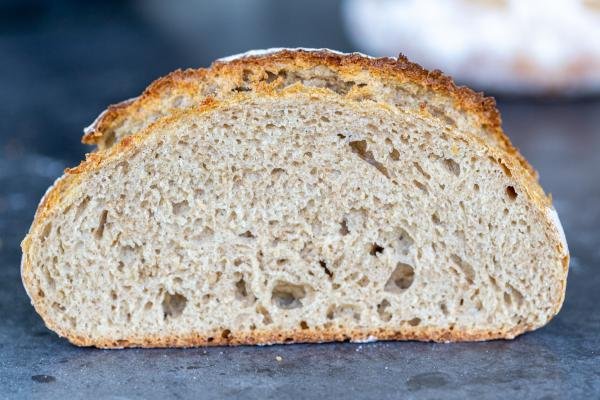 FAQ
How does whole wheat flour affect sourdough?
Whole wheat flour makes for a denser loaf of sourdough bread. If you use 100% whole wheat flour for sourdough, you can expect it to be pretty hearty and to have a dense crumb and crust. The same goes for rye flour. This is why it's a good idea to use a combination of white and wheat flour instead.
Does whole wheat dough rise less?
The whole wheat dough doesn't necessarily rise less, but it does rise slower than typical white flour doughs. To air on the safe side, always give your whole wheat dough a longer rise time.
How can you make whole wheat sourdough bread sourer?
The great thing about whole wheat sourdough bread is that it is better at developing a more sour flavor due to the role of wheat germ and whole grain in the bulk fermentation process. To make it even sourer, feed the starter less often than you normally would.
Can you double a sourdough bread recipe?
Yea, you can double a sourdough recipe and divide it into two separate proofing baskets. Just make sure that you mind the measurements!
More Tasty Bread Recipes to Try
Recipe
This whole wheat sourdough bread recipe combines all the great things about white flour and wheat flour into one loaf. Hearty, delicious, and so fluffy!
Nutrition Facts
(Almost) Whole Wheat Sourdough Bread
Amount Per Serving
Calories 1889
Calories from Fat 90
% Daily Value*
Fat 10g15%
Sodium 2353mg98%
Potassium 866mg25%
Carbohydrates 385g128%
Protein 65g130%
Vitamin A 20IU0%
Calcium 113mg11%
Iron 8mg44%
* Percent Daily Values are based on a 2000 calorie diet.