This 15-minute canned salmon dip recipe is so creamy, flavorful, and full of texture. Perfect as a spread on bagels or as a dip for your favorite crackers!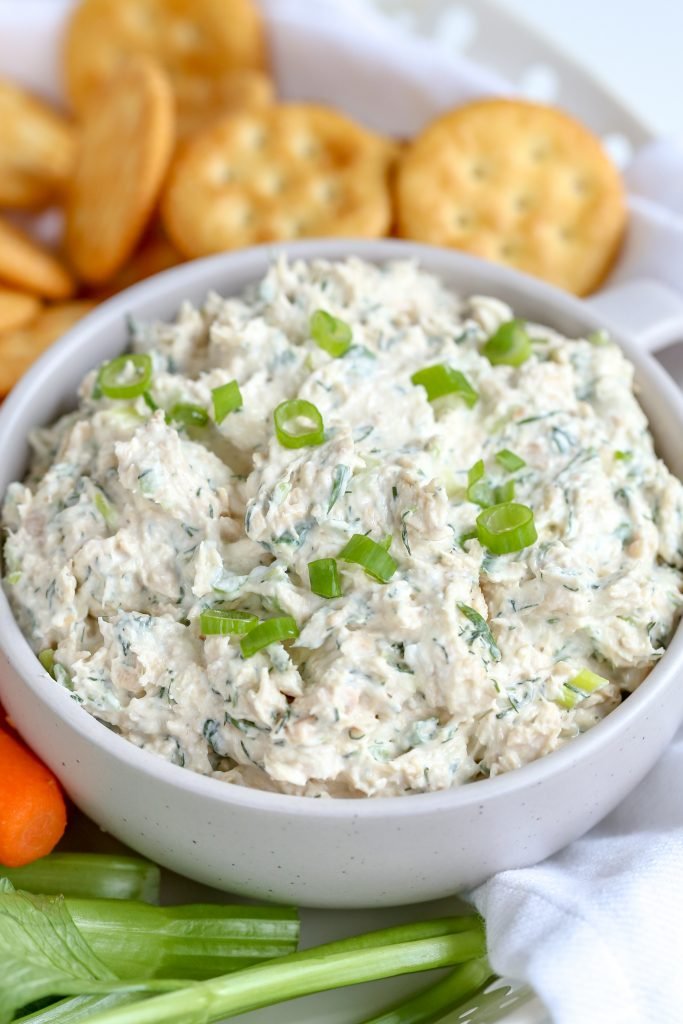 This canned salmon dip recipe is a great snack for a movie night in or when you're hosting large crowds. It pairs well with crackers, chips, or even your favorite veggies. We especially like to add it to a cheese board when hosting large events.
Of note, this salmon dip calls for canned salmon, but you can always use leftover salmon. You can have baked salmon the night before alongside some creamy mashed potatoes and save a portion of the filet for salmon dip the next day. Sounds like a plan, right?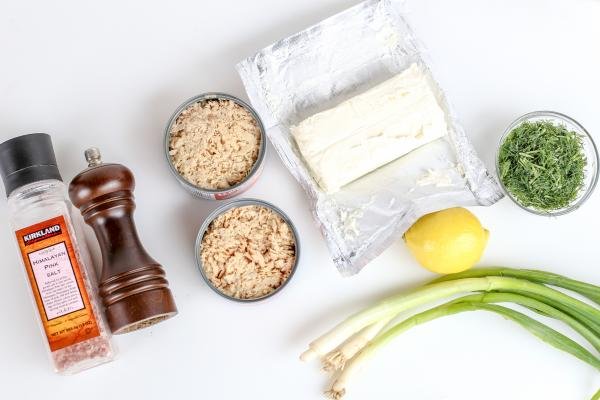 Salmon Dip Video Tutorial
How to Make a Salmon Dip
Making this salmon dip is so easy, you can hardly call it a recipe. Below, find a quick rundown of the recipe before you dive in.
Dice the Herbs: Using a sharp knife, dice the fresh dill and green onion.
Combine the Ingredients: Using a fork, mash and mix the salmon, herbs, cream cheese, lemon juice, salt, and pepper together in a large bowl. Serve the dip straight away or refrigerate it in an airtight container until you're ready for snacking!
Smoked Salmon Dip Hack: If you prefer a smokier dip, add a few drops of liquid smoke or use smoked salmon instead of canned salmon.
Tips & Tricks
Here find a collection of the best pro tips and tricks to help you nail this salmon dip recipe.
Let the cream cheese soften at room temperature. Pull the cream cheese out about 30 minutes before you plan on making the dip. Softened cream cheese is so much easier to work with and will make whipping up your dip that much easier.
Refrigerate the dip until you plan to serve it. While you can serve the dip straight away and it will be delicious, it's recommended that you let it chill in the refrigerator for a bit beforehand. It's so refreshing when chilled!
Leave the avocado out. If you're not a huge fan of avocado, leave it out and add 4 additional ounces of cream cheese.
Blend it in a food processor. If you prefer your dip super creamy, blend it in a food processor or high-speed blender.
Swap the cream cheese with sour cream. If you're looking for a little tang, swap the cream cheese out with equal parts sour cream.
Serving Salmon Dip
There are so many tasty ways to serve this salmon dip recipe. Pair it with air fryer tortilla chips, crackers, or a slices of toasted baguette for a tasty appetizer or snack. You can also serve it alongside a tray of toasted bagels (everything-style bagels are the best!) or stuffed inside an omelette for a fancy brunch.
Storing Leftovers
Whether you're prepping the salmon dip recipe a day ahead for a party or cooking a batch to have on hand for the week, find all the best storage tips here.
Salmon Dip With Avocado: If you plan to eat the dip within 24 hours, store it in an airtight container in the fridge. This will not only keep it from browning, but will also prevent it from soaking up any smells in the refrigerator.
Salmon Dip Without Avocado: If you want to have salmon dip on hand for up to 7 days, leave the avocado out and only mash it in before serving. Store it in the fridge in an airtight container in between uses.
FAQ
Can you make salmon dip without cream cheese?
If you're not into cream cheese, leave it out and double the amount of avocado. This will help the dip remain creamy!
Can I use leftover baked salmon for salmon dip?
Using leftover baked salmon to make this recipe is a great way to reduce waste and repurpose the fish.
How long does salmon dip stay good for in the fridge?
With the avocado, the salmon dip stays good for about 24 hours before it starts to brown. If you leave the avocado out, it will stay good for up to 7 days.
What should I serve alongside salmon dip?
Serve salmon dip alongside toasted baguette, bagels, crackers, or veggie sticks.
Can I make this salmon dip spicy?
Yes, you can make this canned salmon dip spicy by adding a couple of dashes of hot sauce or red pepper flakes.
Other Salmon Recipes to Try
Recipe
This 15-minute canned salmon dip recipe is so creamy, flavorful, and full of texture. Perfect as a spread on bagels or as a dip for your favorite crackers!
Instructions
Nutrition Facts
15-Minute Canned Salmon Dip
Amount Per Serving
Calories 98
Calories from Fat 81
% Daily Value*
Fat 9g14%
Cholesterol 31mg10%
Sodium 92mg4%
Potassium 49mg1%
Carbohydrates 1g0%
Protein 1g2%
Vitamin A 510IU10%
Vitamin C 3mg4%
Calcium 31mg3%
Iron 0.2mg1%
* Percent Daily Values are based on a 2000 calorie diet.