This easy jalapeno popper dip makes the perfect appetizer. It's simple to control the heat and the dip is great served hot or cold. It's sure to be a hit at your next gathering.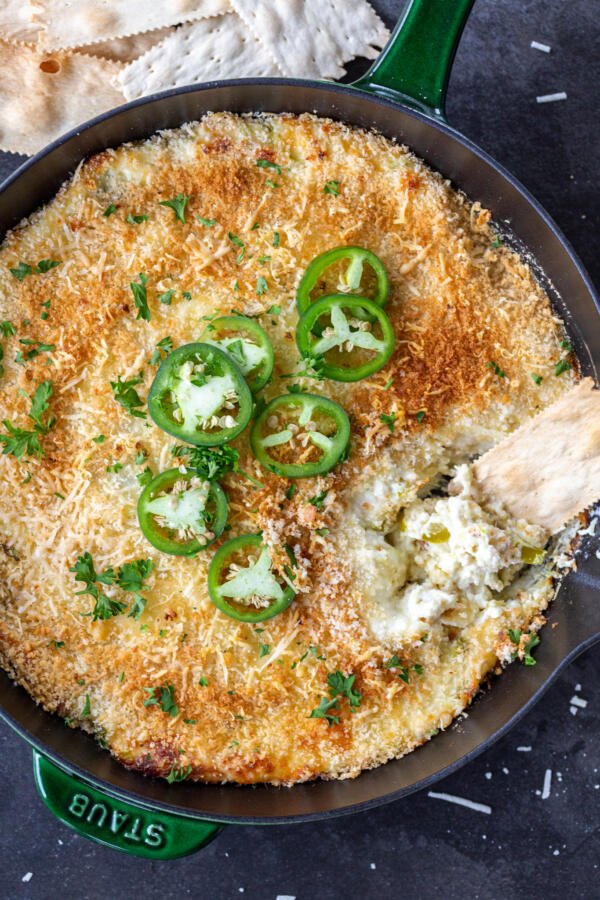 What is Jalapeño Popper Dip?
Jalapeño popper dip is a spicy and hot dip made out of jalapeños, sour cream, and a cheesy base with a crispy panko crust topping. It is essentially a deconstructed jalapeño popper in a dip version, rather than as a finger food.
You will often find this dip served as an appetizer or a hot side along with a bowl of chips or crackers. It's the perfect game night snack for spicy food lovers.
A Quick Summary on Making the Dip
This jalapeno popper dip may be insanely good, but there's nothing crazy about the process. Here's a quick summary before you get chopping.
Mince the aromatics: Drain and chop the canned jalapenos, then mix with the minced garlic.
Combine remaining dip ingredients: In a large bowl, stir to combine cream cheese, sour cream, aromatics, parmesan, and mozzarella cheese.
Transfer to a pan: Transfer the mixture to the bottom of a baking dish.
Apply topping: Sprinkle the top with Panko bread crumbs, parmesan cheese, and half rings of fresh jalapenos.
Bake: Bake at 375°F until the dip is golden brown and bubbly.
Hot tip: To make the dip in a crock pot, cook it on high for an hour and then set to warm until ready to serve.
Ingredient Variations
Sometimes even the best dishes need a little bit of extra "pizazz." Here are a few ingredient variations to add fresh new energy to your dip.
Top with another garnish: Add bacon bits to the top for extra protein and a savory flavor. Who can resist a little bacon? Use our air fryer bacon recipe to make them perfectly crispy.
Make it extra-spicy: For even more heat, add red pepper flakes to the mixture. Have a glass of water ready to go when eating this dip!
Mix in herbs and other veggies: Green onions, parsley, and green chilies make great additions by adding more flavor and texture.
Add more seasonings: For a greater variety in flavor, add garlic powder, onion powder, or any of your favorite spices.
Change up the cream cheese mixture: Feel free to use cheddar cheese for a different cheese flavor. Or, substitute the sour cream with greek yogurt. Mayonnaise can be used in a pinch, but it does make the dip more tangy.
A Few Poppin' Tips
With these tips, everyone at your party is going to love this jalapeño popper dip — there's no doubt about it.
Adjust the spice to preference: Use about six jalapeños for the dip, but adjust the level of spice by altering between spicy or not-so-spicy jalapeños. Examine the lines on the skin of the jalapeños to get an idea of how spicy it is. Jalapeños with lines and marks on the flesh are usually spicier than those without. To further reduce spice, remove the seeds from the jalapeños.
Pick a good quality cheese: Cheese plays a major part in the flavor of the dip. Use good quality cheese and shred it yourself for best results!
Hot tip: When working with jalapeños, wear gloves and avoid touching your face. The juices linger on your hands and are painful when they get into your eyes or into cuts!
Serving Jalapeno Popper Dip
Serve this dip hot or cold alongside an array of sides and let your guests decide what their perfect pairings are.
Have leftover dip? Spread it on a bagel the next morning for a spicy breakfast bagel! Or use it as a dip alongside breakfast quesadillas.
Making the Dip Ahead-of-Time
To make the dip up to a day ahead of time, combine the dip ingredients in a baking dish and refrigerate. Keep the topping ingredients in a separate container or sandwich bag, then sprinkle on top of the dip just before baking. This will ensure the topping remains crispy and does not get soggy.
Storing & Reheating
You likely won't have any leftover dip after your guests devour it, but if you do, here are a few suggestions on how to store and reheat the leftovers to enjoy again later.
Refrigerator: To store up to three days, refrigerate in an airtight container. Keep in mind that the breadcrumb crust will soften more as the dip is refrigerated.
Freezer: It is best to store unbaked jalapeño popper dip in the freezer. To store up to three months, prepare the dip mixture and freeze in a freezer/oven-safe dish. Keep the topping separate (either frozen or prepare it fresh later). Thaw in the fridge overnight, then add the breadcrumb topping right before baking.
Reheating: The dip is great served cold, but it can also be reheated. To reheat a small portion, microwave the dip in a covered container. To warm a larger portion, reheat in the oven at 350°F until the cheese is bubbly. To make the topping a bit crispy again, place under the broiler on low for a few minutes.
FAQ
Does jalapeño popper dip need to be refrigerated?
It is best to refrigerate any leftovers of jalapeño popper dip after a few hours. The dip contains cheeses that can spoil if left out on the counter for too long.
Does jalapeño popper dip freeze well?
Jalapeño popper dip freezes well when freezing an unbaked dip. It is best to freeze the cream cheese mixture and the topping separately for best results.
What is the difference between a spread and a dip?
A spread is generally applied onto food, whereas food is usually dipped into a dip. Butter, mayo, and ketchup are examples of popular spreads, while jalapeño dip, salsa, hummus, and guacamole are examples of popular dips. On some occasions, an item can be both a spread and a dip.
More Addicting Dips
Recipe
This jalapeño popper dip is made with spicy jalapeños, sour cream, a three-cheese blend, and a crispy panko crust. This will add a whole new reason for a game night.
Ingredients
Jalapeno Popper Dip
6

oz

canned jalapeños

drained and chopped

3

garlic cloves

minced

8

oz

cream cheese

softened

8

oz

sour cream

1 1/2

cup

Mozzarella cheese

1

cup

Parmesan cheese
Topping
1

cup

Panko crumbs

1/2

cup

Parmesan cheese

2

fresh jalapeños

sliced into half rings
Nutrition Facts
Jalapeno Popper Dip
Amount Per Serving
Calories 330
Calories from Fat 225
% Daily Value*
Fat 25g38%
Cholesterol 75mg25%
Sodium 940mg39%
Potassium 175mg5%
Carbohydrates 11g4%
Protein 15g30%
Vitamin A 1245IU25%
Vitamin C 7mg8%
Calcium 405mg41%
Iron 1mg6%
* Percent Daily Values are based on a 2000 calorie diet.