Looking for an elegant, yet simple appetizer? These salmon tea sandwiches feature baguette slices smeared with herbed cream cheese and topped with smoked salmon.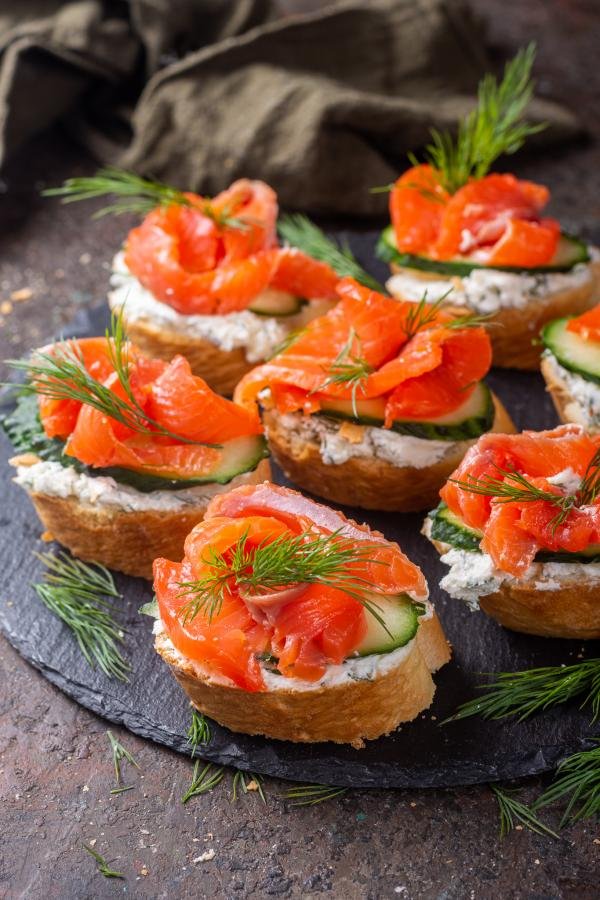 Smoked salmon tea sandwiches aren't just for afternoon tea! They are the perfect appetizer for everything from Christmas to New Years to Easter. If you're a fan of lox bagels, consider them bite-sized versions of this classic New York staple. What's better? They're so easy to prepare, a kid can make them!
What are Canapés?
A canapé is a kind of hors d'oeuvre that features slices of baguette, puff pastry, crackers, or another carb topped with a variety of meats, cheese, veggies, and other goodies. The common thread between all canapés is they're finger food that can be eaten in one big bite. Below, find a rundown of the flavor, texture, and time it takes to put together this recipe for smoked salmon canapés.
Flavor: The flavor of these canapés is a contrast of smoky salmon, dill-infused cream cheese, and earthy baguette.
Texture: The texture of these appetizer sandwiches features soft baguette slices topped with melt-in-your-mouth smoked salmon and whipped cream cheese.
Time: From prep to table, these canapés only take 15 minutes to pull together.
Where can you find smoked salmon? Costco and Trader Joe's both have affordable and great-tasting options!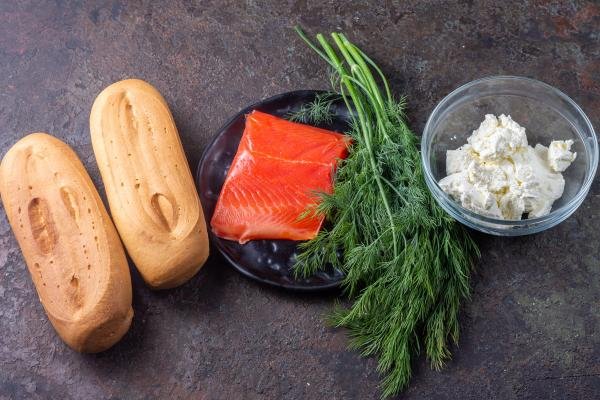 How to Assemble Salmon Tea Sandwiches
These salmon tea sandwiches only require 4 ingredients to assemble (the cucumber is optional) and some mild prep. Below, find a brief rundown of the process before you dive in.
Slice the Baguette: Using a serrated knife, slice the baguette into even-sized pieces.
Make the Herbed Cream Cheese: In a medium bowl, combine the diced dill sprigs with the softened cream cheese.
Assemble the Tea Sandwiches: Spread the herbed cream cheese onto a slice of bread, followed by an optional cucumber slice and a piece of smoked salmon. Repeat until you run out of ingredients. Enjoy!
Did you know? Making homemade baguette doesn't require a ton of technical skill. Try our easy baguette recipe and prepare to be surprised!
3 Tips for the Best Salmon Tea Sandwiches
Here you'll find some pro tips to help you make the best salmon tea sandwiches possible.
Allow the cream cheese to soften at room temperature. Before you make your tea sandwiches, pull the cream cheese out of the refrigerator and let it soften at room temperature for about 15-30 minutes. This will make it so much easier to mix with the dill and spread on the baguette.
Use fresh dill versus dried. Fresh dill adds lots of flavor to the cream cheese and makes for such a beautiful presentation.
Slice the salmon properly. If you're slicing the smoked salmon off a whole fillet, start from the head of the fish and slice down towards the tail in a slow, sawing motion. Make sure to use a super sharp knife so you don't pull at the delicate flesh.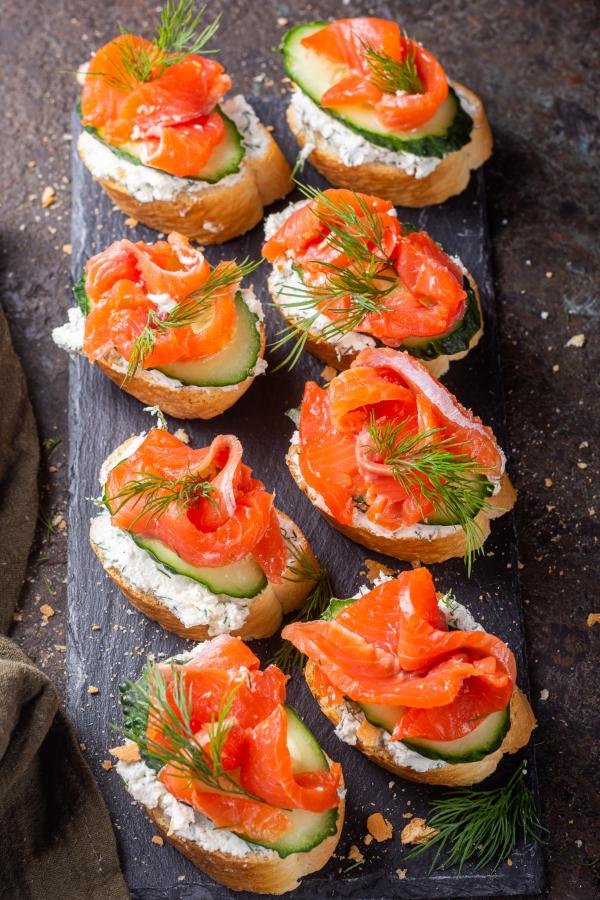 Different Toppings for Salmon Canapés
If you're looking to add some different flavors to your smoked salmon tea sandwiches, here are some topping and garnish variations to inspire you. Half of the fun is playing around with different layers and flavor profiles!
Veggies: Thin slices of tomato or pickled red onion, roasted garlic, capers
Fresh Herbs: Chives, cilantro, basil, or arugula
Citrus: A spritz of fresh lemon juice on top
Ways to Serve Salmon Tea Sandwiches
If you're in charge of appetizers for your next party or afternoon tea, whip these salmon canapés up as part of your spread. Grab a nice platter and assemble them alongside a variety of different finger foods like blueberry scones, charcuterie, and crab-stuffed mushrooms. You can also throw in some other canapé varieties for more selection:
Best Way to Store Your Canapés
Canapés are best eaten right after you assemble them. However, if you want to prep ahead they will keep fresh for up to an hour when store in an airtight container in the fridge. You can also make the herbed cream cheese a day or two in advance to cut down on day-of prep.
FAQ
Why are they called tea sandwiches?
Tea sandwiches got their name because they are commonly served during afternoon tea for a light snack. You can thank the Brits for these little morsels!
How many tea sandwiches should I allot for each person?
Anywhere between 3-4 tea sandwiches are standard per guest. This can vary depending on how filling the main course is going to be and the number of other appetizers you are serving alongside them.
What are some other popular tea sandwiches?
The list of different tea sandwiches is long and never-ending, but a couple of other popular combinations include ham and cheese, smoked trout salad, and roast beef and horseradish.
Can you toast the bread before assembling the sandwiches?
It's not necessary to toast the bread before assembling the tea sandwiches. However, if you'd like a bit more crust and texture feel free to do so.
Can you use a different type of bread than a baguette?
If you don't want to use a baguette or can't get your hands on one, swap it out for whole wheat bread, sourdough, or even rye.
Other Salmon Recipes to Try
Recipe
These smoked salmon tea sandwiches are little heavenly morsels of herbed cream cheese and salty salmon. The perfect finger food!
Ingredients
8

oz

cream cheese

softened at room temperature

3

tbsp

fresh dill

1

baguette

8

oz

smoked salmon

1

cucumber
Instructions
Nutrition Facts
Smoked Salmon Tea Sandwiches (Canapés)
Amount Per Serving
Calories 110
Calories from Fat 54
% Daily Value*
Fat 6g9%
Cholesterol 19mg6%
Sodium 253mg11%
Potassium 88mg3%
Carbohydrates 9g3%
Protein 5g10%
Vitamin A 222IU4%
Vitamin C 1mg1%
Calcium 30mg3%
Iron 1mg6%
* Percent Daily Values are based on a 2000 calorie diet.