These air fryer brussels sprouts are next level. Thought you loved oven-baked brussels? Well, strap in because these are about to blow your mind and then some.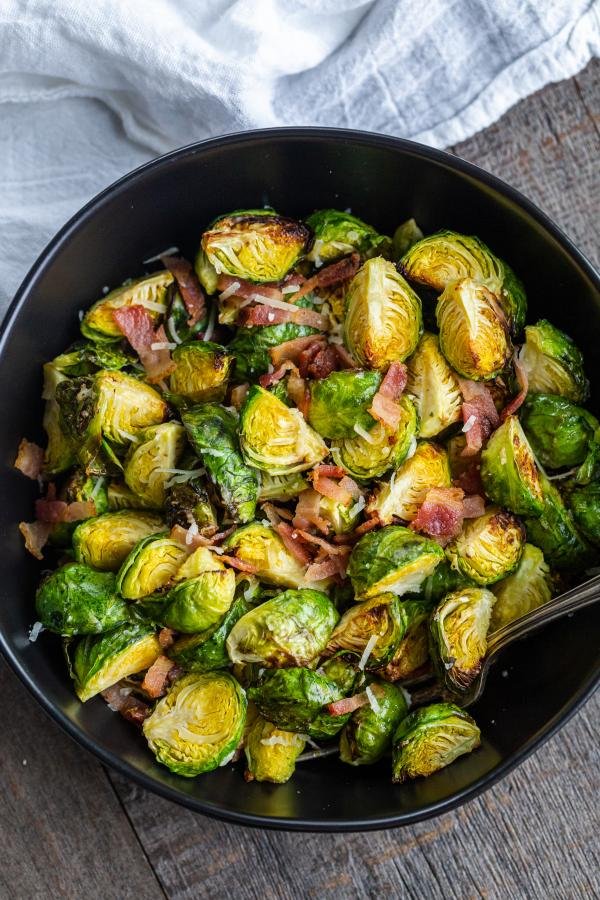 Using just a few simple and wholesome ingredients, you will have a healthy side dish or appetizer that pairs perfectly with just about any main. Did I mention these reheat amazingly? Meal-preppers rejoice!
Brussels sprouts are undeniably delicious, right? Well, they are also VERY good for you. Packed with nutrients and very little calories, these veggies always find their way onto my dinner table.
If you are already a friend of Momsdish, you probably are familiar with my air fryer recipes obsession. I love how little oil it uses, while providing such a great, "fried-like" texture! Plus, everything cooks in one pan and the clean-up is super easy.
What are The Best Foods to Cook in An Air Fryer?
There is literally no shortage of foods to air fry. I could go on-and-on here, but let me spare you the rambling by sharing some of my all-time favorite recipes:
Tips for Cooking Brussels Sprouts in an Air Fryer
Cut Brussels sprouts into even-sized pieces. Brussels are dense veggies. Cut them in uniform pieces to make sure they cook evenly.
Coat your air fryer tray. Before you pop your brussels in, make sure to coat the air fryer tray with cooking spray to prevent any sticking.
Season thy brussels well! For me, a generous amount of oil, salt and pepper does the trick. But, garlic salt, parsley salt or your favorite seasoning salt works wonders too. Just make sure you don't overdo it with the salt because you will be adding parmesan cheese as well!
Hot tip: To perfectly coat each morsel, use a large mixing bowl to toss your Brussels sprouts with seasonings. Once they are well-coated, transfer them to the air fryer tray.
Choose your cheese wisely. High-quality parmesan cheese makes a big difference. Skip the pre-shredded, bagged stuff. And, definitely forgo whatever comes in those "parmesan cheese" shakers and opt for a hunk of the good stuff that you will have to grate fresh. You'll be happy you did when you sink your teeth into that perfect parmesan crust!
Don't overcrowd your Brussels sprouts. Layer your brussels evenly in the air fryer tray. If you want to get golden brown, super crispy brussels, you need to make sure they are exposed to the hot air circulating around them in the tray.
If you overcrowd your brussels, get to shakin'. If you think you think you overcrowded your tray, don't fret! Give the tray a little shake halfway through cooking to expose brussels that may have been covered up. You might have to increase your cooking time a bit to get them crispy and delicious!
Which Air Fryer to Use
I know, there are a ton of air fryers on the market. So, let me help cut through the noise: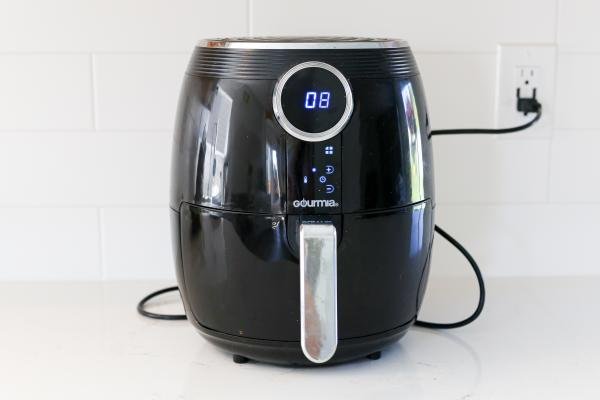 Gourmia 5 Qt Air Fryer: I have been using this air fryer for over a year and I love the functionality. It has a ton of presets for common foods (chicken, fries, steak, bacon, shrimp, etc.), which helps take the guesswork out of how long to cook certain things. It's also super easy to clean, so no complaints there.
Cuisinart TOA-60 Convection Toaster Air Fryer: I haven't used this one, but I definitely have my eye on it. This is a toaster oven, convection oven and air fryer all-in-one! If any of you snag it, please let me know how you like it in the comments below! I mean, cooking is a team effort, right?
Recipe
Air fryer Brussels sprouts take the already awesome texture of this veggie to the next level. Thought you loved brussels baked in the oven? Well, strap in because air fryer brussels are about to blow your mind.
Nutrition Facts
Air Fryer Brussels Sprouts Recipe
Amount Per Serving
Calories 143
Calories from Fat 63
% Daily Value*
Fat 7g11%
Cholesterol 11mg4%
Sodium 641mg27%
Potassium 636mg18%
Carbohydrates 14g5%
Protein 10g20%
Vitamin A 1166IU23%
Vitamin C 129mg156%
Calcium 103mg10%
Iron 2mg11%
* Percent Daily Values are based on a 2000 calorie diet.