These banana chocolate chip muffins are the ultimate answer to overripe bananas. Take your ripe bananas, add a few pantry staples and voila — crisis averted!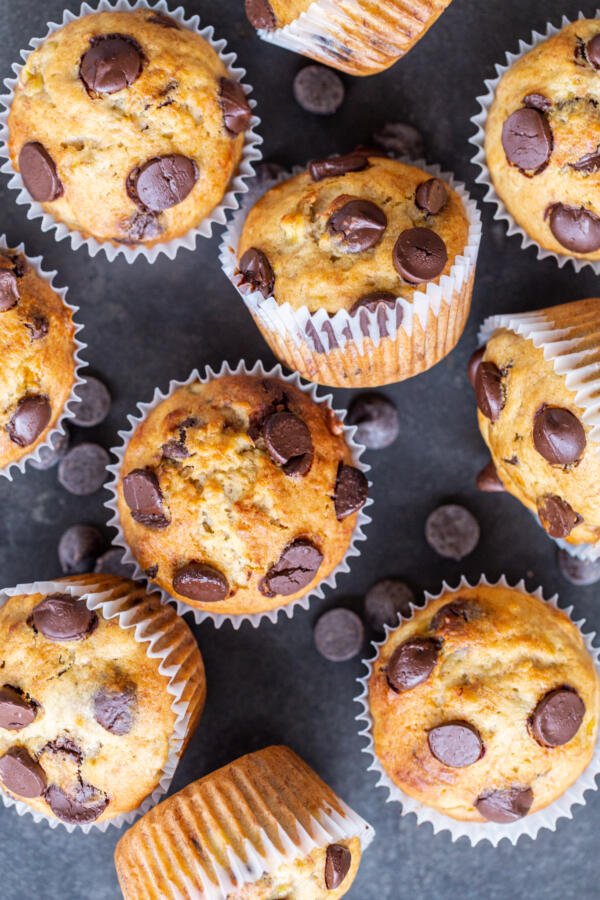 We love to freeze a large batch of these banana chocolate chip muffins and slowly thaw a few at a time to refill our covered cake stand. It's like having a bakery in our own home, except without all the hard work!
Making the Muffins
Banana chocolate chip muffins are the perfect after school snack, dessert, or even breakfast. Don't let those browning bananas go to waste! Transform them into muffins by following these few, easy steps.
Mash the bananas: Using a small bowl, take the ripe bananas and mash with a fork or a potato masher. Set aside.
Combine dry ingredients: In a separate medium bowl, combine flour, salt, baking powder and set aside.
Whisk the egg mixture: In a large bowl, whisk together the eggs and sugar until the mixture is light and fluffy.
Stir in remaining wet ingredients: Fold the mashed bananas into the egg mixture, then add vanilla extract and oil. Stir to combine well.
Fold in dry ingredients: With a large silicone spatula, fold the flour mixture in until fully incorporated, then add chocolate chips.
Bake: Line a muffin tin with muffin cups, paper liners, or use a baking/cooking spray. Fill the pan with batter and bake in the oven at 375°F for 20-25 minutes or until a toothpick comes out clean when inserted.
Rest and enjoy: Allow muffins to cool on a wire rack, then serve!
Hot tip: Baking powder is vital to make the muffins have the right shape, color, taste, and texture. Test the freshness of your baking powder by mixing a few tablespoons of hot water with a teaspoon of baking powder. If the mixture bubbles and fizzes, the powder is still good. If not, it's time to buy fresh baking powder.
How to Avoid Dry Muffins
Nothing makes us more sad than dry muffins. To make sure this never happens to you, follow these tips for a moist muffin.
Avoid overbaking: Bake the muffins just until a toothpick comes out clean when inserted.
Carefully measure the flour: Too much flour can make the muffins too dense and dry. Measure correctly by first stirring your flour with a fork to aerate and break it up. Then, spoon the fluffed flour into a measuring cup just until it reaches the top. With the back of a knife, scrape off any excess flour.
Store in a container: After baking, store the muffins in an airtight container. This will lock the moisture in.
A Few Easy Ingredient Tweaks
Make these banana muffins even more a-peeling to your family and friends with these easy ingredient adjustments.
Give it a holiday flavor: For a holiday taste, add a teaspoon of cinnamon or nutmeg!
Add a crunch: Everyone loves a bit of a crunch in their pastries! Add finely chopped walnuts, pecans, or even almonds for added texture and protein.
Make it more chocolatey: Adjust the amount of chocolate chips to your preference. Or, change it up by using white, peanut butter, or dark chocolate chips.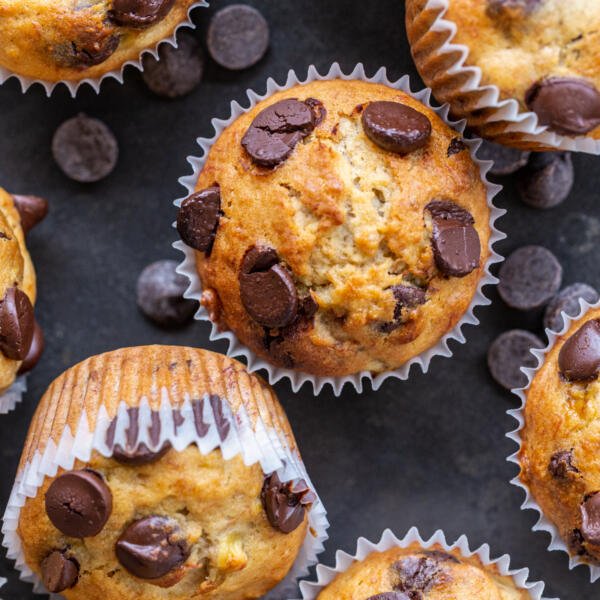 Tips to Make the Finest Banana Chocolate Chip Muffins
Make your muffins the finest in the land… or the crème de la crème of all muffins with these simple tips!
Use a muffin pan: We love using our favorite muffin pan to make banana muffins. It's easy and the muffins cook evenly!
Avoid overfilling the muffin pan: For standard size muffins, fill the batter to 2/3 of the size of the muffin slots. The muffins will rise as they bake.
Alter the size of the muffins: Change up the typical muffin size and make mini muffins or jumbo muffins. To make mini muffins, add less batter into the muffin pan (or use a mini muffin pan) and bake for about 15 minutes. For jumbo muffins, use a jumbo muffin tin and bake for about 24 minutes.
Avoid skipping the salt: It may seem like this is a sweet recipe and salt doesn't make sense, but it is truly necessary! Even a tiny bit of salt helps make the muffins ultra-flavorful and helps balance the sweetness.
Storing and Reheating
For an (almost) endless supply of banana chocolate chip muffins, make a large batch and store them in the freezer. Then, at the first inkling of a craving, reheat as many (or as few) muffins as you want! It's magic!
Room temperature: To store up to five days on the counter, put muffins in a zippered bag or an airtight container (like a covered cake stand).
Freezer: To store for up to three months, freeze muffins on a flat baking pan, then move to a ziplock bag once fully frozen. A freezer stash of muffins is great to have on hand to satisfy those cravings!
Reheat: To reheat from frozen, thaw the muffin on the counter first. If you enjoy room temperature muffins, then that's all you need to do! If you like your muffins warm, pop a muffin in the microwave for 15-30 seconds, or briefly warm it in the oven.
Hot tip: It is best not to refrigerate muffins as the cool temperature in the fridge can quickly dry out and harden the muffins, even if stored in an airtight container.
FAQ
How ripe should bananas be for banana muffins?
Bananas should be turning brown to be considered "perfectly ripe" for banana muffins. If they are darker, that's even better because there's no such thing as a too-ripe banana for banana muffins. If the banana skin does not have any brown/black spots or streaks, the banana is not quite ripe enough yet.
How can I ripen bananas quickly to make banana muffins?
To ripen bananas quickly, place them on a baking sheet and bake (with the skin on) for ten minutes at 350°F. Let them cool before using them to make banana muffins.
Can I add mashed bananas to boxed muffin mix?
It is possible to add a couple mashed bananas per average size muffin mix to make banana chocolate chip muffins; however, the flavor is much better when the muffins are made from scratch. It's so easy to make — you won't regret it!
Are banana chocolate chip muffins dairy-free?
Some banana chocolate chip muffin recipes use milk and melted butter, in which case they are not dairy free. Dairy-free recipes tend to use vegetable oil instead.
More Banana Recipes
Recipe
These banana chocolate chip muffins will help give your ripe bananas a new life. Combined with semi-sweet chocolate chips, they are a perfect treat!
Nutrition Facts
Banana Chocolate Chip Muffins
Amount Per Serving
Calories 151
Calories from Fat 45
% Daily Value*
Fat 5g8%
Cholesterol 14mg5%
Sodium 56mg2%
Potassium 201mg6%
Carbohydrates 25g8%
Protein 2g4%
Vitamin A 38IU1%
Vitamin C 2mg2%
Calcium 33mg3%
Iron 1mg6%
* Percent Daily Values are based on a 2000 calorie diet.