Cranberry Banana Oat Muffins are healthy and so delicious. If you are reaching for a little treat with zero guilt, this muffin recipe is for you. Bonus, they are the perfect make-ahead dessert.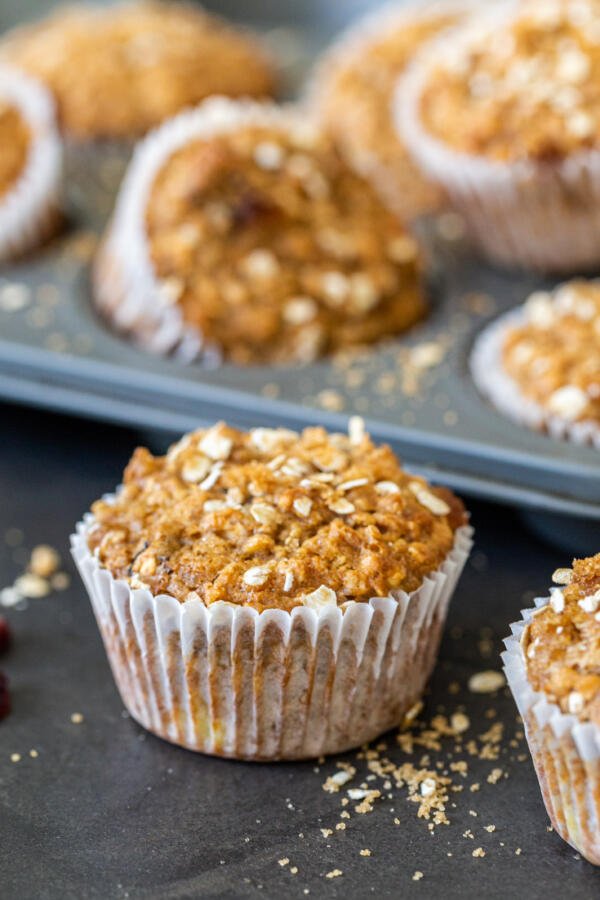 These Cranberry Banana Oat Muffins come out so fluffy. Creamy banana, wholesome oats and tart cranberries make for the ultimate trifecta.
Eat one for breakfast with a frothy latte or slather one with butter for a sweet treat in the middle of the day. Whatever way you enjoy them, you can be rest assured that they are guilt-free.
How to Make Cranberry Banana Oat Muffins
Mix and mash your way to the most dreamy muffins on the planet. Follow the simple steps below to nail this recipe each and every time.
Mash bananas. Whisk egg with buttermilk and vanilla extract. Incorporate mashed bananas into the mixture.
Combine dry ingredients. In small portions, mix your dry ingredients into your wet ingredients.
Stir in dry cranberries.

Pop liners into a muffin tin. Fill each hole with batter.
Make the crumble topping by mixing oats with brown sugar. Sprinkle on top of each muffin.
Bake at 350°F for 20-30 minutes. With a toothpick inserted, check the doneness of each muffin. If it comes out clean, the muffins are ready!
Let cool to room temperature.
Hot Tip: If you prefer, swap the brown sugar crumble for coarse white sugar. It will add a nice crunch.
FAQ
What ingredient makes muffins fluffy?
Allow your buttermilk and eggs to reach room temperature before you incorporate them into the batter for the fluffiest muffins possible. This will create a smooth batter that traps heat and causes the muffins to expand and pop up.
Can you use fresh cranberries instead of dry for muffins?
Opt for dried cranberries over fresh for muffins. When fresh cranberries bake in the oven, they can turn to mush and make your muffins turn soggy. With dried cranberries, you are sure to get a sweet and tart burst of flavor without any potential for mush.
Can you bake with frozen cranberries?
You can definitely bake with frozen cranberries. However, allow them to defrost completely on the counter before using them. Strain out any excess liquid to prevent diluting your batter.
What berries are great for muffins?
Blueberries, raspberries, cranberries, and blackberries all work great for muffins. As long as the berry is seasonal and fresh, you should feel free to add it to your muffin rotation.
Storing Cranberry Muffins
Room Temperature – Store cranberry muffins in an airtight container on the counter for a couple of days. If you're planning on eating them quickly, there's no need to take up space in your fridge.
Refrigerator – If you plan on eating your muffins a bit more slowly, store them in an airtight container in the fridge. They should stay fresh for up to a week.
Freezing – If you prepped a couple of batches and want to have muffins on hand for quick breakfasts or the occasional sweet tooth, allow muffins to cool completely and place them on a baking sheet. Pop the entire baking sheet in the freezer and allow muffins to freeze in a single layer. Transfer to a freezer safe plastic bag.
Reheating Muffins: Reheat your muffins by zapping them in the microwave for 45 seconds to 1 minute. Or, pop a handful in the oven at 350°F and heat through (about 5 minutes).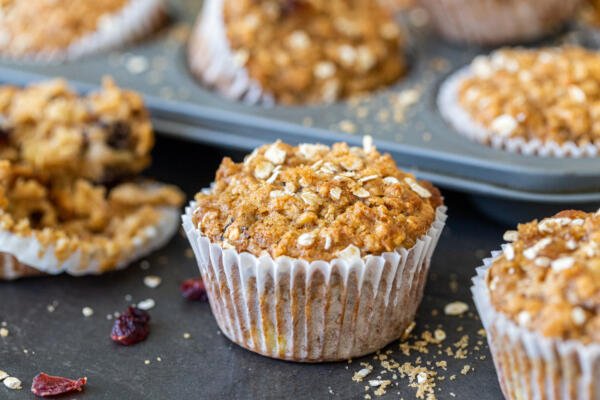 Other Tasty Treats
More Ways to Use Bananas
Have a gaggle of bananas going brown on your counter? Don't throw them away! Here are a couple of recipes that call for ripe bananas:
Recipe
Cranberry Banana Oat Muffins are healthy and so delicious. If you are reaching for a little treat with zero guilt, this muffin recipe is for you.
Instructions
Muffin Topping
In a separate bowl, combine oats with brown sugar. Sprinkle equal parts of the mixture on top of each muffin.

Bake muffins at 350°F for about 20-30 minutes. Insert a skewer into the center of a muffin to test for doneness. If it comes out clean, the muffins are ready.
Nutrition Facts
Cranberry Banana Oat Muffins
Amount Per Serving
Calories 175
Calories from Fat 18
% Daily Value*
Fat 2g3%
Cholesterol 20mg7%
Sodium 94mg4%
Potassium 238mg7%
Carbohydrates 37g12%
Protein 4g8%
Vitamin A 60IU1%
Vitamin C 1.7mg2%
Calcium 58mg6%
Iron 1.1mg6%
* Percent Daily Values are based on a 2000 calorie diet.