These healthy 3 ingredient banana oatmeal pancakes are flour-free and super easy to make. Hearty and sweet, they are best topped with syrup and walnuts!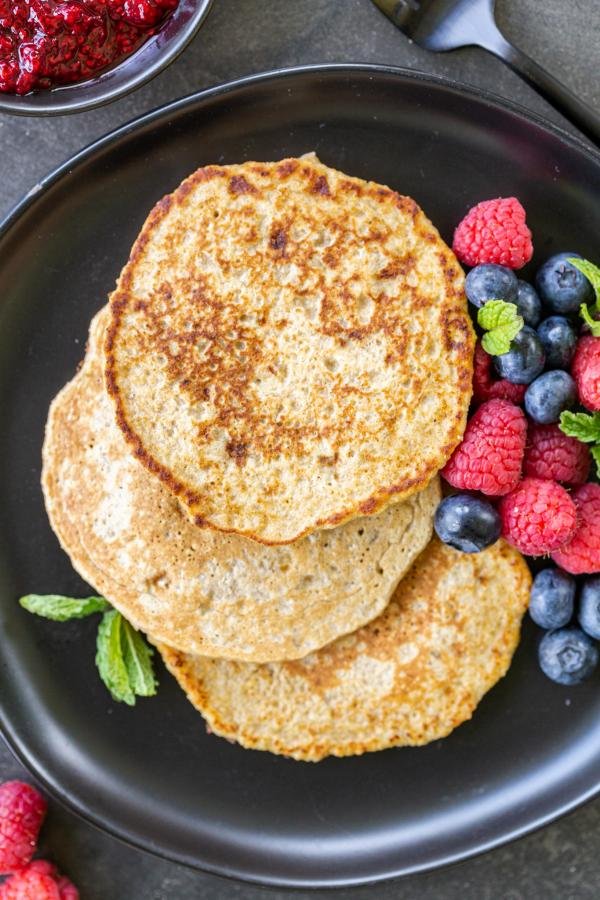 Looking for a healthy treat to add to your breakfast rotation? These banana oat pancakes have your name on them. Much like traditional banana bread, this recipe is a wonderful way to reduce food waste and use those overripe bananas you have hanging out on your counter. Bonus: they pack a nice amount of potassium and fiber!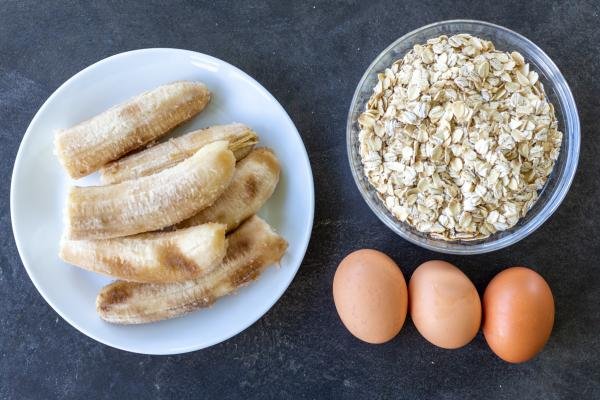 How to Prepare Banana Oatmeal Pancakes
The process of whipping up this simple pancake batter only requires a big bowl and a blender. Here's all you need to know:
Mash the Bananas: Using a fork, mash the until smooth (don't leave behind any lumps!)
Whisk the Eggs: Next, whisk the eggs until smooth and stir them into the ripe bananas.
Add the Oats: Blend the oats in a blender or food processor until they turn into an oat flour-like texture. Stir the oat mixture into wet ingredients until well-combined.
Cook the Pancakes: In a large skillet or griddle preheated over medium heat with a little butter, pour the pancake batter in. Brown each side until golden brown. Top with your favorite goodies and enjoy!
Time-Saving Tip: To speed things up, add all the ingredients into a blender and pulse the mixture for 30 seconds.
3 Tips for the Tastiest Banana Oatmeal Pancakes
While the process for making these pancakes is much like traditional flour-based flapjacks, there are a handful of tips to tune into to make them perfectly sweet and golden brown.
Use super ripe bananas for more sweetness. The riper the banana, the more sweet your pancakes will be. For best results, let the bananas turn almost fully black before using them in this recipe.
Work over medium to medium-low heat. Because these pancakes don't contain any flour, they cook super fast. To prevent them from burning, cook them over medium to medium-low heat depending on your particular stovetop (some run hotter than others!).
Add a little more butter when necessary. As you cook your flapjacks, add more butter to the pan as necessary to prevent the batter from sticking to the skillet. Typically, we add a pat in between every 1-2 batches.
Hot Tip: Use quick oats or steel-cut oats over rolled oats. They provide the best texture!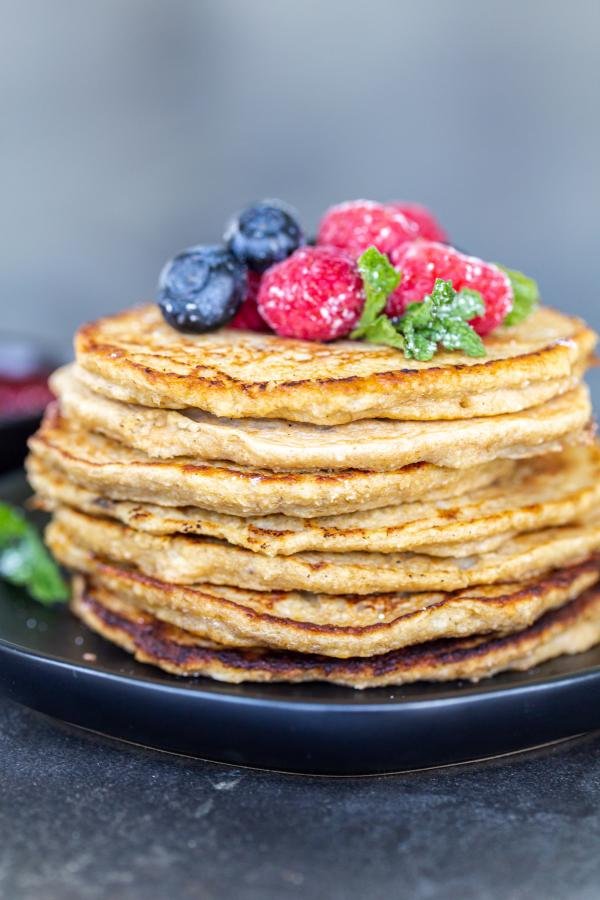 Different Toppings
While these banana pancakes are flavorful and eaten as-is plain, there are a couple of topping combinations that take them to the next level. Below, find a couple of our favorites.
Jam: Slather on some raspberry jam or apricot jam for a puckery pop of flavor.
Banana Bread-Style: Drizzle on 100% maple syrup and sprinkle on some roughly chopped walnuts.
PB & Banana: Spread on a thick layer of peanut butter, then top the pancakes with freshly sliced banana and a sprinkle of cinnamon.
Chocolate Chips: Let the kid inside of you out and top the pancakes with mini chocolate chips and maple syrup.
Berries & Yogurt: Sprinkle on fresh berries and slivered almonds. Top with a dollop of fresh yogurt.
Storage Best Practices
Pancakes are a great candidate for meal prep and reheating. They can be stored in the refrigerator and even frozen for a rainy day.
Refrigerator: To keep the pancakes on hand for up to 5 days, store them in an airtight container in the fridge to prevent them from going stale.
Freezer: To freeze the pancakes for up to 1 month, lay them out in a single layer on a baking sheet covered with parchment paper. Pop the entire baking sheet in the freezer until the pancakes are completely frozen. Transfer them to a sealable plastic storage bag.
Reheating Tip: To reheat refrigerated or frozen pancakes, pop them in the microwave for 20-30 seconds. You can also warm them up in a traditional oven or toaster oven.
FAQ
How do you make fluffy banana oatmeal pancakes?
The key to getting fluffy banana pancakes is to make sure that the mashed bananas are perfectly smooth before incorporating them into the batter. The more lumps and clumps, the denser the flapjacks will be.
Why are your banana oatmeal pancakes falling apart?
Your banana oatmeal pancakes are likely to fall apart if you didn't blend the batter well enough. You want it to be smooth and consistent in texture to prevent any lumps from causing them to break apart.
Why are your banana oatmeal pancakes mushy?
The number one reason banana oatmeal pancakes come out mushy is that they are undercooked. You want to make sure bubbles form on the top side of the batter before you flip them over to cook the other side.
How do you know when banana oatmeal pancakes are done?
You'll know your banana pancakes are done when they are golden brown on both sides. They also shouldn't be runny whatsoever.
Is the batter for banana oatmeal pancakes supposed to be runny?
Yes, the batter for banana oatmeal pancakes should be slightly runny. This is common for all pancakes in general!
More Tasty Pancake Recipes to Try
Recipe
These banana oatmeal pancakes are inspired by the flavors of traditional banana bread. With just 3 ingredients and no flour, they are such an easy treat!
Nutrition Facts
Banana Oatmeal Pancakes (Only 3 Ingredients)
Amount Per Serving
Calories 241
Calories from Fat 45
% Daily Value*
Fat 5g8%
Cholesterol 123mg41%
Sodium 50mg2%
Potassium 472mg13%
Carbohydrates 41g14%
Protein 9g18%
Vitamin A 235IU5%
Vitamin C 8mg10%
Calcium 39mg4%
Iron 2mg11%
* Percent Daily Values are based on a 2000 calorie diet.