These banana whoopie pies feature moist banana almond cookies sandwiched with cream cheese frosting. A wonderful way to use those overly ripe bananas!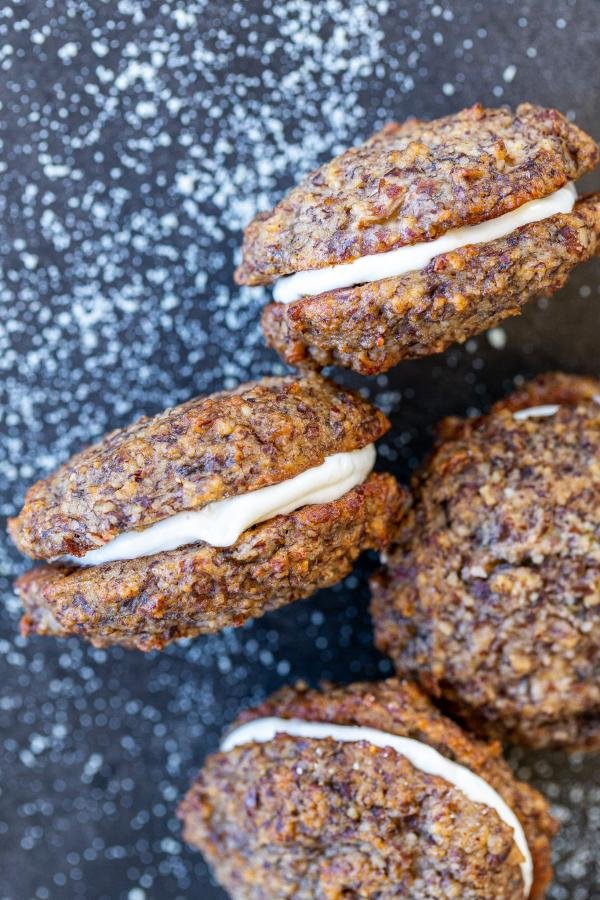 Banana whoopie pies are going to be your new go-to way to put those overly ripe bananas hanging out on your counter to good use. If banana bread typically comes to mind, these are such a fun and fresh departure from the same-old, same-old (although you won't ever find me turning down a piece of banana bread). What's better? You're going to just love how wholesome the ingredients list is.
Gluten-Free Alert: These whoopie pies are made with almond meal flour instead of all-purpose flour, making them naturally gluten-free!
What are Whoopie Pies?
Whoopie pies are soft sandwich-style cookies that are made with a variety of different creamy fillings. Hailing from New England, you'll find these treats sold in all different sizes and flavors. Some other names they go by include gob, black-and-white, bob, and BFO ("big fat oreo"). No matter what you may have grown up calling them, we can all agree that they're downright delicious! Below, find a breakdown of the flavor, texture, and cooking time for these banana almond whoopie pies.
Flavor: The flavor of these whoopie pies is a contrast of spiced banana almond cookies and rich, sweet cream cheese frosting.
Texture: When it comes to texture, whoopie pies are somewhere in between a cookie, pie, sandwich, and cake.
Time: From start to finish, these whoopie pies take just 25 minutes to make.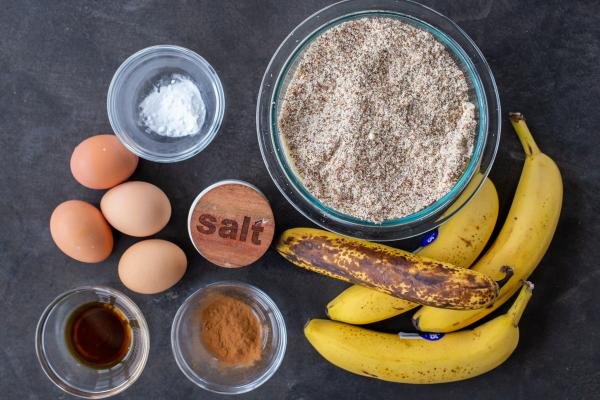 How to Prepare Banana Whoopie Pies
These whoopie pies only require 10 ingredients to prepare. Below, find a quick overview of the process before you get down to baking.
Make the Batter: In a medium bowl, mash the bananas with a fork. In a separate large mixing bowl, whisk the eggs and fold the almond flour, baking soda, and other dry ingredients in. Next, scrape the sides of the bowl with a spatula to get all the mashed banana mixture into the flour mixture. Finally, mix in the vanilla extract.
Bake the Cookies: On a baking sheet lined with parchment paper, place spoonfuls of the batter a couple of inches apart (2-3 heaping tablespoons of batter will yield around 4-inch wide baked cookies). Bake the cookies in the oven at 350°F for 13 minutes. Allow them to cool completely on wire racks.
Prepare the Frosting: Using a stand mixer or hand mixer, beat the softened cream cheese and powdered confectioners' sugar together on medium speed until smooth.
Assemble the Cookies: Pipe the frosting onto the flat sides of half of the cookies and top them with the unfrosted cookie halves. Enjoy!
Hot Tip: Instead of spreading the cream cheese frosting on, use a frosting piper with a plain tip attached for ultra-fluffy filling. I love this piping set from OXO because it's reusable, simple to clean, and so much easier to use than a pastry bag.
4 Pro Tips for Amazing Banana Whoopie Pies
Here find a handful of pro tips to help you get the most amazing banana almond whoopie pies.
Use the ripest bananas possible for the sweetest whoopie pies. The riper the banana, the sweeter the flesh will be. Since this recipe doesn't call for any added sugar to the batter, you'll want to make sure you use the ripest bananas you can get your hands on.
Pipe the batter for perfectly round whoopie pies. If you'd like perfectly round whoopie pies, pipe batter onto the baking sheet with a pastry bag.
Allow the cookie halves to cool completely before piping the filling. To prevent your cream cheese frosting from melting and making a mess, allow the cookies to cool completely at room temperature before you assemble them.
Use almond meal flour versus fine almond flour. Almond meal flour is more coarse than almond flour, adding an extra pop of texture to your whoopie pies.
Where can you find almond meal flour? Most health food stores carry almond meal flour. Trader Joe's even has an amazing option in the dried fruits and nuts section!
All You Need to Know About Storing Whoopie Pies
Whether you have a couple of whoopie pies to store in the fridge or a batch you want to freeze, follow these storage tips to keep these morsels as fresh as possible.
Refrigerator: To keep whoopie pies on hand for up to a week, store them on a plate in the refrigerator covered in plastic wrap. Avoid storing them in an airtight container or they will get soggy.
Freezer: If you'd like to have whoopie pies on hand for up to 3 months, freeze them. To do so, allow the baked cookies to cool completely. Next, place them on a baking sheet lined with parchment paper and pop them into the freezer uncovered. Once completely frozen, transfer the cookies to a freezer-safe bag. To thaw, place them in the refrigerator for a couple of hours. For best results, make the cream cheese frosting on the day of assembling.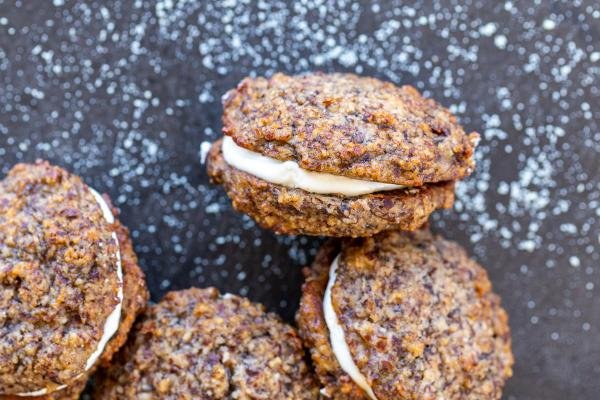 FAQ
How did whoopie pies get their name?
While it's hard to say how exactly whoopie pies got their name, there is an urban legend. It's rumored that Amish women would bake these treats for their husbands and pop them in their work lunches. Upon opening their lunch box, the men would shriek with happiness and let out a big "whoopie!"
What is the difference between a whoopie pie and a moon pie?
While whoopie pies feature two soft, cake-like cookies with a rich, creamy filling, Moon Pies feature two graham cracker cookies coated with a thin layer of chocolate and sandwiched with marshmallow filling.
Can I prepare whoopie pie batter in advance?
Yes, whoopie pie batter can be prepared a couple of days in advance. To keep it fresh, store it in the refrigerator in an airtight container until you're ready to bake.
How do you keep whoopie pies from spreading?
If your batter turns out extra runny, keep the whoopie pies from spreading by refrigerating the batter for 20-30 minutes before baking it.
Do you have to keep whoopie pies in the fridge?
Yes, you must keep whoopie pies refrigerated if you don't plan to eat them within a day. The cream cheese filling is prone to melting when left at room temperature for too long.
Other Sweet Treats to Try
Recipe
These banana whoopie pies are filled with sweet cream cheese frosting and reminiscent of your favorite banana bread. A New England classic!
Nutrition Facts
Banana Almond Whoopie Pies
Amount Per Serving
Calories 312
Calories from Fat 180
% Daily Value*
Fat 20g31%
Cholesterol 69mg23%
Sodium 202mg8%
Potassium 162mg5%
Carbohydrates 29g10%
Protein 8g16%
Vitamin A 389IU8%
Vitamin C 3mg4%
Calcium 79mg8%
Iron 1mg6%
* Percent Daily Values are based on a 2000 calorie diet.