Banana pancakes are naturally sweetened, fluffy, and easy to make. The mild banana flavor with a hint of vanilla is just right! If you love pancakes, you'll go bananas for these!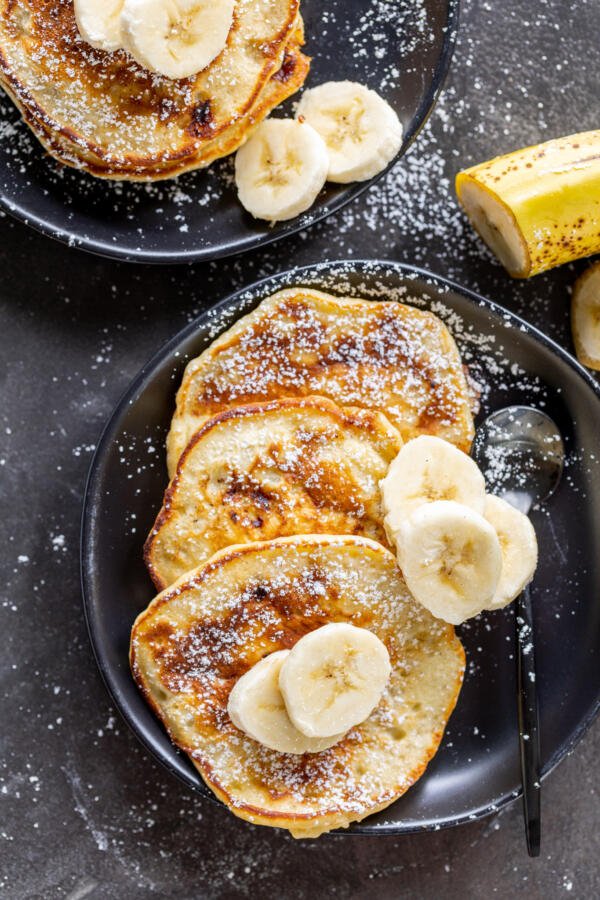 How to Make Banana Pancakes
Whip up these easy banana pancakes in under 15 minutes. You'll have a delicious breakfast ready in no time.
Combine the dry ingredients: In a bowl, combine flour, baking powder, and salt.
Mash the bananas: In a separate bowl, mash the bananas with the back of a fork or potato masher.
Whisk in the wet ingredients: Add the mashed bananas, milk, beaten egg, and vanilla extract to the dry ingredients. Whisk until just combined. The batter will be thick and slightly lumpy.
Fry the pancakes: Heat a frying pan or a griddle to medium-low heat. Scoop the batter onto a warm, lightly buttered, or oiled skillet. Use a 1/4th measuring cup or ice cream scoop to pour out even portions. Fry the pancakes for a few minutes on each side until golden brown.
Serve and enjoy: Serve immediately with your favorite toppings!
Hot tip: Prepare and store the batter in an airtight container for up to four days in the refrigerator.
Fresh or Frozen Bananas: Which to Choose
The main ingredient in these pancakes is, of course, bananas. Keep in mind— the flavor may change slightly depending on whether you use fresh or frozen bananas.
Fresh: Fresh and ripe bananas are the best for these pancakes. These bananas have optimal flavor and sweetness.
Frozen: If you're using frozen bananas, thaw them to room temperature for at least two hours until fully thawed. Use frozen bananas if you must, but opt for fresh for the best flavor and texture.
Get Creative with the Flavor!
We love the simplicity of banana pancakes topped with melted butter and maple syrup. However, banana pancakes taste great with many other flavors. Experiment with add-ins and toppings to make it your own.
Pancake Batter Add-ins
Berries: Add one cup of your favorite fresh berries to the batter. Chopped strawberries, raspberries, and blueberries all complement bananas well.
Chocolate chips: Add one cup of chocolate chips into the batter for chocolatey goodness in every bite.
Cinnamon and walnut: Add one cup of finely chopped walnuts with one tablespoon of cinnamon in the batter. This combination creates a new depth of flavor without added sweetness.
Pancake Toppings
Fruit: Slice fresh strawberries to garnish the pancakes. Enhance the berry flavor with this yummy homemade berry sauce. Finally, top it off with whipped cream for fancy, fruity pancakes.
Nuts: Add toasted walnuts or pecans to your stack of pancakes for a crunchy, delicious bite.
Spreads: Spread on that yummy Nutella for an irresistible chocolatey, hazelnut flavor. Or, add a layer of peanut butter for more protein to your pancake!
Bananas: Top the banana pancakes with sliced bananas for maximized banana flavor.
Hot tip: While prepping toppings, or cooking the rest of the pancakes, keep the pancakes warm by transferring them onto a baking sheet in an oven set on a "warm" setting or lowest temperature.
Pro Tips for The Best Fluffy Pancakes
A delicious, fluffy stack of pancakes are not only tasty but look impressive! To ensure the best banana pancakes, follow these pro tips.
Use ripe bananas: The riper the bananas, the more natural sweetness they add. Also, ripe bananas are easier to mash.
Let the banana batter sit: If time permits, let the batter sit for at least ten minutes. The flour will better absorb the liquid, creating a lighter and fluffier pancake.
Avoid over-flipping: Flipping pancakes too much takes the air out of the pancakes. To keep them tall and fluffy, wait until the surface of the pancake is covered in bubbles (a few minutes) and then flip only once. Use a thin spatula for easier flipping.
Use fresh baking powder: Use fresh baking powder for optimal fluffiness. The baking powder creates air pockets and rises the batter.
Heat up your pan: The pan needs to be hot before pouring the batter to create light and fluffy pancakes. To test if the pan is hot enough, flick a few drops of water onto the pan. If it sizzles, it's ready for pancakes!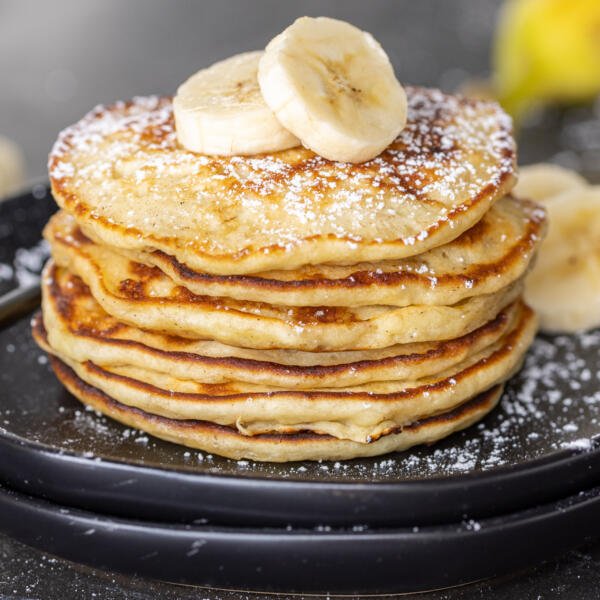 Storing the Pancakes
If you're lucky enough to have leftovers, the banana pancakes can be refrigerated or frozen. Better yet, make an extra batch of pancakes and freeze them for even quicker and easier breakfasts (or dinners)!
Refrigerator: To store cooked pancakes for up to two days, place them in an airtight container in the refrigerator.
Freezer: To store for up to three months, separate each pancake with parchment paper, then stack them in a freezer-safe container.
Reheating
There are different methods for reheating pancakes. Each method results in a slightly different texture, but soft and delicious. There's no need to thaw frozen pancakes, simply reheat and enjoy.
Oven: To reheat pancakes in the oven, preheat the oven to 350°F. Line pancakes on a nonstick baking sheet in a single layer. Cover the sheet with aluminum foil and reheat for about five to 10 minutes until warmed through and soft. For added softness, brush the pancakes with butter before reheating.
Stove: To reheat on the stove, use a nonstick frying pan. Place pancakes on a buttered pan and heat on low. Flip the pancakes a few times until heated through. Reheating on the stovetop will give a crisper exterior and soft center.
Microwave: For a quick reheat, place pancakes in the microwave. Microwave until warmed through. Reheating in the microwave yields soft, fluffy pancakes.
FAQ
Can bananas be too ripe for pancakes?
The more ripe a banana is, the more natural sweetness it adds.
Should banana pancakes be gooey in the center?
No, banana pancakes should not be gooey in the center. Instead, they should be soft and cooked through. Cook the pancake over medium low heat to ensure the inside is cooked throughout without burning the outside.
Why are my banana pancakes falling apart?
Banana pancakes may fall apart because the bananas were not mashed well. Bananas should be mashed into a chunky applesauce-like consistency to bind the batter. Also, flip the pancakes only when one side is golden brown, otherwise the pancake may tear.
Why are my pancakes chewy?
The pancakes may be chewy because the batter was overmixed. Mix the batter just until the flour is fully absorbed but still lumpy.
More Tasty Banana Recipes
Need to use up ripe bananas, or simply love bananas?! Here are more of our favorite banana recipes.
Recipe
Banana pancakes are naturally sweetened, fluffy, and easy to make. The mild banana flavor with a hint of vanilla is just right! If you love pancakes, you'll go bananas for these!
Nutrition Facts
The Best Banana Pancakes
Amount Per Serving
Calories 202
Calories from Fat 72
% Daily Value*
Fat 8g12%
Cholesterol 47mg16%
Sodium 126mg5%
Potassium 440mg13%
Carbohydrates 28g9%
Protein 5g10%
Vitamin A 306IU6%
Vitamin C 3mg4%
Calcium 148mg15%
Iron 1mg6%
* Percent Daily Values are based on a 2000 calorie diet.