This recipe for beef lettuce wraps features ground beef tucked into crispy lettuce leaves & topped with spicy sauce, cilantro, & lime. A low-carb indulgence!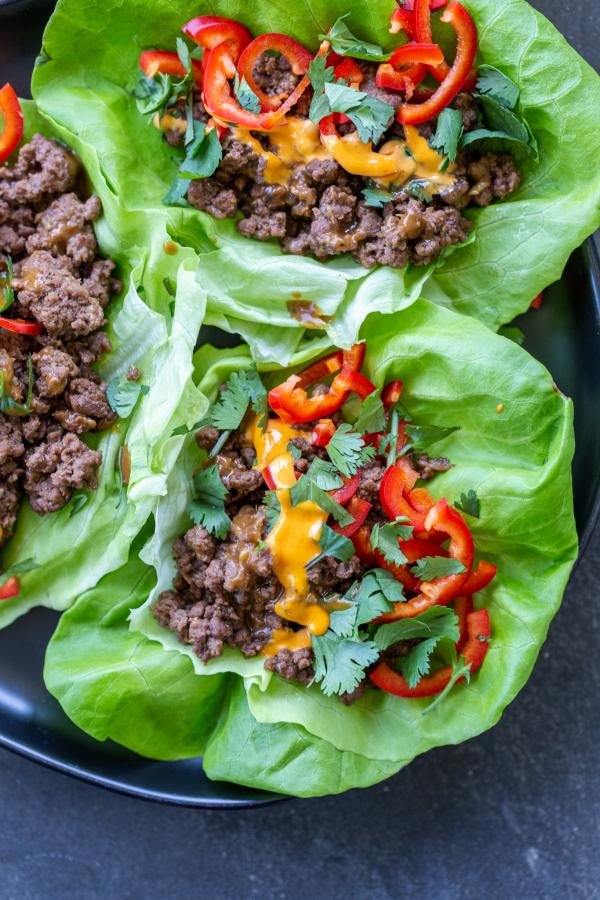 These crisp and refreshing lettuce wraps are so satisfying, you'll have a hard time believing they're easy on your waistline. The gingery, spiced ground beef is perfectly complemented by the crispy lettuce leaves, earthy peanut sauce, and spicy mayo – making each mouthful better than the last!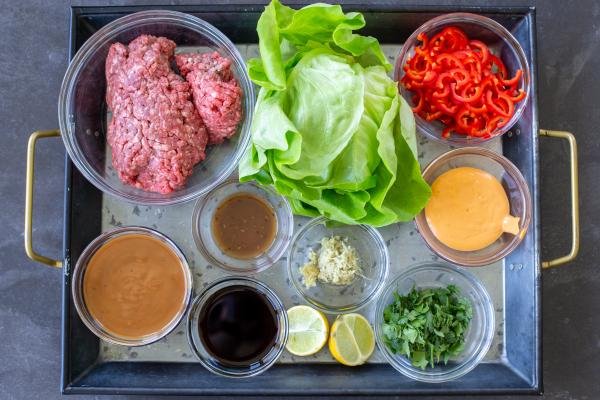 Preparing these Beef Lettuce Wraps
After you whip up the seasoned beef mixture, all you need to do is assemble these quick and easy wraps.
Cook the Ground Beef: In a large skillet preheated over medium-high heat, cook the ground beef. Once it's nearly cooked, add in the soy sauce, teriyaki sauce, half of the peanut sauce, and the grated ginger. Stir to combine.
Assemble the Lettuce Wraps: Place a lettuce leaf in the palm of your hand and top it with some seasoned beef and sliced bell pepper, followed by sriracha mayo and peanut sauce.
Garnish the Lettuce Wraps: Top the lettuce wraps with cilantro and lime juice. Enjoy!
Hot Tip: Our favorite store bought bottle of sriracha may is Lee Kum Kee Sriracha Mayo Sauce. If you don't wanna buy any, simply mix mayo and sriracha to taste.
3 Tips for the Best Beef Lettuce Wraps
A couple of helpful tips will help you make beef lettuce wraps worth writing home about.
Opt for lean beef. Use lean ground beef to prevent your beef lettuce wraps from turning out too soggy or fatty. 85-90% lean is ideal!
Use the right kinds of lettuce. Butterhead lettuce is our personal favorite for it's wide leaves and creamy taste. You can also use Batavia lettuce, Bibb lettuce, romaine lettuce, iceberg lettuce, or regular leafy green lettuce. It's up to you!
Fresh ginger makes all the difference. Use fresh, grated ginger instead of ground or powdered varieties. The flavor is unparalleled.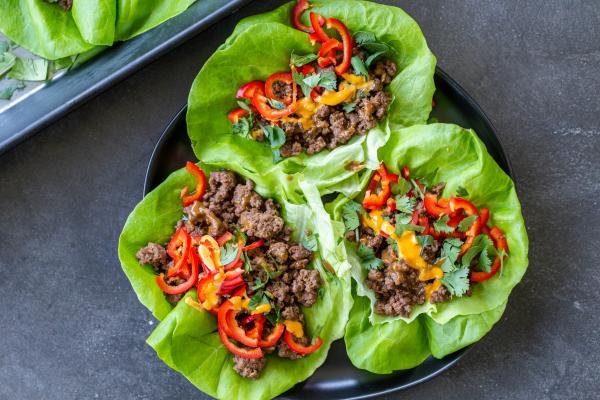 Different Variations & Ingredients
Want to make these tasty beef lettuce wraps your own? Find some ideas to kickstart your creative process here.
Use a different ground meat. Swap the ground beef out for ground turkey, chicken, or pork. You can even use a combination of a couple if you're in the mood!
Add more veggies on top. If you want to get a bigger serving of veggies, add slices of cucumber, carrot, zucchini, mushrooms, water chestnuts, and/or green onion alongside the bell pepper strips.
Use you favorite seasonings. Feel free to add in your favorite Asian seasonings to the meat mixture. Sesame oil, hoisin sauce, and rice vinegar are all great options.
Ideas for Serving
Serve the beef lettuce wraps as a low-carb meal all on their own – about 2-4 wraps per person will do the trick. You can also serve them alongside steamed white rice or brown rice for a more filling dinner. If you're serving them as an appetizer, pop them on a platter with spring rolls with salmon and crispy crab puffs.
Meal Prep Best Practices
If you'd like to have wraps throughout the week, whip up the filling and store it in an airtight container (you can double or triple the recipe depending on how big your family is). When you're ready, heat up as much of the meat mixture as you need and whip up the beef lettuce wraps on-demand.
FAQ
Are beef lettuce wraps good for you?
Yes, they are good for you. They are packed with protein and low in calories, making them perfect for you folks who are watching your carbs or on keto diets.
How do you crisp the lettuce for beef lettuce wraps?
To crisp the lettuce, hold it under cold water and give it a good rinse. If you have a salad spinner, you can use that instead.
Which lettuce is the lowest in carbs for beef lettuce wraps?
Romaine lettuce is the lowest in carbs and is keto-friendly. It contains less than one gram of net carbs and is high in fiber, keeping you fuller longer.
What kind of lettuce is best for beef lettuce wraps?
The best kind of lettuce to use for beef lettuce wraps is romaine lettuce. You'll want to select a head that's bright green, crisp, and full of long, intact lettuce leaves that aren't wilted or full of holes and tears.
How do you prevent your beef lettuce wraps from falling apart?
The best way to keep your beef lettuce wraps from falling apart is to make sure that you don't overstuff them. Place just enough filling in the center of the leaf so that you can easily pick it up, fold it into the middle, and bite it without the filling coming out the sides.
What's the best way to tear lettuce leaves off the head for beef lettuce wraps?
To prevent tearing or ripping the delicate leaves, pull the lettuce leaves off the head from the bottom versus the top. The lettuce at the very top tends to be thin and delicate.
Other Low-Carb Recipes to Try
Recipe
This super simple beef lettuce wraps recipe is a low-carb wonder. Packed with savory, gingery ground beef, each crisp wrap is delicious to the last bite!
Ingredients
1

lb

ground beef

90% lean

1

tbsp

teriyaki sauce

1/2

cup

peanut sauce

3

tbsp

low-sodium soy sauce

1

tbsp

grated ginger

6

large lettuce leaves

1

medium bell pepper

slice into strips

1/4

cup

sriracha mayo

1/4

cup

cilantro

roughly chopped

1

lime
Instructions
When the beef is almost fully cooked, add in the soy sauce, teriyaki sauce, 1/4 cup of peanut sauce, and the grated ginger. Stir to combine everything together.
Nutrition Facts
The Best Beef Lettuce Wraps (Low Carb)
Amount Per Serving
Calories 267
Calories from Fat 162
% Daily Value*
Fat 18g28%
Cholesterol 54mg18%
Sodium 1000mg42%
Potassium 384mg11%
Carbohydrates 9g3%
Protein 16g32%
Vitamin A 3127IU63%
Vitamin C 37mg45%
Calcium 33mg3%
Iron 2mg11%
* Percent Daily Values are based on a 2000 calorie diet.