These Southeast Asian-inspired salmon spring rolls are fresh, healthy, and virtually guilt-free. Perfect for dunking in your favorite sauce!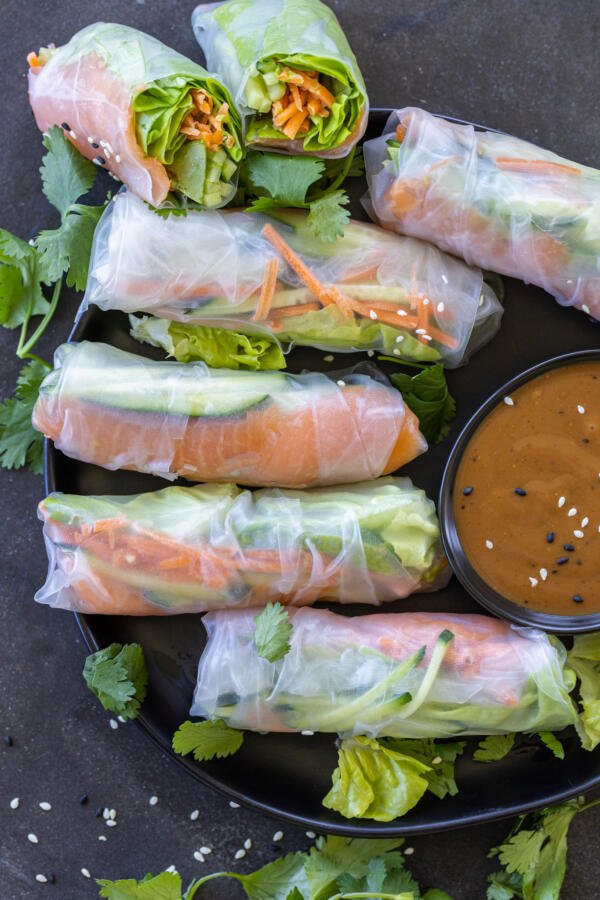 This salmon spring rolls recipe is a refreshing departure from greasy, deep-fried egg rolls. Also referred to as "salmon summer rolls", they typically feature crunchy veggies, herbs, some kind of protein, and creamy avocado all wrapped in tender rice paper- such as our shrimp spring rolls. In this version, we add our little spin by using our favorite recipe for cold smoked salmon (if you don't want to make it homemade, feel free to pick up a smoked salmon fillet from the store).
Did you know? Salmon spring rolls are naturally gluten-free.
Where to Find Rice Paper Wrappers
Nowadays, you can find spring roll wrappers in the Asian aisle of most grocery stores. If you're having a hard time pinning them down, go to your local Asian specialty food store or order some from Amazon.
Preparing Salmon Spring Rolls
To kick off the process, slice the cucumber, avocado, carrots, and salmon into long, thin strips.
Soak the Rice Paper: Next, fill a shallow dish with warm water. Place a rice paper wrapper in the water for 10-20 seconds, then lay it on a clean work surface.
Stuff the Spring Rolls: On one side of the rice paper, stack the smoked salmon, sliced veggies, and avocado.
Roll the Spring Rolls: Fold over the sides of the rice paper. Starting from the side with the filling, roll up the rice paper into a semi-tight roll. Repeat the process.
Assemble & Serve the Spring Rolls: Lay the spring rolls on a plate in a single layer. Serve alongside your favorite dipping sauce and enjoy!
3 Pro Tips for the Best Salmon Spring Rolls
Salmon spring rolls might look intimidating to make, but a couple of tips will help you nail it.
Soak each rice paper one at a time. Once the rice papers are soaked, they will get a little sticky. To prevent them from tearing and sticking to one another, only soak and roll one rice paper at a time.
Slice the veggies into equal-sized strips. To make for easier rolling and a more consistent bite, slice the veggies into even-sized strips.
Assemble the spring rolls seam-side down. Prevent your spring rolls from falling apart by assembling them with the seam-side down.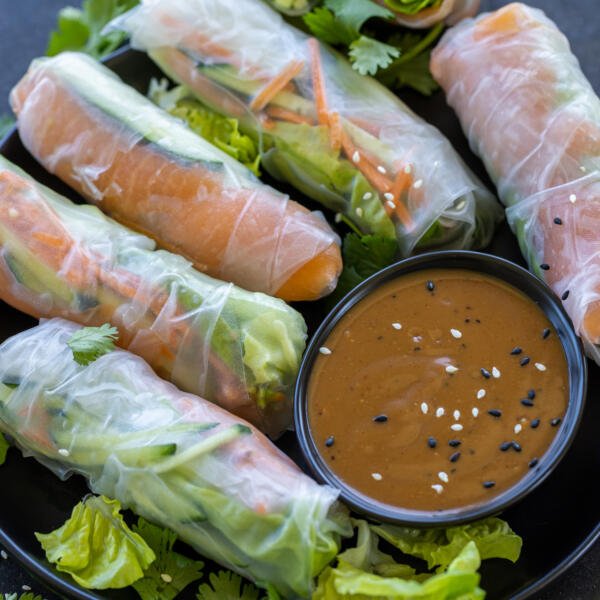 Different Fillings to Experiment With
From authentic to experimental, here are a couple of different fillings to play around with.
Herbs: Add one or all of cilantro, mint leaves, green onion, and Thai basil
Noodles: Cook some rice vermicelli noodles in boiling water, allow them to cool, and stuff a portion in each roll
Protein: If smoked salmon isn't your thing, swap in roast pork, air fryer shrimp, or tofu slices (marinate them in hoisin for extra flavor!)
Ideas for Serving Salmon Spring Rolls
Salmon spring rolls are the perfect appetizer for your next dinner party. Prepare a quick batch of 5 minute peanut sauce for serving with. Serve them on a platter alongside some easy crab puffs and chili sauce and let your guests dip away. They're also wonderful alongside just about any noodle dish. Veggie lo mein or spicy chili noodles immediately come to mind.
Storing Spring Rolls
To keep your spring rolls fresh for up to 3 days, store them in an airtight container in the fridge. This will keep the rice paper from turning hard quicker.
FAQ
What is the difference between egg rolls and spring rolls?
Egg rolls are deep-fried in oil, while spring rolls are made with fresh rice paper.
Are spring rolls healthier than egg rolls?
Since spring rolls aren't deep-fried, they are hands down the healthier option.
Are spring rolls low-carb?
While rice paper doesn't have a ton of carbs, it's still made of rice and shouldn't be considered a low-carb food.
Can these spring rolls be deep-fried instead?
Avoid deep frying spring rolls, as the rice paper is delicate. If you'd like a little crisp, pan fry them in a tiny bit of oil for a minute on each side.
More Tasty Asian-Inspired Dishes
Recipe
These salmon spring rolls feature smoked salmon, sliced veggies, and avocado wrapped in rice paper. A Southeast Asian staple!
Ingredients
10

round rice paper sheets

1

English cucumber

2

avocados

2

large carrots

1

lb

smoked salmon

5

lettuce leaves
Nutrition Facts
Spring Rolls With Salmon
Amount Per Serving
Calories 161
Calories from Fat 90
% Daily Value*
Fat 10g15%
Cholesterol 13mg4%
Sodium 464mg19%
Potassium 476mg14%
Carbohydrates 8g3%
Protein 12g24%
Vitamin A 3820IU76%
Vitamin C 10mg12%
Calcium 29mg3%
Iron 1mg6%
* Percent Daily Values are based on a 2000 calorie diet.