Chanterelle mushrooms are going to take your taste buds on a ride! This recipe takes these sought-after mushrooms to the next level in under 30 minutes.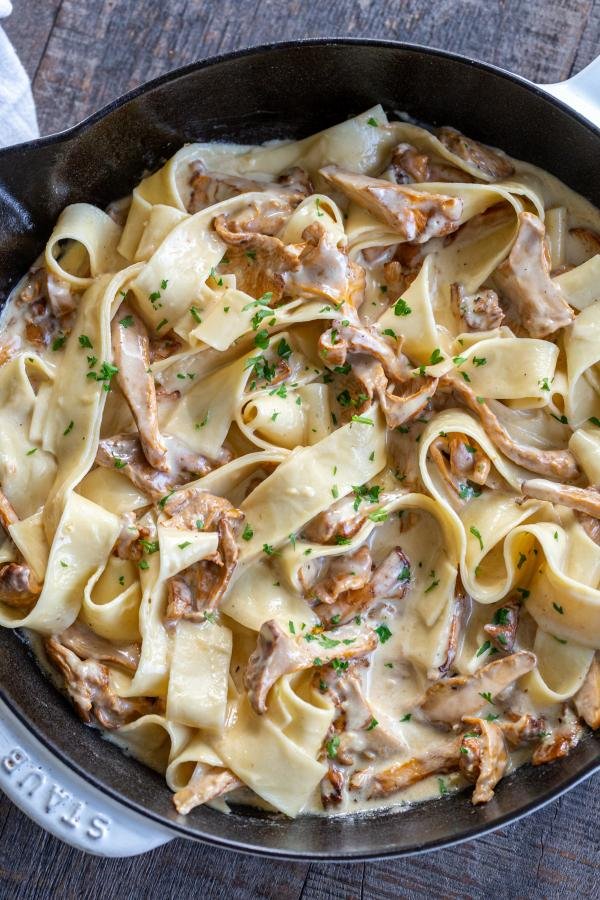 Chanterelle Mushrooms
Chanterelle mushrooms are light yellow and funnel-shaped, somewhat resembling a tulip. Known for their spicy, peppery flavor and meaty texture, chanterelles are amazing in pastas, soups or as a knock-out side dish. These mushrooms can be on the pricier side, but they are well worth it.
Grab chanterelles while you can! Typically, they are only available a few months out of the year (they require very specific growing conditions). If you spot them at your local farmer's market, you shouldn't hesitate to grab your fair share. This funghi has been coveted by wild mushroom foragers and chefs alike due to its rarity, taste and beauty.
How to Clean Chanterelle Mushrooms
Chanterelles come in so many shapes and sizes — some weighing up to two pounds, others as small as your thumb! You may initially feel intimidated by their shape and wonder how the heck you are supposed to clean them. Read on and fret no more…
In most cases, chanterelles have been given a light cleaning before being sold. But it's also common that your chanterelles were plucked straight from the ground. This means they are likely covered in a bit of soil and muck. To clean them, hold each individual mushroom under a light trickle of cool water and lightly brush off dirt with a kitchen towel. Air dry the chanterelles on a baking sheet covered with paper towels before cooking.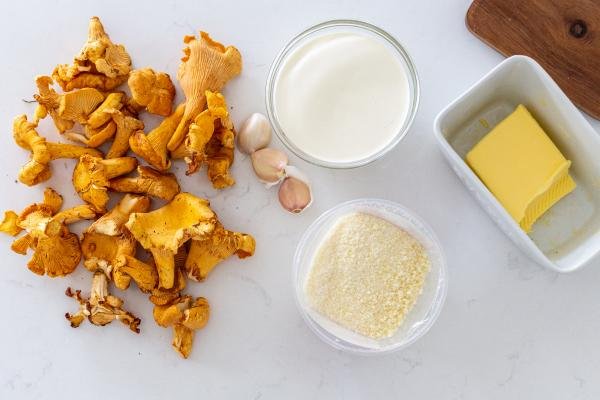 The Best Way to Cook Chanterelle Mushrooms
In my opinion, chanterelles shine brightest when first sauteed over medium-heat with butter and garlic. Then, I add a bit of cream and parmesan cheese, allow it to thicken. Optionally, to finish things off, I add in fresh oregano, a dash of lemon juice, and salt and pepper to taste. The end result is a creamy, yet light, a dish that can be eaten alone or served in many different ways.
How to Serve Chanterelle Mushrooms
The best part about this recipe is that it is so versatile. Pair your sauce with any fresh pasta for a truly fancy Italian dish. I am partial to using a nice farfalle or fettuccine noodle. Feeling ambitious? Try your hand at making your own pasta.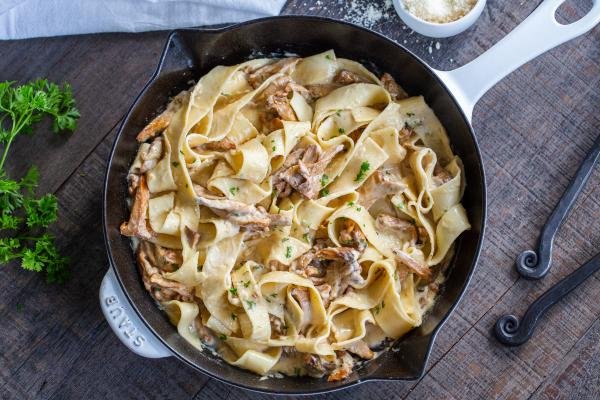 You can also use the chanterelle sauce to top off a nice piece of toast (first slathered with melted butter, of course). This would be a fun and fresh dish to include in your next brunch spread.
Have half a baguette hanging out on your counter? Slice it up and set the chanterelle sauce out as an appetizer dip.
Perhaps my second favorite way to serve the sauce is over mashed potatoes or smashed potatoes. Consider this an upgraded version of your typical mashed potatoes and gravy.
Storing Chanterelle Mushrooms
If you took my advice and loaded up on chanterelles at the market, you are probably thinking about how you should store them to best preserve freshness.
Prior to cleaning, they will keep well stored in a waxed paper bag in the fridge. After you clean them, store them in a bowl lined and covered with paper towels to prevent them from getting soggy. They will only keep this way for 2-3 days before you need to use them!
Note: If you are thinking about dehydrating your chanterelles, reconsider! Unlike other fungi, these mushrooms don't cooperate so well after being dehydrated. No matter how long you soak and restore them, they often turn out rubbery.
Other Mushroom Recipes
Recipe
Chanterelle mushrooms are going to take your taste buds on a ride! This recipe takes these sought-after mushrooms to the next level in under 30 minutes.
Ingredients
4

tbsp

salted butter

3

garlic cloves

1

lb

chanterelle mushrooms

2

cups

heavy whipping cream

1

cup

parmesan cheese
Nutrition Facts
Chanterelle Mushrooms Recipe
Amount Per Serving
Calories 437
Calories from Fat 378
% Daily Value*
Fat 42g65%
Cholesterol 140mg47%
Sodium 371mg15%
Potassium 463mg13%
Carbohydrates 8g3%
Protein 9g18%
Vitamin A 1530IU31%
Vitamin C 1mg1%
Calcium 265mg27%
Iron 3mg17%
* Percent Daily Values are based on a 2000 calorie diet.