This creamy mushroom tortellini takes 35 short minutes to prepare and is made all in one pan. Perfect for a no-fuss, hectic weeknight dinner!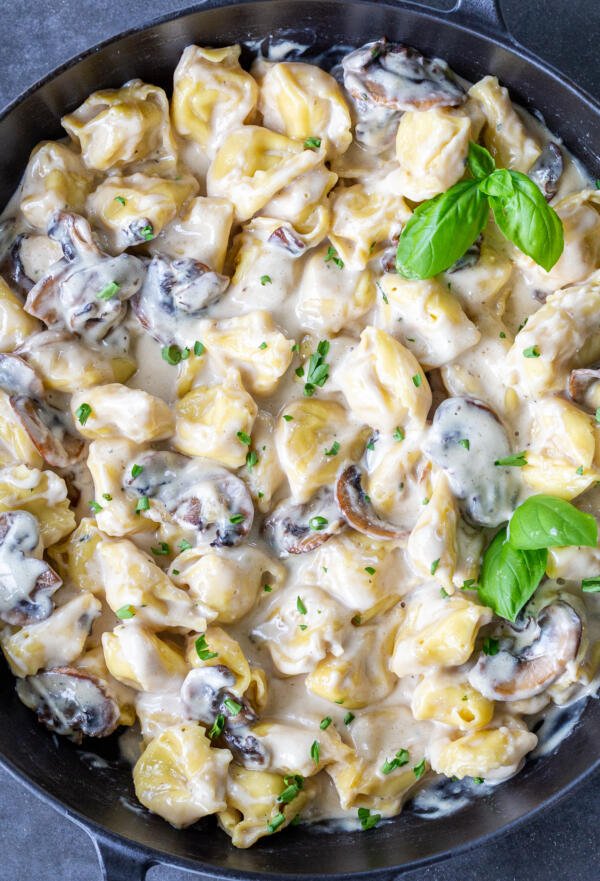 This mushroom tortellini is so decadent yet super simple to make. I love whipping it up during the summer months because it doesn't require much fussing around in a hot kitchen. In my last house, I had a sunroof in the kitchen and it would get absolutely sweltering in there! I can recall many occasions when this dish saved me from a heat stroke lol…
Whether you're meal planning for hectic back-to-school dinners or searching for a fancy pasta dish for your next dinner party, this tortellini recipe fits the bill. The way the creamy sauce coast the tender tortellini is out of this world. Plus, it's always such a bonus when a dish looks and tastes fancy but takes minimal effort to make…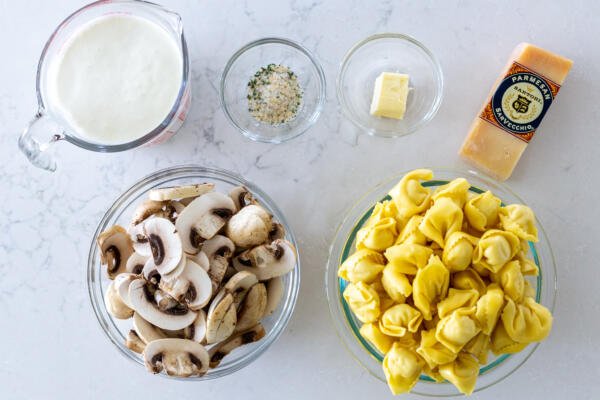 What's the Difference Between Ravioli and Tortellini?
Although ravioli and tortellini are both different kinds of stuffed pasta, there are some slight differences between the two. The most obvious is their appearance. Ravioli tend to be square-shaped with a flat bottom and rounded top. On the other hand, tortellinis are often ring-shaped. When it comes to filling, ravioli tend to have more while tortellini have just a tiny bit. This is why ravioli are often served with a simple toss of butter and garlic and tortellini come drenched in a flavorful sauce.
Hot Tip: If you're having a hard time finding frozen or fresh tortellini you love, Costco and Trader Joe's have the best premade varieties. I find that basic three-cheese tortellini works best with this recipe, but feel free to experiment with different kinds.
How to Make Creamy Mushroom Tortellini
Despite how fancy it looks, this mushroom tortellini only requires 5 ingredients and a couple of simple steps to make. Below, find a quick overview of the recipe before you dive in.
Sauté the Mushrooms: Using a sharp knife, dice the mushrooms and sauté them in a pan or skillet with butter until golden brown. Season with salt.
Add the Cream & Tortellini: Add the heavy whipping cream and stir until well-combined. Next, add the tortellini and simmer for about 5-10 minutes depending on if you use raw or frozen pasta.
Add the Parmesan: Give the dish a chef's kiss with some shredded or grated parmesan. Stir to combine and serve immediately!
Tips & Tricks
Below, find a collection of tips and tricks to help you create the best creamy mushroom tortellini.
Don't preboil the tortellini. To get the perfect al dente texture, don't preboil the tortellini and pop them into the sauce raw or frozen.
Shred the parmesan cheese off the block. Instead of using preshredded parmesan which tends to be drier and less flavorful, shred it yourself using a standard cheese grater.
Mix and match your favorite mushrooms. This recipe is super forgiving, so feel free to swap in different kinds of mushrooms. You can even use a combination of two or three.
Top the pasta with fresh basil or oregano. Nothing elevates a dish quite like fresh herbs. Sprinkle on some fresh basil or oregano if you have it on hand.
Add some crushed red pepper flakes to spice it up. If you're a fan of heat, add a couple of shakes of crushed red pepper flakes (or even a few cracks of black pepper if you like more mild heat) to the pasta.
Add in a pressed garlic clove. If you're a garlic fanatic, add in a pressed garlic clove (or two!) to the mushrooms as they are sautéing.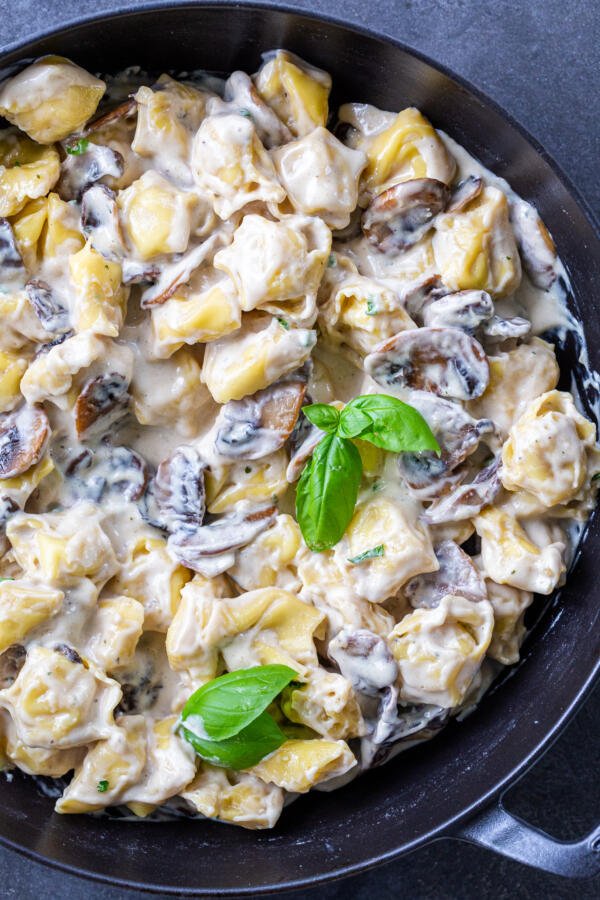 What do you Serve with Creamy Mushroom Tortellini?
This creamy mushroom tortellini dish is best served for a light lunch or dinner alongside your favorite salad and crusty bread. Homemade caesar salad or a classic garden salad are both great options. If you want to keep with the Italian theme, whip up some cheese and herb flatbread or a sheet pan of focaccia.
Storing Mushroom Tortellini
Store leftover mushroom tortellini in an airtight container in the refrigerator. It should stay fresh for 3-5 days. Refrain from freezing your leftovers, as the cooked pasta will turn mushy when it thaws.
Reheating Tip: Reheat leftover pasta in a skillet over low heat with a bit of butter or in a bowl in the microwave.
FAQ
What types of mushrooms should I use?
White mushrooms work best for this recipe, but feel free to use any kind you like. Cremini (brown-top mushrooms), chanterelle, and portobello are also great candidates.
What fillings do tortellini typically come with?
Tortellinis typically come filled with a three-cheese mixture of ricotta, parmesan, and romano cheese or a savory ground meat mixture of pork or beef. That being said, there are so many different varieties to choose from and any one of them would work great with this recipe.
Can I eat tortellini without sauce?
Tortellini are meant to be served with sauce. If you aren't a fan of red or white sauce, toss them in high-quality butter with roasted garlic, herbs, salt, and pepper.
Can I use a different type of pasta for this recipe?
You can use any pasta you like for this recipe. However, stuffed tortellini work best as they add an additional pop of flavor from the filling.
Can I freeze leftover tortellini?
You should not freeze leftover tortellini. Once it's cooked, it doesn't tend to thaw well and will turn to mush.
Other Tasty Tortellini & Pasta Recipes
Recipe
This creamy mushroom tortellini takes 35 short minutes to prepare and is made all in one pan. Perfect for a no-fuss, hectic weeknight dinner!
Ingredients
1

lb

mushrooms

2

tbsp

unsalted butter

1

tsp

garlic parsley salt

adjust to taste

2

cups

heavy whipping cream

1

lb

tortellini

raw or frozen

1

cup

parmesan cheese
Nutrition Facts
Creamy Mushroom Tortellini (One Pan)
Amount Per Serving
Calories 624
Calories from Fat 396
% Daily Value*
Fat 44g68%
Cholesterol 159mg53%
Sodium 1017mg42%
Potassium 316mg9%
Carbohydrates 38g13%
Protein 21g42%
Vitamin A 1413IU28%
Vitamin C 2mg2%
Calcium 360mg36%
Iron 2mg11%
* Percent Daily Values are based on a 2000 calorie diet.