This mushroom risotto recipe is ultra-creamy and packed with sautéed mushrooms and shallots. It tastes so fancy but it's actually crazy easy to make!
Love risotto? Try our one-pan asparagus risotto recipe while you're at it. It's the perfect summertime risotto!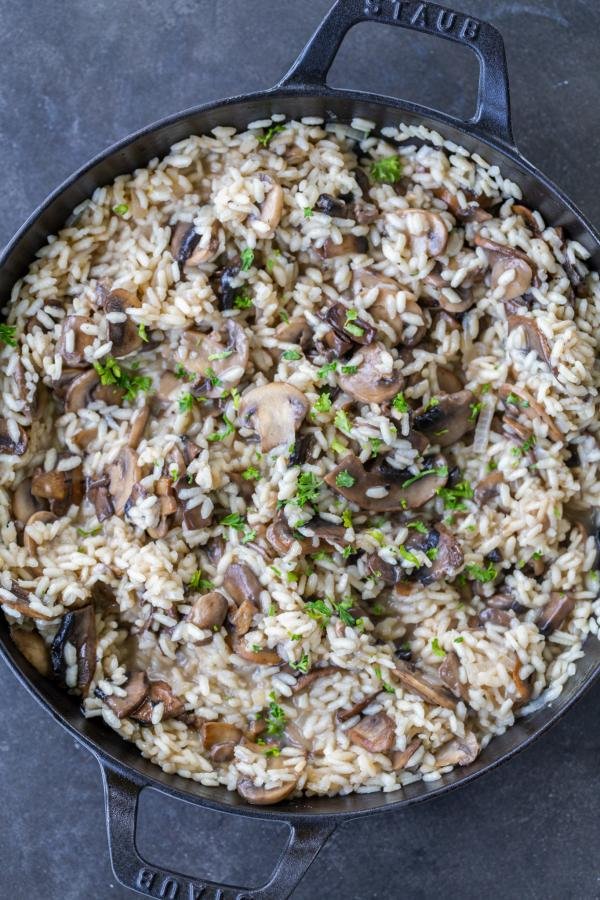 This mushroom risotto recipe is so full of favor and is ridiculously creamy and comforting. While portobellos are a must, you can pair them with any of your favorite mushrooms for this dish. Feel free to use shiitake, chanterelle, or even oyster mushrooms – you truly can't go wrong!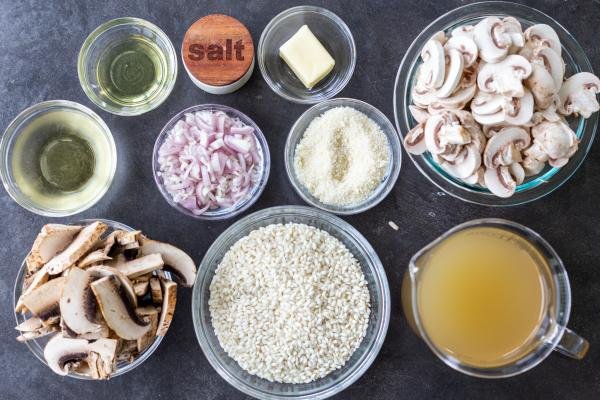 A Backgrounder on Arborio Rice
Arborio rice is a variety of short-grain rice used almost exclusively to prepare risotto and hails from Italy. It's short, fat, and slightly oval-shaped with a pearl-like tint to it. Unlike typical rice, it has a significantly higher starch content, yielding a much chewier and creamy texture. If you don't already have a favorite brand, here is the one we love.
How to Prepare this Mushroom Risotto Recipe
To make this creamy risotto, all you need is a small saucepan and a heavy-bottomed deep skillet.
Preheat the Broth: In a small saucepan, bring the broth (feel free to use vegetable, beef, or chicken stock) to almost a boil and turn down the heat low to keep it warm.
Cook the Mushrooms: In a deep pan, preheat the butter with oil and sauté the mushrooms until golden brown. Remove the mushrooms and set them aside.
Cook the Shallots: Into the same pan, cook the shallots until translucent.
Toast the Rice: Add the rice into the pan with the shallots and toast it until it turns light brown.
Add in the Wine & Broth: Add in the wine and stir. Next, add in the broth one cup at a time, allowing the broth to fully absorb before adding more. Season with salt to taste. Optionally, add in some freshly cracked black pepper.
Add in the Mushrooms & Cheese: Remove the risotto from heat and stir in the mushrooms and parmesan cheese. Enjoy!
Garnish Hot Tip: To take the risotto to the next level, top it with a little fried garlic and minced fresh parsley. You can also hit it with a drizzle of high-quality extra virgin olive oil or truffle oil.
5 Tips for Nailing this Mushroom Risotto Recipe
To get that perfect creamy consistency you're looking for and maximum flavor, follow these 5 tips to nail this mushroom risotto recipe.
Use fresh parmesan cheese. For the most flavor, shred the parmesan right off the block instead of purchasing a bagged variety. Freshly shredded parmesan cheese contains the most oils and fats, making for a full-bodied risotto.
Opt for dry white wine. You'll want to use a dry white wine like sauvignon blanc or pinot grigio for the most balanced flavor. Stay away from ultra-sweet white wines altogether.
Cut the mushrooms into equal-sized pieces. To promote even cooking, slice the mushrooms into as even-sized pieces as possible.
Add more liquid if your risotto is dry. The easiest way to remedy dry risotto is to add more broth or wine. Do so no more than 1 cup at a time so you avoid adding too much liquid.
Keep in mind that the rice will continue to absorb liquid. Remember that the arborio rice will keep absorbing liquids, so it may look runny but it will dry out a bit.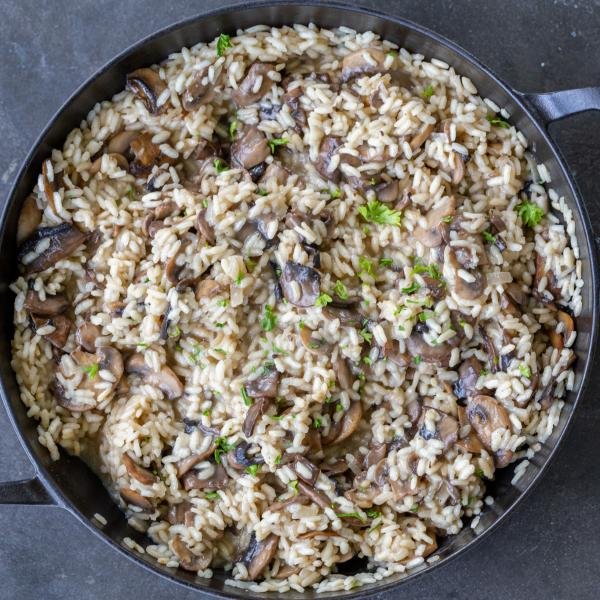 Serving Suggestions
This creamy mushroom risotto can be served as either a main dish or a side dish. For a fancy meal, pair the risotto with a cast-iron ribeye steak, easy air fryer pork chops, or pan-seared lamb loin chops. If you're serving it as the main course, pair it with a homemade caesar salad and focaccia bread or cheesy bread.
Storing & Reheating Your Leftovers
To keep leftover risotto fresh, store it in an airtight container in the fridge. This will prevent the rice from drying out, while also making sure the risotto doesn't soak up any lingering smells in your refrigerator. Avoid freezing mushroom risotto altogether – it doesn't thaw well and turns to mush upon reheating.
FAQ
What is the secret to a good risotto?
The secret to a good risotto is to only add the broth 1 cup at a time and make sure that the broth is fully absorbed before adding the next. This is what helps the risotto to develop its texture and prevents it from turning out too runny.
How do you make risotto more flavorful?
The key to making risotto more flavorful is using a good quality broth to cook it in. If it's still too bland, season it to taste with salt and black pepper. It's that simple!
Can you make risotto with regular rice?
No, you cannot make risotto with regular rice. It simply doesn't have the same starch content and won't get as irresistibly creamy. For best results, always use arborio rice.
Why is your risotto so bland?
Risotto turns out bland if you don't use a flavorful broth to cook it in. It will also come out bland if you don't balance the flavors of the toppings. This is key to creating the perfect spoonful.
What makes the texture of risotto smooth and creamy?
The key to getting risotto smooth and creamy is to add the broth in heats. You must make sure it fully absorbs before adding more, as this is what brings out the starch of the arborio rice.
More Tasty Italian-Inspired Recipes
Recipe
If you love creamy, cheesy risotto, this mushroom risotto recipe has your name all over it. It's packed with parmesan cheese, sautéed mushrooms and shallots!
Nutrition Facts
Mushroom Risotto Recipe
Amount Per Serving
Calories 412
Calories from Fat 108
% Daily Value*
Fat 12g18%
Cholesterol 25mg8%
Sodium 1213mg51%
Potassium 660mg19%
Carbohydrates 61g20%
Protein 13g26%
Vitamin A 245IU5%
Vitamin C 2mg2%
Calcium 121mg12%
Iron 4mg22%
* Percent Daily Values are based on a 2000 calorie diet.