This easy chicken lentil soup is comfort food in a bowl. Made in one pot, it's packed with tender lentils, juicy bone-in chicken, and tender sautéed veggies.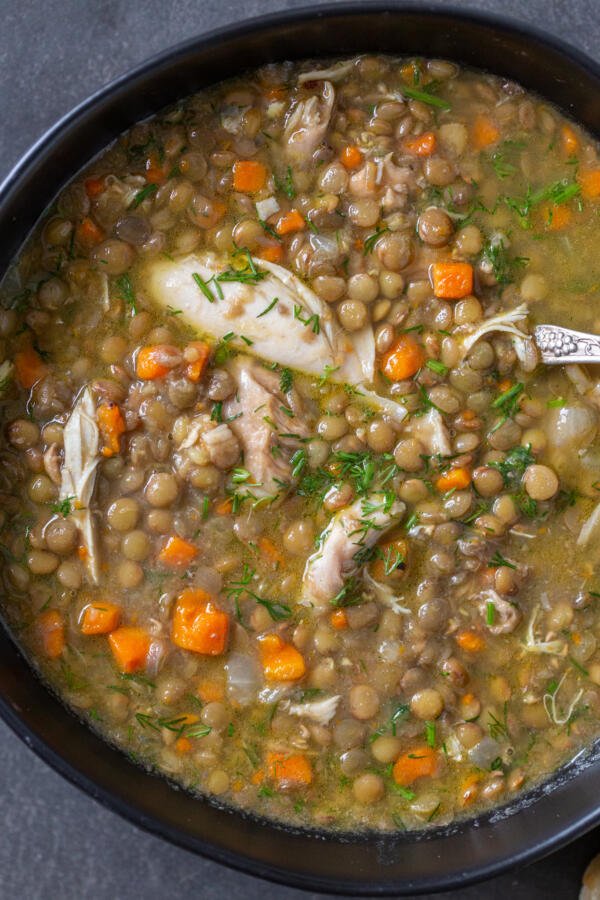 Looking for a healthy meal that's also super filling? This chicken lentil soup is exactly what the doctor ordered. You'll love how the lentils naturally thicken the soup and complement the juicy chicken. Add on some fresh dill right before serving and it's game over…
Kitchen Tool Recommendations
Before we dive into the recipe, let's cover off on a couple of our favorite kitchen tools for making this soup.
Staub Cast-Iron Dutch Oven – This Dutch oven is our go-to for soup-making. It holds an even heat and can make a double or triple batch if you're wanting to meal prep.
Knife – We've used this knife for over 10 years and it's the best for everything from chopping veggies to trimming chicken.
Cutting Board – This cutting board is big enough to chop several vegetables at a time and so easy to clean.
Preparing this Easy Chicken Lentil Soup
This simple chicken soup recipe only requires a handful of basic ingredients and a large soup pot.
Sauté the Veggies: In a large pot, saute the chopped onions and carrots in a bit of olive oil.
Add the Rest of the Ingredients: Next, add in the chicken, lentils, bay leaves, cumin, salt, and pepper.
Simmer the Soup: Add in the water and bring it to a boil on the stovetop. Drop the heat down to low or medium heat and simmer the soup for 40 minutes.
Add in the Dill: Finally, stir the chopped dill (or cilantro if you prefer) in and remove it from heat. Ladle up a bowl and enjoy!
Set It & Forget It: Cook this soup in a slow cooker over high heat for 4-5 hours or throw all the ingredients into an Instant Pot pressure cooker and switch on the soup setting.
5 Tips for The Best Chicken Lentil Soup
A couple foolproof tips will help you get the most out of this tasty chicken lentil soup.
Chop your veggies into evenly-sized pieces. To ensure that your veggies cook evenly, chop them into similar-sized pieces before tossing them into the pot.
Use bone-in chicken. Bone-in meat is full of collagen and marrow that will make your broth taste so mouth-watering. We like to use chicken drumsticks or skinless chicken thighs!
Opt for fresh herbs. Opt for fresh dill over dried dill. The flavor and color it adds are unparalleled!
Substitute broth for water. Up the depth of flavor by substituting broth for water. You can use homemade chicken broth or Better than Bouillon.
Add in more veggies. Spruce up the soup with more veggies – celery, spinach, and kale are all great options.
Leftover Rotisserie Chicken Hack: Put that leftover rotisserie chicken you have to good work by using it in this soup. Simply shred it with two forks and pop the shredded chicken in with 5-10 minutes of cooking left!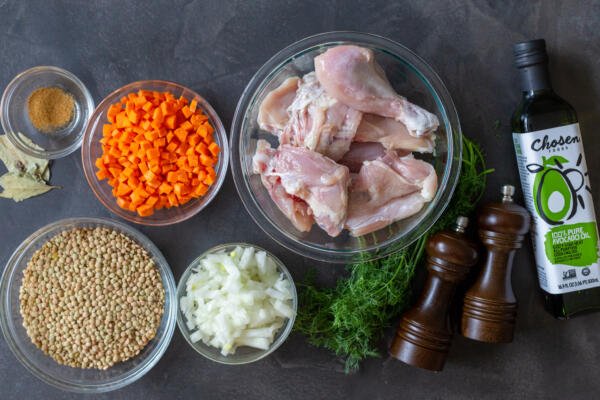 What to Serve with Chicken Lentil Soup
While this chicken lentil soup is filling enough to be eaten as a meal all by itself, you can pair it with a salad and some crusty bread for a cafe-style meal. Our favorites are a homemade caesar salad or a berry spinach salad and a fresh baked baguette or focaccia.
Storing & Freezing Best Practices
Refrigerating – Store your lentil soup in an airtight container in the fridge. When stored properly, it should keep for up to a week. The kicker? The soup tastes better the longer it marinates in itself. That means leftovers just keep tasting better and better.
Freezing – You can totally freeze your lentil soup in an airtight container for up to 3 months, but keep in mind that lentils will get mushy when defrosted and reheated. If you don't mind a texture that is more similar to split pea soup, go for it!
FAQ
Do lentils need to be soaked for chicken lentil soup?
The great thing about lentils is that they do not need to be soaked. If you really want to expedite the process, you totally can soak them but it's not necessary like it is with most raw legumes.
Is chicken lentil soup good for you?
Yes, chicken lentil soup is good for you. It's high in fiber and protein and will keep you full for hours. Whenever I want to lighten my diet up, I add a hefty amount of lentils to my meals.
What color lentils are best for chicken lentil soup?
Red or yellow lentils work best for chicken lentil soup. They cook down really quickly and add a pop of color.
More Soup Recipes
Recipe
This chicken lentil soup is full of fiber from the lentils & protein from the chicken. It will keep you full for hours while also warming up your entire soul!
Ingredients
1

large carrot

chopped

1

large onion

chopped

2

tbsp

oil

for sauteing

1

lb

bone-in chicken

1

lb

lentils

1

tsp

cumin

10

cups

water

1

tbsp

salt

adjsut to taste

1

tsp

ground black pepper

1/4

cup

fresh dill

diced
Nutrition Facts
Chicken Lentil Soup
Amount Per Serving
Calories 348
Calories from Fat 108
% Daily Value*
Fat 12g18%
Cholesterol 47mg16%
Sodium 935mg39%
Potassium 700mg20%
Carbohydrates 37g12%
Protein 23g46%
Vitamin A 1447IU29%
Vitamin C 5mg6%
Calcium 56mg6%
Iron 5mg28%
* Percent Daily Values are based on a 2000 calorie diet.