This easy focaccia bread recipe is baked until golden brown, drizzled with olive oil, and topped with fresh rosemary. Perfect paired with pastas, soups, and salads!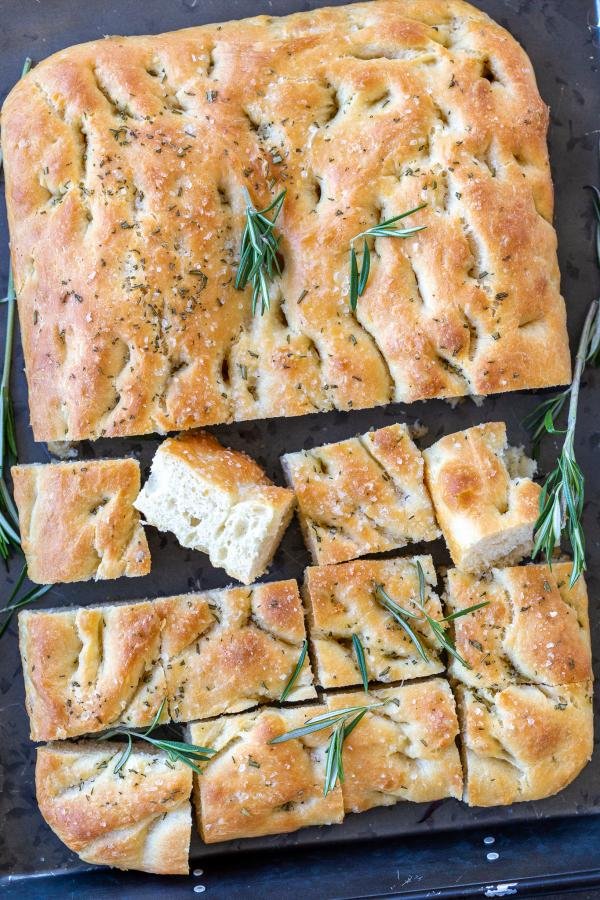 Focaccia bread is as beautiful as it is delicious. It's fluffy, flavorful, and super versatile. Oftentimes, I use it to make giant pizzas or tasty turkey and provolone focaccia sandwiches. It's also amazing served alongside your favorite salads or soups. The possibilities are truly endless!
Perhaps the greatest part of this recipe is that there is absolutely no need to knead the dough. This means you can easily whip this bread up on a busy weeknight. Who doesn't love fresh bread during the week?!
How is Focaccia Bread Different from Other Bread?
Unlike typical baguettes or rounds, focaccia bread is a flat-baked Italian bread with a similar texture to thick pizza crust. Oftentimes, it is topped with olive oil and herbs for extra flavor and texture. You'll find it sliced into biscotti-shaped pieces, sliced down the middle for sandwiches, or topped with soft cheese and sautéed veggies for a fancy appetizer.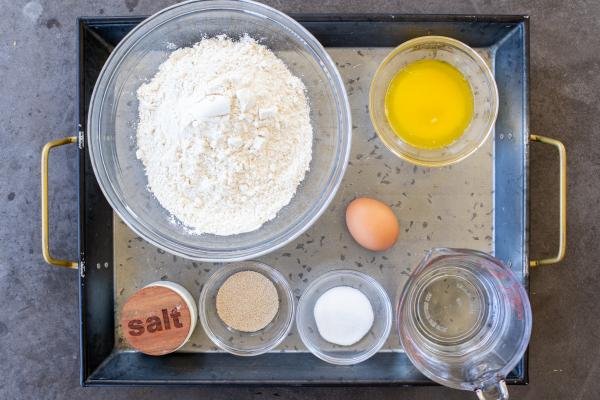 How to Make Easy Focaccia Bread
Making this bread only requires simple ingredients you likely already have hanging out in your kitchen. What's better? You don't have to knead the dough whatsoever, significantly cutting down on your prep time. Below, find a quick hitter overview of the recipe before you dive in.
Mix the Dry Ingredients: Combine the flour, sugar, and salt in a large mixing bowl.
Prep the Wet Ingredients: Beat the butter and egg together. Add in the yeast and whisk to combine.
Mix the Dry and Wet Ingredients: Using a stand mixer or a sturdy wooden spoon, slowly mix the dry ingredients into the wet ingredients. Cover the focaccia dough with plastic wrap or a kitchen towel and let it rise for an hour.
Put the Dough in a Pan: Grease a 9×13-inch baking pan and transfer the dough into it. Let it rest for an additional 30 minutes.
Season the Dough: Drizzle the dough with olive oil and poke holes into it with your fingertips. Next, sprinkle the top with chopped rosemary and flaky sea salt or kosher salt.
Bake the Focaccia: Bake at 400°F for about 20 minutes or until the top is golden brown. Remove the bread from the pan and enjoy!
Tips & Tricks
Below, find a couple of tips and tricks to help you make bakery-worthy focaccia bread.
Use high-quality extra virgin olive oil. Avoid using olive oil blends for this recipe. High-quality, full-bodied olive oil makes all the difference in flavor.
Employ the help of a stand mixer. While you can totally mix the dough by hand, using a stand mixer with a dough hook will make the process so much easier.
Poke holes in the dough. Poking holes in the dough with your fingertips isn't just to provide a pretty effect. It also reduces air bubbles in the dough and prevents it from rising too quickly. This is crucial to creating the signature flat-baked shape!
Use fresh herbs versus dried. Fresh herbs add a much more richer flavor to focaccia. Mix and match a few different kids or stick to rosemary.
Hot Tip: To elevate your focaccia, top it with freshly cracked black pepper, parmesan cheese, sun-dried tomatoes, cherry tomatoes, roasted garlic, or thinly sliced bell peppers before you bake it.
Serving Focaccia Bread
Focaccia bread pairs wonderfully with a wide range of Italian-style soups. Minestrone, Zuppa Toscana, and meatball kale soup are all great options. You can also serve a couple of slices of it alongside a homemade caesar salad or caprese pasta salad.
Storing Focaccia
Room Temperature: Store leftover focaccia in an airtight container on the counter for up to 3 days. After that, it may begin to harden and get a bit stale.
Freezer: To freeze the bread, first allow it to cool completely. Next, wrap it in a couple of layers of plastic wrap. Pop in the freezer and store for up to 1 month. To thaw, place it on the counter for an hour or so.
Reheating Tip: Reheat focaccia bread by popping it in the oven until warmed through.
FAQ
What is special about focaccia bread?
The most special aspect of focaccia bread is that it's drizzled with olive oil, flaky coarse sea salt, and herbs before it's baked. This adds a wonderful pop of flavor and texture to the bread.
Do you eat focaccia bread hot or cold?
You can eat focaccia bread hot or cold depending on your preference.
Can I freeze focaccia bread?
Yes, you can freeze focaccia bread. It will keep in the freezer for up to 1 month.
What do you eat focaccia bread with?
You can eat focaccia bread with soups, salads, or pasta dishes. You can also use it as the base for an easy focaccia pizza or as sandwich bread.
What spices are typically used for focaccia bread?
Typically, focaccia bread is topped with fresh herbs like rosemary, basil, or oregano. You can use one or a combination.
More Easy Homemade Bread Recipes
Recipe
This easy focaccia bread recipe is baked until golden brown, drizzled with olive oil, and topped with fresh rosemary. Perfect paired with pastas, soups, and salads!
Nutrition Facts
Easy Focaccia Bread Recipe (Light & Fluffy)
Amount Per Serving
Calories 227
Calories from Fat 45
% Daily Value*
Fat 5g8%
Cholesterol 31mg10%
Sodium 1213mg51%
Potassium 77mg2%
Carbohydrates 38g13%
Protein 6g12%
Vitamin A 165IU3%
Vitamin C 0.2mg0%
Calcium 14mg1%
Iron 2.3mg13%
* Percent Daily Values are based on a 2000 calorie diet.