This post has been sponsored by OXO. All thoughts and opinions are my own.
The Easiest Roasted Turkey is here for your Thanksgiving, this recipe is full-proof. Look no further! Follow these easy instructions and "wow" your guests with a perfect, roasted turkey.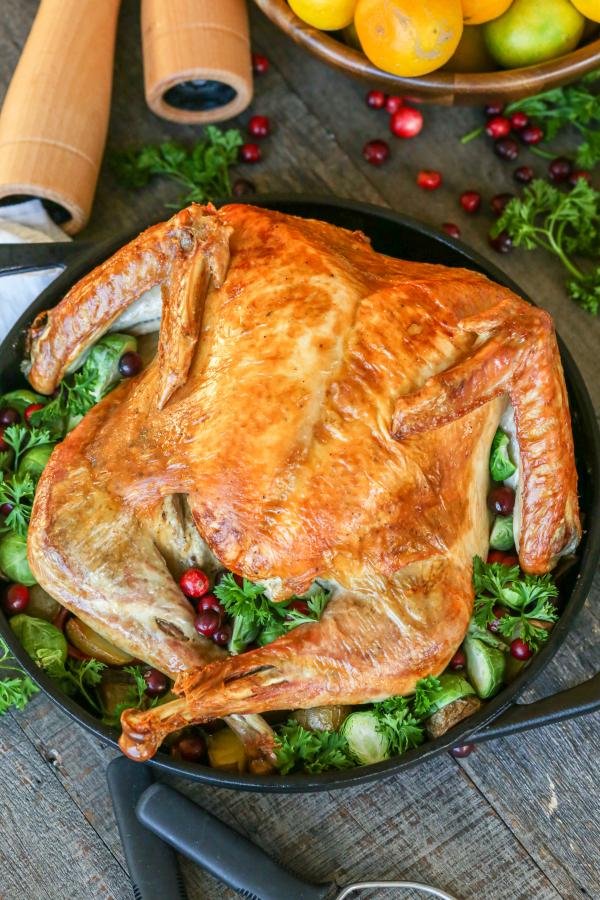 Everyone's biggest fear around Thanksgiving is investing in a large turkey only for it to turn out dry and plain. I've been there and I am here to assure you that you never have to settle for subpar turkey again!
In my family, we switch between smoked turkey and roasted turkey every other Thanksgiving. But, no matter how you cook your bird, you need to marinate it properly in order to achieve that coveted moistness.
Making a roasted turkey may intimidate you, but in all actuality, the process is quite simple. Think of it as a bigger chicken that simply requires a longer oven time.
Follow the timing and marinade instructions and you are guaranteed greatness. If you haven't already, invest in a meat thermometer so you can check the internal temperature of your bird. Below, I will share some other great products that aid in the process. You got this!
Tips for Making The BEST Turkey
After much trial-and-error, I have compiled my best tips and tricks for making a Thanksgiving turkey. Read on and to skip any and all blunders.
Turkey Serving Size
Wondering how much turkey you should allot for each guest? I would suggest planning ½ pound of turkey per person. Yes, there will be sides too, but keep in mind that most people eat more than usual on Thanksgiving. Nothing would be worse than running out of The Turkey!
Thaw Turkey
If your turkey is frozen, you need to keep in mind that it takes about 24 hours of thaw time in the refrigerator per every 5 lbs of turkey. Yes, that means a large 20 lb turkey will take about 4-5 days to thaw in the refrigerator! The best way to prevent a timing blunder is to purchase your turkey a week or more in advance. Have it on hand early so you don't have to make a last-minute trip to the chaos that will be the supermarket.
Cut out the Backbone from The Turkey
If you are planning on spatchcooking your turkey (roasting it flat versus upright), remove the backbone with poultry shears to make my favorite turkey neck soup. I like using this method because the backbone is typically left behind anyway.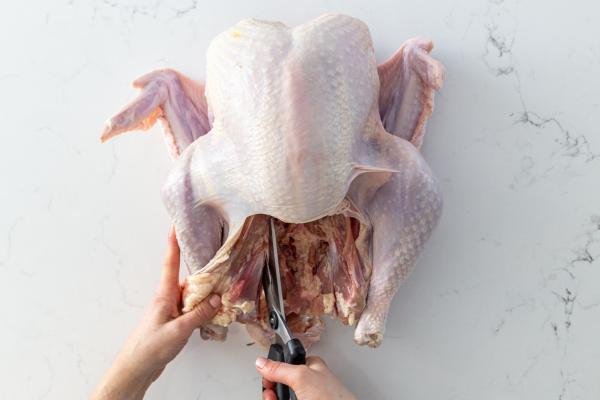 Place Seasoning Under the Skin
To capitalize on flavor, put your marinade on top and under the skin of the turkey. Don't worry about overseasoning! As the turkey slowly cooks in the oven, the seasoning on the outside will get absorbed into the internal meat. This is what you want!
Add Vegetables to the Roasting Pan
Add vegetables like potatoes, onion and carrots to your roasting pan. They will absorb great flavors from your turkey and make for a well-rounded meal.
Use a Silicone Roasting Rack
Metal roasting racks are tough to clean. I use two OXO Good Grips Silicone Roasting Racks side-by-side for my Thanksgiving turkey. The racks elevate the bird away from the bottom of the pan and allow all the drippings to accumulate at the bottom. It's also millions of times easier to clean!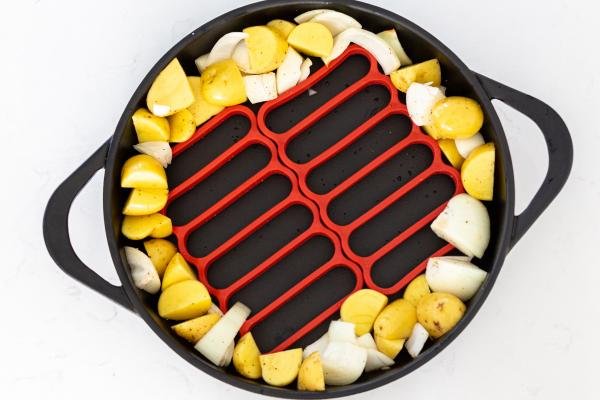 Make Gravy with Turkey Drippings
One of the best parts about making your own roasted turkey is using the drippings to make gravy. I use an OXO Good Grips 4-Cup Fat Separator to remove any unwanted fat and veggie solids from the drippings before turning it into a knock-out gravy.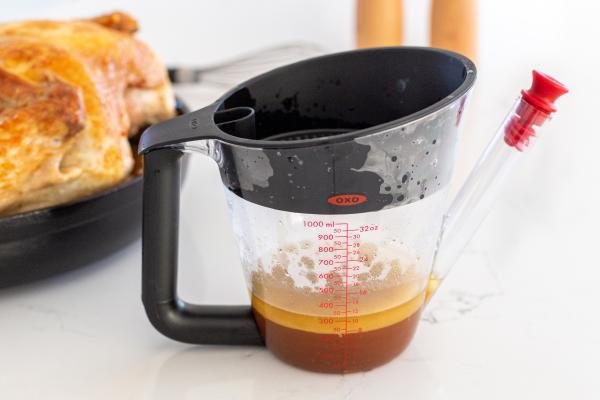 Cover Turkey to Prevent the Skin From Burning
Using a lid or foil, cover your turkey about ⅔ of the way through the cooking process. This will help lock in the moistness, while also preventing your skin from overcooking and burning.
Let Turkey Rest
Once you remove the turkey from the oven, let it rest for 30-40 minutes on the cutting board. This will trap all those juices you worked so hard for. It will also make it easier for you to cut the turkey into pieces prior to serving.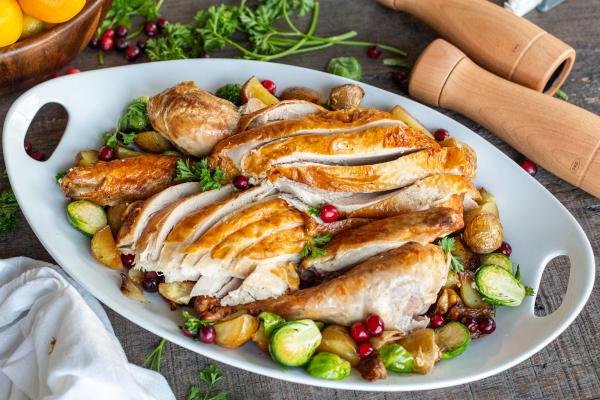 Temperature to Cook a Turkey
Typically, turkey needs to cook about 15-19 minutes per pound in an oven set at 325F. More importantly, the internal temperature needs to reach 165F to ensure doneness. Follow the general rule of thumb for timing above, but check your bird with a meat thermometer before removing it from the oven to be the most exact.
Tip: The roasted turkey will continue to cook as it is resting for 30-40 minutes on the counter. If you are a couple of degrees off of 165F, allow it to cook the rest of the way on the counter to prevent drying out.
Complete Thanksgiving Dinner With
Recipe
The Easiest Roasted Turkey is here for your Thanksgiving, this recipe is full-proof. Look no further! Follow these easy instructions and "wow" your guests with a perfect, roasted turkey.
Ingredients
Roasted Veggies
1

lb

potatoes

2

large onions
Nutrition Facts
Easiest Roasted Turkey
Amount Per Serving
Calories 172
Calories from Fat 153
% Daily Value*
Fat 17g26%
Cholesterol 9mg3%
Sodium 1192mg50%
Potassium 124mg4%
Carbohydrates 5g2%
Protein 1g2%
Vitamin A 18IU0%
Vitamin C 4mg5%
Calcium 15mg2%
Iron 1mg6%
* Percent Daily Values are based on a 2000 calorie diet.