This turkey neck soup is light, savory, and comforting. Often underutilized and underrated in American cooking, turkey neck is full of flavor and shines at its brightest in this recipe.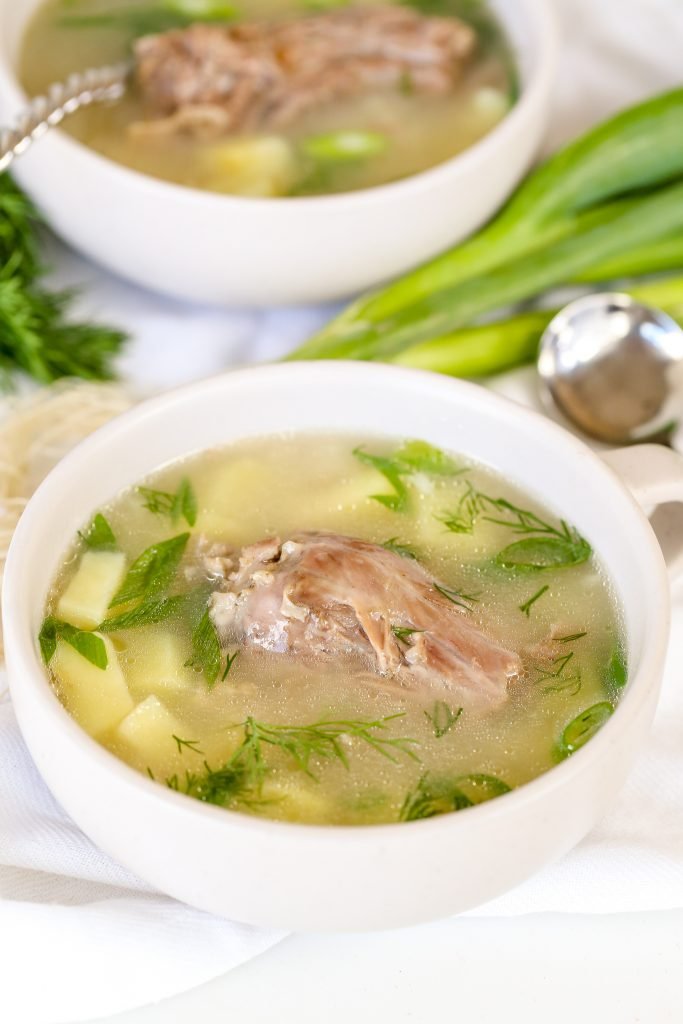 Turkey neck soup is a comfort food staple in Ukrainian households. When I was feeling sick or in need of a meal that felt like a hug, my mom would make a large batch of turkey neck soup and my troubles would melt away (even if only for a moment). This recipe comes straight from her cookbook and will soon find its way onto your dinner table during the cold, winter months.
Okay, so let's address the elephant in the room: turkey necks. You may be raising your eyebrow at the thought of cooking with them, but rest assured they are absolutely delicious and insanely underrated. You can even go as far as to say that the necks are the most delicious part of the entire turkey…
What is Turkey Neck Soup?
Turkey neck soup is a simple dish made of homemade broth, turkey necks, rice, potatoes, and fresh herbs. Below, find a rundown of the flavor, texture, and cooking time.
Flavor: Much like that of a classic chicken noodle soup, turkey neck soup is light yet savory.
Texture: The texture of the soup broth is silky and contrasted with the fall-off-the-bone turkey neck meat and tender potatoes and rice.
Time: From prep to finish, this soup takes just under two hours to make.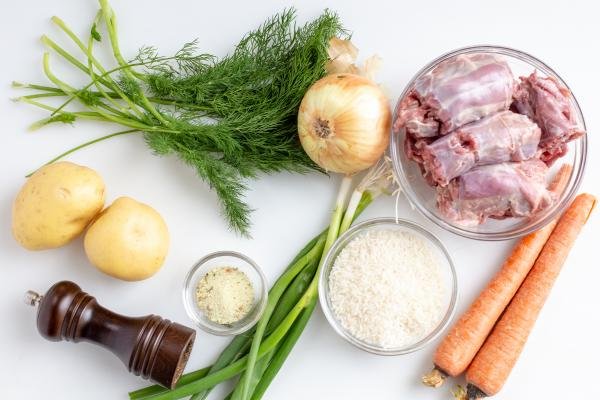 How to Make Turkey Neck Soup
It only requires a couple of steps, one pot, and a handful of simple ingredients to make the perfect turkey neck soup. Below, find a quick overview of the recipe.
Make the Broth: In a large soup pot, boil the turkey neck, onion, and carrots until the turkey meat falls off the neck bones. Remove turkey necks and set aside. Drain the broth through a colander to remove the big chunks of carrot and onion. Return the turkey necks and broth to the soup pot.
Add the Rice & Potatoes: Add the rice to the soup pot and simmer until fully cooked. Once the rice is cooked, add in the diced potatoes. Simmer until the potatoes are easily pierced with a fork.
Season & Serve: Season with salt and pepper to taste. Garnish with fresh green onion and dill. Enjoy!
Tips for Making the Best Turkey Neck Soup
Below, find a collection of tips and tricks to help you make the your turkey neck soup better.
Slow cook the broth. Allowing the turkey necks and veggies to slow cook brings out the richest tasting broth. Your whole house will fill up with the aroma!
Use fresh herbs versus dried. Garnish the soup with fresh herbs versus dried. There is just no comparison when it comes to flavor!
Slice the carrots and onions big. Slice the carrots and onions big enough so they are easy to drain from the broth. Also, feel free to leave the onion skin on – it packs a ton of flavor! Just make sure to rinse it beforehand to rid it of dirt.
Serving Turkey Neck Soup
Turkey neck soup is best served on a cold day, when you're feeling a bit under the weather, or you're just looking for a big bowl of comfort. You can eat it all on its own as a meal, or pair it with some fresh baguette to sop up the broth. If you're serving it for dinner, pair it with a classic garden salad or an air fryer grilled cheese.
Storing Turkey Neck Soup
Refrigerator: Store leftover turkey neck soup in an airtight container in the refrigerator. It would keep for up to a week and get more flavorful as it marinates in itself, making for some pretty awesome leftovers.
Freezer: Not recommended. Upon reheating, the potatoes will turn to mush and ruin the light consistency of the soup.
FAQ
Are turkey necks healthy?
Turkey necks are super healthy for you! They are packed with protein, vitamins, and a rich dark meat flavor.
Where can I buy turkey necks?
You can find turkey necks at most butcher counters and grocery stores. They will come ready to use and cleaned and trimmed of any excess fat or gristle.
How do you keep turkey necks tender?
The key to tender turkey necks is to boil them. This might seem counterintuitive when you think about the toughness of other boiled meats, but it's the best method for yielding ultra-tender turkey neck meat.
Other Ways You Can Use Turkey Necks
There are tons of other ways you can use the ultra flavorful turkey neck. Below, find a couple more recipes to try.
More Ukrainian/Russian Recipes
Recipe
This turkey neck soup is light, savory, and comforting. Often underutilized, turkey neck is full of flavor and shines in this recipe.
Ingredients
1

lb

turkey necks

2

carrots

1

yellow onion

1/3

cup

rice

2

potatoes

1/2

cup

chopped green onions

1/3

cup

chopped fresh dill

1

tbsp

salt

adjust to taste

1

tsp

ground black pepper

adjust to taste

3

qt

water
Nutrition Facts
Turkey Neck Soup (Literally The Best)
Amount Per Serving
Calories 114
Calories from Fat 36
% Daily Value*
Fat 4g6%
Cholesterol 65mg22%
Sodium 1018mg42%
Potassium 343mg10%
Carbohydrates 16g5%
Protein 11g22%
Vitamin A 2787IU56%
Vitamin C 12mg15%
Calcium 39mg4%
Iron 1mg6%
* Percent Daily Values are based on a 2000 calorie diet.