This savory baked duck is stuffed with tender buckwheat & baked alongside a colorful bouquet of carrots, apples, & celery. Tender, juicy, & irresistible!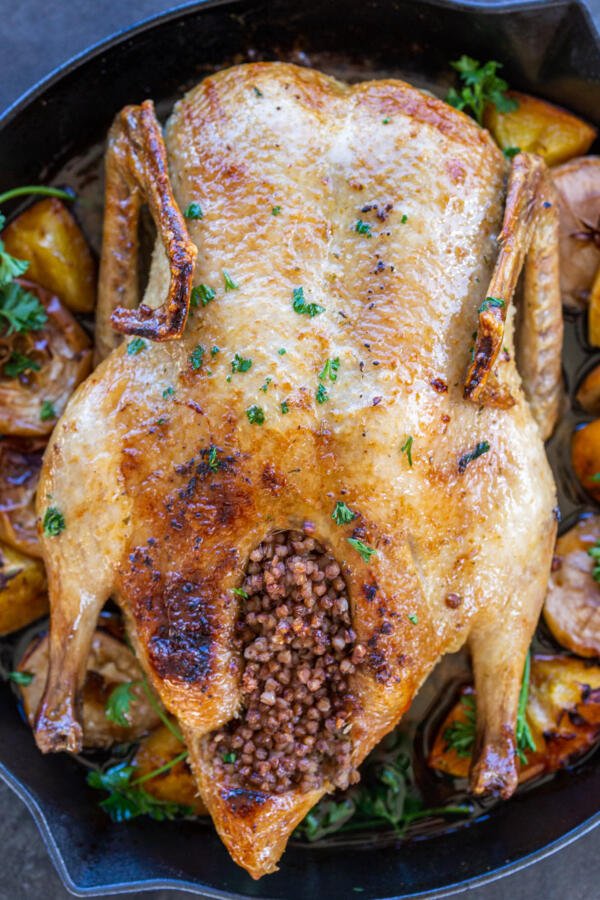 Baked duck isn't just a dish you have to wait to eat until you gather around the Christmas or Thanksgiving table. Much like most whole-roasted chicken or turkey recipes, all it requires is a solid marinade, a little patience, and the help of a meat thermometer. This recipe will teach you all you need to know about nailing this elusive protein and turning it into a melt in your mouth experience.
The Key To Moist Baked Duck
There are several ways to make a whole roast duck moist and juicy. In this recipe, we turn to a tried-and-true Slavic marinade that always works – mayonnaise! That's right, you'll use an overnight garlicky mayonnaise marinade to tenderize the duck and lock in a slightly tangy flavor into the flesh.
The Easiest Way to Make Baked Duck
Roasting a whole duck only requires 6 simple ingredients and a sturdy roasting pan. Here's how to do it…
Make the Marinade: In a small bowl, mix the mayo with garlic parsley salt.
Marinade the Duck Overnight: Rub the mayo all over the outside of the duck and place it in the roasting pan. Cover it with plastic wrap or aluminum foil and allow it to marinate in the refrigerator overnight.
Prepare the Duck: The next day, stuff the cavity of the duck with the cooked buckwheat. Use a paper towel to wipe the mayo mixture off of the duck. Assemble the sliced apples and chopped vegetables around the bird and season them with salt.
Bake the Duck: Cover the roasting pan with foil and bake the duck in the oven on the center rack for 90 minutes at 375°F. Remove the foil with 15 minutes of cooking time left to crisp the skin. Allow the duck to rest for a bit, slice it with a sharp knife, and enjoy!
Hot Tip: The veggies will be pretty tender after cooking and you can discard them or eat them if you like. They are mostly there for their flavors!
5 Tips & Tricks for Perfect Baked Duck
From our kitchen to yours, find a couple simple tips to help you knock your baked duck out of the park.
Don't skip the overnight marinade. This step is so crucial. Duck tends to lean on the tougher and drier side, so an overnight marinade is key to making it juicy and moist.
Remove all the marinade for crispy skin. Thoroughly wipe off all the marinade before baking to duck. Letting it sit overnight is more than enough and any lingering mayo will prevent the skin from crisping up to it's full potential.
Tuck the wing tips under the legs. To prevent the delicate wings from burning, tuck them under the legs before baking.
Use a meat thermometer to check doneness. Unsure if the duck is finished cooking? Insert a meat thermometer into the thickest part of the breast to ensure it's reached 165°F.
Tweak the stuffing. Feel free to up level the buckwheat stuffing with garlic cloves, cranberries, pomegranate seeds, freshly cracked pepper, thyme, or even bacon.
Save the duck fat! All those delicious juices that form on the bottom of the roasting pan are liquid gold. Transfer them to a jar and pop them in the fridge for roasted potatoes, eggs, and veggie side dishes. YUM!
What to Serve Alongside Your Baked Duck
For a fancy dinner at home or your next special occasion, serve your baked duck alongside air fryer asparagus and creamy mashed potatoes. For a fresh side, tack on a berry spinach salad or a beet quinoa salad with fresh oranges (citrus pairs so well with duck!).
FAQ
Should you cook a duck covered or uncovered?
You'll want to first cook the duck covered with aluminum foil to look in the juices and protect the skin from drying out. With 15 minutes left, remove the foil to allow the skin to crisp and turn golden brown.
How long should you let the duck rest?
Before going at the duck with your carving knife, give it 15 minutes to rest at room temperature. This will help to lock in the juices and make each slice super tender.
How do you cook duck so it's not tough?
The key to making sure your duck isn't tough is to marinate it overnight and to also ensure that you bake it covered for most of the cooking time.
What color should cooked duck be?
Medium cooked duck will be slightly pink on the inside. If you don't like any pink, cook the duck to 170°F.
Can you use a frozen duck?
Yes, you can. Allow it to completely thaw in the fridge overnight and follow the directions as noted.
More Meaty Recipes to Try
Recipe
This simple baked duck will blow your mind. It's juicy, tender, and so moist. With a quick overnight marinade and 7 ingredients, it couldn't get any easier!
Nutrition Facts
Whole Baked Duck Recipe (Extra Easy)
Amount Per Serving
Calories 570
Calories from Fat 441
% Daily Value*
Fat 49g75%
Cholesterol 78mg26%
Sodium 1911mg80%
Potassium 369mg11%
Carbohydrates 21g7%
Protein 14g28%
Vitamin A 2764IU55%
Vitamin C 6mg7%
Calcium 27mg3%
Iron 3mg17%
* Percent Daily Values are based on a 2000 calorie diet.