This homemade stuffing is made with buttery toasted bread, fresh rosemary and parsley, and sautéed veggies. It's absolutely delicious on its own or as a holiday stuffing!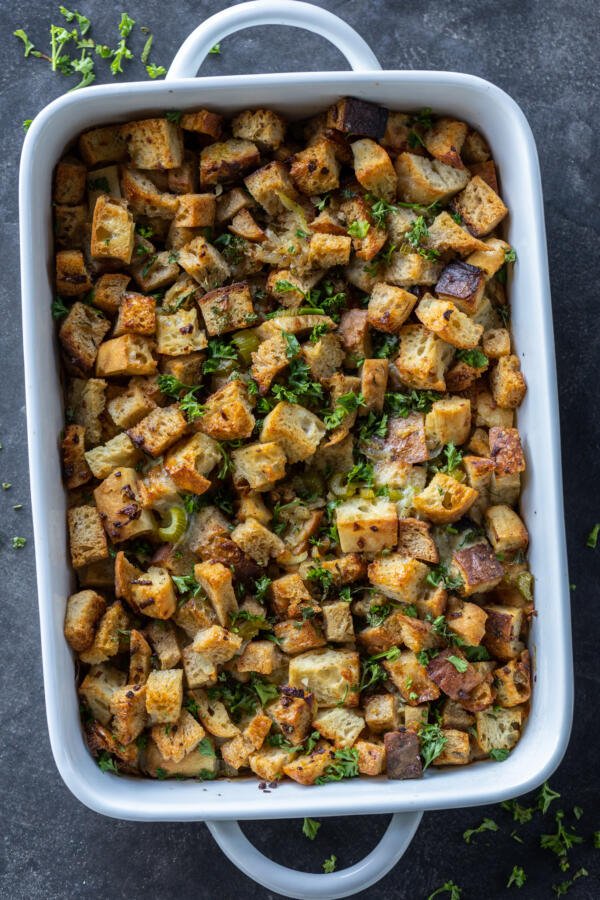 What Is Stuffing?
Stuffing (also known as filling or dressing) is a baked mixture of buttery toasted bread cubes, sautéed veggies, broth, and fresh herbs. The flavor of stuffing is rich and savory, making it a perfect complement to mild proteins like ham or turkey. Stuffing is traditionally enjoyed in the U.S. during holiday dinners, especially Thanksgiving.
Nobody knows exactly when or how stuffing became popular in the U.S., but the earliest records go back to the 1800s. Serving stuffing at the dinner table — either as a side dish or a filling for turkey — became a tradition for many American families that is still practiced to this day.
Homemade Stuffing Video
How To Make Stuffing
This homemade stuffing is crazy easy to whip up, even in the holiday rush. Start a timer for 30 minutes and get to prepping!
Preheat the oven: Preheat the oven to 350°F.
Make the bread cubes: Slice a loaf of bread into half inch cubes. Place the cubes on a baking sheet and bake for about 15 minutes, or until they are crispy and golden. Allow the bread cubes to cool completely, then transfer them to a large bowl.
Sauté the veggies: Chop the onions, celery, and garlic. Melt the butter in a skillet over medium heat and sauté the veggies until they are softened.
Season the bread and veggies: Add the sautéed veggies to the bread cubes. Season the mixture with salt and pepper, then toss together.
Add the wet ingredients: In a separate bowl, whisk the eggs together with the chicken broth. Pour the egg mixture over the bread and mix until all the cubes are evenly coated.
Bake the stuffing: Place the stuffing in a buttered 9×13 baking dish and bake for 45-50 minutes until golden brown. Top with herbs. Serve immediately and enjoy!
Hot tip: For extra crunchy stuffing, dry out the bread cubes overnight. Scatter the cubes evenly on a baking sheet and let them sit out at room temperature for at least eight hours.
Ingredient Variations
One of the best things about homemade stuffing is the ample opportunity for customization. Experiment with different kinds of bread, or spice up your stuffing with additional seasonings or herbs.
Bread: Slice up a loaf of French bread, sourdough bread, or miche bread to make the best homemade bread cubes. Any hearty loaf that can be cut into thick slices works!
Fresh herbs: Add a sprinkle of fresh thyme or sage for a woodsy, minty flavor.
Seasonings: Use your favorite poultry seasoning blend for a burst of Thanksgiving flavor. Or, make your own with ground sage, thyme, marjoram, nutmeg, rosemary, and white pepper.
Tips For the Best Homemade Stuffing
Are you tired of dry, bland, or mushy stuffing? Create a homemade stuffing that won't disappoint with these tips from the kitchen.
Use stale or toasted bread. This helps to absorb the extra liquid and prevent a mushy texture.
Season to taste. Cut back on the salt if you use salted butter or a well-seasoned broth. Add your favorite herbs and seasonings to boost the flavor of the stuffing.
Add more broth if the bread is dry. The stuffing mixture should look moist, but not watery — mix in another splash of broth if the stuffing is crumbly.
Mix the stuffing gently. Use folding motions to combine the egg mixture with the bread cubes. Take care not to mash or break apart the bread, as this makes the stuffing more dense and gummy.
Ways To Serve
Homemade stuffing is a phenomenal dinner side dish. Serve it hot and fresh out of the oven for maximum crispness, along with a roast turkey, creamy mashed potatoes, and roasted broccoli or buttery garlic green beans. Or, loosely pack the baked stuffing into the cavity of a turkey, duck, or chicken, then roast it — the stuffling will absorb the meat's juices while it cooks, making it extra moist and flavorful.
Make Ahead
Did you know you can prepare homemade stuffing up to 48 hours in advance? Fully assemble the stuffing (don't bake it yet!), then cover the dish and refrigerate it. When you're ready for fresh stuffing, bake it at 350°F for about 50-55 minutes.
Storage & Reheating
Dinner's over and you have extra stuffing … what should you do now? We've got you covered with these guidelines for leftover stuffing success.
Refrigerator: To store for up to four days, transfer the leftover cooled stuffing to an airtight container and refrigerate.
Freezer: To store for up to three months, place the leftover cooled stuffing in a freezer-safe container and freeze.
Reheating: Restore the most flavor and crisp to your leftover stuffing by reheating it in the oven. Preheat the oven to 350°F, transfer the stuffing to a casserole dish, cover it with foil, and bake it for 20-30 minutes until heated through. For a quicker (but less tasty) method, reheat the stuffing in the microwave.
Hot tip: Add a splash of water or broth to the stuffing when reheating it to prevent it from drying out.
FAQ
What is the difference between stuffing and dressing?
The difference between stuffing and dressing is the cooking preparation. Stuffing is cooked in the cavity of a roast bird, while dressing is cooked in a casserole dish and enjoyed by itself.
Is homemade stuffing better than store-bought stuffing?
Yes, homemade stuffing tends to have a better taste, texture, and nutritional value than store-bought stuffing. Homemade stuffing is more flavorful and crispy than boxed stuffing — and it doesn't contain any preservatives or artificial ingredients. It's also usually lower in sodium and calories than store-bought stuffing.
Can you make stuffing from homemade bread?
Yes, you can absolutely make stuffing from homemade bread. Cut the bread into cubes and allow it to get stale at room temperature, or toast it in the oven before mixing it with the other ingredients.
More Thanksgiving Sides
Recipe
This homemade stuffing is made with buttery toasted bread, fresh rosemary and parsley, and sautéed veggies. It's absolutely delicious on its own or as a holiday stuffing!
Ingredients
12

cups

bread cubes

pre made or make your own

2

medium onions

finely chopped

1

cup

celery

thinly sliced

4

garlic cloves

minced

1/2

cup

unsalted butter

1

tsp

salt

adjust to taste

1/2

tsp

ground black pepper

2

large eggs

lightly beaten

2

cups

chicken broth

2

tbsp

fresh rosemary

finely chopped

4

tbsp

fresh parsley

finely chopped
Nutrition Facts
Homemade Stuffing Recipe
Amount Per Serving
Calories 245
Calories from Fat 99
% Daily Value*
Fat 11g17%
Cholesterol 48mg16%
Sodium 624mg26%
Potassium 160mg5%
Carbohydrates 29g10%
Protein 8g16%
Vitamin A 429IU9%
Vitamin C 4mg5%
Calcium 90mg9%
Iron 2mg11%
* Percent Daily Values are based on a 2000 calorie diet.