Cutting up a whole chicken is not as daunting as it sounds! With the right tools and approach, it will take you less than 5 minutes once you get it down.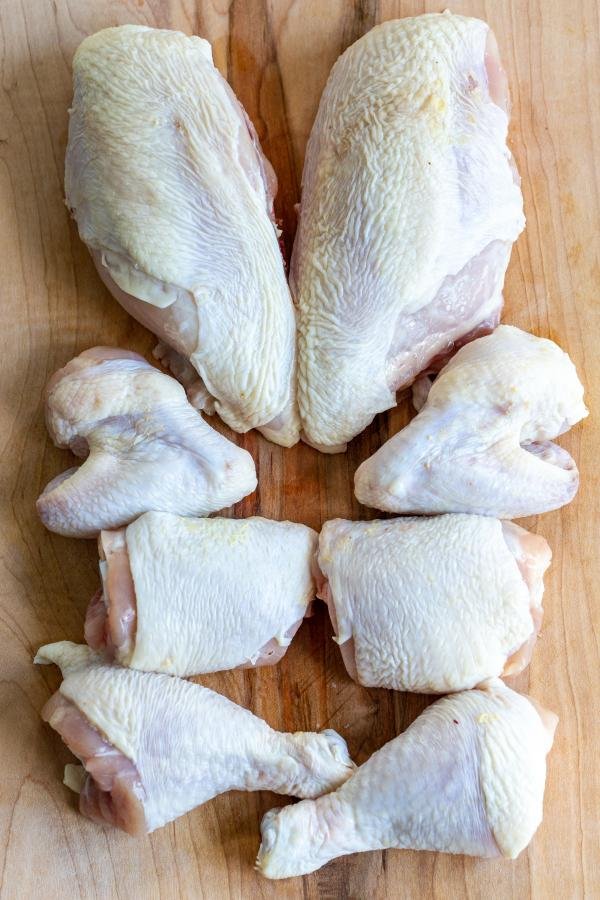 Why deal with a whole chicken when you can buy the pieces pre-cut at the store? First off, buying whole chickens saves you money. You'll spend almost half the money for just as much bird!
Secondly, you can use the bones to make broth. The backbone of the chicken makes the best tasting broth and you can't purchase it by itself at the market. There's only one way to get it and that's by doing the dirty work yourself.
Butchering a whole chicken was the norm growing up in a Ukrainian household. My mom really knew how to stretch a dollar and use a bird to make several different dishes throughout the week. I always have her disapproving voice in the back of my head when I am tempted to buy chicken by the piece!
When you purchase a whole chicken, you get to play with a bunch of different flavors and dishes. As a kid, I loved chicken necks and gizzards. In fact, my 5 siblings and I loved them SO much, that we would fight over them! Imagine that, kids fighting over necks and gizzards!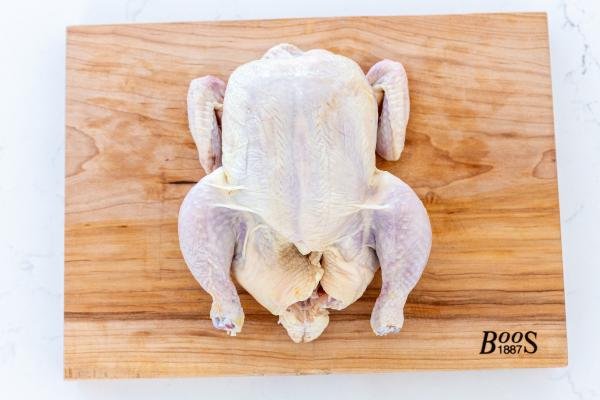 How to Cut Up a Whole Chicken?
Before you get started, suit yourself up for battle! Make sure you have a SHARP kitchen knife. A boning knife works best. Also, grab a pair of kitchen shears. To get your work station ready, set the bird on top of a sturdy, large wooden cutting board.
Start by removing the legs. Find the space where the thigh connects with the breast and cut through the skin and flesh until you can see the bone. Bend the thigh until it pops out of its socket. Look for the fat line (it will mark where the joint is!) and cut through it using a sharp knife.
To separate the drumstick from the thigh, cut along the fat line that joins them.
To remove the wings, use your finger to get a feeling of where the joint is. Cut through it with your knife.
To separate the backbone from the breast, turn the chicken on its side and look for a thick fat line. Cut through it using kitchen scissors.
When removing the breast, make a small cut in between them. Turn the breast over, and applying pressure with your hands, break the bone. At this point, it should be easy to cut it into two pieces.
Your end result should be 8 separate pieces: 2 wings, 2 thighs, 2 breasts and 2 drumsticks. Also, you will have that coveted backbone to make stock with!
Chicken Recipes to Make
Now that you have the chicken pieces, here are some great recipes you can make with it.
Recipe
Cutting up a whole chicken is not as daunting as it sounds! Once you get it down, it will take you less than 5 minutes.