This turkey focaccia sandwich features layers of turkey, provolone cheese, spinach, & basil pesto. Perfect for appetizer trays, hikes, or takeaway lunches!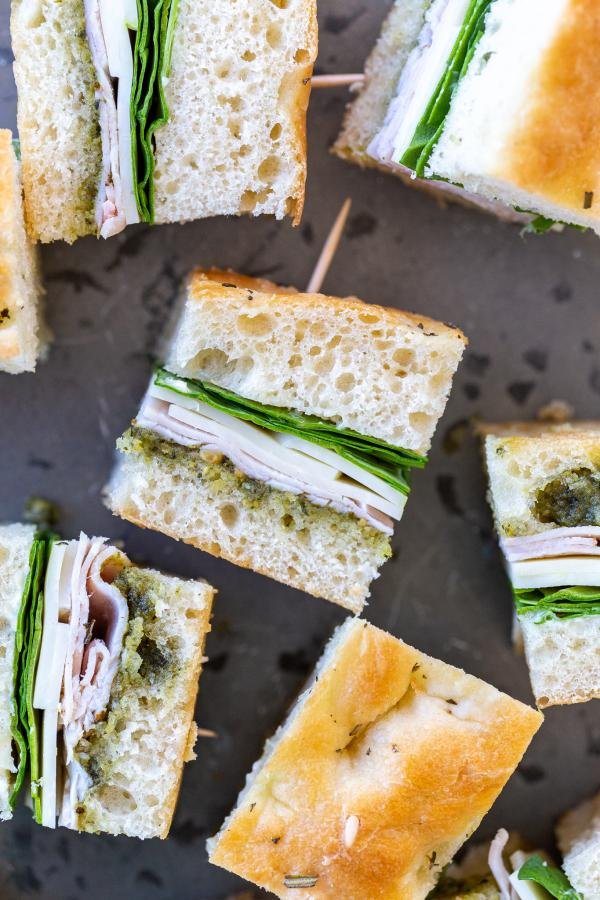 Sometimes, all you need in life is a classic, no-frills focaccia sandwich. The buttery, olive oil bread is the perfect base for a killer turkey sandwich. In this recipe, you'll learn how to whip up a sandwich so tasty, your friends and family will think that you picked them up from a deli.
Assembling this Easy Focaccia Sandwich
All this sandwich requires is 5 min of prep time and some super light assembly.
Prepare the Focaccia: First, slice the focaccia bread into two pieces. Spread the mayonnaise on the top half of the focaccia and the basil pesto on the other side.
Assemble the Sandwich: On the bottom piece of the focaccia, place the turkey slices in a single layer. Top with cheese, spinach, and another layer of turkey slices. Top with the other focaccia slice and firmly to secure the ingredients inside.
Slice the Sandwich: Next, slice the sandwich into small squares. Enjoy!
Toasty Sando Tip: Slice the focaccia in half and lay it on a baking sheet. Drizzle it with olive oil and sprinkle on a little salt and pepper. Toast it at 350°F until golden brown with or without the cheese.
Handy Tips & Tricks
A couple simple tips and tricks will help you make a deli-worthy sandwich.
Assemble the sandwich in the right order. Always spread the sauce on the bread and build from there. Typically, the best order is spread, meat, cheese, then veggies. Not only does this lend the best bite, but it also keeps your sandwich from completely falling a part.
Press the sandwich top down to secure the ingredients. After assembling your sandwich, give the top a nice, firm press. This will help secure the ingredients inside so they don't squeeze out of the sides when you chomp down.
Use a serrated knife to slice the sandwich. When slicing your focaccia sandwich, use a serrated knife in slow sawing motion to avoid squeezing out the sandwich filling.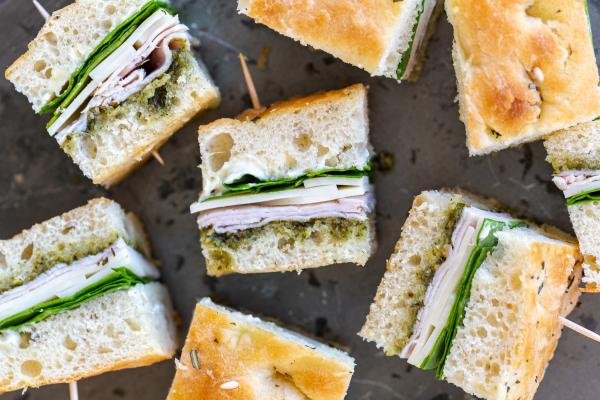 Different Ways to Store a Focaccia Sandwich
To keep your focaccia sandwich fresh for up to 1 day, store it a plastic storage bag or airtight container wrapped in parchment paper, plastic wrap, or foil. If you try and store it any longer, the sandwich bread will get soggy from the mayo and pesto. Some things are simply best eaten fresh!
Tasty Sides to Serve Alongside a Focaccia Sandwich
If your taking the focaccia bread on a picnic, bring along some olivier salad (Slavic-style potato salad) and air fryer potato chips. If you're eating the sandos at home, serve them alongside a berry spinach salad and tomato basil soup.
Other Tasty Ingredients to Add
Wanting to customize this sando to your specific taste buds? Find a couple ideas to inspire you here.
Vegetables: Add some fresh slices of tomato, red onions, or avocado. You can even swap the spinach for arugula for a peppery punch.
Marinated Vegetables: For a pop of tang, add on some marinated tomatoes, marinated mushrooms, or pickled onions.
Different Protein: Swap the turkey out for another lean meat like deli ham or roast beef.
FAQ
Should focaccia sandwiches be eaten hot or cold?
You can eat a focaccia sandwich either hot or cold – it's up to you! The bread toasts super nicely, but is also soft enough to be eaten cold.
How are focaccia sandwiches different from traditional sandwiches?
Focaccia sandwiches have a bit more depth of flavor than traditional sandwiches due to the herbs and olive oil baked into the bread. This makes them great for cutting into small bites for appetizers.
Can you slice focaccia warm for focaccia sandwiches?
It's best to slice focaccia for sandwiches while it's still cold and a little stiff. The warmer it is, the more likely you'll botch the cut job and have a hard time getting two even slices.
How do you revive stale focaccia for sandwiches?
If your focaccia is on the staler side, nuke it in the microwave for 10-15 seconds to soften it. You can also toss it in the oven wrapped in aluminum foil to bring it bake to life.
More Tasty Sandwich Recipes
Recipe
This tasty focaccia sandwich features turkey, provolone, and a nice smear of pesto. Perfect for school lunches, hiking excursions, or weekend picnics!
Instructions
Slice the focaccia bread into two pieces. On one side, spread the mayo and on the other side spread the basil pesto.

On the bottom piece of focaccia, place the turkey slices in a single layer. Top with cheese, spinach, and more turkey slices.
Nutrition Facts
Focaccia Sandwich
Amount Per Serving
Calories 606
Calories from Fat 288
% Daily Value*
Fat 32g49%
Cholesterol 72mg24%
Sodium 1229mg51%
Potassium 210mg6%
Carbohydrates 49g16%
Protein 32g64%
Vitamin A 1452IU29%
Vitamin C 2mg2%
Calcium 459mg46%
Iron 1mg6%
* Percent Daily Values are based on a 2000 calorie diet.