This 30-minute Korean beef stir fry tastes delicious, reheats well, and is a wonderful weeknight meal. The best part? It takes less time to make it than it does to pick up!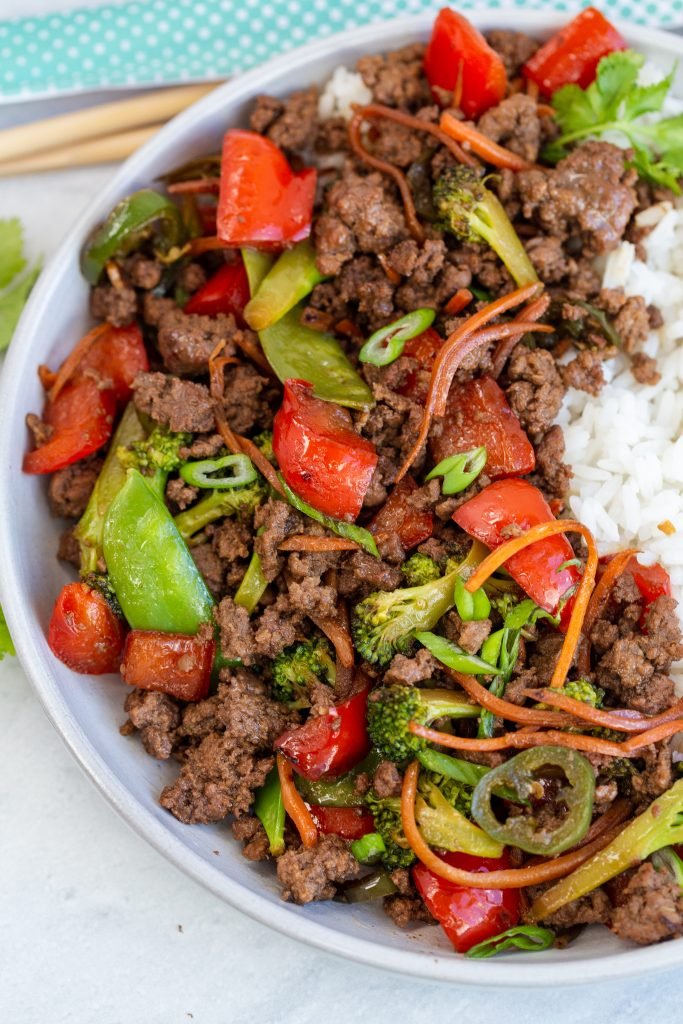 One-pan Korean beef stir fry is a little sweet, a little salty, and just the right amount of savory. On a hectic weeknight, it comes together in just 30 minutes and makes for great leftovers. I like to make a huge batch on a slow Sunday and have it on hand for quick lunches and dinners throughout the week. For more stir fries that are ready in no time, try our chicken or shrimp stir fry, too!
If you are looking for new and exciting ways to get a HUGE serving of veggies, look no further than this stir fry. It's colorful, packed with nutrients, and will surely put you well on the path to getting your "five a day".
Another reason why this stir fry is a weeknight hero is that it is made in just one, single pan. Minimal dishes and maximum flavor – what more can you ask for?
What is Korean Beef Stir Fry?
This Korean beef stir fry is a simple dish of veggies, ground beef, and a sweet and savory sauce. Below, find a rundown of the flavor, texture, and cooking time.
Flavor: The savoriness of the ground beef is balanced out by an abundance of veggies and a simple marinade of soy sauce, brown sugar, and sesame oil.
Texture: The texture if full of contrast. Tender ground beef, slightly crunchy veggies, and a silky smooth sauce…
Time: From start to finish, this dish only takes 30 minutes to make.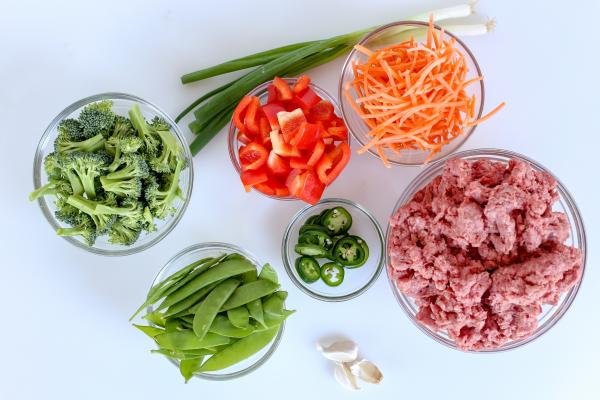 How to Make Korean Beef Stir Fry
Making this Korean beef stir fry only requires a bit of chopping and assembling. Below, find a quick hitter overview of the recipe before you dive in.
Hot Tip: Use a wok if you have one! The pan is specifically used for making stir fry and can stand up to extra high heat. The high edges also help prevent spillage.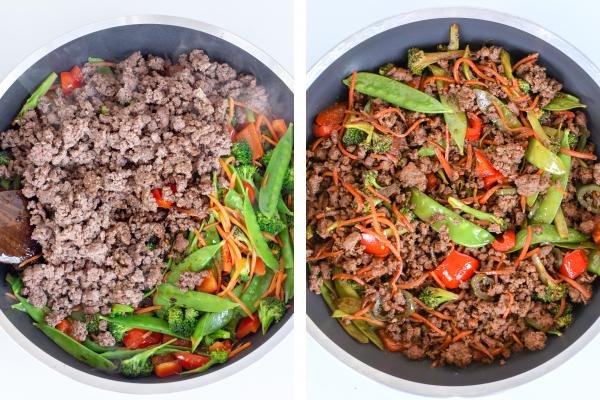 Tips for Making the Best Korean Beef Stir Fry
Use lean ground beef. Lean ground beef produces less fatty oils and won't water the marinade down.
Allow the sauce to come together in the pan. After you add the marinade, make sure to cook the stir fry for an additional 2-3 minutes. This will help bring the flavors out and thicken the sauce.
Cook beef and veggies separately to prevent overcooking. Resist the urge to throw everything in the pan at once. Cooking the veggies and meat separately prevents overcooking and results in the best texture.
Use a wok if you have one. Woks are wonderful for stir fry. They stand up well to high heat and have tall edges to prevent spillage.
Have leftover steak? If you have leftover steak hanging around from your last BBQ, use it to make stir fry!
Other Veggies to Add to Stir Fry
Stir fry is a great way to use up any veggies you have lingering in your refrigerator. Below, find a handful of suggestions to mix things up.
Bok choy
Broccoli
Bean sprouts
Bell peppers
Carrots
Onions
Sugar snap peas
Zucchini
Mushrooms
Jalapeños (for extra spice)
Serving Korean Beef Stir Fry
This stir fry can stand as a meal all on its own, or be served alongside a steaming bowl of white or brown rice. If you want to make a full Korean spread, whip up some japchae or spicy noodles. If you want to be even more authentic, pick up some kimchi from the grocery store. Hot Korean dishes are often served with this spicy, fermented cabbage as a topping or side dish! Bonus: It's really good for your gut health.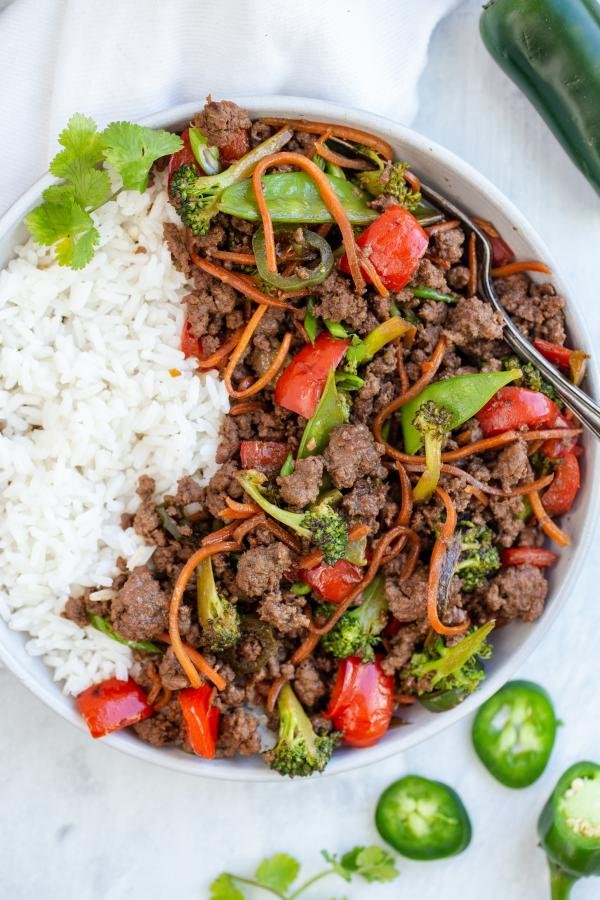 Storing Korean Beef Stir Fry
Refrigerator: Store leftover stir fry in an airtight container in the fridge. It should keep fresh for up to a week.
Freezer: Not recommended. Frozen stir fry doesn't reheat very well and will likely turn to mush.
Reheating Tip: Reheat leftover stir fry by popping it in a skillet with a bit of oil over medium heat. Remove from heat once warmed through. You can also reheat it in the microwave.
FAQ
Why is my stir fry beef so tough?
Your stir fry beef likely turned out tough because it was overcooked. The key to tender, juicy stir fry meat is to cook the beef over high heat for a short period of time.
Should I marinate the beef before using it for stir fry?
You can marinate the beef before using it for stir fry, but it's not required for this recipe.
How do you make beef stir fry sauce from scratch?
Making a quick stir fry sauce from scratch only requires brown sugar, soy sauce, and sesame oil. Whisk the three ingredients together until they're silky smooth and well-combined and you have yourself a delicious stir fry sauce!
Other Similar Recipes to Try
Recipe
This 30-minute Korean beef stir fry tastes delicious, reheats well, and is a wonderful weeknight meal. It's made using just one pan!
Ingredients
1 1/2

lbs

lean ground beef

1

red bell pepper

2

carrots,

diced

1

cup

broccoli

1/2

lb

sugar snap peas

1/2

bunch

green onions

2

jalapeno pepper

3

garlic cloves

oil,

for cooking
Nutrition Facts
30-Minute Korean Beef Stir Fry
Amount Per Serving
Calories 196
Calories from Fat 63
% Daily Value*
Fat 7g11%
Cholesterol 52mg17%
Sodium 574mg24%
Potassium 479mg14%
Carbohydrates 10g3%
Protein 20g40%
Vitamin A 3505IU70%
Vitamin C 42.7mg52%
Calcium 38mg4%
Iron 3.1mg17%
* Percent Daily Values are based on a 2000 calorie diet.