Air Fryer Korean Chicken Thighs are so easy to make and prepared in under 30 minutes. The chicken stays moist on the inside and has an awesome crispy, "fried-like" skin on the outside!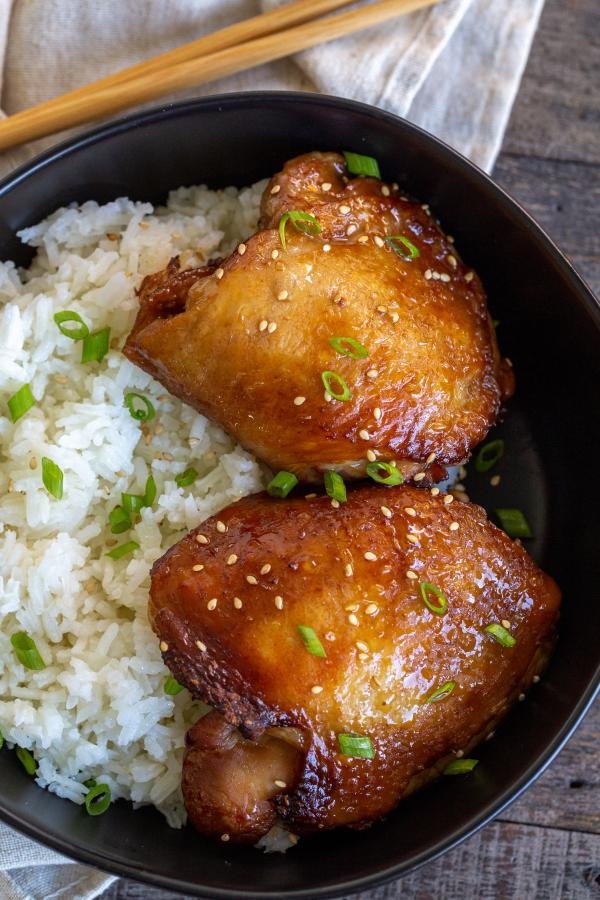 Whip up a garden salad and some air fryer french fries to pair with your chicken thighs and have yourself a nice, well-rounded dinner! Feeling extra indulgent? Make my Guilty Mashed Potatoes.
If you've been following me for awhile, you know that I'm obsessed with air fryer recipes. I am a fried chicken fanatic and using the air fryer gets perfectly "fried" chicken on my table soooooo quickly.
Using the air fryer is a healthy way to get that fresh-out-of-the-oil taste with a fraction of the calories. Let it become your best friend for wholesome, weeknight dinners!
What is an Air Fryer?
You have probably heard a lot of buzz around the air fryer. If you have never used one, let me give you the low-down. This appliance has become all-the-rage for its astonishingly fast cooking times. Extremely hot air circulates around the food placed in the air fryer's tray, allowing the food to be cooked substantially quicker.
The best part? The air fryer only needs a small amount of oil (less than a tablespoon in some cases!) or cooking spray to create healthier versions of your favorite fried foods. You can air fry just about anything and get awesome results. Give it a try!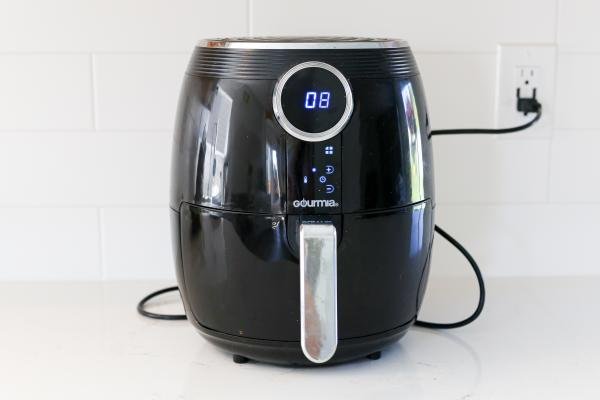 Tips for Making the Best Air Fryer Chicken Thighs:
Use your favorite chicken seasoning on the thighs. You can get creative here. Just make sure you season them liberally!
If your thighs come bone-in, you can remove the bones to make the cooking time shorter. Go ahead and save the bones to make chicken broth. Winter is coming, you're going to need it!
Keep the skin on the thigh! It will help flavor the meat and you will get a crunchy outer layer that is to-die-for.
Cook chicken thighs in an air fryer for about 20-30 minutes or use a meat thermometer to check that the internal temperature has reached 165F.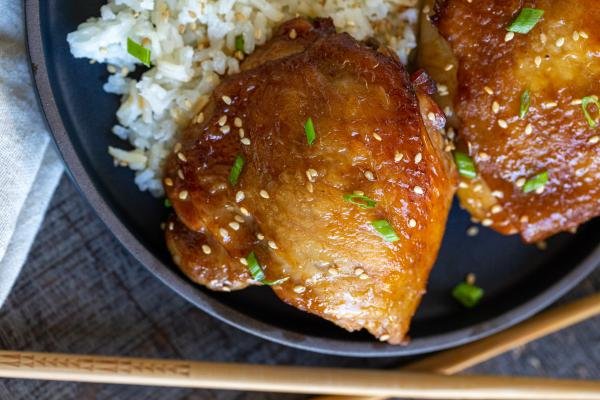 Can I Stack Chicken In an Air Fryer?
One of the golden-rules of air frying is to not overcrowd the air fryer basket. Think about it this way: the more air that hits your chicken the better. Stacking and overcrowding the basket will likely result in uneven cooking. So, it's best to cook your chicken in a single layer, letting as much air hit it, making it as crispy as possible.
If you must stack the chicken, make sure you toss it with tongs every couple of minutes to let air hit the parts that were previously covered. Give the basket a nice shake or two as well to redistribute the seasoning.
Reheating Air Fryer Chicken Thighs
If you want the chicken to stay crispy on the outside, I highly recommend reheating it in the air fryer for a couple of minutes. You could also reheat it on a hot skillet with a bit of oil.
A microwave reheat is always an option, but just know that it will likely come out a bit soggy and lose some of its crisp.
Do You Need to Spray Air Fryer with Oil?
The awesome part about cooking chicken in the air fryer is that you don't need to use any oil at all since it produces natural fats as it cooks. Yes, you can have fried chicken without any added oil!
The only time you actually do need oil is when you are going to cover the chicken in breading.
A tablespoon of oil or a once-over of the basket with cooking spray will suffice.
More Air Fryer Recipes
Recipe
Air Fryer Korean Chicken Thighs are so easy to make and prepared in under 30 minutes. The chicken stays moist on the inside and has an awesome crispy, "fried-like" skin on the outside!
Nutrition Facts
Air Fryer Korean Chicken Thighs
Amount Per Serving
Calories 485
Calories from Fat 315
% Daily Value*
Fat 35g54%
Cholesterol 167mg56%
Sodium 1753mg73%
Potassium 422mg12%
Carbohydrates 11g4%
Protein 31g62%
Vitamin A 133IU3%
Calcium 27mg3%
Iron 2mg11%
* Percent Daily Values are based on a 2000 calorie diet.