Meringue Cookies With Jam literally have it all. They are sweet, buttery, and tart and make for the perfect addition to any holiday cookie.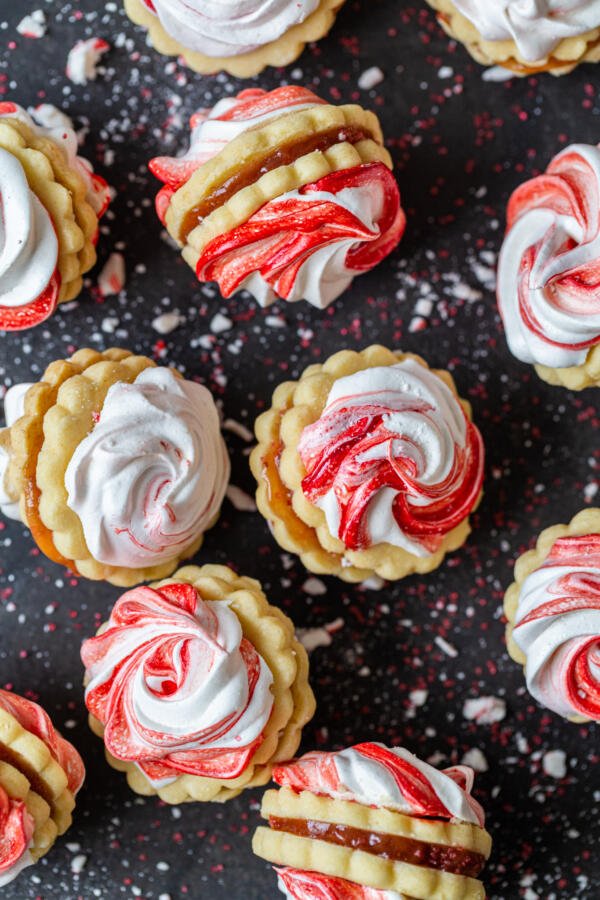 Meringue cookies are wonderful all on their own, but this cookie up-levels this classic treat by combining it with another favorite — the sugar cookie.
These cookies stand out on any tray and are an explosion of different textures and flavors. While they look quite complicated, they are actually quite simple to make.
Gather all your ingredients and let's get started!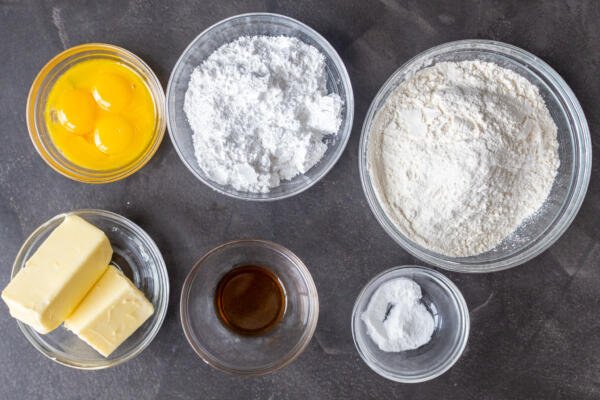 How to make Meringue Sugar Cookies
With basic ingredients and a few, simple steps, you will have the most impressive cookies imaginable. Follow the below instructions to nail this recipe each and every time:
Whisk together butter, sugar, vanilla extract, and egg yolk.
Add baking powder and flour in small portions until dough is crumbly.
With a standing mixer, beat together egg whites with sugar on high until the mixture reaches stiff peaks.
Break off a portion of the dough and cover it with a plastic wrap. Then, roll it out into 1/4 of an inch thickness.
Using a cookie cutter, cut out the cookie halves. Move to a baking sheet.
Place a tip inside a piping bag, using a toothpick draw a line of color on the inside. Pipe out a shape of your preference on top of each cookie.
Bake cookies at 200°F for at about 2 hours. Stick two cookies together by placing jam in the middle like glue.
FAQ
Why are my meringue cookies chewy?
To keep you meringue nice and fluffy, you need to make sure that you are beating your egg whites and sugar until you reach stiff peaks. This will take around 10 minutes. If you under beat your egg whites, you risk runny cookies and if you overbeat them you risk a rubbery and chewy texture. Egg whites can be finicky, but you got this!
How long do meringue cookies last?
To keep your meringue cookies fresh for up to two weeks, store them in an airtight container on the counter.
What is the best jam for the meringue cookies?
The tarter the jam the better. We like berry or citrus flavored jams the most here.
What is the best thickness for sugar cookies?
I find that 1/4-inch cookies are the best, as they are thick enough that they take to the cookie cutter well and thin enough that they don't take forever to bake.
Storing Meringue Sugar Cookies
Meringue should always be stored at room temperature in an airtight container. Preventing any moisture from touching our building on your meringues will prevent them from getting soggy or falling apart.
Hot tip: You can freeze raw meringue batter for up to 10 months. Make sure it is stored in an airtight bag with all excess air removed. Thaw it in the fridge before baking with it.
More Cookies to Try
Looking for a couple other unique cookies to add to your holiday tray? Here are some of our favorites here at Momsdish:
Sweet Cheese Cookies – Cheese… in a cookie? You read right. These cookies are the perfect balance of sweet and salty.
Dulce De Leche Sandwich Cookies – Dulce de leche has to be one of the most decadent additions to a cookie. It's creamy and luscious.
Peppermint Meringue Cookies – The red and white colors of this peppermint meringue provide a nice pop of color amidst the beige and brown of a cookie tray.
Sugar Cookies – This classic, go-to recipe never disappoints. I use it year around.
Nutella Cookies – This beloved chocolate hazelnut spread adds the perfect richness to these cookies.
Recipe
Meringue Cookies With Jam literally have it all. They are sweet, buttery, and tart and make for the perfect addition to any holiday cookie.
Nutrition Facts
Meringue Sugar Cookies with Jam
Amount Per Serving
Calories 182
Calories from Fat 54
% Daily Value*
Fat 6g9%
Cholesterol 40mg13%
Sodium 13mg1%
Potassium 47mg1%
Carbohydrates 30g10%
Protein 2g4%
Vitamin A 201IU4%
Vitamin C 1mg1%
Calcium 16mg2%
Iron 1mg6%
* Percent Daily Values are based on a 2000 calorie diet.